Amazon: Last Chance To Hop On
Summary:
Amazon's shares have been on a downward trend ever since its Q4 results announcement.
However, now that industry comparables have released their results, Amazon's numbers look rather good.
There are multiple reasons to believe why Amazon's shares make for a good buy at current levels.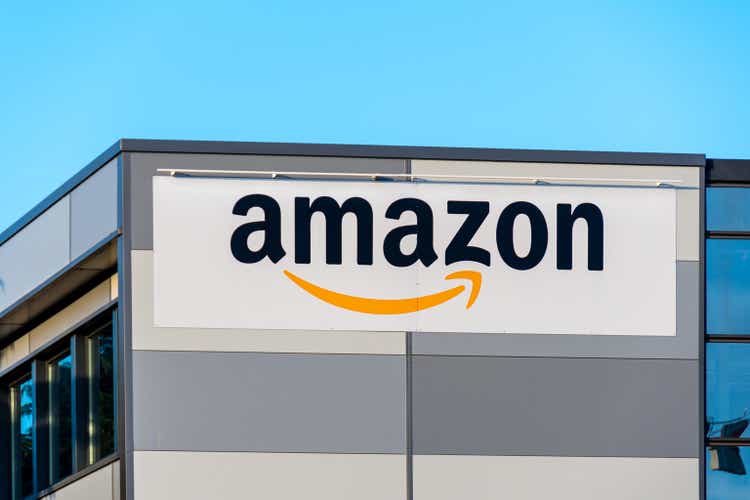 Amazon's (NASDAQ:AMZN) shares have been hammered down over 16% in the last 3 weeks alone, ever since it posted mixed Q4 results. Frantic investors are now worried that the e-commerce giant's explosive growth story is now over which may drag the stock even lower in coming weeks. But while the skepticism is understandable, there are multiple reasons to suggest that the selloff in Amazon's shares has been overdone and that they're poised for a multi-year rally going forward. Let's take a closer look at what went wrong in Amazon's Q4 results and why it makes for a good buy for long-term investors now.
The Slowdown Concerns
Let me start by saying that Amazon has been at the forefront of technology innovation and its top brass has, time and again, made bold business decisions to disrupt different industries. As a result, their quarterly revenue is up 823% over the last 10 years alone. Investors wanted to be a part of this stellar growth trajectory even if it meant paying a premium for it, which steadily drove up the stock over the years.
But fast forward to Q4 2022 and investors don't seem to be as enthusiastic about Amazon as before. The company missed the Street's EPS estimates, its pace of revenue growth in the AWS segment moderated and its e-commerce division saw a sales slump. This was apparently enough to fuel fear, uncertainty and doubt around Amazon's growth potential and led to its shares falling by as much as 16% in a matter of 3 weeks.
Admittedly, the narrative does look bleak if we look at it in isolation. But now that many of the comparable companies have reported their Q4 results, I contend that Amazon's performance wasn't as bad as many investors initially thought. Let's start looking at one of the mainstays of Amazon's growth story – its AWS segment. The segment saw its pace of revenue growth moderate from the typical 30%-plus levels, to just 20.2% in Q4.
This looks very bad, isn't it?
But let's now look at the chart below and notice how a different picture emerges. Per our database at Business Quant, nearly all the prominent cloud verticals from comparable companies – be it Microsoft Azure (MSFT), Alibaba Cloud (BABA), Google Cloud (GOOGL)(GOOG) – experienced a sales slump during Q4. So, the growth slowdown in Amazon AWS isn't necessarily due to market share losses, but instead, largely driven by an industry-wide sales slump. This might very well be a cyclical event as enterprises across the globe have been cutting down their discretionary spending to be financially frugal.
More to the point, here's a table that compiles all the relevant segment comparables for Amazon and provides a wider view of the company's performance. There's no denying that Amazon's e-commerce business saw a sales decline in Q4. But in the past 2 weeks, we saw that its close comparables, eBay (EBAY) and Alibaba, posted far worse e-commerce results in the said quarter. This, again, raises the question – why berate Amazon alone when the entire industry seems to be going through a cyclical slowdown.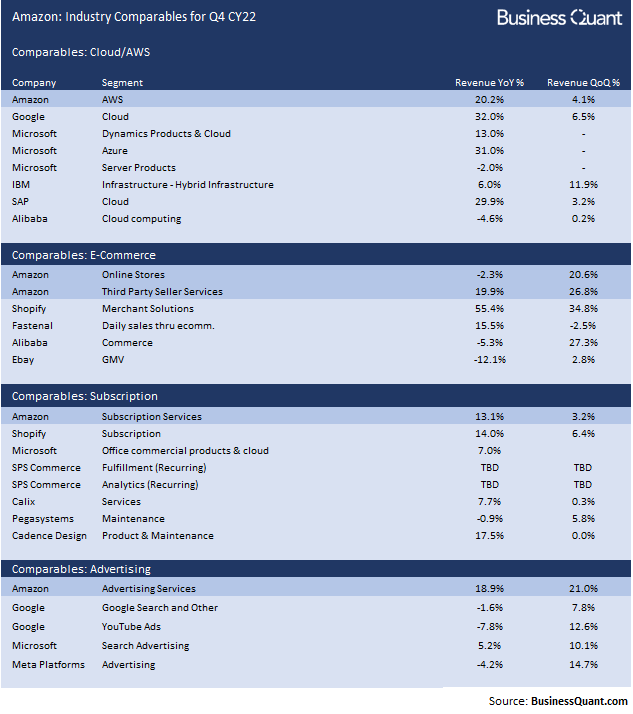 There were some more positives from Amazon's Q4 earnings report, which largely went unnoticed and unacknowledged.
Advertising Opportunity
The segment that blew past expectations, at least for me, is Amazon's Advertising segment. There are numerous reports on how advertisers across the globe have been cutting back on their spending (such as here and here). My understanding of the matter is that advertisers aren't getting lucrative returns on investment (or ROI) and have deferred their ad spend at least until consumer disposable incomes rise and consumers are able to freely make discretionary purchases again. Many companies, as of now, just don't have the margins to support low ROI-growth initiatives.
As a result, ad-serving comparables such as Meta Platforms (META) and Google's YouTube saw their advertising revenue decline by 4.2% and 7.8% during Q4, respectively. Microsoft did a relatively better job by growing its search advertising revenue by 5.2%. But note in the table above how Amazon blew past all its mentioned peers by posting a breakneck growth of 18.9% in its advertising services revenue.
Considering that Advertising Services is Amazon's fourth largest revenue stream, it, by no means, is a small business. It clocked over $11.56 billion in revenue during Q4 alone, so we should treat it as a mature business for all intents and purposes. But having said that, the segment's elevated pace of growth is a clear indication that advertisers are preferring Amazon, as perhaps, it offers much better ROI than other ad-serving platforms. For all we know, this might be the inflection point for Amazon's advertising business and a yet another industry disruption in the making.
Attractive Valuation
Lastly, Amazon's shares are trading at just 1.8-times its trailing twelve-month sales. As a personal rule of thumb, I consider stocks to be attractively valued if their Price-to-Sales (or P/S) multiple is below 3. So, Amazon meets that criterion and is seemingly attractively valued on a standalone basis.
Another thing to consider here is that Amazon's P/S multiple is hovering near is 10-year lows. This suggests the e-commerce giant's shares are already pricing in a lot of the risk factors that investors are worried about and there may not be much downside from the current levels. We can also argue that the stock has been beaten down so much, to its low P/S-levels, that any positive news can fuel a sharp rally. So, essentially, Amazon's shares offer a favorable risk-reward ratio for investors with a multi-year time horizon.
Final Thoughts
There's no denying that Amazon is undergoing a phase of growth slowdown. But as we saw earlier in this article, nearly all of Amazon's comparables are experiencing similar trends. This leads me to believe this growth moderation is cyclical in nature and it'll be short-lived. Investors with a multi-year time horizon, who can weather portfolio drawdowns, might want to accumulate Amazon's shares while they're still ridiculously discounted as this might very well be a generational wealth building opportunity. Needless to say, I'm bullish on Amazon. Good Luck!
Editor's Note: This article discusses one or more securities that do not trade on a major U.S. exchange. Please be aware of the risks associated with these stocks.
---
Disclosure: I/we have no stock, option or similar derivative position in any of the companies mentioned, and no plans to initiate any such positions within the next 72 hours. I wrote this article myself, and it expresses my own opinions. I am not receiving compensation for it (other than from Seeking Alpha). I have no business relationship with any company whose stock is mentioned in this article.
---