3 Possible Reasons Behind Netflix's Recent Price Cuts
Summary:
When Netflix informed me that I would be paying less in the future, I was happy for a brief moment until I realized I'm a shareholder too.
As a Netflix shareholder, price-based competition is not exactly what I want to see.
Careful scrutiny of Netflix's decision has led me to conclude that these price cuts have more to do with several other factors than the intensifying competition.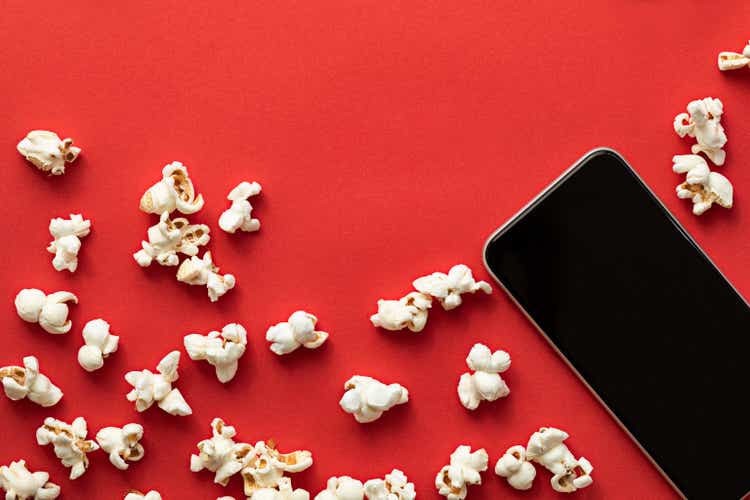 Investing in a company whose products/services you use could lead to brain-freezing moments. A couple of days ago, I received a pop-up notification on my TV informing me that Netflix, Inc. (NASDAQ:NFLX) had upgraded me from the Standard package to the Premium package for free, meaning that I would end up paying the same $9.99 I have been paying but will enjoy premium features including videos in ultra-HD compared to full HD in the Standard package. The message also read that I could keep the Standard package if I wanted to by paying less – $7.99 instead of $9.99 – and I immediately thought that inflation was working backward in Dubai, where I live. Seconds later, I remembered that I'm a shareholder of Netflix too, and then came the brain freeze as I was confused about how to feel about this new development. If I were a trader, I would have immediately sold my NFLX holding a couple of days ago because I had no doubt the market would react negatively to this development once the news got out, which it did yesterday. As a Netflix shareholder, price-based competition is not exactly what I want to see in this industry given my belief that there is a long runway for growth which leaves ample room for many streaming companies to thrive. However, careful scrutiny of Netflix's decision has led me to conclude that these price cuts have more to do with several other factors than the intensifying competition. I remain bullish on Netflix.
Stronger-Than-Expected Ad-Model Growth
When Netflix launched the ad-supported tier last November, early reports suggested the ad-supported plan was off to a slow start. Contrary to such claims, Ampere Analysis found U.S. sign-up volumes increased more than 58% immediately following the launch of this tier. Last January, Netflix reportedly told advertisers that sign-ups for the ad-supported tier have doubled compared to December, another clear indication that this ad model is working perfectly fine for the company – probably better than Netflix imagined.
When Netflix decided to embrace advertisements, we had no doubt that average revenue per user would be impacted in the first few years until the company could register a notable improvement in ad revenue that offsets the loss in subscription dollars. Today, with the ad tier arguably gaining traction at a faster clip than expected, Netflix could be facing a worse-than-expected decline in ARPU. The global advertising industry is struggling due to macroeconomic headwinds as well, which makes the success of the ad model a liability in the short run. By cutting subscription prices, Netflix will be able to achieve two things.
Some subscribers to the ad-supported tier will be enticed to pay up for a tier with no commercials.
Attract new subscribers at a faster clip to offset the drag on ARPUs resulting from the growth of the ad-supported tier.
Investors will have to wait for Q1 earnings to assess the impact of price cuts but I am already bracing myself to see some choppy results as the company continues to experiment with its content marketing strategy to find what works best.
Creating An Opening To Penetrate Emerging Markets
In 2018, Reed Hastings said the company's future will depend on its ability to penetrate India, which he thought was the most important target market for every streaming company. None of the strategies introduced by Netflix worked in India until recently, and the company could not pose any meaningful threat to Hotstar, the leading player in the Indian streaming industry. Things changed in 2022 with the company slashing subscription prices in India in Q4 2021.
| | | |
| --- | --- | --- |
| Plan | Original cost | Cost after price cuts in Q4 2021 |
| Mobile Only | INR 199 | INR 149 |
| Basic | INR 499 | INR 199 |
| Premium | INR 799 | INR 649 |
Source: Netflix
Aided by these price cuts, Netflix had a remarkable 2022 in India, with the company reporting a 30% increase in watch time and a 25% increase in revenue. India also became the fastest-growing region from a net paid subscriber addition perspective as well. Commenting on the success of this strategy, Monika Shergill, VP of content at Netflix India, said:
We had intentionally and deliberately planned the price recalibration to coincide with a slate that appeals to broader audiences.
It took time, but Netflix eventually figured out what works best in India. In the next decade, the company is well-positioned to turn its Indian business into a money-printing machine with India being one of the largest entertainment powerhouses in the world.
The company's recently observed price cuts target regions where consumers are more sensitive to pricing changes such as Southeast Asia and Latin America. These populous regions offer Netflix the opportunity to meaningfully improve its profitability by expanding the number of subscribers. The company pumps millions of dollars every year to produce local content in these regions, and every incremental dollar in revenue earned by the company will lead to an increase in profitability although ARPUs will take a hit.
Recent price cuts, in my opinion, have a lot to do with Netflix trying to replicate its success in India in other high-growth regions.
Luring Users Who Lose Access Due To Password Sharing Rules
Netflix has launched a crackdown on password sharing which has not been welcomed by many users for obvious reasons. By slashing subscription prices in regions where password-sharing rules are applicable, Netflix will be able to lure some users who lose access to Netflix because of these new rules. On the other hand, the company will be able to improve the sentiment of other users who are not in favor of password-sharing rules.
Takeaway
Netflix stock declined more than 3% on February 23 with investors punishing the company for slashing subscription costs in many regions. Although the intensifying competition in the global streaming industry can be one reason behind this decision, I believe the three factors discussed above had a major role to play in this decision. For now, it's time to patiently wait until we can quantitatively evaluate the outcome of this decision when the company reports Q1 earnings.
---
Disclosure: I/we have a beneficial long position in the shares of NFLX either through stock ownership, options, or other derivatives. I wrote this article myself, and it expresses my own opinions. I am not receiving compensation for it (other than from Seeking Alpha). I have no business relationship with any company whose stock is mentioned in this article.
---

The unexpected moment is always sweeter
At Leads From Gurus, we strive to achieve sweet returns by predicting which companies would report unexpected earnings. Join us to discover the power of earnings surprises.
Your subscription includes access to:
Weekly actionable ideas that would help you beat the market.
In-depth research reports on stocks that are well-positioned to beat earnings estimates.
Three model portfolios designed to help you beat the market.

Educational articles discussing the strategies followed by gurus.
An active community of like-minded investors to share your findings.
Act now to secure the launch discount!