Airbnb: Expect More Brilliance From Q4 Earnings
Summary:
Airbnb is the category-defining leader in the travel industry.
It suffered throughout the pandemic, but came roaring back in 2021 and beyond.
Despite shares of this company being down 40% from their 52-week highs, Airbnb's business performance has been nothing short of phenomenal.
With a cloud now hanging over the travel industry for 2023, Airbnb's Q4 results give this company a chance to show its quality.
I, for one, expect it to deliver once again.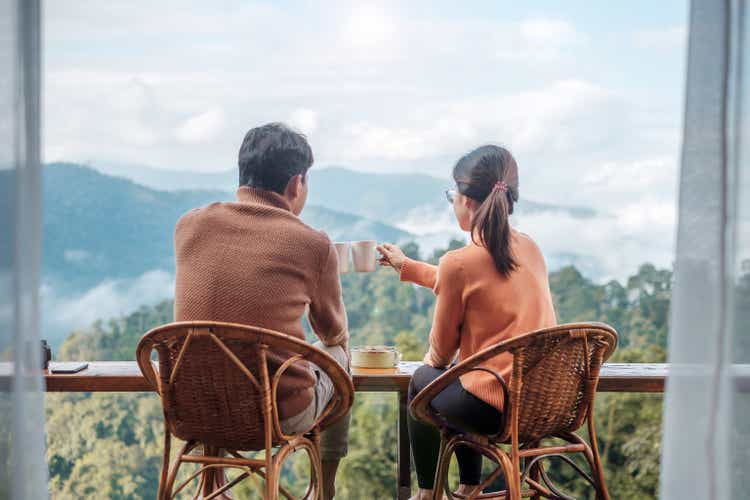 Investment Thesis
Airbnb (NASDAQ:ABNB) is the category-defining leader in the travel industry, with an incredibly strong brand known all around the world. The travel industry has been a difficult place to be for the past few years as the world ground to a halt, but the easing of lockdown restrictions saw demand for Airbnb come roaring back.
My personal investment thesis for Airbnb is quite simple, and I laid it out in more detail in a previous article. The company has a host of powerful economic moats, including one of the strongest network effects of any business, an absolutely stellar brand, and a high level of pricing power. I think Airbnb has the potential to truly transform the way we live, and its summer release demonstrated some of the different approaches it's taking to holiday rentals. It has a stellar balance sheet, Co-Founders in leadership with an incredible amount of skin-in-the-game, a huge opportunity to continue growing, and a business model that oozes free cash flow. All in all, there's plenty to like about Airbnb.
The company has had a stellar 12 months, benefitting from the efficiency measures taken during the pandemic combined with a strong rebound in demand for travel. This might not be obvious looking at the stock chart, with shares of Airbnb having fallen 40% from their 52-week highs.
The company blew away my expectations with impressive Q3 results a few months ago, but as the economy continues to look weaker and weaker, can Airbnb continue its impressive results? Here's what I'll be looking at when Airbnb's Q4 earnings come around.
Airbnb's Latest Expectations
Airbnb is set to report its Q4'22 results on Tuesday, February 14 (Happy Valentine's Day!) after the market closes, and there are several key items that investors should be keeping their eyes on.
Starting with the headline numbers, where analysts are expecting Q4'22 revenue of $1.86B, representing YoY growth of 21% and being towards the higher end of management's $1.80-$1.88B guidance. If the story for travel is a slowdown in 2023, clearly nobody told these analysts, who are still expecting Airbnb to deliver revenue above the midpoint of guidance in spite of the difficult macroeconomic climate.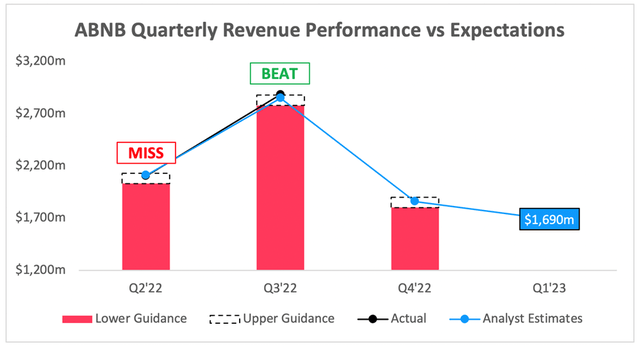 Looking ahead to Q1'23, analysts are expecting Airbnb to deliver revenue of $1.69B, which would represent 12% YoY growth. I think this is where we see Wall Street's true expectations for the travel industry come into play; last year was a boom, next year may well be a recession, and so Airbnb is going to come up against very tough YoY comparisons.
Moving onto the bottom line, and analysts are expecting Airbnb to deliver EPS of $0.27 in Q4. Management doesn't give guidance on EPS, but they said the following in Airbnb's Q3 Shareholder Letter which gives some colour on margins:
We expect Q4 2022 Adjusted EBITDA to be up meaningfully on a nominal basis from Q4 2021 and expect quarterly Adjusted EBITDA margin to be in-line to modestly higher than last year's margin of 22%.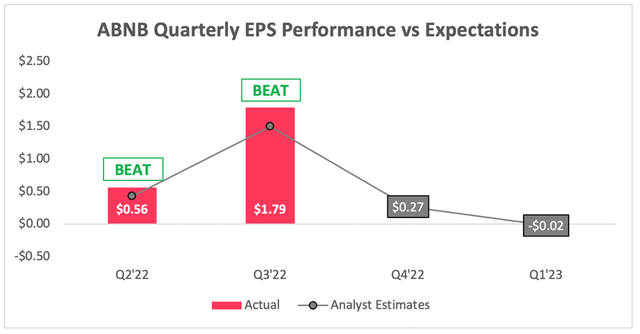 Looking ahead to Q1'23, and analysts are expecting Airbnb to deliver EPS of -$0.02. If that seems particularly low, don't despair; Airbnb is an incredibly seasonal business, and makes most of its profit in Q3 (a lot of revenue is recognised due to people going on holiday) but makes plenty of cash flow in Q1 (since that's when most people book their holiday, and give their money to Airbnb). For context, Airbnb's EPS in Q1'22 was -$0.03.
So those are the headline numbers that analysts' and the market will be looking at, but what else should investors be watching out for?
Several Key Metrics To Watch
There are a number of other metrics that Airbnb reports for investors, and one of the most important is gross booking value (or GBV). This is defined as the dollar value of bookings on Airbnb's platform inclusive of Host earnings, service fees, cleaning fees, and taxes, net of cancellations and alterations.
Airbnb is one of those companies where being an accountant actually comes in handy, because there's two different times at which sales are recognised for Airbnb:
Say I wanted to go on holiday in July, so I head onto Airbnb and reserve myself a nice looking villa in Spain for $1,000. This $1,000 will be recognised in Airbnb's gross booking value for Q1, because it is recognised at the time of booking.
However, the revenue for this booking will be recognised when the stay actually takes place, which would be in Q3.
That is part of the reason why Airbnb's GBV is a great forward-looking indicator for revenue; if GBV is growing now, it's likely that revenue will be growing in a couple of quarters' time.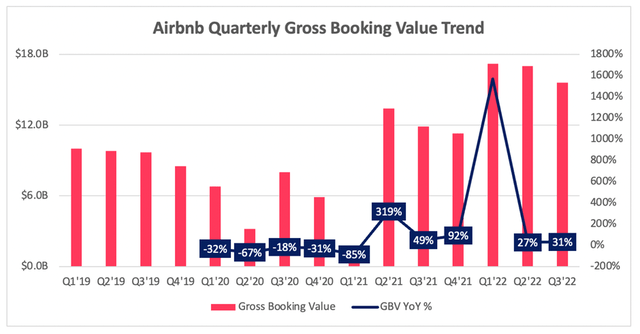 The above chart shows that Airbnb's GBV trend has been somewhat all over the place due to lockdowns in 2020 combined with a resurgence in 2021, but we started to approach normality in 2022. In fact, the Q3'22 GBV growth of 31% YoY was very impressive, and indicates that perhaps the travel industry (or at least Airbnb) is more resilient than expected.
If we look at the actual nights and experiences booked, these also rose by 25% YoY in Q3 – another very impressive figure as we head into a 'weaker' economy.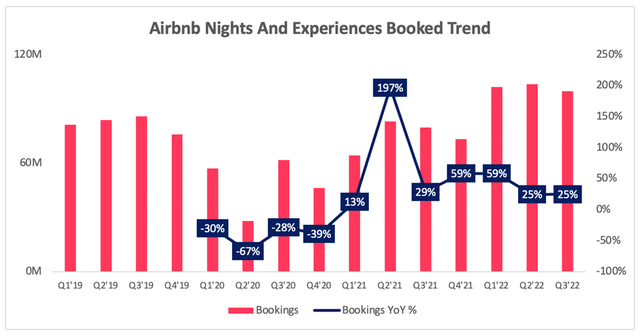 These are two figures that investors should watch like a hawk when Airbnb reports its Q4 results, as they will give the clearest indication on consumer demand for 2023.
Another success story for Airbnb has been the increase in its average daily rates (or ADRs), which surged during the 2021 boom for travel and have remained at elevated levels since.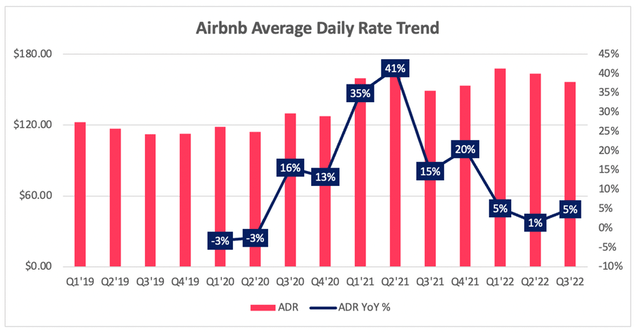 Given that Airbnb takes a percentage fee on each booking, the more expensive the bookings are, the more Airbnb is making. I personally would be happy if Airbnb managed to keep ADRs flat in the next few quarters (vs falling ADRs), since they had previously increased substantially. I've always believed Airbnb to be a business with pricing power, and this is certainly shown in the latest ADR trends.
One last point to make is the recovery within Airbnb's International segment compared to the US. With lockdowns lasting longer in Europe, the US started to take up more and more revenue share for Airbnb back in 2020 and 2021.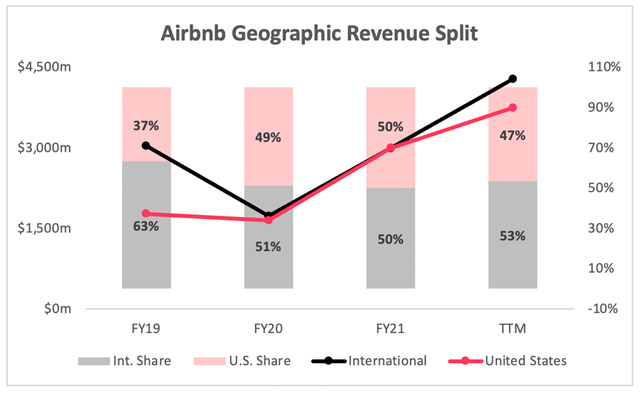 The resurgence in Europe has been another driver behind growth in 2022 for Airbnb, and there is still plenty more room for this recovery to continue into 2023.
Quick Take: Airbnb's Core Financials
As Airbnb's year draws to a close, now is the perfect time to reflect on the company's financials. I won't talk too much about these (the tables are there for you to reference and draw your own conclusions), but there are a couple of important points worth highlighting.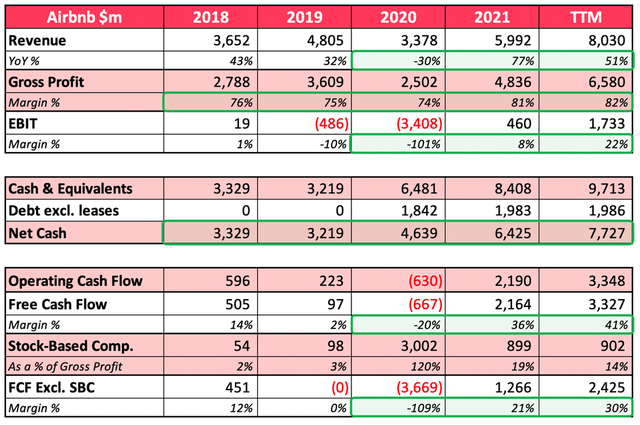 Mainly, I want to highlight that all the trends look absolutely amazing. Revenue is growing, profit margins are widening, the balance sheet looks impeccable, and free cash flow is off the charts.
In fact, if we look at Airbnb's trailing-twelve-month free cash flow trends, we can see that this company has boasted a free cash flow margin of ~40% for the past four quarters. That is an insanely high figure, and demonstrates why I believe Airbnb will be a cash printing machine over the next decade.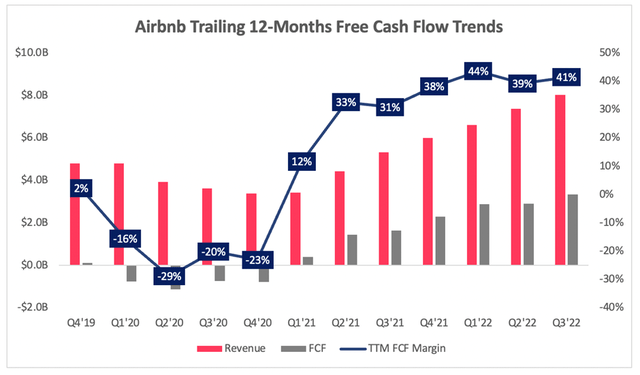 Some may be concerned about the excessive stock-based compensation seen in 2020, but this was predominantly caused by Airbnb's huge IPO in December 2020. The SBC charges have been falling, and in fact Airbnb's shares outstanding have also been coming down over the past couple of quarters.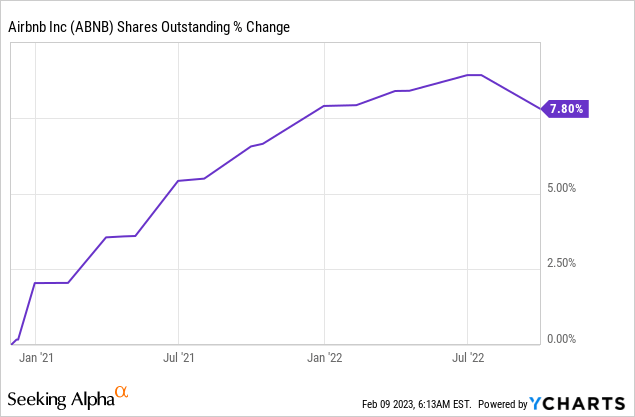 This was due to management's recent announcement of a $2B share buyback program, as they look to manage share dilution and return some of Airbnb's cash hoard to shareholders.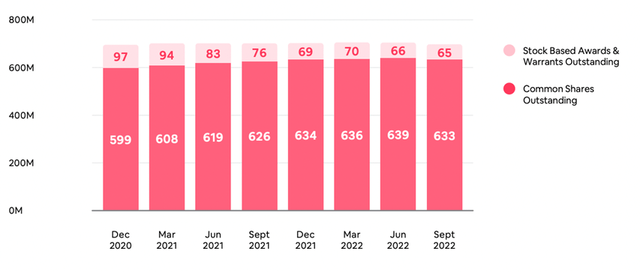 All in all, I believe the financials of Airbnb to be absolutely phenomenal, and it makes me incredibly pleased to be a shareholder.
ABNB Stock Valuation
As with all high growth, disruptive companies, valuation is tough. I believe that my approach will give me an idea about whether Airbnb is insanely overvalued or undervalued, but valuation is the final thing I look at – the quality of the business itself is far more important in the long run.
The end of a financial year also provides a good opportunity for me to reflect on my valuation models, and I have decided to change my approach slightly from previous models. I am now forming the base case assumptions around analysts' estimates, and then using the bull and bear case scenarios to apply my own judgment more.
In the bull case scenario, I'm assuming that Airbnb continues to have stellar free cash flow margins, whilst continuing to grow revenues at a rapid clip as the company continues to innovate and potentially disrupt the real estate market.
My bear case scenario effectively assumes the opposite; that free cash flow margins fall back down to earth due to the shifting macroeconomic climate, and revenue growth for Airbnb turns from stellar to underwhelming.
Put all that together, and I can see shares of Airbnb achieving a CAGR through to 2026 of 6%, 17%, and 40% in my respective bear, base, and bull case scenarios.
Bottom Line
Airbnb has been an incredible performer over the past year, even if the share price hasn't necessarily reflected this. In my previous article, I upgraded my rating on Airbnb from 'Buy' to 'Strong Buy' based on the company's excellent execution, staggering free cash flow margins, attractive valuation, and all-round greatness.
Nothing has changed substantially in the past few months, and so I will be reiterating my previous 'Strong Buy' rating on Airbnb's stock.
---
Disclosure: I/we have a beneficial long position in the shares of ABNB either through stock ownership, options, or other derivatives. I wrote this article myself, and it expresses my own opinions. I am not receiving compensation for it (other than from Seeking Alpha). I have no business relationship with any company whose stock is mentioned in this article.
---