Airbnb Q4 Results Impress In A Tough Environment
Summary:
Airbnb delivered a strong earnings result, particularly on the bottom line.
Revenue and profit margins continue to grow at a robust rate.
Airbnb continues to take market share from key competitors.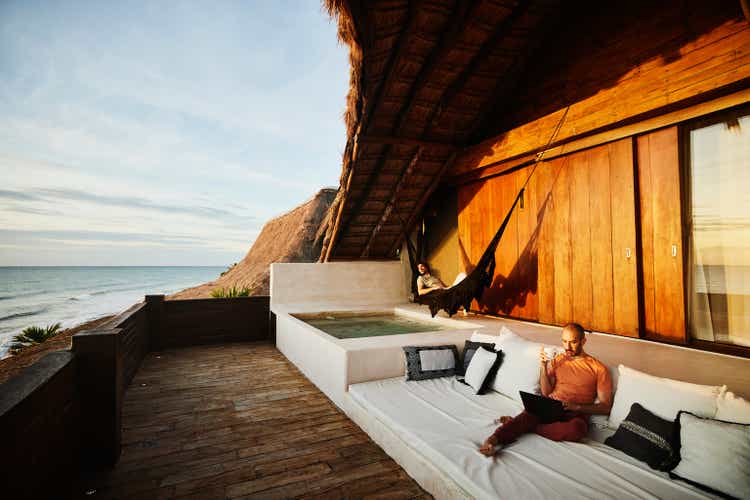 This article and Q4 2022 earnings review is a continuation of my previous article on Airbnb (NASDAQ:ABNB), where I discussed why I believe ABNB stock will outperform the market in the long run. The purpose of this article is to review the company's earnings report and assess whether it supports the previous thesis. The focus will be on the key metrics that contribute to revenue growth, including:
Increasing the number of nights booked on the ABNB platform
Increasing the GBV (Gross Booking Value) per night booked (ADR), which ultimately increases the overall GBV
Gradually increasing the take rate over time
Expanding its offerings through the introduction and growth of ABNB Experiences.
Additionally, I will examine ABNB's potential to sustain and grow its profit margins, as well as its competitive standing in comparison to its rivals.
1. Increasing the number of
nights booked on the ABNB platform
In the quarter, the number of nights and experiences booked increased by 20%. Moreover, the site witnessed a record number of active bookers (site traffic), indicating a positive outlook for future bookings. Of equal significance, ABNB's host supply grew by 16% YoY, representing 900k additional listings that will aid in accommodating the growing number of guests. ABNB has managed to strike a harmonious balance between growing the supply of hosts and meeting the demand of guests, with both segments growing at rates of 26% and 24%, respectively since 2019 (pre-COVID).
2. Increasing the GBV per night booked (ADR), and thus the overall GBV
ADR decreased by 1% YOY, although it increased by 5% YOY when FX impacts are excluded. Management anticipates a further decline in ADR due to changes in the booking mix, resulting in more bookings in regions with lower ADR such as cities and cross-border travel. However, with ADR currently 36% higher than in 2019, I do not consider this to be a cause for concern. In the short term, as global travel approaches its pre-COVID equilibrium, Airbnb is expected to focus on maintaining ADR before gradually resuming its long-term upward trend.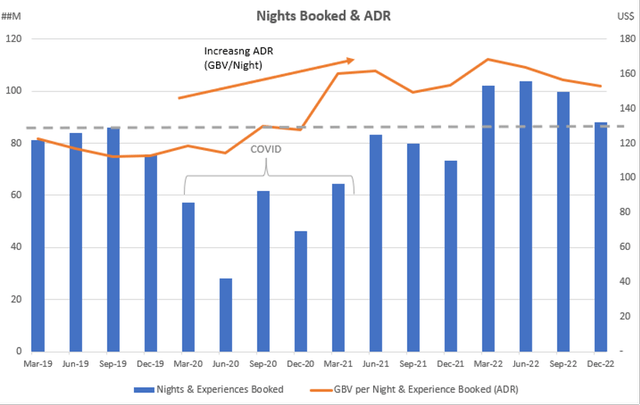 3. Gradually increasing the take rate over time
ABNB's take rate has remained relatively steady, tracking its seasonal trend at approximately 13.3% ('LTM') and 14% for the quarter. It appears that management has no immediate plans to increase the take rate and is instead prioritising delivering more value to hosts. ABNB currently charges a 3% take rate on the host side and provides several complimentary products, such as AirCover, which has resulted in a significant improvement to the platform's NPS and user experience. As bookings continue to rise, any potential expansion of the take rate in the future can be gradual and aligned with improvements in product offerings. I believe the expansion of the take rate represents a potential growth lever that can be utilised at a later time.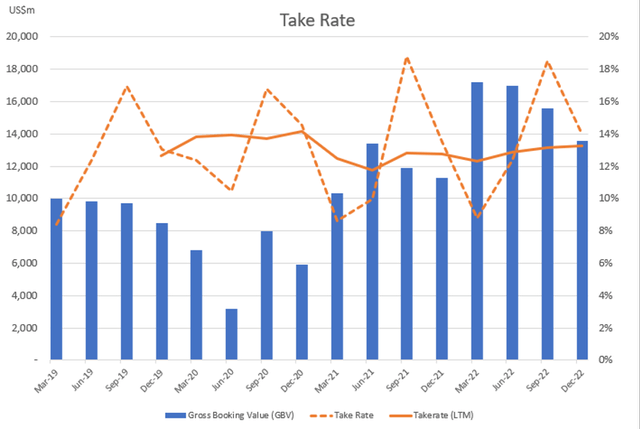 4. Expanding Experiences division
Management's focus on the Experiences division remains steadfast, with expectations of significant traction in the years to come. Although details on the division were not extensively provided, growth initiatives appear to be centered around connecting guests with personalised experiences. The booking process now includes tailored local Experiences, which are presented to guests after a booking is made. If ABNB can develop an effective algorithm, this division could offer considerable growth potential, given that Experiences are higher margin with a take rate of approximately 20%.
Improving Margins
In a challenging economic environment where many competitors and tech companies are struggling with shrinking profit margins, Airbnb has shown remarkable resilience and profitability. In Q4 2022, Airbnb reported net income of US$319 million, representing a net margin of 17%. This marks the culmination of its first profitable calendar year, with a net margin of 23%: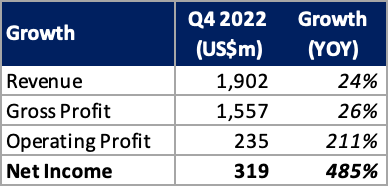 The fact that 47% of ABNB's revenue is derived from non-USD countries (FX impacted), makes their profitability impressive, given that most of their expenses are in USD. This is a testament to management's ability to manage its costs effectively and expand its business in a sustainable manner. As a result, Airbnb is well-positioned to continue delivering value to its shareholders and investors over the long term.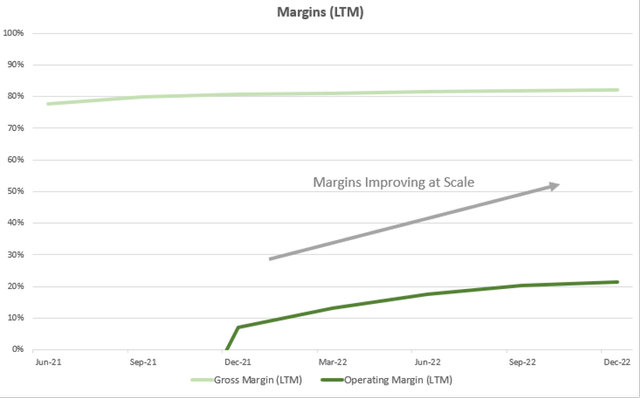 During the earnings call, a noteworthy point made by Chesky (CEO) was his emphasis on maintaining Airbnb as a lean organization by keeping the headcount low. Despite a 5% reduction in headcount since 2019, Airbnb's revenue has increased by an impressive 75%, leading to revenue per employee of approximately US$1.2 million, which is the upper quartile in the tech industry. This strategic focus on lean operations will help to offset the impact of declining Average Daily Rates (ADR) and contribute to Airbnb's long-term profitability.
Competition
Airbnb continues to capture market share from larger competitors. While Booking.com (BKNG) is yet to report earnings, Expedia Group (Vrbo) (EXPE) serves as the best comparable company. As the table below illustrates, Airbnb is outpacing Expedia Group in revenue and GBV growth, despite having significantly higher profitability. It is important to note that while Trip Advisor is significantly smaller than Airbnb and not yet profitable, it is growing at a rapid pace and should be monitored moving forward. That being said, Trip Advisor's business model is not entirely comparable to that of Airbnb. ABNB's exceptional growth in operating income, surpassing 200%, is a major highlight of the quarter, especially when compared to Expedia, a key competitor, which experienced a decline in operating income: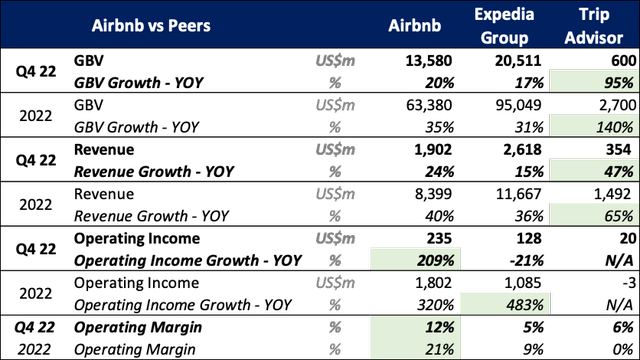 Valuation
Since my last article on Nov-22, ABNB's share price has risen by approximately 47%, making its current valuation less attractive. In my view, the current levels do not present a great buying opportunity, and I would instead wait for a stock price pullback before considering adding to my position.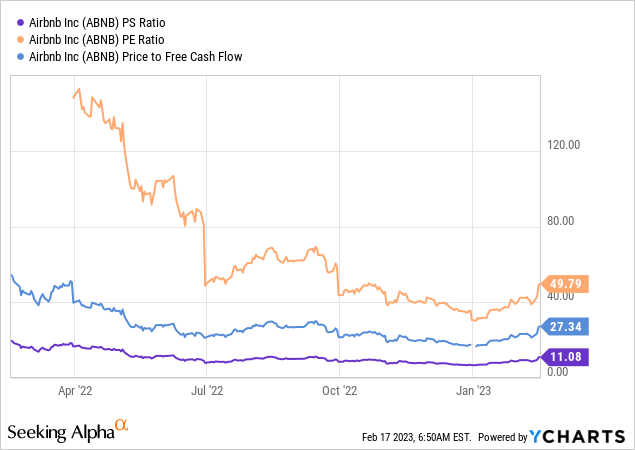 Conclusion
In summary, the earnings report of ABNB in the quarter fully supports the thesis that ABNB will outperform the market due to revenue growth and margin expansion. Even in a challenging economic climate, ABNB has delivered impressive earnings that instill confidence in both their future growth potential and the skill of their leadership founders.
---
Disclosure: I/we have a beneficial long position in the shares of ABNB either through stock ownership, options, or other derivatives. I wrote this article myself, and it expresses my own opinions. I am not receiving compensation for it (other than from Seeking Alpha). I have no business relationship with any company whose stock is mentioned in this article.
---