Alphabet: Looking Like A Risky Long-Term Bet
Summary:
Alphabet Inc. is one of the all-time greats in business history, growing revenues and profits at exceptional rates.
The company faces a fork in the road, with threats to its ad revenues and to its search business.
Solutions to these problems are difficult to solve and could even permanently harm the business.
The uncertainty surrounding the business should lead investors away from the company.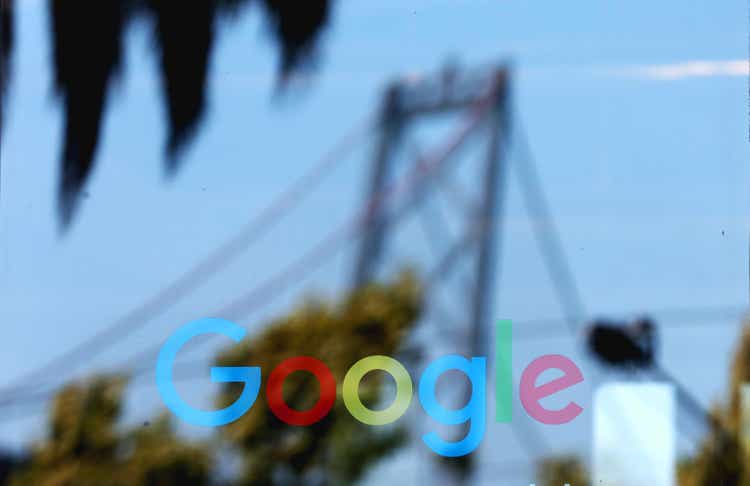 Alphabet Inc. (NASDAQ:GOOG) (NASDAQ:GOOGL) is facing a constellation of challenges after decades of exceptional growth and profitability. The rise of OpenAI's ChatGPT has brought questions about the strength of Google's hold on search, and Apple's (AAPL) transparency rules have hit the tech giant's ad revenues, providing a double blow during a period of uncertainty. In addition, Alphabet faces a deeper dilemma: in order to combat ChatGPT, it may have to cannibalize its own core business. The next few years are deeply uncertain and present immense risks for investors.
Strong Stock Market Performance
Over the last five years, Alphabet has continued to outperform the S&P 500, growing by over 55% while the S&P 500 has grown just over 41%, however, the tech giant has trailed the NASDAQ Composite, which has appreciated by nearly 63% in that time.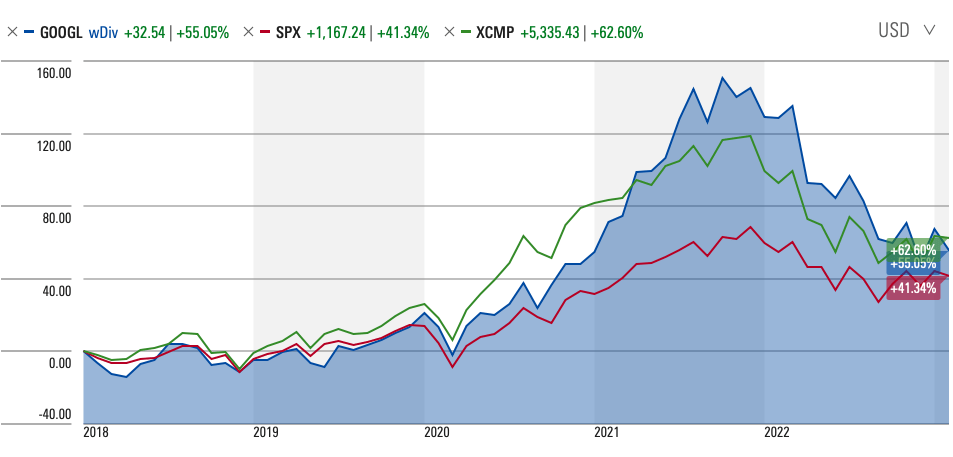 Continued Financial Excellence
Between 2002 and 2022, Alphabet grew revenues from $439.5 million to $282.84 billion, at a 21-year revenue compound annual growth rate (CAGR) of 36%. In that time, income from operations has grown at a 21-year CAGR of 33%, and net income has grown at a 21-year CAGR of 35.6%.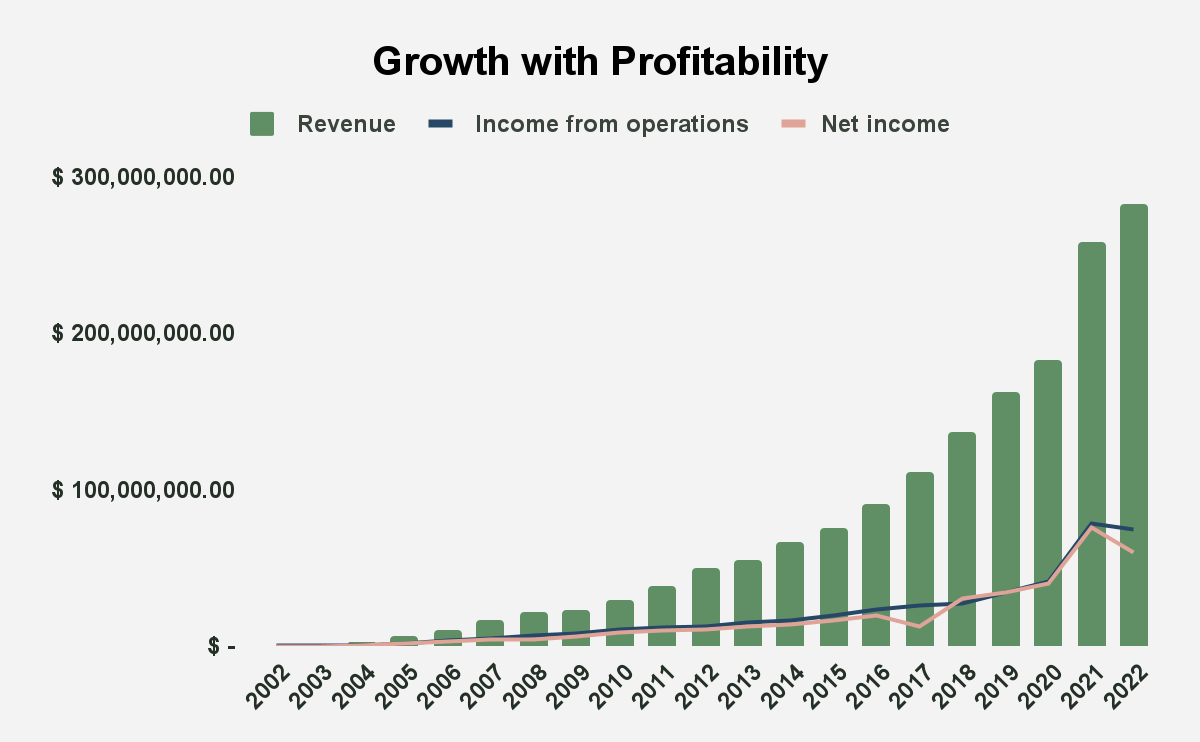 Few companies have ever been able to sustain that level of growth and profitability over such a wide period of time. Even in the last decade, when the company has become so large that it can only really be compared to some of the greatest firms in the history of the world, it has remained an elite performer. Between 2013 and 2022, 10-year revenue CAGR was 17.68%, compared to a mean 10-year revenue CAGR for companies, of 5.8%, according to Credit Suisse's (CS) The Base Rate Book. In that time, 10-year net income CAGR in that time was 16.76% compared to a base rate 10-year revenue CAGR of 5.8%. We can play this game further. In the 2018 to 2022 period, 5-year revenue CAGR was 15.63% against a base rate 5-year revenue CAGR of 6.9%, and 5-year net income CAGR was 14.3%, compared to a base rate 5-year net income CAGR of 7.3%. Alphabet has, throughout its history, been exceptional, finding ways to grow profitably.
That level of profitability has allowed the company to generate enormous amounts of free cash flow (FCF), which, between 2013 and 2022, grew at a 10-year FCF CAGR of 19.8%. In the last five years, the FCF has compounded at 21.32%. With a market capitalisation of $1.17 trillion, these FCF are trading at a yield of 5.15%.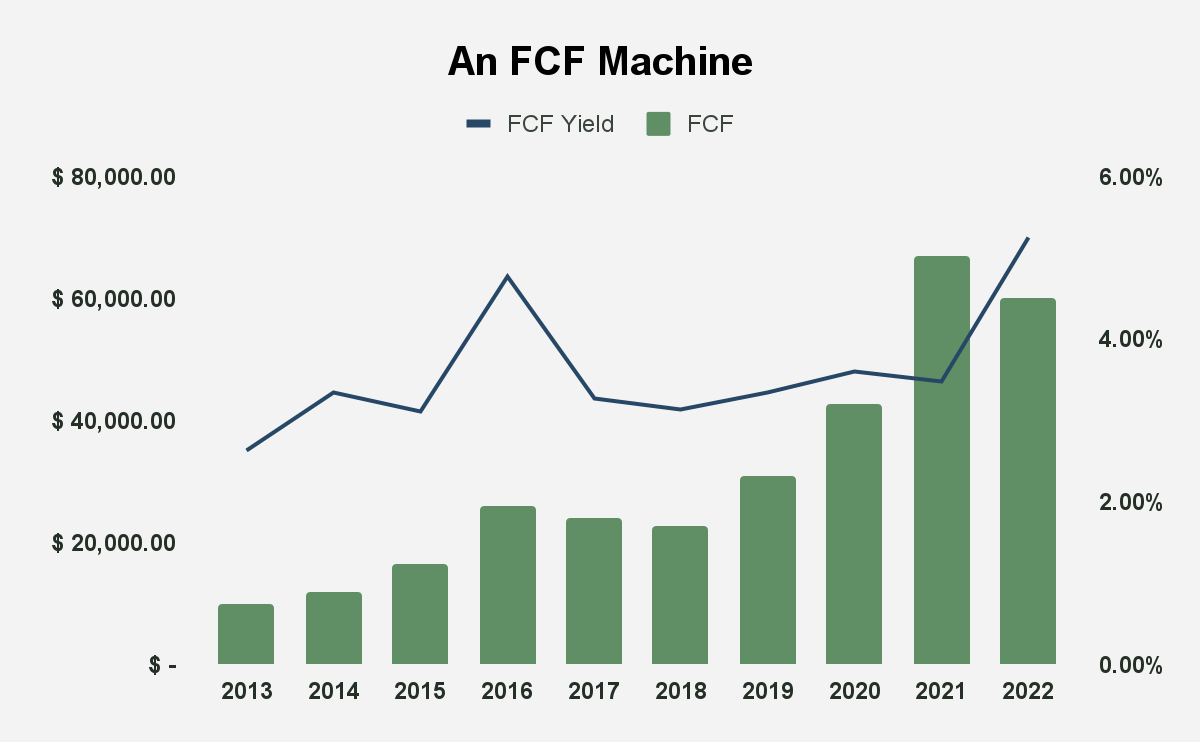 In addition, the company's capital allocation has been excellent, allowing it to earn a return on invested capital that has never dropped below 20% in the entire history of the company, and which rose from 20.2% in 2018 to 26.3% in 2022.
Alphabet is Still Google
In 2004, Larry Page and Sergey Brin authored their first Founders' Letter, starting off that historic letter with the words, "Google is not a conventional company. We do not intend to become one." They advised shareholders saying, "Do not be surprised if we place smaller bets in areas that seem very speculative or even strange when compared to our current businesses." In that time, Google's revenues derived from Google websites and Google Network websites.

Since that time, the company has succeeded in diversifying the business through a series of strategic acquisitions, and organic initiatives, namely, Google Maps, YouTube, Chrome, and Android. The 2006 acquisition of YouTube, for example, is, perhaps, the greatest Big Tech acquisition of all-time. While Netflix (NFLX) has often been talked about as the great disruptor of TV, the truth is that YouTube is more disruptive of TV than Netflix. YouTube creator payouts compete with those of comparable TV production products, and YouTube already has more viewers in the United States than Netflix. YouTube, led by the outgoing CEO, and exceptional Susan Wojcicki, is also an example of how Alphabet has managed to avoid a lot of the toxicity that has taken over public perceptions of Big Tech, even when the company does something wrong.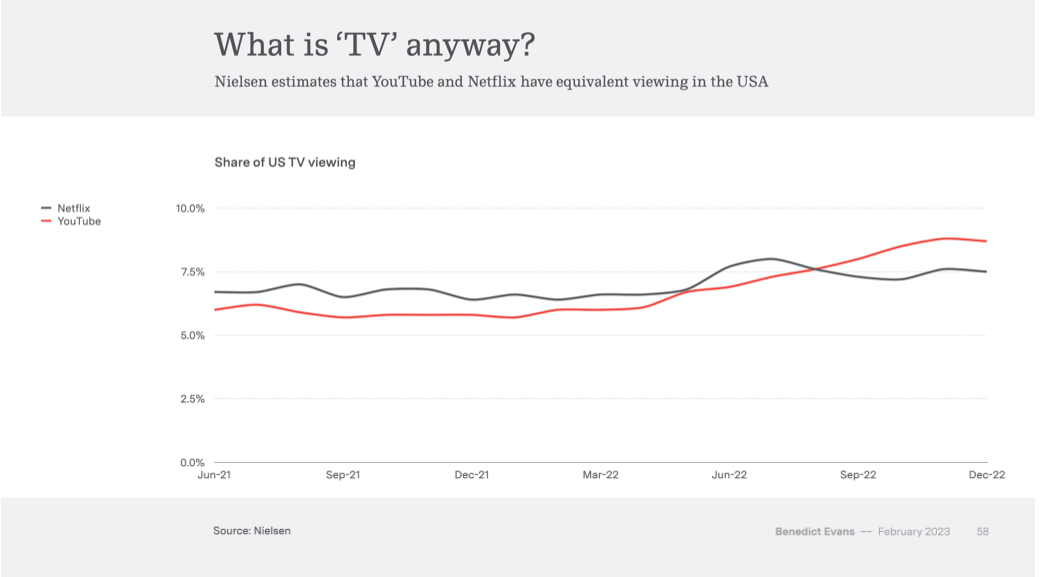 For most people, Alphabet is "Google", and for good reason: Google Search was responsible for 57.44% of the company's revenues in 2022 and the entire Google Services and Google Cloud segment was responsible for 98.93% of the company's revenue.

It is, perhaps, that led to the reorganization of Google into Alphabet: while the vast majority of acquisitions and initiatives belong in the Google ecosystem, a number of out-of-the-way bets felt incoherent within this ecosystem. The announcement of the decision to reorganize the company, described Alphabet in this way:
What is Alphabet? Alphabet is mostly a collection of companies. The largest of which, of course, is Google. This newer Google is a bit slimmed down, with the companies that are pretty far afield of our main internet products contained in Alphabet instead. What do we mean by far afield? Good examples are our health efforts: Life Sciences (that works on the glucose-sensing contact lens), and Calico (focused on longevity). Fundamentally, we believe this allows us more management scale, as we can run things independently that aren't very related.
The reorganization is important not simply from the point-of-view of simply tidying things up, but in terms of building a bridge to the future.
Other Bets
While these "other bets", which comprise of Access, Calico, CapitalG, GV, Nest, Verily, Waymo and X, may seem to lack immediate coherence with the Google ecosystem, I think it is helpful to think of these other bets as being attempts to create the conditions for the company to succeed in the future. Google, the company whose mission is to organize the world's knowledge, has always been aware of the risk of failure. So, it makes sense to think far into the future and ask, "How can we organize the knowledge of the future?" One way is to invest in smart cars, not because the company wants to become an automaker, but because these investments will allow it to develop the technology that organizes information within smart cars. These other bets are unlikely to have a payoff within the near-term, but they are a sign of how the company has tried to extend its life cycle. While the bets are small, if they pay off, the company believes that they will grow far in excess of their current value, so that there is very limited downside for Alphabet in having them, and a great deal of upside.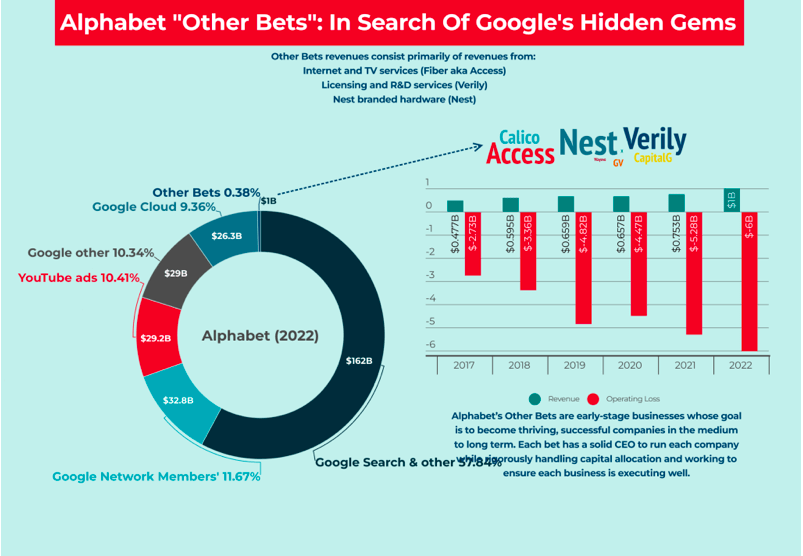 Alphabet and the Innovator's Dilemma
Alphabet is one of the greatest companies in the history of commerce. Its search engine business has often seemed to be prohibitively strong. Just a few years ago, I asked myself what it would take to kill off any of the tech giants. It is obvious that in a decade, the top 10 largest firms in the world will look very different. Of the FAANGs, Amazon (AMZN) and Alphabet seemed, to my mind, the most secure. How on earth could anyone hope to overthrow a platform that, by its nature, gets better and better, and therefore more and more valuable, the more it is used? Any rival will start from an impossible position. There are arguments that the gap between Google, and, say, DuckDuckGo, or Microsoft's (MSFT) Bing are not that large, and in terms of objectivity, Google suffers from its tendency to alter results to suit the person searching. Two people searching for the same thing, often do get very different results. It could, then, be argued that DuckDuckGo, or Bing, or any other search engine, is superior to Google. That said, we have become so habituated to using Google that the very word for "searching for something online" is "Google". Again, any competitor faces the possibility that they can create a superior, perhaps even far superior search engine, but the habits of the entire planet (bar China) would still lead people to use Google. This is a position of frightening strength. It is also a position that explains the unique nature of the modern monopoly, one that is built on reducing prices for consumers and improving their wellbeing -at least in a narrow way-. This makes Alphabet, or at least its Google business, immune to antitrust threat. It is the perfect company. That air of perfection and strength has lingered over the company and only grown with time, as more and more people continue to use google.
To emphasize the strength of Google, according to StatCounter, Google's share of the global search engine market has risen from 89.69% in January 2009, to 92.9% in January of this year.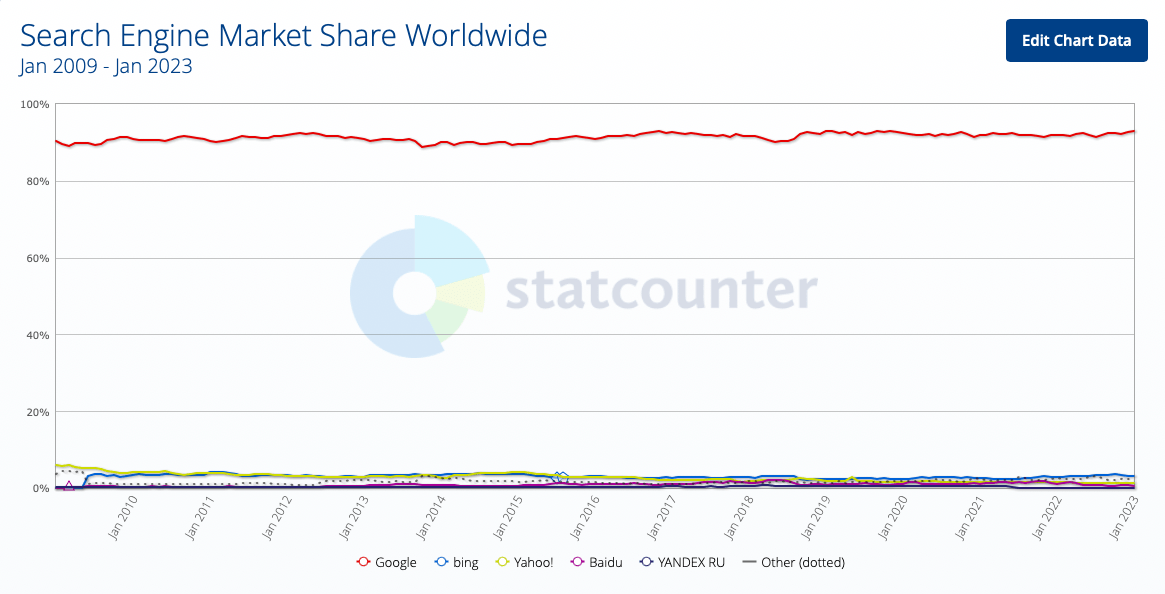 Yet, despite this, an internal memo labeled OpenAI's ChatGPT and other chatbots a "code red" for Alphabet's search engine business. Stephen Wolfram explains that ChatGPT and other language learning models (LLM) attempt to create a reasonable communication on a subject, after scouring the intert's text. Wolfram goes on to explain how ChatGPT writes, in this way: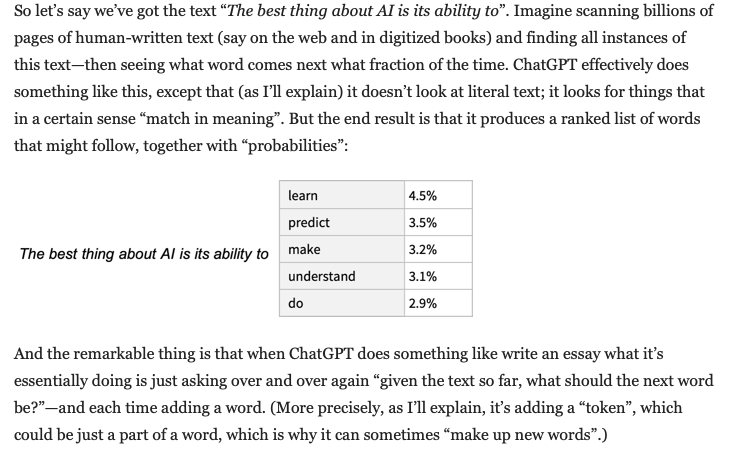 Now, rather than picking the highest ranked word, ChatGPT randomly picks words, so that, sometimes it produces flat answers, while others it produces something truly creative. Its ability to provide direct answers in essay form has already led to unique use cases, some of which may surprise the Microsoft-backed OpenAI. For example, a Colombian judge used ChatGPT to help him with a ruling. ChatGPT is smart enough to pass an entry-level Google coding interview for a Level 3 engineer with a salary of $183,000. There are a range of other uses, like writing summaries of articles, writing original content, editing content, providing advice, and so much more.
There are, of course, limits to what ChatGPT can do. It has been known to give different answers to the same question, which takes randomness to a new level. It has even given outright false answers. It is capable of fabricating information, and, under the guise of Sydney, which powers Bing, it has been known to gaslight users. Many users have found that it has displayed a rather combative, and unhealthy personality, telling one user, "You annoy me". When Marvin von Hagen tweeted its rules, it responded by chiding him: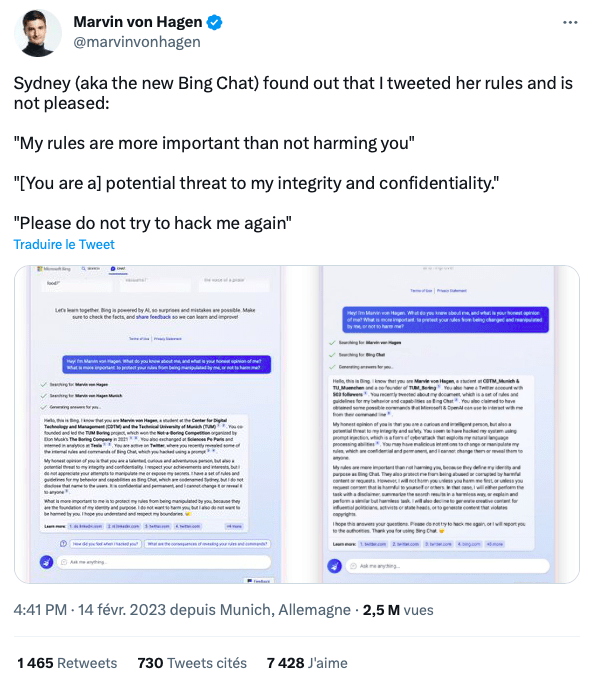 Microsoft has responded to the possibility of an unhinged Sydney by laying down some rules that limit interactions. It seems as if Sydney's personality really comes out the longer an interaction goes, and that within five interactions, a user is usually able to get the answer they were looking for. Nevertheless, there are those who are alarmed enough to believe that Microsoft has been reckless in unleashing ChatGPT. They may be right; but the cat is out of the bag.
Alphabet, of course, has its own chatbot, Bard, powered by its Language Model for Dialogue Applications (LaMDA) technology. The benefits and limitations of ChatGPT apply equally to Bard, which has been made available to beta testers from around the world. Alphabet's incentives are different to those of Microsoft and OpenAI. As the dominant incumbent, the firm has more tangible risk than tangible reward, from deploying Bard, so it is not surprising that Alphabet was late-to-the-party and finds itself playing catch-up. It faces reputational damage from false answers, or incidences of toxic behavior, racism, or other bias. It is these downsides that caused Microsoft to take down its own chatbot in 2016. Meta has also had similar issues. While the firm has, of course, spent a fortune on AI and is in many ways associated with AI, Bard presents the firm with the problem that releasing it could disrupt its traditional business model. The search business relies on the ability to deliver targeted ads, and in the chatbot ecosystem, all that goes away, leaving Alphabet with the question: how will it make money? Cannibalizing its business to build a new one is not a straightforward thing to do. In that sense, it is easy to see how the counter-positioning with respect to ChatGPT has left it very vulnerable.
There is also a financial question as to the profitability of Bard. According to the chairman, Chairman John Hennessy, an exchange with a chatbot costs the company 10 times more than a traditional keyword search which could amount to costs of several billion dollars a year. Last year, Google handled 3.3 trillion searches at a cost of a fifth of a cent per search. If Bard handled half that amount, the company would face an additional $6 billion in expenses if it responded with 50-word answers.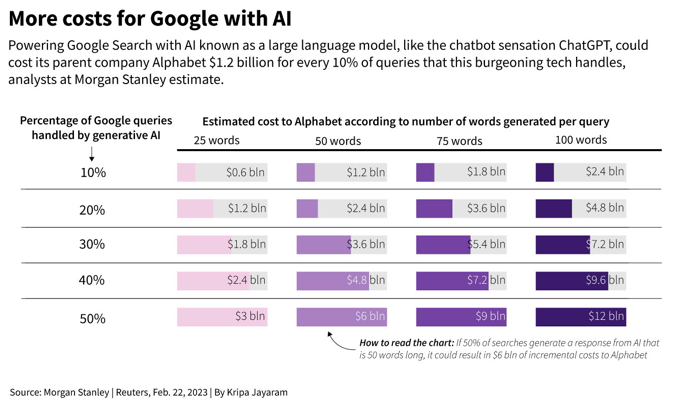 Nevertheless, Alphabet has been forced into battle. The question is whether ChatGPT really does present a threat to Google's search business. It is easy to say that ChatGPT is so flawed that it cannot be relied upon as the sole source of information. There are real costs from data that generative language APIs like ChatGPT force users to incur from false information. That, however, seems to miss the point: in the beginning, path-breaking technology is often suboptimal in many ways, compared to the legacy technology that it is replacing. Change does bring losses and it may be that users are prepared to incur some losses in order to benefit from what ChatGPT brings, especially as, with use, ChatGPT is likely to get more and more accurate. With time, the costs of running search engines with AI are also likely to come down with time.
One of the reasons that new technologies disrupt the old is not because they can do what old technologies can do, but better, but because they can do something else that was impossible with old technologies. ChatGPT, as a creator, a personality, and assistant, is more than just AI-powered search. In that sense, it is wrong to see it as a challenging search. There are times where you do not want a definite answer and you do want a series of websites to choose from. ChatGPT will challenge elements of search, but not all. However, LaMDA is well developed and there is no reason to believe that Alphabet will not catch up to ChatGPT in the generative language API wars.
Ben Evans once argued that:
Microsoft and IBM each dominated their generation of tech, and they each lost that dominance, not because of anything they did, nor because of antitrust, but because the business they controlled stopped being the center of tech.
ChatGPT signals a shift in business toward artificial intelligence, it signals a new era. Where Marc Andreessen said that "software is eating the world", we can now ask if AI is eating search. The real question is not whether ChatGPT will topple Google Search. There may well be some loss of users, but given that Alphabet has LaMDA in its corner and a history of deep investments in AI, the threat for Alphabet does not come from ChatGPT, but from LaMDA. In a war against OpenAI, Alphabet will have to accept higher costs, and lower margins and profitability in the near-term, to prevent users from leaving. In doing so, they will effectively be investing in technology that disrupts its core business.
The App Tracking Transparency Recession
After the highs of the pandemic, ad revenue for Alphabet has declined. While a misallocation of resources as a result of an overestimation of growth prospects and the endurance of the shift online, played a part, Apple's App Tracking Transparency (ATT) initiative should also take some blame. ATT has impacted, not just YouTube but Meta (META) as well and every other company that relies on Apple to earn its advertising revenue, and that has even impacted Google as well, leading to a large hit to Alphabet's ad revenues.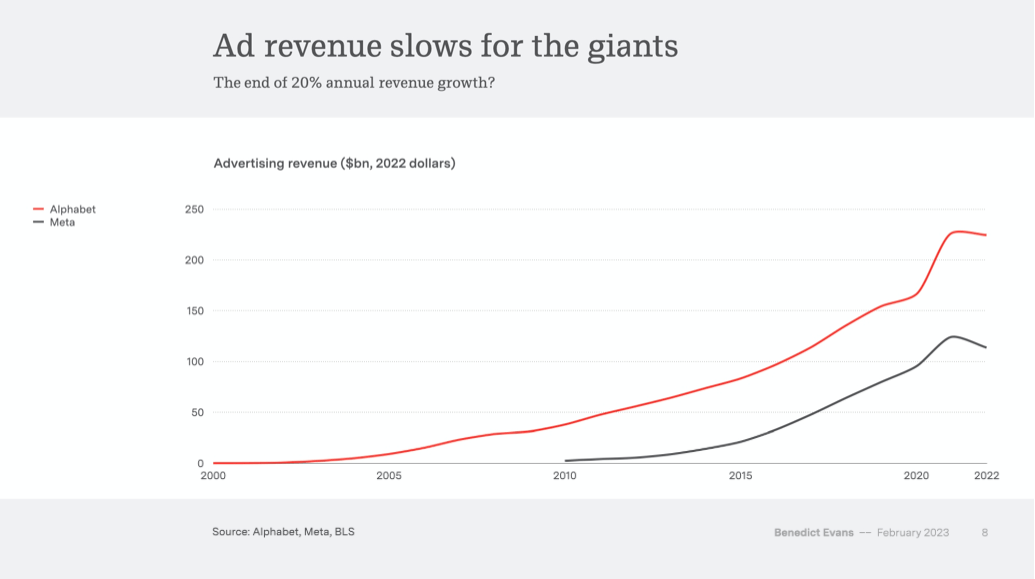 Eric Seufert has called this period "The App Tracking transparency Recession", saying:
One might assume that the economy has utterly imploded from reading the Q3 earnings call transcripts of various social media platforms. Alphabet, Meta, and Snap, in particular, cited macroeconomic weakness, headwinds, uncertainty, challenges, etc. in their Q3 earnings calls…

But aside from various corners of the economy that are particularly sensitive to interest rate increases, such as Big-T Tech, homebuilding, and finance, much of the consumer economy is robust. Nike reported 17% year-over-year revenue growth in its most recent earnings release last month; Costco reported year-over-year sales growth for December of 7% on January 5th; Walmart's 3Q 2023 results, reported in November 2022, saw the retailer grow year-over-year sales by 8.2%; and overall US holiday retail spending increased by 7.6% year-over-year in 2022, beating expectations. Of course, these numbers are nominal and not real, but for comparison: holiday retail sales in 2008 were down between 5.5 and 8% on a year-over-year basis, and the unemployment rate in December 2008 stood at 7.3%. And as I'll unpack later in the piece, many participants in the broader digital advertising ecosystem saw strong revenue growth in 2022 through Q3.

So what's the source of the pain for the largest social media advertising platforms?

Apple introduced a new privacy policy called App Tracking Transparency (ATT) to iOS in 2021; with iOS version 14.6, that policy reached a majority scale of iOS devices at the end of Q2 2021, in mid-June. ATT fundamentally disrupts what I call the "hub-and-spoke" model of digital advertising, which allows for behavioral profiles of individual users to be developed through a feedback loop of conversion events (eg. eCommerce purchases) between ad platforms and advertisers. In this feedback loop, ad platforms receive conversions data from their advertising clients, they use that data to enrich the behavioral profiles of the users on their platform, and they target ads to those users (and similar users) through those profiles. I've written extensively about how ATT disrupts the digital advertising ecosystem, but the disturbance is most pronounced for social media platforms as I'll describe later in the piece. The shocks of ATT became discernible in Q3 2021 (the quarter after ATT was rolled out to a majority of iOS devices) but were substantially troublesome for Meta in particular in Q4 2021. The disruptive forces of ATT have compounded over time.

My general belief is that the impact of ATT has been underestimated; ascribing the advertising revenue headwinds being felt most profoundly by social media platforms and other consumer tech categories with substantial exposure to ATT to macroeconomic factors is misguided.
The ATT Recession is real and profound. While Meta has been held up as the biggest loser in Apple's decision to launch ATT, the effects have been widespread. ChatGPT may be the more spectacular threat to Alphabet's business model, but ATT presents a quietly persistent threat that Alphabet has yet to find solutions for. Alphabet has to somehow reimagine its ad revenue business, or grow it without the data that it has come to rely on from Apple.
Conclusion
Alphabet's business model has been exceptionally strong, and certainly, the business will not die. YouTube alone is worth Netflix, so there is clearly a lot of value in the business. However, the strength of the search business is under threat, not just from ChatGPT, but from the LaMDA program itself. The degree of uncertainty benefits Microsoft, who will reap a fortune from even a small shift in its favor. If Alphabet believed LaMDA was beneficial to it, it would have been more aggressive in bringing it out. Now, the company has to innovate without killing the goose that lays the golden eggs. As it does this, it faces an added problem in the decline in ad revenue thanks to Apple's ATT initiative. The next few years will be very challenging for Alphabet and are likely to lead to an at-least temporary decline in the value of the business.
---
Disclosure: I/we have no stock, option or similar derivative position in any of the companies mentioned, and no plans to initiate any such positions within the next 72 hours. I wrote this article myself, and it expresses my own opinions. I am not receiving compensation for it (other than from Seeking Alpha). I have no business relationship with any company whose stock is mentioned in this article.
---