Amazon: A Fallen Angel With Broken Wings (Technical Analysis)
Summary:
AMZN continues to perform poorly compared to benchmarks in its relevant sectors which are leading the recent stock market rally.
The stock is likely heading into more weakness while investors could wait and see if support may build up.
In this technical article, I show important price levels and metrics that investors could consider for gaining an edge on the stock's likely price action.
By considering multiple outcomes and setting up an adequate contingency plan, investors are less inclined to act driven by emotions, as this could come at a higher cost.
I continue to rank AMZN as a high-risk hold position, while I would still avoid any new or further exposure to the stock.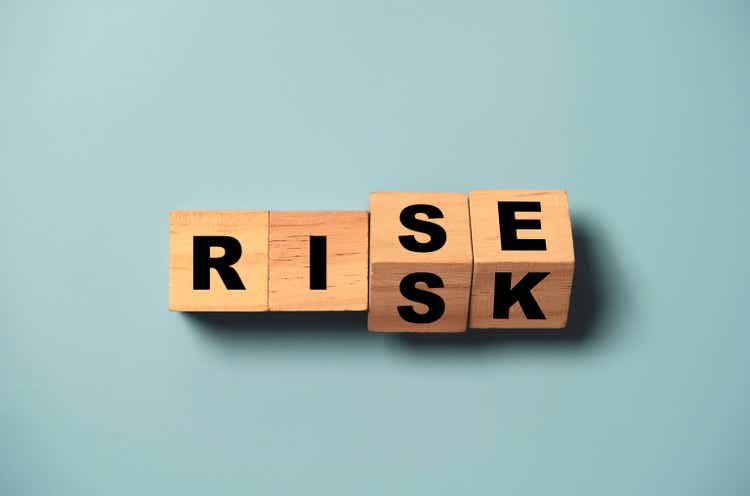 Amazon.com, Inc. stock (NASDAQ:AMZN) continues to underperform its most important reference and despite multiple breakout attempts and a rally in the relevant sectors, the stock hasn't been able to emerge from its downtrend. In this article I discuss technical elements that underscore the increasingly high chances of seeing the stock performing poorly, leading me to continue qualifying the stock as a high-risk hold position, while I would certainly still not enter or add exposure in AMZN.
A quick look at the big picture
The US technology sector has led the recent rally in the US stock market since the beginning of 2023, after a year of severe sell-off that affected almost all industries across the sector. Semiconductor manufacturers have been leading the strong reversal, while information technology service providers are still struggling to build up significant positive momentum. The consumer cyclical sector reports a similar pattern, and while most of the relevant industries are taking part in the recent reversal, the rally has been led by auto manufacturers which are particularly positively affected by the relief in the global supply chain bottlenecks, while internet retail companies are only modestly recovering from their massive losses during the past year.
The industry reference the Consumer Discretionary Select Sector SPDR ETF (XLY) is still in its downtrend after having been particularly extended coming out from the pandemic low. Most recently, the benchmark is trying to break out from its EMA55 for the third time, while this time XLY is simultaneously facing the EMA144, while also reporting relative weakness when compared to the broader technology market, the Nasdaq Composite (IXIC), or more narrowly the Nasdaq-100 tracked by the Invesco QQQ ETF (QQQ). Despite the most recent positive momentum, XLY would need significantly more conviction in buy-side volume, and persistent relative strength, in order to overcome its resistance and break out from its downtrend. The benchmark is also at risk of falling back under its EMA200, and this could lead XLY to re-test its bottom, marked on December 28, 2022.
Where are we now?
In my article "Apple Vs. Amazon: Which FAANG Stock Is The Better Investment?" published on November 24, 2022, I discussed the fundamentals of Amazon and valued the company based on three scenarios. My analysis suggested a potential overvaluation of AMZN even in the most optimistic scenario, with the stock priced fairly at $75.36. AMZN has successively bottomed at $81.43 on January 6, 2023, and could form a short term-rally that leads to a test of the EMA200 on February 2, a situation seen for the third time since the beginning of the stock's decline, while this time the breakout attempt didn't happen simultaneously at the EMA55 on the stock's weekly chart.
The stock had some accumulation days in the past weeks while its positive momentum seems to have lasted only shortly, as the stock is still significantly negatively extended and reports massive relative weakness when compared to the Nasdaq Composite (IXIC). Investors should consider that despite the recent rally which was overdue for negative extension, AMZN will need to build up significant relative strength for a consistent reversal, and this should be reflected also in the XLY, as the company's ponderation is above 24% in the benchmark's holdings.
Every breakout attempt has been rejected with a consequent massive sell-off, driving the stock back to the pandemic-low levels. AMZN is in stage four, and the major issue in this kind of situation is the massive technical, but also psychological, overhead resistance that the stock has to overcome before possibly setting up a new uptrend.
What is coming next?
On its daily chart, AMZN is likely testing its support at the EMA55. A massive sell-side volume, a sign that institutional investors have most likely been taking profits, while still lacking conviction to drive the stock price higher, characterized the rejection at the EMA200, as the stock is continuing to trace its downtrend channel. AMZN's short interest has been declining from its peak at $19B volume sold short on September 15, 2021, to around $6.7B recorded in January 2023, but the reduction in short pressure hasn't really increased the stock's resilience.
Technically, the stock has failed in its Elliott Wave formation, as wave 4 overlapped the territory of wave 1, a situation that will probably lead the stock to continue in its movement after the last wave, signaling a higher likelihood of seeing new lows. The stock also has massive overhead resistance to overcome in case of a reversal, as it broke under its most relevant support levels and has repeatedly been rejected by its moving averages as its trailing resistances.
The likelihood of seeing AMZN declining further is substantially increasing as the stock could continue to trace the upper part of its downward channel, the MACD just crossed negatively, and the stock is again set for buildup in relative weakness, while the buy-side volume has significantly declined after the recent peak. The next important test for AMZN will be its EMA55. If the stock falls under this support level, I consider the chances of seeing AMZN testing its bottom at $81.43 to be relatively high, while I would consider price levels around $73.30 as my most pessimistic target based on the actual technicals, which is close to the target based on my fundamental valuation at $75.36.
If the stock instead will be more resilient and the EMA55 will become its trailing support, AMZN could try to rise further toward its EMA200 in the coming weeks, with the most likely target seen at $115. Before I could consider AMZN as a long-term buy position, I want to see the stock breaking out from its EMA200 on its daily chart, from its EMA55 on its weekly chart, while confirming those price levels on substantial volume, and consistently reporting significant relative strength.
The actual unfavorable situation with a risk/reward ratio of only 0.56 is leading me to continue to rank AMZN as a high-risk hold position. AMZN is in a stage no investor wants to see if not on the short side, and as I already underscored also with fundamental arguments, it is not the right time to begin or build a position at this point. Actual shareholders with a narrow risk tolerance could set their stop-losses under the EMA55 while scrutinizing the price action around this level. Investors with a higher risk tolerance could give the stock more space, while I would not want to see it testing the bottom and would consider $90 as my lowest stop-loss.
If AMZN continues to move sideways, the stock could transition into stage one, where it would consolidate until it finds enough interest from investors to build up strength and break out from the strong overhead resistance. Although, the bottoming process can extend over a significant amount of time, and even after an initial rally, long-term investors underwater tend to sell the stock as soon as it recovers to their break-even price or any price that psychologically seems a justified trade-off, while longing for relief of their massive loss. From a short-term perspective, this could lead to an interesting trading range, but I would want to see the bottom confirmed and positive momentum building up, before considering a swing-trade position.
The bottom line
Technical analysis is not an absolute instrument, but a way to increase investors' success probabilities and a tool allowing them to be oriented in whatever security. One would not drive towards an unknown destination without consulting a map or using a GPS. I believe the same should be true when making investment decisions. I consider techniques based on the Elliott Wave Theory, as well as likely outcomes based on Fibonacci's principles, by confirming the likelihood of an outcome contingent on time-based probabilities. The purpose of my technical analysis is to confirm or reject an entry point in the stock, by observing its sector and industry, and most of all its price action. I then analyze the situation of that stock and calculate likely outcomes based on the mentioned theories.
Both the internet retail and the information technology industries are still struggling in building up momentum, while other industries are leading the rally in the relevant sectors. Companies in these two industries are facing cyclical headwinds while also the macroeconomic framework is adding pressure on valuations. In stock market downturns, some historical leaders revert, while others struggle to recover and new leaders rise in the industry. AMZN is still struggling to emerge from its sell-off and the stock could head for more weakness, while its upside potential is still too limited in order to justify a position. It's not the time for investors to be exposed to the company until the stock isn't able to confirm a new uptrend. Under the discussed technical aspects I would not take any new exposure, and I continue to rank AMZN as a high-risk hold position.
---
Disclosure: I/we have no stock, option or similar derivative position in any of the companies mentioned, and no plans to initiate any such positions within the next 72 hours. I wrote this article myself, and it expresses my own opinions. I am not receiving compensation for it (other than from Seeking Alpha). I have no business relationship with any company whose stock is mentioned in this article.
Additional disclosure: All of my articles are a matter of opinion and must be treated as such. All opinions and estimates reflect my best judgment on selected aspects of a potential investment in securities of the mentioned companies, as of the date of publication. Any opinions or estimates are subject to change without notice. I am not acting in an investment adviser capacity, and this article is not financial advice. I invite every investor to do their research and due diligence before making any investment decisions. I take no responsibility for your investment decisions but wish you great success.
---