Apple: Don't Worry About The Cash Position
Summary:
Apple Inc.'s net cash position is near a multi-year low.
Free cash flow is enough to sustain buyback for several years.
Lower share count negates some impact of lower buyback.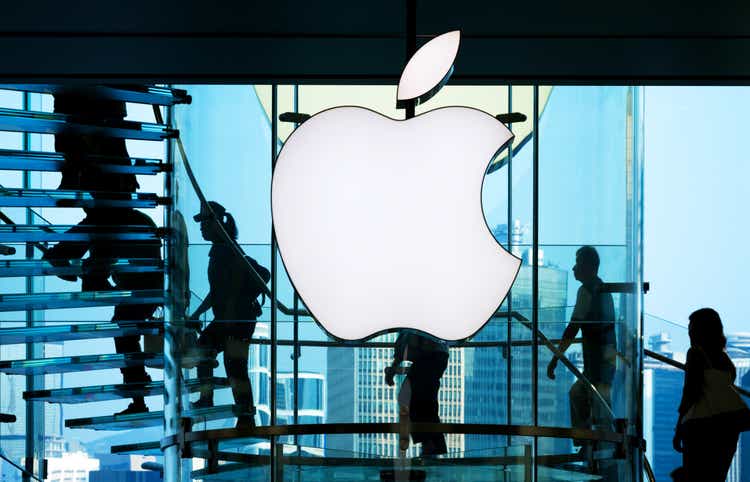 There is no doubt that technology giant Apple Inc. (NASDAQ:AAPL) has been very generous to its shareholders over the past decade. The company's massive share repurchase plan has been the key part of a capital return plan that could pass three quarters of a trillion dollars during the current quarter. As a result, however, the company's net cash balance is down dramatically from where it once was, but today I'll explain why that's not that big of a deal.
Yes, it is true that Apple's net cash position is not what it once was. That's because the company has returned over $740 billion in capital to shareholders over the past decade or so, as the graphic below shows. The company's net cash balance did rise by about $5 billion in its most recent fiscal quarter, which is the period of the year that usually generates the most free cash flow. As a reminder, Apple uses a September ending for its fiscal year, so the Q1 2023 period shown below is Apple's holiday 2022 December quarter.
In the December period, Apple did report a sizable decline in free cash flow. There were three major reasons for this. First, net income was down a bit over the prior year period, as iPhone inventory shortages led to sales pressures. A stronger U.S. dollar also hurt the company, like we've seen with all multi-national corporations. Finally, working capital items swung against the company for Q1, but these can easily swing back in a future quarter.
Even in this down period, Apple generated more than $30 billion in free cash flow. That was enough to support more than $25 billion in capital returns, primarily through the buyback as we've seen in recent years. As the chart below shows, Apple is coming off a fiscal year (ending September 2022) where it generated more than $111 billion in free cash flow, up more than $18 billion over the prior year.
Another author on this site recently suggested that Apple could see declining cash flow as it looks to build up its Apple TV+ service. While it is true that the company will probably spend a few billion annually on programming, we are not looking at Netflix, Inc. (NFLX) here that could spend $20 billion a year. Netflix's primary market is streaming, so it has to put that size of investment into the business, whereas Apple's service is an add-on. While I agree that Apple likely will increase its spending on streaming content, I don't think it will do it at the expense of significant profitability or massive cash flow.
Even if this fiscal year sees some struggles due to the iPhone shortage and some macroeconomic headwinds, Apple is not dying. Analysts see earnings per share rising in the future, and that likely means cash flow will at least level off if not eventually rise again. Unless you see smartphones, tablets, PCs, and other products going away rather soon, we're still talking about a business here that does almost $400 billion a year in revenue. Apple can also introduce new products in the future if consumer habits and technologies do change.
Let's say, though, that Apple's free cash flow declines to $100 billion or so a year. Even if we subtract out the $20 billion or so a year in dividend payments and share settlements, the company could buy back $20 billion or so a quarter and still have its net cash pile stay roughly where it is. If the company wants to get closer to being cash neutral, something I previously discussed in greater detail, it could buy back even more.
It is true that Apple did buy back a few percent less worth of shares in this year's fiscal Q1 as compared to the Q1 2022 holiday fiscal period. In the grand scheme of things, that is not really a material change. Over the last three months, Apple has averaged a little more than $10 billion worth of trading volume per day. Given there are more than 60 trading days in an average quarter, a buyback that's even a few billion dollars lower over an entire quarter isn't really a big deal with this much volume changing hands.
The other item to think about here is in regards to what the buyback itself does. Apple's share repurchases have reduced the outstanding share count from a split-adjusted figure that was more than 26 billion at its peak to less than 16 billion at the latest update. Buying back shares today at X price has more of an impact than buying them back at the same X price a year ago, because the share count was higher then. To illustrate this, take a look at the example table below, and we'll round the stock price up a few cents from Monday's close to the nearest dollar.

At around 16 billion shares currently outstanding, an $80 billion buyback per year gets the share count down by 3.38%. As the number of shares is reduced, however, even if the stock stays at the same dollar price, the impact becomes greater. Of course, if Apple shares fall from current levels, Apple could get even more bang for its buck. Don't forget that Warren Buffett's Berkshire Hathaway (BRK.A) owns almost 1 billion shares of Apple, so unless you think that the investment icon is going to sell soon, one could even exclude those "locked up shares" from the total count for this argument.
Now, the other article I referenced earlier does make one key point that I'll agree with. Apple's valuation is a bit lofty now as compared to where it has been in prior years. While the street still sees a bit of upside from here, Apple at roughly 25 times this year's expected earnings per share is elevated from the high teens or low 20s where it has been over the medium term. If you want to argue that Apple will come down because of near term sales issues or a high valuation, that's one thing, but I don't think the cash position and buyback is a real negative catalyst here.
In the end, Apple Inc.'s cash position is a lot stronger than it may look at first glance. While the company doesn't have as much financial flexibility as it used to, that's only because investors have been massively rewarded over the years. Even so, Apple Inc. is still likely to produce $100 billion or so of free cash flow a year moving forward, allowing for substantial capital returns and a continued decline in the share count. I still think this name is a great long term hold, although as I've argued recently, investors could be in for a bumpy ride in the short term as the Fed continues to hike rates and the market worries about a U.S. recession.
---
Disclosure: I/we have no stock, option or similar derivative position in any of the companies mentioned, and no plans to initiate any such positions within the next 72 hours. I wrote this article myself, and it expresses my own opinions. I am not receiving compensation for it (other than from Seeking Alpha). I have no business relationship with any company whose stock is mentioned in this article.
Additional disclosure: Investors are always reminded that before making any investment, you should do your own proper due diligence on any name directly or indirectly mentioned in this article. Investors should also consider seeking advice from a broker or financial adviser before making any investment decisions. Any material in this article should be considered general information, and not relied on as a formal investment recommendation.
---