Apple Takes Aim At Broadcom, But It's No Factor
Summary:
Another report of Apple taking complicated wireless components in-house has surfaced, with Broadcom as the target.
Apple has experience with its own silicon – its CPU endeavor – but as I analyzed in my Qualcomm article, wireless is another beast entirely.
Even if Apple can replicate and produce Broadcom's WiFi/Bluetooth component by 2025, Broadcom still will retain 12%-15% of its Apple revenue from its current 20%.
The more likely scenario is the report is for leverage for a supply agreement between Apple and Broadcom set to expire in mid-2023.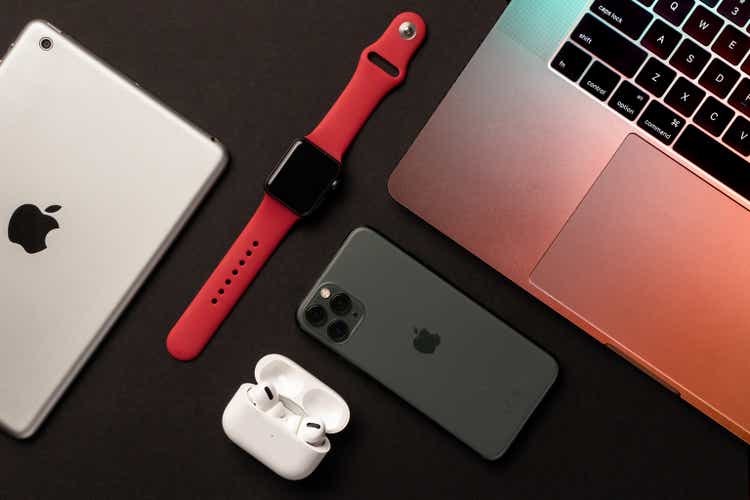 The other week, a report from Bloomberg said Apple (NASDAQ:AAPL) is looking to replace some or all of Broadcom's (NASDAQ:AVGO) WiFi/Bluetooth RF chips by 2025. If this modus operandi sounds familiar, it's because it is. I've had quite a few readers message me, comment on my articles, and post in the Tech Cache chatroom asking about what it meant for Broadcom. It's not surprising this is a big topic, as most things Apple are. Therefore, I'll address the impacts here since it's much ado about nothing, as in, nothing to fret about in terms of Broadcom's long thesis.
Deja Vu?
So if you thought this sounded familiar, you just have to replace Broadcom with Qualcomm (QCOM), and you're singing the same tune. Apple bought Intel's (INTC) (failed) modem division in 2019 to replace Qualcomm's 5G modems in its iPhones. Since then, Apple has been working on replacing one of the best, if not the best, 5G modem on the market. However, it hasn't panned out. You can read why in my July '22 article.
I bring up the 5G modem because it's nothing new for Apple (to attempt) to bring components in-house. It did it with its CPUs – the design, that is – as Taiwan Semiconductor (TSM) manufactures them. This won't change for any other components it brings in-house; Apple isn't going to invest in foundries. Instead, it would only like to control the designs and patents to save on licensing costs and, ideally, better integrate its products with customization and optimization.
Apple has been on this journey of replacing all the wireless components it can, but thus far, for the last four years, nothing has come of it. It would have an easier time designing and producing its own NAND memory than anything wireless. The problem is Apple has been attempting to design and then contract manufacture the most complicated semiconductors on earth over the last four years.
RF Chips Are Not CPUs
Apple isn't unfamiliar with designing silicon. It's done so with CPUs for some time. But CPUs are relatively easy to design and don't require as many patents and IP (intellectual property) on the design side. It's been an engineering right of way for many decades, and someone with only a small amount of knowledge can design a very basic microprocessor. Much of the IP comes in during the manufacturing process to etch transistors at such a small scale.
While designing a CPU to complex constraints such as die size and power requirements takes time, there are decades of designs to look at and optimize. My point is it's a well-beaten down path.
With RF (radio frequency), RFFE (radio frequency front-end), or WiFi chips, the IP and patents come primarily on the design side. This is why Intel's modem business failed and was later sold to Apple. Intel admits it was due to Qualcomm's choke hold on the industry; it holds the patents needed to make wireless and, more specifically, 5G work at the level it needs to.
It also requires proper calibration and balance between these different components. There's a reason Qualcomm creates packages with RF and modems together. Apple making a 5G modem means it needs to work alongside all of the other RFFE components it interacts with. Therefore, the fact Apple is reportedly going after Broadcom's components isn't too surprising.
While Broadcom's WiFi/Bluetooth RF component isn't as dependent on the other RF components, it's a sign Apple is trying to work down the RF chain to find something it can replace. It remains to be seen whether Apple is even in the ballpark without patent infringement or lacks the IP needed to accomplish the task. Apple may have decided to tackle an "easier" component to get itself started. Going straight for a 5G modem seemed pretty arrogant to me.
The outside possibility is Apple has created the modem and RFFE and is now finishing the chain with a WiFi/Bluetooth component. Possible? Yes, possible. Probable? Not at all.
I described this task to Tech Cache members like this: it's like maneuvering a minefield, at sea, at night. You can do it, but you'll have to go very slowly and may produce a subpar component with issues or run into patent infringement, blowing yourself up. Neither would keep Apple's brand spotless; it would be worse than any bendgate. A lousy product with poor reception or inferior download/upload speeds would be the mistake Apple doesn't recover from – an entire product line unable to perform as well as the last model.
Don't misunderstand me here; like CPUs, Apple started off slowly and worked its way to the big guns. The company may replace components for its watch or its AirPods first, getting the kinks out there with "less" complicated devices.
But what does it gain by trying to design yet still outsource its production of a wireless component? If Apple's innovation is going to come from copying the components it buys from vendors, it's way behind the technology and learning curve. Not to mention, it has to reinvent the wheel to design something that doesn't strafe an existing patent.
The Impact On Broadcom
Regardless of Apple's reasons for going after its products' many wireless components, Broadcom has risks. Apple makes up 20% of its revenue – give or take – so this isn't something we can gloss over. Let's start with the worst-case scenario and the give-and-take of the situation.
Let's say Apple does replace Broadcom's WiFi/Bluetooth chip in 2025. Two things are apparent here. First, two years is a long time for Broadcom to prepare for such a transition away from its products – exactly the same way Qualcomm is doing. Broadcom, in this case, has already been diversifying further into IT and enterprise software, most recently with its VMware (VMW) acquisition pending approval, creating diversification away from semiconductors and mobile. Second, even though Apple's contribution to Broadcom's revenue is around 20%, this WiFi/Bluetooth chip isn't all of Broadcom's products it sells to Apple.
Broadcom also makes wireless charging components and other RF components. It has three RFFE sockets in the iPhone 14 Pro Max and one wireless power receiver socket. This means Broadcom has at least five sockets in total. Of course, Apple is after more than just the WiFi socket, according to the report, but my point is to show not all of the products in question are on the chopping block. Therefore, not all of the revenue contribution from Apple is at stake. Estimates from analysts put it at still retaining 12%-15% of Apple revenue if the WiFi socket is swapped for an in-house one.
[Vivek] Arya [of BofA] said that even with that loss, Broadcom (AVGO) "would still be left with a sizeable 12% to 15% Apple [business] exposure…
So even in the worst-case scenario where Apple somehow finds its eureka moment for designing and then contracting manufacturing complicated RFFE chips, Broadcom isn't out to sea. Remember, Apple started to go to its own CPU silicon in 2010 for its iPhones, but it wasn't until 2020 that it introduced it to its Mac and iPad lineup, officially ditching Intel. So naturally, it's going to have a much more difficult time doing this with 5G modems, RFFE, and other high-performance RF sockets, especially when the vendors it's trying to replace own the IP and design patents.
Of course, in an all-out Apple-pulled-it-off scenario, losing 20% of revenue is a thesis-altering event. So I can't rule out the possibility altogether, but a lot of things need to line up for it to get there. Additionally, the two-year buffer is a long period to watch the story unfold, follow the back and forth, and assess where my investment is headed.
For the Apple investor, betting on Apple to accomplish this provides very little tailwind. It might get some margin improvement on the chips themselves, but with billions of dollars and many years of investment, I'm not so sure any investor sees a return on it. Not to mention, the RFFE investment doesn't just stop there. It must continually evolve to get faster, better, and more efficient, especially as other sockets change or adapt. Apple's posture to bring things "in-house" isn't all it's cracked up to be. It must continue investing billions to keep up with technology like WiFi protocols, the next level of 5G and what comes after, better charging, sound processing, and on and on.
There Are Two Sides To Every Story
What's more likely happening is leverage is trying to be applied – not uncommon with Apple – as negotiations are going on for another supplier agreement between it and Broadcom. The 2019 and 2020 supplier agreements are scheduled to end in mid-2023, so the reports of Apple moving away might be a way to get better pricing from Broadcom.
What's funny is the news in 2020, when the agreement was signed, speculated Apple would be moving away from Broadcom in 2023. Now the reports are for 2025. So don't believe the rumors until you see a shift in Broadcom's backlog or Apple confirms it's in production with its first-ever RFFE chip.
In reality, Apple is signing another supply agreement because it doesn't have RFFE chips ready for 2023 production. This song and dance happens every time a new contract is negotiated, and the timeline and reports place the replacement date at the end of the next contract.
Apple has a lot of work to show it can produce very complicated wireless components before anyone takes them seriously. As for Broadcom, not only is the new (reported) date two years away, it holds all the cards. Apple needs Broadcom more than Broadcom needs Apple. Broadcom will survive without it, but Apple absolutely needs a WiFi/Bluetooth chip in every one of its products.
My bullish thesis on Broadcom changes zero due to these inherent market advantages and component complexities.
---
Disclosure: I/we have a beneficial long position in the shares of AVGO, INTC, QCOM, TSM either through stock ownership, options, or other derivatives. I wrote this article myself, and it expresses my own opinions. I am not receiving compensation for it (other than from Seeking Alpha). I have no business relationship with any company whose stock is mentioned in this article.
---
Decrypt The Cash In Tech With Tech Cache
Do two things to further your tech portfolio. First, click the 'Follow' button below next to my name. Second, become one of my subscribers risk-free with a free trial, where you'll be able to hear my thoughts as events unfold instead of reading my public articles weeks later only containing a subset of information. In fact, I provide four times more content (earnings, best ideas, etc.) each month than what you read for free here. Plus, you'll get ongoing discussions among intelligent investors and traders in my chat room.