Bavarian Nordic: A Stock You Should Not Miss In 2017
Summary:
Bavarian Nordic has projected a strong year-over-year revenue growth for 2017.
Stockpiling target of the US Government related to non-replicating small pox vaccine is a solid revenue driver for Bavarian Nordic.
Positive PROSTVAC data readouts will result in robust milestone payments from Bristol-Myers Squibb in 2017.
Bavarian Nordic is currently trading at discounted forward price-to-earnings multiple as compared to its peers.
Headquartered in Denmark, Bavarian Nordic (OTCPK:BVNRY) is focused on developing vaccines in oncology and infectious diseases segments. While the company currently has only one approved vaccine, Bavarian Nordic is involved in eight other research programs.
In 2016, Bavarian Nordic managed to reach the DKK 1.0 billion milestone for the fifth year in row. Further, despite having invested approximately half of its total revenues in R&D programs, the company did not post a loss for 2016.
At the end of 2016, Bavarian Nordic's cash preparedness which includes cash and cash equivalents, marketable securities, and undrawn credit lines, amounted to around DKK 2.3 billion or $325 million. The company managed to raise capital worth $100 million in 2016. Despite heavy ongoing R&D investments, Bavarian Nordic expects to increase its cash preparedness to DKK 2.4 billion or $340 million in 2017. This highlights the company's confidence in its revenue-earning potential in 2017.
I believe that there are multiple short-term drivers capable of propelling Bavarian Nordic's stock price in 2017. Here, I will present them to explain my rationale for considering the stock as a compelling investment opportunity for 2017.
Bavarian Nordic has given a solid revenue and EBIT guidance for 2017
The first and foremost reason why I believe investors should be picking up Bavarian Nordic is that the company expects a solid revenue and EBIT growth in 2017. The company has projected that its 2017 revenues will be around $183 million, which is 28.7% higher than $143 million revenues earned in 2016. Bavarian Nordic has also projected its 2017 EBIT to be around $50 million, which would be a 900% year-over-year growth for 2017.
In today's volatile environment when the entire pharmaceutical and biotechnology industry is facing stiff pricing pressures and multiple regulatory constraints, majority of the companies have played safe by projecting flat performance or modest growth for 2017. However, being in the innovative vaccines segment which faces limited competition, Bavarian Nordic can be more confident of its product sales and pricing. Hence, in this context, the company's financial guidance definitely stands out and makes it a major reason for investors to go for Bavarian Nordic.
In 2016, global sales of IMVAMUNE smallpox vaccine accounted for approximately 92.0% of Bavarian Nordic's total revenues. This also includes payments pending from 2007. The remaining revenue was attributed to milestone payments earned by the company on account of its collaboration agreements with multiple pharmaceutical players.
IMVAMUNE sales are expected to drop from $131.6 million in 2016 to $115 million in 2017. In 2016, the company received bulk delivery order for IMVAMUNE vaccine from US government worth $100 million. Hence, currently, the company has total bulk orders for the vaccine worth $233 million. A major portion of the vaccine's 2017 revenues is expected to materialize in 1H 2017 due to scheduled bulk delivery to US government.
Bavarian expects to reduce its reliance on IMVAMUNE vaccine as the company will be able to recognize the upfront payment of around $60 million received from Bristol-Myers Squibb (BMY) in 2015 related to prostate cancer vaccine, PROSTVAC. This revenue could be recognized only after the release of Phase 3 top line data for this investigational drug, scheduled to be released in late 2017.
The company also expects $14.3 million revenues from R&D contracts with Johnson & Johnson (JNJ) and US Government in 2017.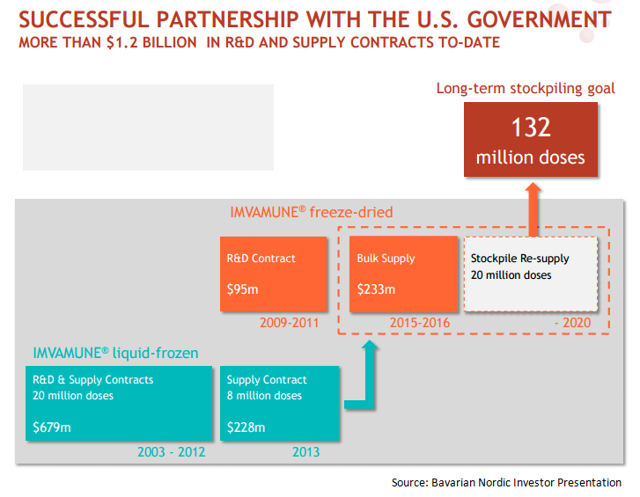 Bavarian Nordic has entered into contracts worth $1.2 billion with US Government
IMVAMUNE is a non-replicating small pox vaccine as is used for people who cannot use replicating small pox vaccines such as those with certain immune-deficiencies or those with HIV infection or dermatitis. Pregnant Currently, IMVAMUNE is also the only non-replicating small pox vaccine approved in European Union while no such approved vaccine exists in US.
While IMVAMUNE is yet to be approved in US, Bavarian Nordic has already entered into supply contracts worth $1.2 billion with US government. This is due to the government's decision to stockpile 132 million doses of the non-replicating small pox vaccine, capable of protecting 66 million people who may not respond to replicating small pox vaccines. Bavarian Nordic has recognized $1.0 billion worth revenues from US government till date. The company has projected the revenue opportunity from the US government to be around $2.0 billion in future years.
We can see that till year 2013, Bavarian Nordic supplied liquid-frozen formulation of IMVAMUNE to US Government. However, in 2009, the government awarded a contract to Bavarian Nordic for supply of freeze-dried formulation of IMVAMUNE. This seems to a part of the US government's strategy to replace the liquid-frozen formulation of the vaccine currently stockpiled at U.S. Strategic National Stockpile or SNS.
With shelf life of around 10 years and limited storage requirements, the freeze-dried version is expected to reduce the life cycle management costs currently borne by SNS for liquid formulation of IMVAMUNE.
Besides being a solid revenue opportunity, Bavarian Nordic can greatly benefit from the new formulation of IMVAMUNE as the government is bearing all costs related to ongoing phase 3 trial for the vaccine. In 2016, after the phase 2 meeting with FDA for freeze dried IMVAMUNE, the agency had directed Bavarian Nordic to generate additional Phase 3 safety data for the new formulation. The BLA for freeze dried IMVAMUNE formulation will either be approved as a supplement to existing approval or as a completely new approval.
Once approved, the vaccine will be reviewed by Centers for Disease Control and Prevention or CDC. Bavarian Nordic is confident of securing a larger pie of the 132 million doses target of US government as around 66 million doses are for patients who cannot be administered Sanofi's (SNY) replicating small pox vaccine, ACAM2000.
Bavarian Nordic has also planned to apply for emergency use authorization for the freeze dried IMVAMUNE formulation in 2017. This will allow the US government to use the drug in case of emergencies even if it is yet to receive FDA approval.
The company is expects that in 2017, US government will be publishing request for proposal or RFP to replace the expiring 20 million doses of non-replicating small pox vaccine at SNS. Bavarian Nordic is confident that this demand will be mostly fulfilled by freeze dried IMVAMUNE formulation.
Further, the company also anticipates data readout from phase 3 trial of next generation liquid IMVAMUNE formulation by late 2017. Based on American Cures Act, IMVAMUNE may also be awarded a priority review voucher, which would cost in the range of $100 million to $300 million in open market. The company expects to file biologics license application or BLA for this new formulation with FDA in 2Q 2018. The company has anticipated approval by late 2018 or early 2019.
Investigational vaccine, Prostvac, has Phase 3 interim and final data readouts scheduled for 2017
On March 04, 2015, Bristol-Myers Squibb entered into an agreement with Bavarian Nordic related to investigational prostate cancer vaccine, PROSTVAC, with upfront payment worth $60 million. The company will also receive payment of $80 million from Bristol-Myers Squibb, if the latter chooses to license and commercialize PROSTVAC in a designated time period. Further, based on the overall survival performance demonstrated by the investigational vaccine in the ongoing Phase 3 trials, Bavarian Nordic is entitled to milestone payments in the range of $50 million to even more than $230 million. Hence, it is imperative to understand that positive data readout will translate into immediate revenue gains for Bavarian Nordic in 2017.
Bavarian Nordic is currently evaluating PROSTVAC monotherapy or in combination with Granulocyte-macrophage colony-stimulating factor or GM-CSF, in phase 3 trial, PROSPECT, comprising of 1,298 patients suffering with metastatic castration resistant prostate cancer or mCRPC across 200 sites. While data from two interim analyses of this phase 3 trial were already released in 2016, the last interim analysis was delayed to mid 2017 due to reduced monthly events such as disease progression requiring more intense radiology, increase in pain, initiation of chemotherapy or death. Final data from this phase 3 trial is expected by end 2017.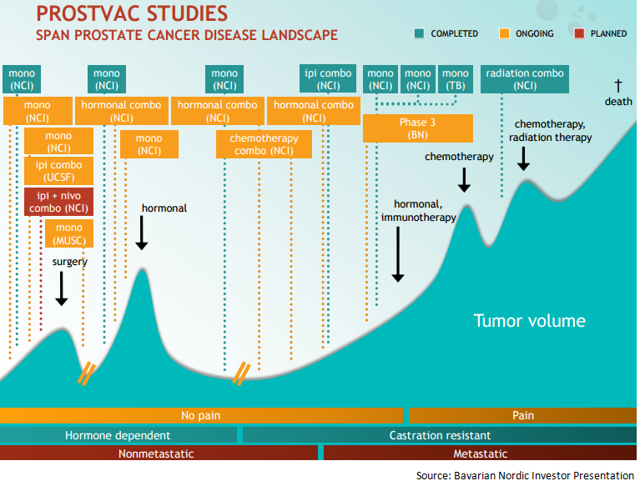 The orange boxes indicate the 10 ongoing phase 2 trials in which Bavarian Nordic is exploring PROSTVAC in combination with multiple agents across various stages of prostate cancer. So the vaccine is being combined with enzalutamide for both early and late-stage prostate cancer, with chemotherapy as first line treatment option for metastatic prostate cancer, and with checkpoint inhibitors as neoadjuvant therapy. PROSTVAC is also being explored as monotherapy as well as in patients just diagnosed with the disease. All the data from these trials, which is expected from 2017, can help establish the PROSTVAC's position as preferred vaccine for prostate cancer patients.
But there are risks investors should keep an eye on while investing in Bavarian Nordic
Till a few years ago, Biomedical Advanced Research and Development Authority or BARDA, a division of the U.S. Department of Health & Human Services, would award long term vaccine contracts to Bavarian Nordic.
However, things seem to have changed since BARDA started receiving funding extending to only one year from the government. Owing to this and other constraints, the agency is only awarding short term contracts to all companies including Bavarian Nordic. There are times when the contract may have options to further extend it for future years. This introduces a significant business risk element, as the US Government is not tied in with Bavarian Nordic and is at liberty to opt for other suppliers in subsequent years.
Further, payment from Bristol-Myers Squibb is also dependent on positive results from Phase 3 trial related to PROSTVAC. Since the company has not released data from previous interim analysis in PROSPECT trial, there is uncertainty related to milestone payments that can be received from Bristol-Myers Squibb.
Low valuation multiples
Currently, Bavarian Nordic is trading at forward price-to-earnings multiple of 7.86x, significantly lower than the expected pharmaceutical industry average of 16.7x. While the company's revenue exposure to US Government and its reliance on Bristol-Myers Squibb exposes it to higher risk and hence lower valuation multiples, a discount of 53% to industry average is not justified. Hence, on risk-adjusted basis, I believe the company should be trading closer to 9.0x – 11.0x levels.
Bavarian Nordic is expected to report earnings per share or EPS close to DKK 21.20 or $3.0 in 2017. Assuming forward PE multiple of 10.0x, the company should be trading in the range of $27.0 to $33.0 in the next twelve months. This can translate into solid return of around 58% to 94% by end of 2017. Hence, I believe Bavarian may be a solid investment opportunity for retail investors in 2017.
---
Disclosure: I/we have no positions in any stocks mentioned, and no plans to initiate any positions within the next 72 hours. I wrote this article myself, and it expresses my own opinions. I am not receiving compensation for it (other than from Seeking Alpha). I have no business relationship with any company whose stock is mentioned in this article.
---