Summary:
Royal Caribbean reported a solid Q4'22 earnings report, but most importantly guided to a big 2023 EPS of over $3.
Carnival already forecast a solid adjusted EBITDA boost in the weak FQ1'23 in a sign this year was going to be vastly improved.
The stock is cheap at $12 with peers already guiding to 2025 EPS targets topping 2019 peak levels amounting to a $4+ EPS target for Carnival.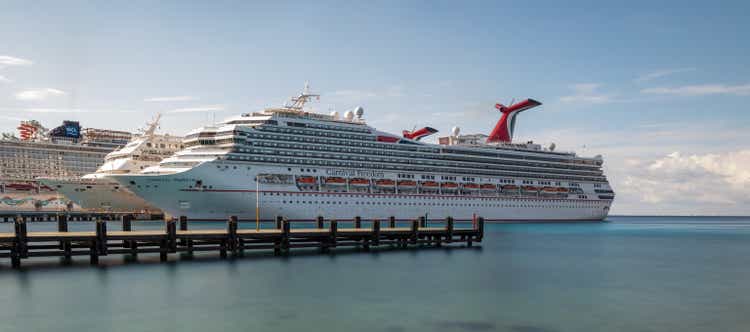 The cruise line stocks have seen a strong rally in early 2023 due in part to the likely end of tax-loss selling as the calendar turned to the new year. Carnival Corp. (NYSE:CCL) is now primed for a strong WAVE season following the earnings report of a cruise line peer. My investment thesis remains ultra Bullish on the stock trading far below prior peak levels with clear signs business is about to boom this year.
Royal Caribbean Shines
Before the open on February 7, Royal Caribbean Cruises (RCL) reported December quarter results with strong forecasts for 2023. The cruise line provided these strong numbers supportive of a boom time ahead this year:
Q4'22 Revenues at $2.6 billion were above the $2.5 billion reported in Q4'19.
Q4'22 Load Factors were in line with guidance at

95%, with Caribbean sailings reaching 100%, and holiday sailings close to 110%.

The company expects 2023 to exceed prior record Adjusted EBITDA, achieved in 2019.
The company expects 2023 Adjusted Earnings per Share in the range of $3.00 to $3.60.
The astonishing part is that Royal Caribbean reported Q4'22 revenues topping the 2019 levels. The cruise line still reported a loss for Q4 and guided to a rather large loss in Q1'23 of $0.75, highlighting how the guidance for 2023 forecasts a $3.75 to $4.35 EPS over the last 3 quarters of the year.
In essence, cruising returns to normal in the March timeframe with strong results expected going forward next month. In a reminder, the March quarter was always the weakest quarter in the cruise line sector and the lifting of Covid restrictions by last October has set up a full recovery as passengers have now had plenty of time to safely plan cruises without fear of trip cancellations due to Covid.
Royal Caribbean surprised the market with guiding to a 2025x EPS target of $10+ and the 2023 guidance confirms the cruise line is on path for this scenario. The cruise line starts March on an annualized EPS rate of $4+ and the consensus estimates for a $6+ rebound bounce in 2024 appears logical, if not below targets.
Estimates Too Low
While Royal Caribbean just forecasted a booming 2023, especially after a slow start, analysts still have Carnival with rather weak numbers throughout most of the year. Analysts only have the large cruise line generating a positive EPS in the August quarter.
Now, Carnival has the prime cruising months of June, July and August all in the same FQ3, but the cruise line was highly profitable in all quarters prior to Covid. Carnival generated $4+ in annual EPS and the last couple of FQ3 quarters produced roughly $2.50 per share in profits.
The company should be able to guide to a far more bullish May quarter when reporting FQ1 earnings in late March. Analysts have the FQ1 revenue target at only $4.3 billion, down some 10% from the $4.8 billion reported back in FQ1'20 right before Covid shutdown cruise travel.
Carnival already guided to a 14 percentage point improvement in occupancy levels in the February quarter with an adjusted EBITDA target of $250 to $350 million. The cruise line has about $500 million in quarterly interest expenses to cover to order top expenses outside of capital expenditures.
Remember, the FQ1 quarter includes December, January and February shortly after the end of Covid restrictions just back in October. If this quarter can already produce adjusted EBITDA profits of $300 million, Carnival isn't far from being substantially profitable in the trailing quarters where interest and depreciation expenses won't hit as hard due to much larger revenue streams. Also, guidance was provided just prior to Christmas before a lot of the positive bookings occurred for Royal Caribbean.
If Royal Caribbean is on the pace to a record EPS by 2025 after hitting record adjusted EBITDA in 2023, Carnival should have a clear path to recapturing the FY19 EPS of $4+.
The cruise lines have different capacity plans, international itineraries and debt loads that impact short-term profit recoveries, but the 2025 earnings profiles should resemble more normalized comparisons to 2019. Under this scenario, Carnival remains a massive bargain trading at only $12.
The cruise line ended the last quarter with net debt of $28 billion, so clearly an investment isn't without high risks. Any further shutdown or inability of the cruise line to recapture EBITDA levels above the quarterly interest expenses of $500 million would have dire outcomes for the stock.
Takeaway
The key investor takeaway is that the market hasn't figured out how close the cruise lines are to recapturing 2019 profit levels. Royal Caribbean provided the all clear sign with their Q4'22 earnings report signaling that Carnival shouldn't still trade at only $12.
---
Disclosure: I/we have no stock, option or similar derivative position in any of the companies mentioned, and no plans to initiate any such positions within the next 72 hours. I wrote this article myself, and it expresses my own opinions. I am not receiving compensation for it (other than from Seeking Alpha). I have no business relationship with any company whose stock is mentioned in this article.
Additional disclosure: The information contained herein is for informational purposes only. Nothing in this article should be taken as a solicitation to purchase or sell securities. Before buying or selling any stock, you should do your own research and reach your own conclusion or consult a financial advisor. Investing includes risks, including loss of principal.
---
If you'd like to learn more about how to best position yourself in under valued stocks mispriced by the market heading into a 2023 Fed pause, consider joining Out Fox The Street. 
The service offers model portfolios, daily updates, trade alerts and real-time chat. Sign up now for a risk-free, 2-week trial to start finding the next stock with the potential to generate excessive returns in the next few years without taking on the out sized risk of high flying stocks.