Comparing The Cloud Leaders: Amazon Web Services, Microsoft Intelligent Cloud, And Google Cloud
Summary:
The trailing twelve months combined revenues of Amazon, Microsoft and Alphabet in their respective cloud computing businesses amounted to a staggering $188.2 billion.
The cloud computing market is clearly experiencing a slowdown as a result of companies tightening expenses due to the uncertain macroeconomic environment.
Both Amazon and Microsoft have highly profitable cloud computing businesses while Google Cloud profitability remains an uncertainty.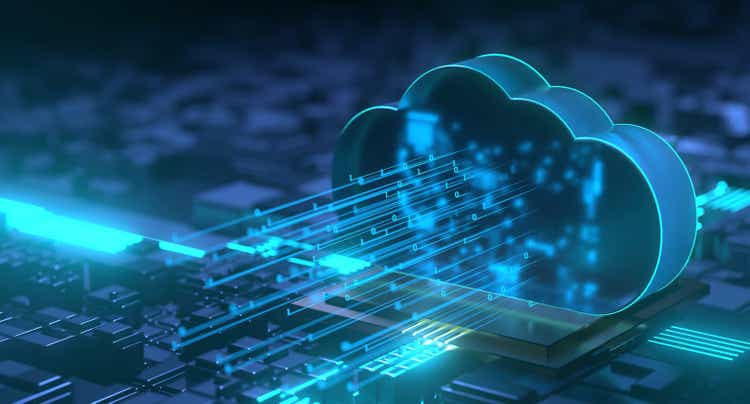 As a result of covering the top cloud computing companies in the market, I wanted to share with the readers at Seeking Alpha an overview of the cloud computing market and why I believe this space provides attractive investment opportunities. Readers can see that I have a buy rating on Amazon (NASDAQ:AMZN), Microsoft (NASDAQ:MSFT), and Alphabet (NASDAQ:GOOGL). One of the main reasons for these ratings is their strong presence in the already sizeable and growing cloud computing market. Given this market is driven by the increasing demand of data storage and processing capabilities, the runway for growth is still considerable. Further to this, there is already solid data backing the stable revenues and high operating margins some companies in this space are able to achieve. This space is also changing some of the biggest companies in the world as a result of their cloud computing segments being their fastest growing segments and contributing to a sizable portion of their operating incomes. Furthermore, the cloud computing market has high barriers to entry with multi billion dollar investments needed in order to possess the scalability, efficiency, footprint, and capabilities to offer the best-in-class services. This results in significant competitive advantages for well-established technology companies such as AMZN, MSFT, and GOOGL. Let´s take a look into what really is cloud computing. I hope you enjoy the read!
What is Cloud Computing?
Let's start with the basics. What is cloud computing? Cloud computing is essentially a network of servers around the world acting as a huge hard drive. Before the cloud existed, companies and individuals needed to back up their information and data into external devices, meaning a different hard drive. Nowadays, all this information and data can be transferred into the cloud, making it much more efficient and convenient for companies and individuals. One of the main benefits of the cloud is the accessibility to data and information remotely from anywhere in world at any given time as long as you have an internet connection. Companies and individuals also do not have the constraint of having too little storage, as in the cloud you can essentially store all the data you want and need.
Most of the cloud services offered are based on a subscription model meaning there is a monthly fee paid by customers. The beauty of this model for customers is that they are able to scale up or down their costs as they see fit. So, the more they use the cloud the more they will need to pay, while the less they use it the lower their costs will be.
So, why do companies want to move to the cloud instead of managing their data on premises? Of course, the main reason is to save money. Instead of having to build and power their own data centers and pay employees to operate them, companies can instead save time and effort by simply paying a cloud provider for this service. This also gives companies flexibility. Given the cloud can be used as they see fit, they can use it more during certain months or less during quite times. This gives companies the flexibility to adjust to their own needs.
How do cloud providers generate revenues?
Cloud computing is and has been a booming market for about a decade now and is likely to continue growing. For reference the global cloud computing market is projected to reach over $1.2 trillion by 2027. As such companies of the likes of AMZN, MSFT and GOOGL are all vying for a piece of the market. But how do these companies generate revenues from the cloud? As previously explained, the cloud model is a subscription model where companies can choose to subscribe to various services and pay as they go, meaning they pay depending on the usage of the services. There are several ways cloud providers generate revenues from cloud services, going from data storage, data transfers, cyber security, etc. According to tech researcher Gartner (IT), MSFT and AMZN have the most complete ecosystems of software and partnerships with third-party software-as-a-service providers.
Competitive Landscape
At the moment it is clear that cloud computing is truly dominated by two companies, AMZN with its AWS business recording revenues during the trailing twelve months ("TTM") of $80.1 billion and MSFT with its cloud segment recording TTM revenues of $81.8 billion. Nonetheless, there is a distant third making strides to become a worthy opponent to these cloud giants. I am talking about Alphabet, a company with its Google Cloud business that has doubled revenues within two years and shows no sign of stopping. Although at a very distant third, Google Cloud has just reported revenues during the last twelve months of $26.3 billion and experienced a 37% growth rate year on year. Although Google Cloud is still a third of the size compared to AWS or MSFT Intelligent Cloud segment, it should not be left out as a top competitor in the space.
To understand why Google Cloud is a true competitor in the space, let´s take a look at AWS during 2018. At the end of 2018, AWS had very similar numbers to Google Cloud with revenues at approx. $26 billion showing growth rates of 50%. Yes, the growth rate was higher than Google Cloud's 37%, but it just goes to show that within 5 years, AWS was able to grow to $80 billion in revenues and $22.8 billion in operating income.
Despite AMZN, MSFT and GOOGL being the top players in the market there are also other well-established companies vying for market share such as IBM (IBM), Oracle (ORCL), Salesforce (CRM), etc. At the other side of the ocean there are the Chinese tech giants Alibaba (BABA), Tencent (OTCPK:TCEHY), Baidu (BIDU) and Huawei competing for market share in the Chinese cloud computing market which is set to grow to $84 billion by 2026. Even though these companies are still relatively small in regards to cloud computing compared to AMZN, GOOGL and MSFT, with time they can grow and become serious contenders. Let's now take a look at the individual names and how they have performed!
Amazon Web Services
AWS was launched in 2006 seeing an explosive growth since then, generating revenues of $80 billion and operating income of $22.8 billion during 2022. AWS offers a variety of services including database, storage, web & mobile apps, machine learning, etc. According to Amazon, the number of active AWS users exceeds 1 million with customers such as Goldman Sachs, Disney, Samsung, Snapchat, etc.
AWS keeps raking in big time customers, during the fourth quarter it added Yahoo Ad Tech, Brookfield Asset Management, Wallbox, American Family Insurance, etc. Further to this, AWS also launched new regions in Spain and Switzerland as well as a second region in India to continue expanding its infrastructure footprint. As of the end of 2022, AWS has 96 availability zones within 30 geographic regions globally, with announced plans to launch 15 more availability zones and 5 more AWS regions.
Impact of AWS on Amazon Overall Business
From the table above, it can be seen that AWS increased revenues by 29% year-over-year to $80.1 billion. Despite AWS revenues only accounting for ~16% of AMZN total revenues AWS operating income which stood at $22.8 billion accounted for 100% of the company's operating income. Yes, you read that correctly, both North America and International segments recorded a loss during 2022 and AWS completely offset these losses due to its high profitability. To give another example during 2020 and 2021, AWS accounted for 74% and 59% of the company's total operating income. As you can see AMZN depends heavily on its cloud business for its growth.

On a quarterly basis, AWS has seen a decrease on its growth rate to 20% from 40% during the fourth quarter of 2021. As it will be seen later in the article, both MSFT and GOOGL also experienced a slowdown in growth rates. Starting back in the middle of the third quarter of 2022, management started seeing growth rates slow as companies of all sizes looked into their cloud spending in response to the tough macroeconomic conditions. These optimization efforts continued into the fourth quarter and will most probably continue for next couple of quarters.
Robust Yearly Growth Continues

AWS was very close to double revenues within two years. During 2020 revenues stood at $45.3 billion, fast forward two years and we see revenues touching the $80 billion mark. With the market expected to continue growing to $1.2 trillion by 2027 and with AMZN investing in its global footprint, we could see AWS growing by tens of billions of dollars albeit at a slower growth rate than previous years.
MSFT Intelligent Cloud
Microsoft Azure was launched in 2010, however Microsoft Intelligent Cloud segment consists of other cloud services such as SQL Server, Windows Server, Visual Studio, among others. The Intelligent Cloud segment services include databases, data storage, artificial intelligence, networking, web and mobile apps, etc. Similarly to AMZN, MSFT has also seen explosive growth during the last decade with TTM revenues standing at $81.2 billion and a whopping operating income of $34.8 billion. MSFT enjoys of a cloud computing business that constantly generates a truly spectacular operating income margin above 40%.
According to the company, in mid-2021 over 95 percent of Fortune 500 companies used Azure, it had over 145 million daily active users on Microsoft Teams, and over 250 thousand organizations using Microsoft Dynamics 365 and Microsoft Power Platform. Big name customers include T-Mobile, Bayer, L'Oreal, Walmart, etc.
According to Dgtl Ingfra, at the end of 2022 Microsoft Azure had 60 geographic regions globally and 116 availability zones. This numbers are substantially higher than AWS and Google Cloud which combined have 64 geographic regions. This of course gives MSFT a competitive advantage regarding its reach to lure companies across the world towards its cloud services.
Impact of MSFT Intelligent Cloud on Microsoft Overall Business
MSFT Intelligent Cloud segment increased its revenues to $81.8 billion during the TTM. MSFT Intelligent Cloud segment is quite important for Microsoft but not critical as AWS is for AMZN. The Intelligent Cloud segment now accounts for 40% of the company's total revenues and for 42% of MSFT operating income. This should give MSFT shareholders a peace of mind as the business growth does not depend entirely on the cloud segment.

During the last quarter, revenue increased 18%, here we can also see that the growth rate is slowing down and actually touched the teens for MSFT. However, it should be mentioned that in dollar terms the growth remained relatively flat at $3.2 billion compared to $3.6 billion during the same period last year. Further to this, during 2022 MSFT completed the acquisition of Nuance Communications. Nuance is a leader in conversational AI and ambient intelligence across industries including healthcare, financial services, retail, and telecommunications. This will help the Intelligent Cloud segment strengthen MSFT capabilities across these industries and should boost revenue growth during the coming quarters.
Growth Continues with Operating Margin Holding Up

MSFT fiscal year ends in June, as such we can compare the previous 3 years and the TTM results. With this information we can see that MSFT is very close to double revenues within 3 years. During FYE 2020 revenues stood at $48.4 billion, fast forward to the end of 2022 and we see revenues at $81 billion. I think it is very important to understand that we are talking about businesses which are about to touch the $100 billion mark and are still growing at very attractive growth rates. Albeit at a weaker rate, thanks to MSFT global footprint we should continue seeing this business growing and become an even more significant part of MSFT business as a whole.
Google Cloud
Google Cloud was made available for customers at the end of 2011 and since then it has become the third largest cloud service provider globally generating revenues of $26.3 billion during 2022. Google Cloud services include databases, security, smart analytics, artificial intelligence, etc. According to Dgtl Infra, as of the end of 2022 Google Cloud has 34 regions and 103 availability zones in operation. These regions include United States, Americas, Europe, and Asia Pacific. Thanks to its global reach, Google Cloud has been able to land big name customers such as Airbus, Procter & Gamble, Carrefour, PayPal, Vodafone, Twitter, among others.
Now, it is time to address the elephant in the room, even though Google Cloud is already a big business and growing at attractive rates, it remains unprofitable. This means that the business has been unprofitable for more than a decade. We could ask ourselves, how is it that a $26 billion revenue generating business continues to be unprofitable? Well, as management has mentioned during many investors calls it all comes down to spending money in order to make money. Specifically during the latest investor call management mentioned it keeps investing ahead of revenues, these investments are significant and keep the business from becoming profitable. Let's take a look at Google Cloud financials.
Impact of Google Cloud on Alphabet Overall Business
Google Cloud continues to increase its relevance for the company's top line, however it has not been able to reach the 10% mark as of yet and as of the latest quarter results, it continues to depress the company's overall operating income. Saying this, from the table above, we can clearly see that revenues keep increasing while operating losses continue to shrink. For example, if you compare the losses during the first quarter to the losses during the fourth quarter, these have shrunk by about 50%. Further to this, revenue keeps increasing at a very attractive rate, Google Cloud finished the 2022 year with a revenue increase of 37% compared to the previous year. Important to note that the growth rate experience by Google Cloud is above the growth rates achieved by AMZN and MSFT on yearly basis. Additionally, Google Cloud backlog continued to increase during the year, standing at $64.3 billion at the end of 2022. For reference Google Cloud backlog at the end of first quarter of 2022 stood at $50.5 billion.
During the last quarter revenue increased 32%, again similarly to AMZN and MSFT, Google Cloud experienced a slowdown compared to the previous periods. Also similarly to MSFT, during 2022 management pursued an acquisition in order to boost the business. GOOGL completed the acquisition of Mandiant in Sept. 2022. Mandiant's dynamic cyber defense, threat intelligence and incident response services are expected to enhance Google Cloud's security offerings. Finally, the fact that Google Cloud has been able to double revenues and reduce operating losses by more than 60% should not go unnoticed. Even though these are still losses, the company is trending in the right direction.
Growth Continues but so do Operating Losses
Google Cloud revenues increased $7.1 billion from 2021 to 2022. This growth was primarily driven by Google Cloud Platform followed by Google Workspace offerings. Google Cloud's infrastructure and platform services were the largest drivers of growth in Google Cloud Platform. As for the decrease in operating losses, this was mainly driven by growth in revenues. As of the end of 2022, Google Cloud is very close to reaching the 10% mark as a percentage of total revenues. Also, the total losses for the year are now about 50% of the losses experienced during 2020. It is still too early to speculate if Google Cloud will be profitable for 2023, however, it is quite possible that the business will breakeven within the next four quarters.
Google Cloud Revenue and Operating Losses Trend
To finalize the Google Cloud discussion, I wanted to show the above graph so that readers can see the revenues and operating losses trends from the trailing 10 quarters. As it can be seen Google Cloud revenues have been steadily growing albeit at a slower rate during the last four quarters. It can also be seen that operating losses are volatile with some quarters experiencing higher losses than other, nonetheless the trend here is that losses are decreasing. Another interesting fact is that Google Cloud has generated revenues for GOOGL amounting to $52.8 billion during the last ten quarters, however operating losses have amounted to $8.5 billion during the same timeframe. On a final note, Google Cloud has not seen a double-digit growth rate on a quarter-on-quarter basis for four quarters now, of course with higher revenues this is more difficult to achieve. It will be interesting to see if growth rates can climb back to the rates it was experiencing two years ago.
Comparing Amazon Web Services, Microsoft Intelligent Cloud and Google Cloud
Throughout the article I have provided insights on how these three businesses have performed on a financial basis and compared their growth rates, operating income margins, etc. Saying these I believe there are a couple interesting topics to help compare these cloud providers. The first one being the global footprint these businesses have, as with a more extensive footprint they will be able to reach more customers around the globe. For example, a noticeable trait where MSFT clearly has a competitive advantage compared to AMZN and GOOGL is the extensive global footprint MSFT has. As mentioned earlier Microsoft Azure has 60 geographic regions globally, this is significantly bigger numbers than AMZN and GOOGL which both have half of the geographic regions MSFT enjoys of. This extensive global footprint by MSFT was probably a driver for acquiring more customers worldwide. AMZN is clearly trying to catch up, announcing investments in 15 more availability zones and 5 more AWS regions. We can expect Google Cloud to make similar investments in order not to fall behind.
Another great topic to discuss, is how these three companies are trying to get as many customers as possible, however it seems that the true gains that really move the needle are customers which are big companies. It is here where the cloud providers can derive significant bigger tickets and drive revenue growth. As an example, according to consultancy firm Contino, Netflix was said to be one of AMZN biggest spenders in the cloud with about $19 million back in 2020. A customer with this ticket size is really what moves the needle for these companies. As for MSFT, its biggest customer back in 2020 was Verizon with a ticket size of $80 million. Similarly, one of Google Cloud's biggest customers back in 2020 was NewsCorp deriving revenues of $41 million. Of course much has changed since 2020, however this can give a feel of how important big spenders are for these cloud providers.
Finally, these companies are also trying to consolidate the market by acquiring companies in the space. For example during 2022, both MSFT and GOOGL made significant acquisition to bolster their cloud businesses. MSFT closed its $19.6 billion acquisition of Nuance Communications, while GOOGL closed it $5.4 billion acquisition of Mandiant. It should not come as a surprise if we keep seeing news of cloud computing companies being captured by these three leaders in the space.
Cloud Computing Market Outlook
Based on the comparative analysis of these three companies, it's clear that both AMZN and MSFT will increasingly depend on their cloud businesses to accelerate their revenue growth and earnings. At the same time, GOOGL will try to bolster its cloud segment and seek to become profitable. Despite being the clear leaders in the space, these companies will face robust competition from companies of the likes of IBM, ORCL, CRM, BABA, TCEHY, BIDU, etc.
The pie will definitely get bigger with the global cloud computing market projected to reach over $1.2 trillion by 2027. From this, the Chinese cloud computing market alone is set to grow to $84 billion by 2026 and Asia Pacific as a whole is expected to reach $200 billion by 2024. In this region we have strong players such as BABA, TCEHY, BIDU and Huawei vying for market share, and of course we can expect these companies to try to expand their businesses all across the Asia Pacific region. Even though these companies are still relatively small compared to AMZN, GOOGL and MSFT, with time they can grow and start rivaling the US Giants.
Conclusion
This article is mainly focused on the three biggest companies in the space, but I hope it brought the readers not only a better understanding of how important cloud computing is to these companies but to all the companies in the space. The cloud computing market truly offers attractive investment opportunities, as things currently stand, I believe MSFT holds a strong competitive advantage compared to most of the companies in the space. The reasons for this are the stable and growing revenues experienced by MSFT cloud computing segment, its high operating margins constantly above 40% as well as its advantage due to its extensive global footprint. This does not mean MSFT is the only investment opportunity, but it provides a certain security factor compared to other companies in the space. I recommend that investors consider looking more deeply into companies in the cloud computing space and consider the potential of gaining exposure to this growing market.
Editor's Note: This article discusses one or more securities that do not trade on a major U.S. exchange. Please be aware of the risks associated with these stocks.
---
Disclosure: I/we have no stock, option or similar derivative position in any of the companies mentioned, and no plans to initiate any such positions within the next 72 hours. I wrote this article myself, and it expresses my own opinions. I am not receiving compensation for it (other than from Seeking Alpha). I have no business relationship with any company whose stock is mentioned in this article.
---