Google: Don't Fear AI Future
Summary:
Google slumped last week following an underwhelming AI chat launch.
The company obtains all of their profits from the Google Services business focused on Google search causing the market to excessively worry about competitive threats.
The stock trades with an EV of 10x '25 non-GAAP EPS targets even before expected efficiency gains.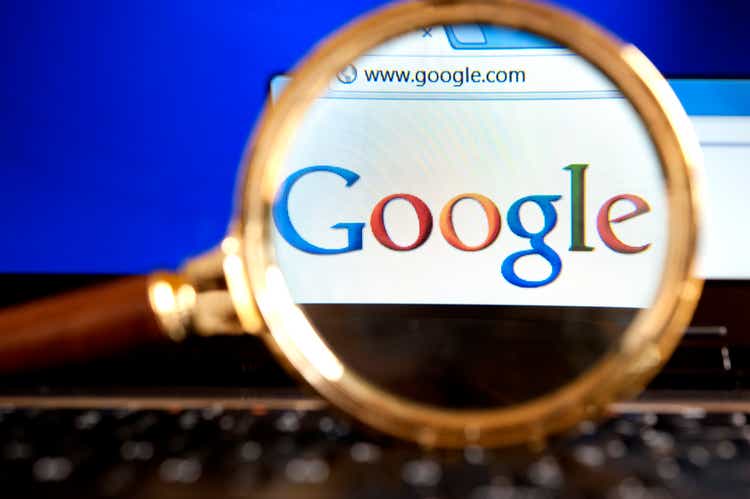 Alphabet (NASDAQ:GOOG, NASDAQ:GOOGL) collapsed this week following a failed answer in a tweet launching a new conversational AI service. The market was overly dramatic on the outcome of the AI event hosted by Google, especially considering ChatGPT has several high profile failures. My investment thesis is ultra Bullish on the stock following the major dip back below $95.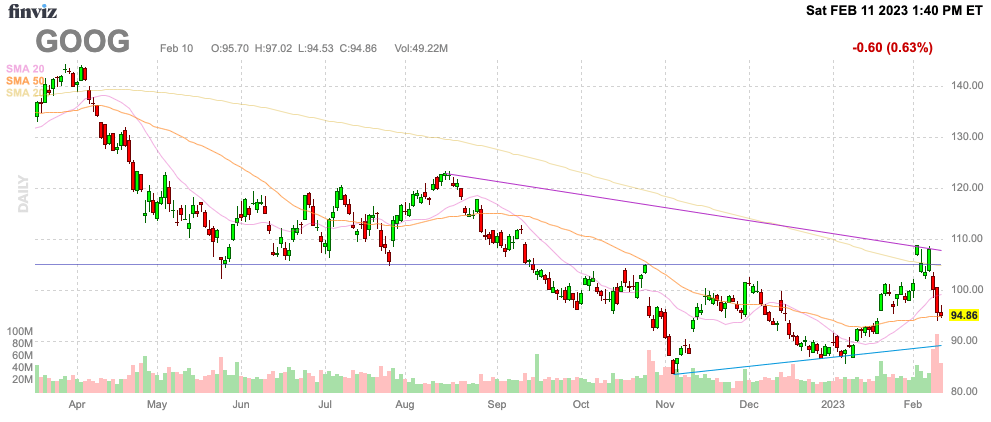 AI Chat Release
Microsoft (MSFT) making an estimated $10 billion investment in ChatGPT owner OpenAI has Google investors fearful their search lead will disappear. Google generates over 50% of revenues from search.
Most importantly though, the Google Services segment that includes all Google ad-related products produces all of the profits of the company. In fact, the division actually contributed $21 billion in profits while the rest of the businesses combined with corporate lost $3 billion of those profits. All of the promises of Cloud and Waymo do nothing but eat into the profits of Google search.
Naturally, Google has a lot to lose and Microsoft has a lot to gain by incorporating generative AI chat technology into Bing search to capture market share. At a February 8 AI event, Google unveiled AI updates that underwhelmed the market, especially following a February 6 tweet where the company introduced Bard with a failed answer on The James Web Space Telescope.
As the company suggests, Bard is an experimental conversational AI service somewhat rushed onto the market. The ChatGPT AI chatbot was only trained on data prior to 2022 and still can't answer the winner of the 2022 FIFA World Cup correctly. Even worse, the AI chatbot still gets the answer wrong.
If anything, the inability of these conversational AI services to correctly answer questions should suggest Google search faces limited risk anytime soon. Not to mention, the Bard answer to the JWST question was far more detailed and informative, even if part of the answer was incorrect.
Limited Downside Risk
Brian Fitzgerald, managing director and senior equity research analyst at Wells Fargo Securities, highlighted on CNBC why Google doesn't face the risk expected by the markets. The search giant benefits from 60% of search being mobile with the majority of users on Android where Google dominates and the partnership with Apple (AAPL) funnels most of the iPhone mobile searches towards Google.
The company already has most of mobile search locked up while desktop search is mostly tied to Chrome. Some users can migrate search to ChatGPT or Bing owned by Microsoft with conversational AI factored into the search queries, but Google has the vast majority of mobile and desktop traffic tied into their browsers pushing Google search.
Notably, the search stats for January didn't change much. Google still controls over 90% of the worldwide traffic. Even the North American search market share where Silicon Valley and ChatGPT use is focused saw no impact from the launch of the conversational AI chatbot back in November.
For January, Google saw search market share reach 89.32%, up from an 87.86% low in November. The search giant actually saw market top the January 2022 total of 89.12%.
While Google hasn't had a smooth implementation of conversational AI, the company hasn't seen any impact from the combination of Microsoft and Open AI.
Profit Questions
Due to the elevated costs for AI search, both Google and Microsoft don't exactly desire to go full speed ahead with AI chat interactions. ChatGPT is still running in free research preview mode.
The search queries are very expensive, but Google has their own Cloud to lower the cost. According to early analysis, Microsoft charges $3 an hour for a single A100 GPU and each word generated on ChatGPT costs $0.0003 leading to a cost per query of ~$0.10.
The Microsoft investment in OpenAI may have lowered the costs for running ChatGPT, but the estimated costs are at $100K a day and up to $3 million per month. At the time, the AI chat service was only in preview mode and not fully functional limiting the amount of queries.
Even though the market initially responded negatively to the Google Q4 earnings report, the stock quickly rallied up to nearly $110. Analysts already hiked EPS forecasts going into 2025 with a GAAP target of $7.22 now.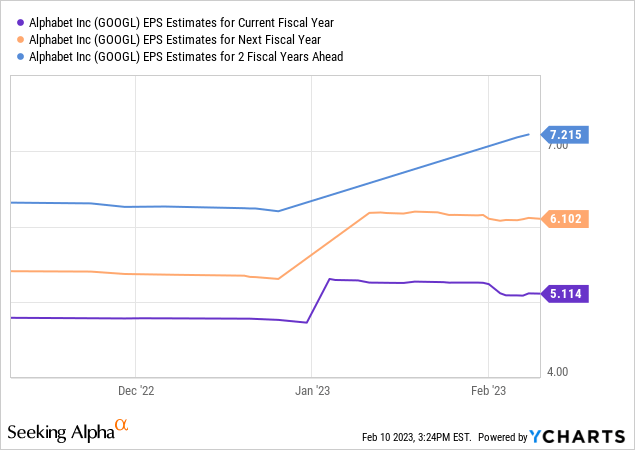 As highlighted in prior research, the stock-based compensation hit is around $1.32 per year now based on Q4'22 costs. The recent employee cuts might impact the number going forward, but Google would roughly have an $8.54 EPS target for 2025, when excluding SBC.
The stock is cheap with an EV of only $87 now. The upside potential in the stock is dramatic, if Google can ever achieve the 20% efficiency goals of the CEO. The conversational AI wars might impact the ability of the tech giant to lower costs, but investors shouldn't worry about Google losing internet search dominance anytime soon.
Takeaway
The key investor takeaway is that Google is cheap with an EV of ~10x 2025 EPS targets. If the company can achieve some cost efficiencies while investing in expensive AI chat, the stock has further upside from a big boost to current EPS targets.
---
Disclosure: I/we have no stock, option or similar derivative position in any of the companies mentioned, and no plans to initiate any such positions within the next 72 hours. I wrote this article myself, and it expresses my own opinions. I am not receiving compensation for it (other than from Seeking Alpha). I have no business relationship with any company whose stock is mentioned in this article.
Additional disclosure: The information contained herein is for informational purposes only. Nothing in this article should be taken as a solicitation to purchase or sell securities. Before buying or selling any stock, you should do your own research and reach your own conclusion or consult a financial advisor. Investing includes risks, including loss of principal.
---
If you'd like to learn more about how to best position yourself in under valued stocks mispriced by the market heading into a 2023 Fed pause, consider joining Out Fox The Street. 
The service offers model portfolios, daily updates, trade alerts and real-time chat. Sign up now for a risk-free, 2-week trial to start finding the next stock with the potential to generate excessive returns in the next few years without taking on the out sized risk of high flying stocks.