Google Finally Drops The Hammer
Summary:
Google finally announced major job cuts of 12,000 employees, but the tech giant only cut the employees added during Q3 alone.
The company will cut billions in annual costs due to high employee costs reaching anywhere from $250K to nearly $300K each.
The stock is cheap at 14x '23 EPS targets with a potential path to a $10 EPS on the targeted 20% efficiency gains.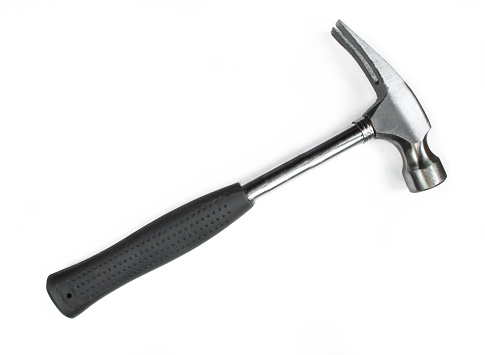 As the tech sector continues to slash jobs, Alphabet (NASDAQ:GOOG, NASDAQ:GOOGL) was one of the last tech giants to not announce a major job cut. Considering CEO Sundar Pichai had claimed a desire to boost efficiency by 20%, the market shouldn't be surprised the search giant finally came out with a big job cut plan. My investment thesis is ultra Bullish on the beaten-down tech stock with a cheap valuation boosted by cost cuts after hiring too many people in the last couple of years.
Somewhat Big Job Cuts
Why the size of the job cuts sounds large, Google is only cutting 6% of the global workforce via the announced 12,000 job cuts. The tech giant ended Q3 with 186,779 employees and had grown head counts dramatically following the initial covid shutdowns. In fact, Google grew the employee base by 36,751 workers since last Q3.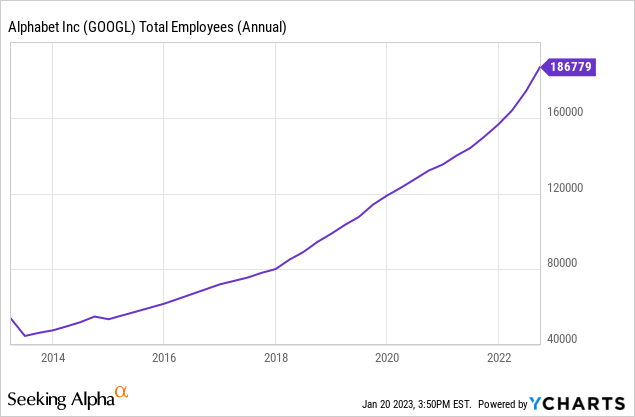 The tech giant grew its workforce by more than 50,000 employees over the past two years alone due to booming demand for its services during covid boosted profits. If Google actually cuts jobs by 12,000, the tech giant won't even have cut headcount by the amount of people hired in Q3'22 alone.
On the Q3'22 earnings call, CFO Ruth Porat only signaled a hiring slowdown was taking place after a shocking hiring spree during the quarter.
In terms of profitability, we have an effort underway to ensure we redeploy investments against our most compelling opportunities. As we noted on our second quarter call, our actions to slow the pace of hiring will become more apparent in 2023.

With respect to Alphabet headcount, we added 12,765 people in the third quarter, including more than 2,600 of those joining Google Cloud as part of our acquisition of Mandiant. As in prior quarters, the majority of hires were for technical roles. In the fourth quarter, we expect headcount additions will slow to less than half the number added in Q3. Within this slower headcount growth, next year, we will continue hiring for critical roles, particularly focused on top engineering and technical talent.
The Google job cuts just follow the other tech giants with similar announced job cuts with only Apple (AAPL) having not announced any job cuts. The tech giants have announced 51,000 job cuts.
Meta Platforms (META) is the only tech giant announcing a job cut in excess of 10% of the employee base. Both Microsoft (MSFT) and Google announced cuts in the 5% to 6% range last week.
The biggest concern with this job cuts is that tech giants like Google and Microsoft are only shifting investments from areas like healthcare to AI. Microsoft is in the midst of a multibillion investment in ChatGPT while Google has similar AI projects in the works targeted for the Spring, according to Reuters.
As suggested by Alex Kantrowitz and Casey Newton, most research points toward Google having a better AI chatbot. The only difference is that OpenAI is free to unleash an AI chatbot providing wrong answers while Google doesn't have such a luxury when trying to generate billions on advertising revenues.
Path Towards 20% Efficiency Gains
If Google does actually cut the employee base by 6% while still growing revenues, the company could be on the pace to their 20% efficiency goal. A company can generate massive leverage with limited revenue growth when costs are restrained.
The problem is that similar to Microsoft, Google recently agreed to the big content investment. The company agreed to pay $2+ billion to air the NFL Sunday Ticket on YouTube.
The prime reason employee costs at Google matter relative to other tech giants is the annual costs per employee. This data suggests the average cost per employee at Google was nearly $250K compared to only $150K for Apple and Microsoft.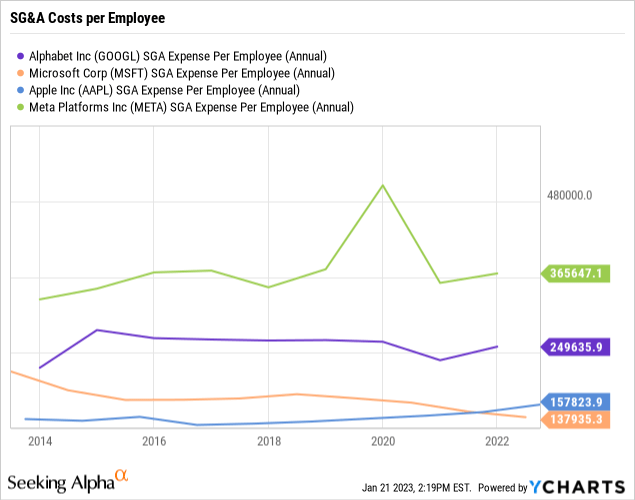 Research provided by TCI Fund Management has the median compensation for an employee at Alphabet even higher at $296K compared to $177K at Microsoft. Based on these median expenses, a cut of 12,000 employees would reduce the expenses by $3.5 billion.
The issue of course is whether Google just shifts the spending to another category like AI chat. Assuming the company does cut operating expenses by 6% while still growing revenues by 9%, Google would produce the below financials for Q3'23 using the Q3'22 numbers reported most recently.
Google would report an impressive rebound in the operating income to $21.9 billion after the dip to only $17.1 billion in Q3'22. The simple cost cuts still only get the tech giant back to the operating income level in Q3'21 when Google produced $21.0 billion in operating income.
The company would produce a GAAP EPS, exuding the other income/expense category, of $1.43. Google doesn't need a massive cost cut to produce massive improvements in profits when revenues are still growing. Not to mention, the Q3'23 targets includes no change to the cost of revenues category and keeps the gross profit at 55%, though gross margins fell from nearly 58% in Q3'21.
Analysts currently forecast an EPS of just $1.28 for Q3'23, showing the upside to these estimates from the simple cost cuts. Analysts only forecast a 2023 EPS of $5.27. The Q3 boost is 12% and this gain applied to the full year numbers would push the GAAP EPS estimate to $5.90.
The stock-based compensation should dip from the $5 billion quarterly range, but for now, Google is spending $20 billion annually on SBC. The amount is equivalent to over $1.25 per share in earnings, already getting the tech giant to a $7+ non-GAAP EPS.
Under this initial plan, Google won't even approach the full 20% productive gain desired by the CEO. The tech giant has a clear path to a $10 EPS based on achieving these productivity gains with all costs included.
Takeaway
The key investor takeaway is that a big employee reduction by Google only eliminates the hiring levels in Q3'22 alone. The tech giant will see a big boost from cutting costs while still growing revenues at a nice clip. These job cuts won't come anywhere close to achieving a 20% efficiency boost, especially without any significant cuts to costs of revenues. Regardless, Google should be on the path to a non-GAAP EPS of $7+ now.
---
Disclosure: I/we have no stock, option or similar derivative position in any of the companies mentioned, and no plans to initiate any such positions within the next 72 hours. I wrote this article myself, and it expresses my own opinions. I am not receiving compensation for it (other than from Seeking Alpha). I have no business relationship with any company whose stock is mentioned in this article.
Additional disclosure: The information contained herein is for informational purposes only. Nothing in this article should be taken as a solicitation to purchase or sell securities. Before buying or selling any stock, you should do your own research and reach your own conclusion or consult a financial advisor. Investing includes risks, including loss of principal.
---
If you'd like to learn more about how to best position yourself in under valued stocks mispriced by the market heading into a 2023 Fed pause, consider joining Out Fox The Street.
The service offers model portfolios, daily updates, trade alerts and real-time chat. Sign up now for a risk-free, 2-week trial to start finding the next stock with the potential to generate excessive returns in the next few years without taking on the out sized risk of high flying stocks.