Google Fights Back With Its AI Chatbot
Summary:
Google is finally ready to launch its ChatGPT-esque chatbot named Bard "in the coming weeks" to change the Generative AI narrative.
But, it's expected to be a "lightweight model," allowing for less intensive compute resources.
Will it be enough to dethrone OpenAI's more powerful GPT-4 model, which will be integrated into Bing Search?
Google's search dominance is facing the most critical existential threat in recent times. Therefore, it needs to regain the initiative quickly and set the stage.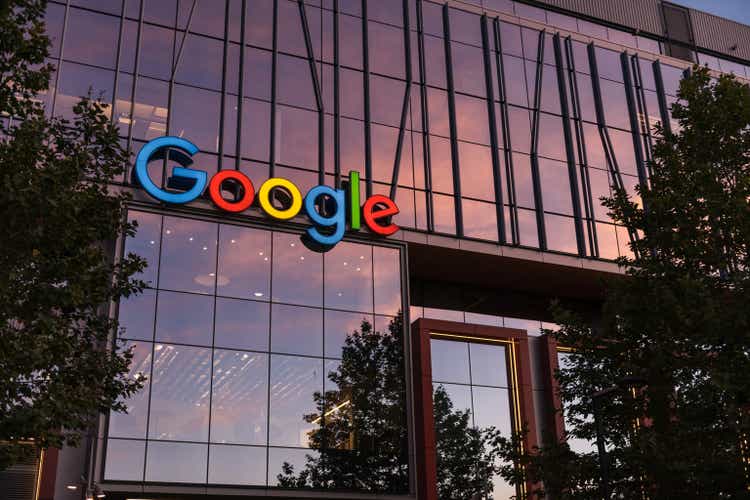 Alphabet Inc. (NASDAQ:GOOGL, NASDAQ:GOOG) ("Google") CEO Sundar Pichai has accelerated Google's approach to take on Microsoft's bid to unseat Google as the King of Search. Google has moved quickly since the NYT highlighted Google's "code red" alert in late December, sensing a significant competitive threat by its big tech rival.
Yesterday, Pichai released an important post on Google's blog, just in time before Microsoft (MSFT) CEO Satya Nadella and OpenAI CEO Sam Altman join hands at a Tuesday event to reportedly discuss their partnership and progress.
Pichai followed up with a detailed commentary after Google's FQ4'22 earnings call, highlighting several critical factors that suggest Google is and remains a leading player in AI. Therefore, Google is ready to launch its conversational chatbot, codenamed Bard, based on its language model for dialogue applications of LaMDA for public preview "in the coming weeks."
Accordingly, Google wants to remind investors that it is the pioneer in Generative AI and the foremost leader in its field. Pichai articulated:
Our Transformer research project and our field-defining paper in 2017, as well as our important advances in diffusion models, are now the basis of many of the generative AI applications you're starting to see today. – Blog post by Sundar Pichai
It's true to a certain extent. Based on a recent interview by Forbes with OpenAI management, "Google should have the advantage." However, six of the eight authors who penned the monumental paper on transformers have left. One of them, Aidan Gomez, opined: "I was waiting for the world to start picking this up and building with it, and it wasn't happening."
Hence, the initiative that Google "should have" in generative AI seems to be lost to Nadella & team, who recognized the potential of OpenAI in 2019 when it started to invest.
Since its launch for public preview in late November, ChatGPT has reportedly garnered more than 30M users with 5M daily visits. While it's still behind the open-source Stable Diffusion model, ChatGPT has rapidly grown. However, the response was so overwhelming that it still had trouble scaling its servers during peak hours.
Moreover, Altman accentuated that the Microsoft team seems ready to take on new ideas on forging a closer partnership with an open mind and enthusiasm, as he highlighted: "Every time we've gone to Microsoft to say, 'Hey, we need to do this weird thing that you're probably going to hate,' they have said, 'That's awesome.'"
Interestingly, Google's Bard chatbot will have some critical differences with OpenAI's ChatGPT, as highlighted by Pichai. He accentuated:
Bard seeks to combine the breadth of the world's knowledge with the power, intelligence and creativity of our large language models. It draws on information from the web to provide fresh, high-quality responses. Google Blog
We think that's a critical difference. Users who have used OpenAI's ChatGPT should be aware that it "has limited knowledge of world and events after 2021 and may also occasionally produce harmful instructions or biased content."
Therefore, we are keen to know how Google intends to configure its approach with Bard, as misinformation and harmful content have likely held back the Google team from taking on its Generative AI lead more boldly.
Moreover, Google initially intends to launch a so-called "lightweight" model that's expected to be less intensive on computer resources. So, which P&L center will be responsible for taking on the compute costs? Will it be under Google Cloud, which made the $300M investment in AI startup Anthropic as it hedges its bets to take on OpenAI?
With Google's profitability having stuttered as its growth drivers decelerated significantly, will investors start to worry about "eye-watering compute costs?" As such, we believe it makes sense for Pichai to introduce a smaller-scale model, but will it be competitive enough with OpenAI's upcoming GPT-4 model, which is expected to be integrated into Bing Search? Accordingly, its highly advanced GPT-4 model is "expected to have 100 trillion parameters, compared to [its current] 175 billion, making it more powerful."
We will find out more when Google launches Bard. OpenAI also seems to be highlighting the model's limitations publicly, as CTO Mira Murati emphasized that ChatGPT "may make up facts." It appears to be in line with Altman's approach to downplay the sudden rise in fame for his company, likely to thwart regulatory challenges in such an early stage of its product launch sequence.
However, will consumers expect and tolerate the same response from Pichai & team? With Google as the dominant search engine, the media and regulators will likely frown upon such "flaws," probably affording Google much less headroom to make mistakes.
Insider shared a recent update on a leaked research prepared for Microsoft, highlighting "Bing can leverage the power of ChatGPT for improved results and challenge Google's monopoly. Users believe this to be a shift to 'level the playing field.'"
Microsoft has recently gone all out, integrating OpenAI's models into Viva Sales and Teams Premium, seeking to dominate in commercial Generative AI applications.
Hence, there's little time to waste for Pichai & team, suggesting why they are in a hurry to defend their turf.
The market remains tentative over GOOGL's valuation. At an NTM EBITDA of 10.7x, it remains well below its 10Y average of 12.5x. In other words, GOOGL is not expensive.
For investors convinced that Google's AI lead could successfully fend off Microsoft's challenge as it attempts to regain the initiative, the current Google stock levels look attractive.
Rating: Buy (Reiterated).
---
Disclosure: I/we have a beneficial long position in the shares of GOOGL, MSFT either through stock ownership, options, or other derivatives. I wrote this article myself, and it expresses my own opinions. I am not receiving compensation for it (other than from Seeking Alpha). I have no business relationship with any company whose stock is mentioned in this article.
---
Are you looking to strategically enter the market and optimize gains?
Unlock the key to successful growth stock investments with our expert guidance on identifying lower-risk entry points and capitalizing on them for long-term profits. As a member, you'll also gain access to exclusive resources including:
24/7 access to our model portfolios

Daily Tactical Market Analysis to sharpen your market awareness and avoid the emotional rollercoaster

Access to all our top stocks and earnings ideas

Access to all our charts with specific entry points

Real-time chatroom support

Real-time buy/sell/hedge alerts
Sign up now for a Risk-Free 14-Day free trial!