Google: I Never Bought More Aggressively Than Now
Summary:
Google lost $100 billion in market value yesterday amid its chatbot 'Bard' botching a question.
The ad sales slowdown is fully priced into Google's valuation at this point.
With $60 billion in annual earnings power and $9 cash per share, Google is a bargain.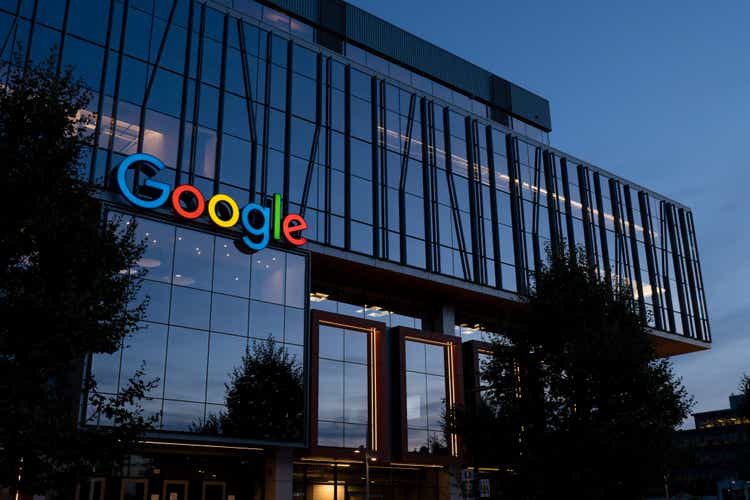 Alphabet Inc. (NASDAQ:GOOG) saw its stock price fall 8% yesterday as the market overreacted to Google's AI chatbot event.
Furthermore, despite persistent headwinds in the ad sales market, Google's fourth-quarter earnings were solid and not bad at all. Given that the market currently undervalues technology companies such as Google, I believe there is a good chance that Google's stock is undervalued.
The 8% drop in Google's market valuation appears petty to me, and I believe the market/analysts undervalue Google's potential.
Double-Miss Is A Distraction
Google has taken some heat for reporting a double-miss in terms of sales and profits in the fourth quarter, but those misses were minor and don't really tell investors much.
My general take on earnings releases is that investors shouldn't place too much value in them because they are only snapshots of what's going on in a business.
Google earned $1.05 per share versus $1.20 expected, missing estimates by 12.3%. Sales were $76.1 billion, 0.6% lower than expected.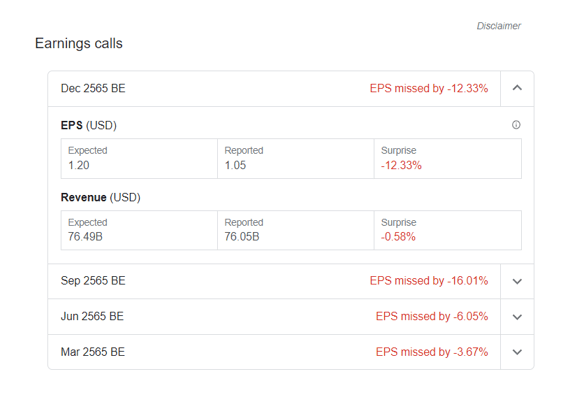 Though Google fell short of expectations, it is also true that Google is a massive corporation with significant raw cash generating power.
Google's fourth-quarter revenue was $76.1 billion, a 1% increase YoY. Google's advertising sales were $59.0 billion, down 3.5 percent YoY, as the advertising market correction continued to bite.
Overall, I believe Google's 4Q-22 earnings report was much stronger than the market is willing to acknowledge. Even though ad sales continue to face headwinds, investors have had more than a year to factor in the possibility of slowing sales growth for Google, and thus, in my opinion, the current ad sales market weakness is already more than fully backed into Google's valuation.
The Market Overreacts To Chatbot 'Bard'
Yesterday, Google's stock price fell 8%, wiping out about $100 billion in market value, after Google's new AI chatbot Bard answered a question incorrectly.
AI bots are the hot topic in the tech industry right now, thanks to OpenAI's ChatGPT bot's massive popularity and notoriety in the short time it has been available to the public. The market likely sees Bard's incorrect answer as a sign that Google is falling behind Microsoft, which invested in OpenAI, in terms of developing AI capabilities.
With that said, it is far too early to pass judgment on AI technology because the race is just getting started, and Google, as I will demonstrate below, has a massive profit base to leverage against Microsoft and other companies.
In my opinion, the market is overreacting to this news item, and I expect Google stock to recover from this unjustified selloff.
Enormous Profitability, Large Cash Per Share Value, Bargain Valuation
The market reaction to the news item discussed in the preceding paragraph is amusing to me because Google has such raw earnings power and deep pockets that it is highly unlikely that the tech company will lag behind Microsoft in artificial intelligence.
Google's profits in 2022 were $59.98 billion, or $4.56 per share. That is $5 billion in profit per month, every month of the year, indicating that Google is making money faster than it can spend it. And things appear to be improving in the future.
Profits are expected to be $6.09 per share in 2024, resulting in a P/E ratio of 16.4x. However, Google has a significant amount of cash on its balance sheet, which I like to factor into Google's valuation. The technology company reported total cash of $113.76 billion, including marketable securities, equating to $8.65 per share.
Since Google is presently trading at $100, approximately 9% of Google's market capitalization consists of cash (+ marketable securities). After deducting this cash, Google has an earnings multiple of 15x, a compelling valuation for one of the world's leading technology companies.
Also, the market anticipates a 19% rebound in Google's per-share profits in 2024, implying that the ad sales slump will likely not be an issue next year.
The Problem Of 'Being Too Early'
Declaring loudly that I am buying aggressively right now opens the door to criticism if the stock price continues to fall. However, it is always possible for a stock price to fall further, especially if the trend is already negative, as it is in the case of Google.
I don't think the 'Bard' report is particularly disheartening, but there is a chance that Google's ad sales will deteriorate further from where we are now.
Furthermore, if Google completely botches its AI chatbot business for whatever reason, the market's reaction could be even harsher.
My Conclusion
This is one of the few times when I would advise investors to be aggressive and load up the truck with cheap Google stock.
Google has enormous earnings power ($5 billion/month), and the notion that Google is losing the AI race to Microsoft is, in my opinion, naive.
With $59.97 billion in profits and $8.65 per share in cash at the end of 2022, I believe Google represents extremely good value for long-term investors who look beyond the performance of one quarter.
---
Disclosure: I/we have a beneficial long position in the shares of GOOG either through stock ownership, options, or other derivatives. I wrote this article myself, and it expresses my own opinions. I am not receiving compensation for it (other than from Seeking Alpha). I have no business relationship with any company whose stock is mentioned in this article.
---