Summary:
Intel submitted its Q4'22 earnings sheet yesterday which was a complete disaster.
Intel's outlook for Q1'23 is highly disappointing. Investors have to expect massive EPS downward revisions.
Deteriorating market environment strongly implies that Intel is facing further selling pressure.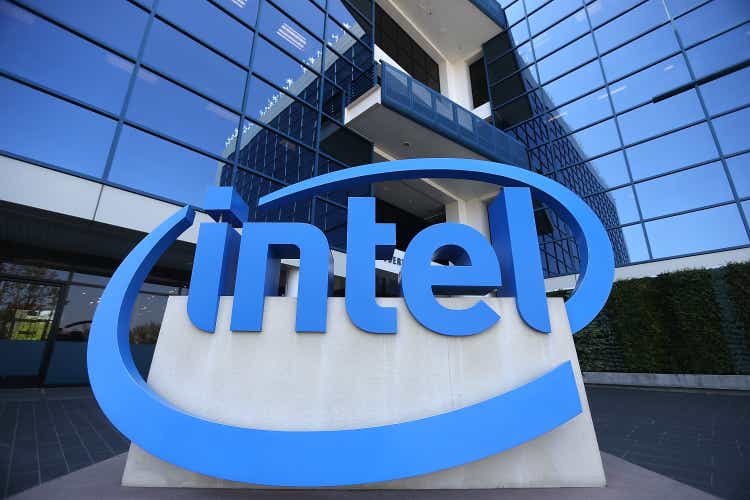 Last week I warned of a "moment of truth" for Intel (NASDAQ:INTC) since preliminary PC shipment data from consulting company Gartner indicated that the PC market's downturn sharply accelerated in the December-quarter. This moment of truth has now finally arrived: the chip maker reported earnings for Q4'22 that were much worse than anticipated, delivering huge top line and EPS misses as a result. The outlook for Q1'23 is also highly disappointing which caused Intel's shares to drop 10% after the market closed yesterday. With significant negative momentum building after Intel's Q4'22 earnings report, I believe that shares are uninvestable in the short-term and are set to make new lows!
Intel misses on the top and the bottom
Intel missed top and bottom line consensus predictions by a wide margin: Intel's Q4'22 revenues were $14.0B which were $450M below estimates and adjusted EPS of $0.10 missed the consensus of $0.20 per-share.
PC market down-turn responsible for massive deterioration in fundamentals
In my last work on Intel I indicated that the chip maker was facing a serious slowdown in its business. I made that argument chiefly based on the estimated decline in worldwide PC shipments in the fourth-quarter. According to Gartner, fourth-quarter global PC shipments declined at a rate of 28.5%, making it the biggest year over year decline the company ever recorded since it tracked device shipments in the mid-1990s.
As a result, Intel's revenues, especially in the Client Computing Group, got crushed in the fourth-quarter. Intel reported $14.0B in Q4'22 revenues, showing a decline of 32% year over year as the PC market correction went from bad to worse in the fourth-quarter. Intel's Client Computing Group – the firm's biggest and most important segment which sells PC processors and related components and accounts for more than half of Intel's revenues – saw its revenues plunge 36% year over year to just $6.6B… which then also resulted in a massive 82% draw-down in its operating income.
The market downturn has now spread to other segments as well, including the Data Center business. Data Center and Artificial Intelligence saw its revenues decline 33% year over year to $4.3B while the Network and Edge business saw its revenues decline 1% year over year to $2.1B. The broad-based decline in revenues is a major problem for Intel as the company only recently launched its 4th Generation Xeon processor after multiple delays, the Sapphire Rapids server chip, which is meant to compete against AMD's data server processors. The launch obviously is coming at a bad time for the PC and Data Center markets as companies are scaling back investments due to slowing consumer demand.
Devastating outlook for Q1'23
Intel has said that it anticipates volatility in the PC market to persist in FY 2023 which can be expected to lead to new revenue problems for the chip maker down the road. For the first quarter of FY 2023, Intel projects just $10.5-11.5B in revenues, showing a scary decline of 40% year over year. Since the down-turn in the PC market accelerated in Q4'22, there is a good chance that Intel won't see a fundamental improvement of its revenue picture for at least a couple of quarters.
Intel's estimate trend and valuation
I believe Intel is uninvestable in the short term, especially after the presentation of its Q1'23 outlook which will certainly result in major down-ward revisions for Intel's consensus revenues and earnings. The EPS estimate has already been negative before earnings, but the earnings report is likely going to make the situation much worse for the chip maker. Intel is currently projected to have EPS of $1.64 in FY 2023 which seems optimistic now that the company is forecasting a 40% year over year drop in its top line and a 117% decline in its EPS for Q1'23.
Intel's Q4'22 earnings report has created considerable negative sentiment overhang for the firm's shares and major EPS revisions — which are likely — could be a catalyst for a continual down-side evaluation of Intel's shares. FY 2023 EPS estimates have started to fall sharply and it could result in a major reset of Intel's P/E ratio (currently 11.6 X) to the upside.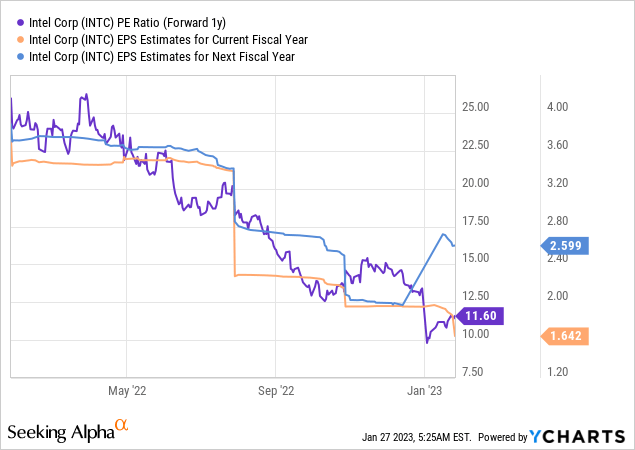 Risks with Intel
The biggest risk for Intel at this point is that the PC/Data Center markets will continue to soften, resulting in a disappointing launch performance of Intel's data center chip while compounding the problems in Intel's Client Computing Group. Another risk I see relates to the company's dividend: Given the deterioration in the market environment, I am expecting management to cut or eliminate its dividend which likely would be a major negative catalyst for Intel's shares as well.
What would change my opinion on Intel is if the PC and the Data Center markets saw two consecutive quarters of top line growth which would likely indicate that operating conditions in Intel's important Client Computing Group could be set to improve. An upside revaluation could also take place if Intel announced a major cost restructuring program, and, as part of this, decided to finally eliminate the dividend.
Final thoughts
Intel's earnings release for the fourth-quarter was really scary and investors had more than just one reason to panic. However, the writing was on the wall and investors were warned before Intel released its earnings sheet. Besides major top line and bottom line misses due to a severe deterioration in the PC market, the outlook for Q1'23 was a major disappointment. What was especially scary was the rate of the decline: Intel's Q4'22 revenues declined 32% year over year, but the outlook for Q1'23 calls for an even larger decline of 40%, meaning Intel expects its down-side momentum to accelerate. With EPS estimates for FY 2023 now set to adjust to the down-side as well and the dividend likely going away, I believe that Intel is dead money in the short term and that the risk profile is highly unfavorable!
---
Disclosure: I/we have no stock, option or similar derivative position in any of the companies mentioned, and no plans to initiate any such positions within the next 72 hours. I wrote this article myself, and it expresses my own opinions. I am not receiving compensation for it (other than from Seeking Alpha). I have no business relationship with any company whose stock is mentioned in this article.
---