Lucid Now Has Major Tesla Problem
Summary:
EV leader cuts prices across the board.
Lucid Q4 units better, but still not impressive.
Short interest hits new high.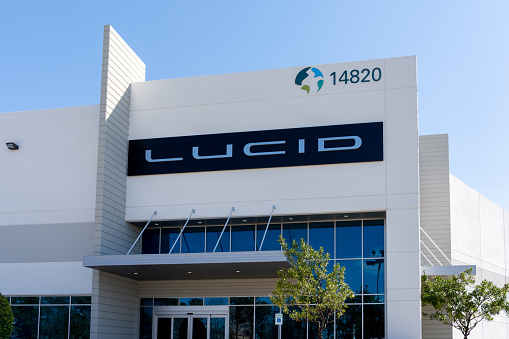 As the battle in the electric vehicle space was set to heat up this year, leader in the field Tesla (TSLA) fired a major shot this month. Tesla announced a series of major price cuts around the globe in an effort to substantially grow its delivery volumes. While many of the headlines were focused on the mass market Model 3 and Y, it was the price cuts for the Model S and X that really got my attention. While Tesla's two luxury vehicles won't have a dramatic impact on Tesla in the near term, there's another name that's definitely impacted, and that company is Lucid (NASDAQ:LCID).
Recently, Lucid reported its Q4 2022 delivery and production volumes. The company produced just under 3,500 vehicles, a new quarterly record that was up more than 50% sequentially. Deliveries also finished the year at a new record with 1,932 units, up from less than 1,400 units in Q3. For the full year, Lucid came in with production of 7,180 units, beating guidance that management had twice reduced (here and here) from 20,000 to 7,000. Deliveries came in at 4,369 for the year, so Lucid did end the year with a bit of inventory that likely was on its way to customers.
The problem for Lucid is that the delivery print wasn't exactly great, even though expectations had come down tremendously throughout 2022. As the chart below shows, street revenue estimates have been more than halved over the last 13 months, with the current average estimate being the lowest I've seen to date. While Lucid will still report tremendous revenue percentage growth numbers for a few more periods, that's only because year ago quarters had next to nothing for total revenue.
As Lucid looks to increase volumes, management knows that prices have to come down. The Air Dream Edition started at $169,000, but the Air Pure version will start at about half of that. The Air is Lucid's version of the Tesla Model S, and while the Lucid has more range, Tesla has much better service infrastructure in place along with its huge supercharging network. Lucid will open reservations for its Project Gravity SUV in a few months, which will be a competitor to the Tesla Model X.
Tesla refreshed the Model S and X a couple of years ago, although due to covid and supply chain issues it has taken some time for production to truly ramp up. Tesla delivered over 66,700 units of its two luxury vehicles last year, with a little bit of inventory building at year's end. That gets me to the recent price cuts, which were rather significant. Here's what we saw in the United States, for example:
Model S LR: $104,990 to $94,990
Model S Plaid: $135,990 to $114,990
Model X LR: $120,990 to $109,990
Model X Plaid: $138,990 to $119,990
Obviously at these prices Tesla isn't going to see volumes soar dramatically like it might with the Model 3 and Y price cuts. However, these cuts for the S and X are only going to make Lucid's growth plan a bit tougher, especially as Tesla starts to send more S and X to international markets. We don't have a set of guidance yet for 2023, but Tesla may be able to produce as many S and X vehicles in a quarter as Lucid will be able to do all year. Investors will also be looking forward to see how many reservations Lucid still has, to see if the Tesla price drops and or economic worries are impacting potential demand.
The problem for Lucid is that the Air is the company's only vehicle currently, while Tesla could cut Model S and X prices another $20,000 if it wanted to and it won't make a major difference. In my previous article on Lucid, I detailed just how bad the financial situation was. For the first nine months of last year, the company's operations lost over $1.84 billion, and Lucid burned almost $860 million of cash in Q3 alone.
As I was writing that earnings article, Lucid announced it would be raising more capital. In the end, more than $1.5 billion in new cash was brought in, although this resulted in a bit of dilution. Adding these funds to the Q3 total would have put the company at about $5.37 billion of total cash, but that was before any burn during Q4. Lucid shouldn't need any more capital in the next quarter or two, but later this year or early in 2024 another raise might be needed if cash flow trends do not significantly improve. The company does have a big backer behind it in the Saudi Arabia Investment Fund, which added to its large position in the most recent capital raise.
While the number of outstanding shares continues to rise, the number of bets against the name has also increased recently. As the chart below shows, short interest in Lucid rose pretty steadily throughout 2022, finishing the year at a new high. With more than 28% of the estimated float short, Lucid is one of the most shorted names out there today. I'll be curious to see if short interest heads even higher once we get the next update or two that reflect the recent Tesla price cut information.
As for Lucid shares, they've started off the year in the right direction, with growth names like Tesla bouncing and a solid earnings report from Netflix (NFLX) helping the tech space last Friday. However, Lucid's close last week at $7.82 is still very close to the bottom end of its 52-week range that goes from just over $6 a share to nearly $40. The average price target of $14.14 implies tremendous upside from here, but that figure was over $40 a year ago and look where we are now.
I cannot justify that street average valuation at the moment. As a reminder, we're talking about a company that only beat its production target for 2022 after it was slashed by 65%. Lucid has not proven it can ramp its volumes very quickly, and you are still dealing with losses and cash burn. If I assume that the company does 90% of the street's projection for revenues in 2024 and apply the Tesla price to sales multiple, that gives me a valuation of $13.22 billion. Based on a share count that could be around 1.9 billion by then, we're looking at a stock that's under $7. The bears might even argue that a discount to Tesla is warranted given the niche of the market that Lucid is targeting right now.
In the end, Lucid finds itself in a very tough spot now with Tesla cutting prices on its luxury vehicles. While Lucid met its twice reduced production guidance for 2022, deliveries have still disappointed to date, and competition isn't exactly going away. While the November capital raise will ease funding concerns for the near term, this is still a name that is losing lots of money and burning lots of cash. With Tesla being able to flex its muscle at the high end even more if it wants to, another tough year for Lucid is likely ahead of us.
---
Disclosure: I/we have no stock, option or similar derivative position in any of the companies mentioned, and no plans to initiate any such positions within the next 72 hours. I wrote this article myself, and it expresses my own opinions. I am not receiving compensation for it (other than from Seeking Alpha). I have no business relationship with any company whose stock is mentioned in this article.
Additional disclosure: Investors are always reminded that before making any investment, you should do your own proper due diligence on any name directly or indirectly mentioned in this article. Investors should also consider seeking advice from a broker or financial adviser before making any investment decisions. Any material in this article should be considered general information, and not relied on as a formal investment recommendation.
---