Meta: A Questionable Subscription Strategy
Summary:
On February 20, Mark Zuckerberg announced the rollout of Meta Verified, a paid subscription tier primarily aimed at content creators.
As a Meta investor, I welcome any decision to add more value to content creators but a cost-benefit analysis of Meta Verified has left me questioning the move.
Facebook bucked industry trends last year thanks in part to content creators, and pushing them away from the platform is the last thing an investor wants.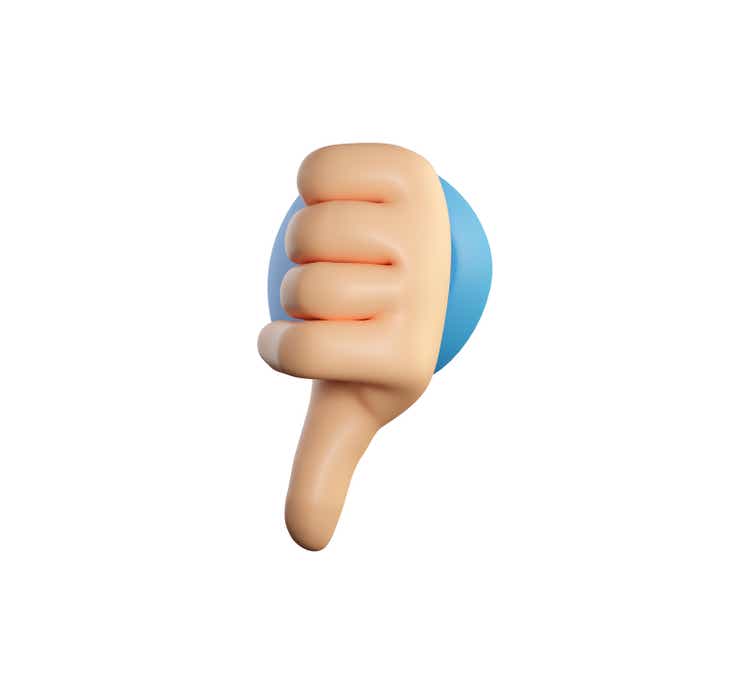 In the last few years, social media companies have experimented with innovative ways to monetize their users. Today, many leading social media platforms are trying their luck with various subscription options. Snap Inc. (SNAP) was the first to launch a subscription tier for its users with Snap Plus which offers access to exclusive badges and Snapchat web. The service, priced at just $3.99/month, has already surpassed two million users worldwide. With Snapchat's subscription business gaining traction, Twitter also announced a subscription plan named Twitter Blue which offers features such as a blue check mark for verified users and the ability to edit tweets. On February 20, Meta Platforms, Inc. (NASDAQ:META) CEO Mark Zuckerberg announced the rollout of Meta Verified, a subscription option for Facebook and Instagram users that allows them to verify their accounts using a government ID in exchange for a blue badge, extra impersonation protection, and direct access to customer support.
Exhibit 1: Mark Zuckerberg's Facebook announcement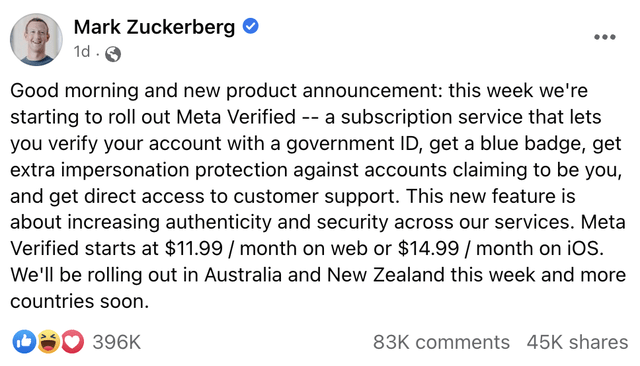 Source: Facebook
At first glance, Meta Verified seems to be aimed at content creators. As a Meta investor, I welcome any decision to add value to content creators and their subscribers as the company's future in the social media space is likely to depend on attracting and retaining content creators. In 2022, Meta pledged to distribute $1 billion among content creators, and in November, the company announced new ways for creators to monetize their content. Back in December, Meta started testing more features to enable creators to engage with their audiences better. The company ramped up investments in Reels (short-form videos) in 2021 and these investments have been helpful in attracting a new breed of content creators as well. Reels was launched on Facebook and Instagram to thwart the threat of TikTok, and despite getting on to a slow start, Reels are now delivering the expected results for the social media giant, which is evident from how Facebook and Instagram usage picked up last year. As the below chart highlights, Facebook usage in the U.S. slumped from 2017 to 2020 but the platform had a strong 2022 in which the average time spent on Facebook remained steady compared to 2021 while its arch-rival TikTok saw a decline in usage.
Exhibit 2: Daily time spent on social media platforms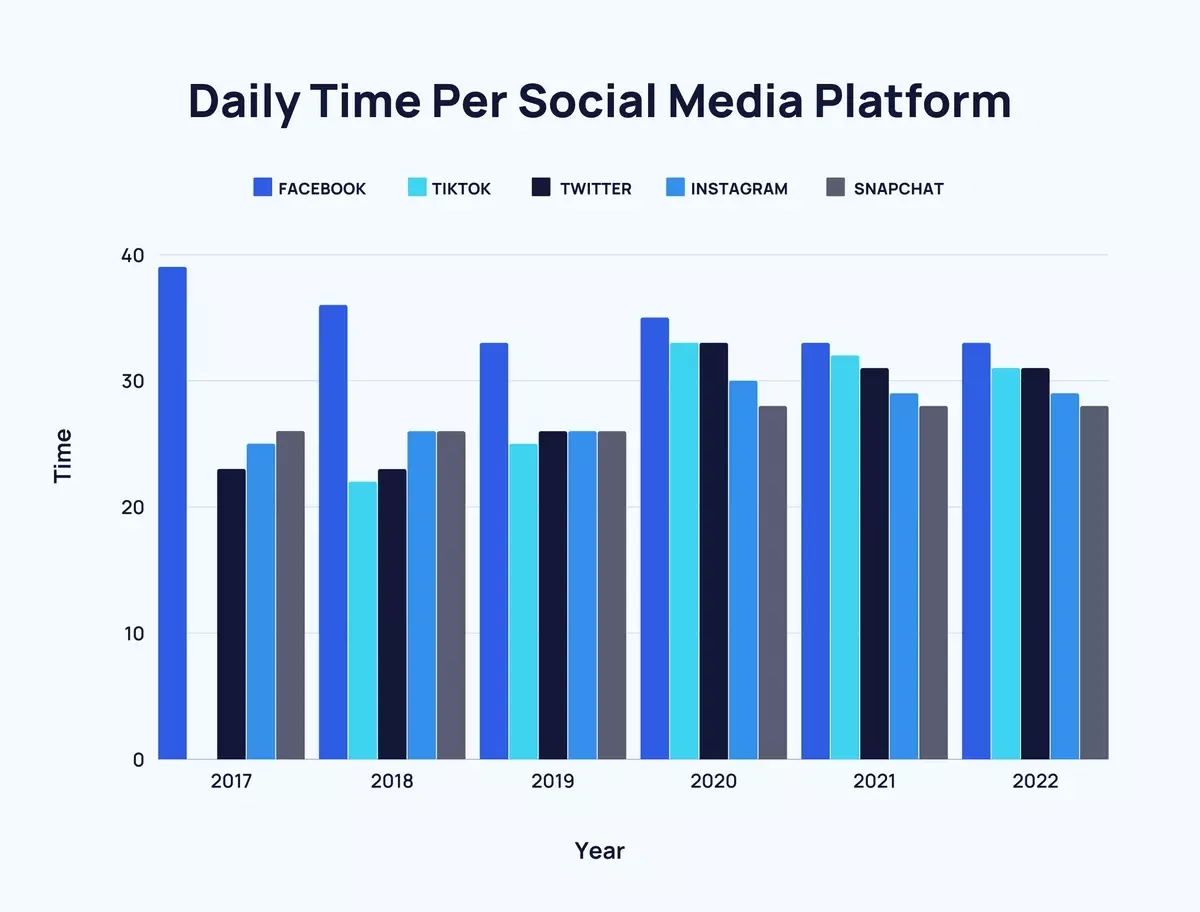 Source: Exploding Topics
Investments in products such as Reels, distributing earnings among content creators, and improving the AI algorithms used to suggest content to users played a massive role in Facebook's comeback last year. With content creators becoming an integral part of the company's success, it makes a lot of sense for the company to focus on offering a seamless user experience to these content creators while monetizing their content better.
So far, so good.
Launching a subscription tier, in my opinion, is not a bad option in and of itself but the problems come to light when you evaluate the value proposition offered by Meta Verified.
Meta Verified offers three main features.
Blue badge
Extra protection against impersonators
Direct access to customer support
Although it hurts to write this as a Meta investor, I believe all these features should be available to content creators free of charge for the value they bring to the platform – not at a monthly cost starting from $11.99. A high degree of privacy and protection is expected by all social media users alike, and I believe these need to be mandatory features of a social media platform – not something I need to pay for. When it comes to content creators, direct access to customer support should also be a regular feature for those who surpass a certain threshold of followers and/or earnings.
There's nothing wrong with embracing the subscription economy, but I believe the company needs to offer value-additions to its users to make this a success. Although Meta is well-positioned to thrive even if this subscription tier fails, this decision could spook content creators and their subscribers alike, which is not an ideal scenario at a time when competition is heating up.
To increase the value proposition of its subscription tier, Meta could take a leaf out of Twitter's playbook. Below is a comprehensive list of features that would be offered under the Twitter Blue subscription plan, and these features inevitably enhance the value of the platform to a user.
Tweets can be edited for up to 30 minutes after publishing.
NFT profile pictures.
Custom navigation options to choose what appears on the navigation bar.
The option to turn long Twitter threads into an article using the Reader feature.
Longer video uploads up to 60 minutes or 2GB in file size.
A 50% reduction in advertisements displayed (coming soon).
Longer Tweets of up to 4,000 characters.
SMS two-factor authentication (this feature will be disabled for non-paying users).
Evidently, Twitter Blue will enhance the user experience of a subscriber whereas Meta Verified offers three services that are expected by any content creator for free of charge.
As a regular Facebook user, I will happily pay for a subscription tier if the below features are offered.
An option to customize my feed to ensure recommendations are more aligned with my interests
No advertisements
I believe Meta Platforms has what it takes to thrive in the next decade, but I certainly do not want the company to shoot itself in the foot by pushing content creators away from Facebook and Instagram. Meta's success has a lot to do with evolving and adapting. The company has a strong track record of building on the features introduced by its rivals to offer a best-in-class experience to its users, and I hope Meta will learn from Twitter and Snapchat to offer a more meaningful, value-adding subscription tier in the not-so-distant future.
---
Disclosure: I/we have a beneficial long position in the shares of META either through stock ownership, options, or other derivatives. I wrote this article myself, and it expresses my own opinions. I am not receiving compensation for it (other than from Seeking Alpha). I have no business relationship with any company whose stock is mentioned in this article.
---

The unexpected moment is always sweeter
At Leads From Gurus, we strive to achieve sweet returns by predicting which companies would report unexpected earnings. Join us to discover the power of earnings surprises.
Your subscription includes access to:
Weekly actionable ideas that would help you beat the market.
In-depth research reports on stocks that are well-positioned to beat earnings estimates.
Three model portfolios designed to help you beat the market.

Educational articles discussing the strategies followed by gurus.
An active community of like-minded investors to share your findings.
Act now to secure the launch discount!