Meta Platforms: Take Your Money And Run
Summary:
The market has rewarded Meta Platforms, Inc. following its latest earnings release.
Meta Platforms has done well to increase efficiency and is spending $40 billion in buybacks.
Meta Platforms, Inc. is undervalued, but with a challenging year ahead, this might be a good time to take profits.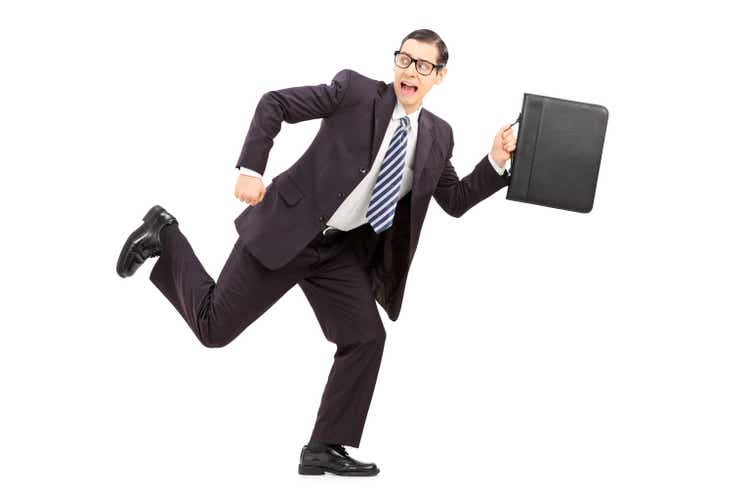 Thesis Summary
Meta Platforms, Inc. (NASDAQ:META) has just reported its latest results, and the market has rewarded the company with an over +20% stock price increase. Investors are happy with the outlook and buybacks, but there are still some issues to consider.
Meta Platforms, Inc.'s valuation is certainly attractive, with the stock still down over 50% since its all-time high. Is this the time for those who failed to buy the dip?
While, as I've stated before, I like META, I believe we could see the stock price decline in the latter half of the year as the economy deteriorates.
Earnings Summary
META presented its fourth quarter results yesterday, which surprised investors in a good way: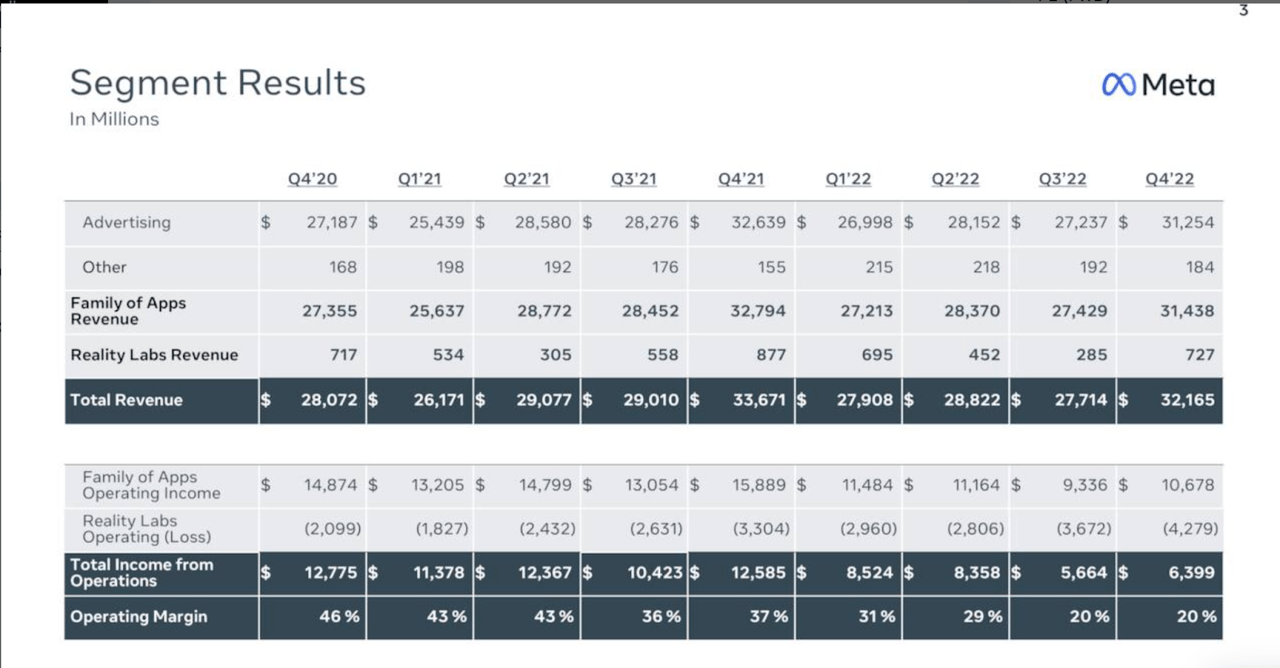 Revenue came in at just over $32 billion, as we saw decent quarterly growth from the Family of Apps Revenue. Operating income was $10.6 billion with margins coming in at 20%.
Daily Active Users reached 2 billion in the last quarter, and we saw a significant uptick in revenue per user: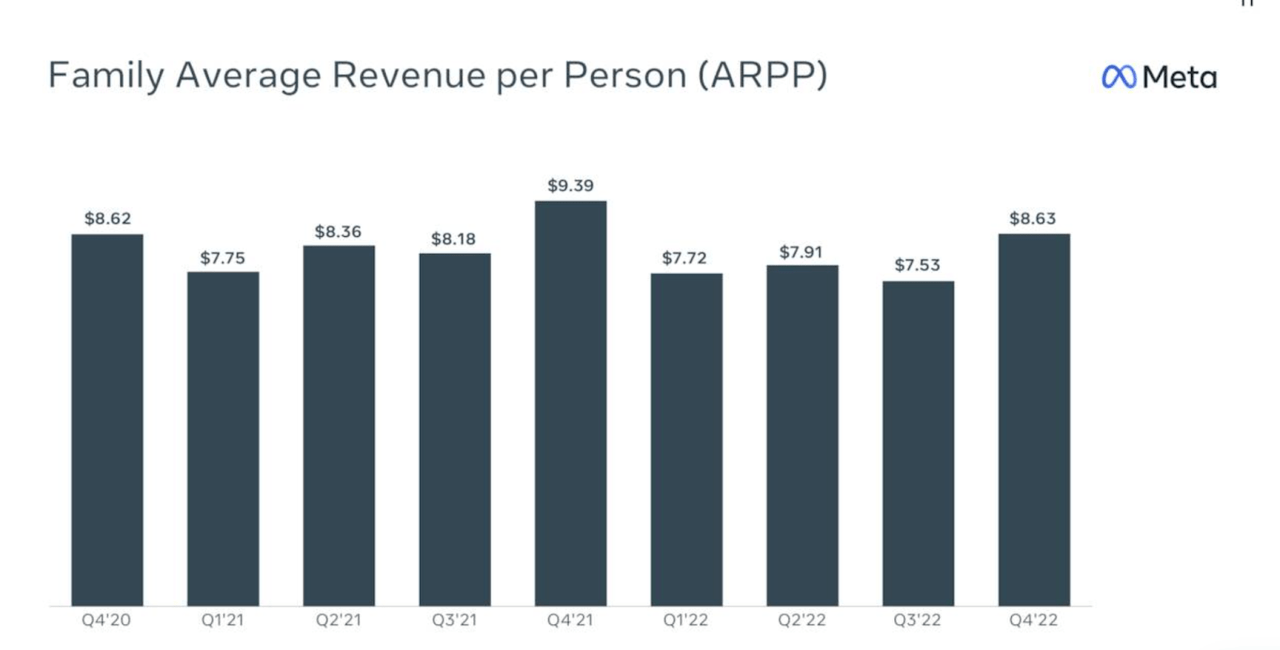 The company expects $26 billion to $28.5 billion in revenue in Q1, and $89 billion to $95 billion in expense, which were slightly revised downward. Part of this can be attributed to a $1 billion downward revision in restructuring charges for 2023.
Overall, the latest results gave everyone something to be happy about. Meta Platforms, Inc. revenue surprised to the upside, the outlook for the next quarter is not too bad, the company has made decent efforts to rein in costs and, to top it off, META is carrying out a $40 billion stock buyback.
Earnings Call Insights
Now, moving on to the Q4 earnings call, we can find at least three key insights. First, on the current engine of revenue growth, Facebook Reels:
The next bottleneck that we are focused on to continue growing Reels is improving monetization efficiency or the revenue that's generated per minute of Reels watched. Currently, the monetization efficiency of Reels is much less than Feed. So the more that Reels grows, even though it adds engagement to the system overall, it takes some time away from Feed and we actually lose money.
Source: Earnings Call, CEO Mark Zuckerberg.
It's a very interesting point made here. Reels, Facebook's short-form videos, are becoming more popular, but they bring on average less revenue than Feed. If Meta can change this dynamic, then we could see a material improvement in average revenue per user.
Next, on the more immediate engines of growth:
We continue to be excited about the monetization opportunity with Business Messaging, too. Facebook and Instagram are the first two pillars of our business. And in the next few years, we hope to bring Messaging Online as the next pillar. One way of doing this is click-to-message ads, which is now the $10 billion run-rate.
Source: Earnings Call, Mark Zuckerberg.
Click-to-message ads is the next key area of focus with the company. My issue here is that this has been the case for some time now, and we have yet to see any significant monetization of this segment. Hopefully, Meta will be able to monetize its 2 billion users soon.
Lastly, the controversial investment in "the metaverse":
On Reality Labs, we still expect our full year Reality Labs losses to increase in 2023, and we are going to continue to invest meaningfully in this area given the significant long-term opportunities that we see.
Source: Earnings Call, Mark Zuckerberg
Not much has changed here. If you are still not convinced by the idea of the metaverse (I am), then perhaps this is not the company you should be investing in.
Valuation
After the recent rally, Meta Platforms, Inc. still has some upside potential, but it is considerably less undervalued. Below we can see a 5-year discounted cash flow ("DCF") growth model based on current analyst estimates: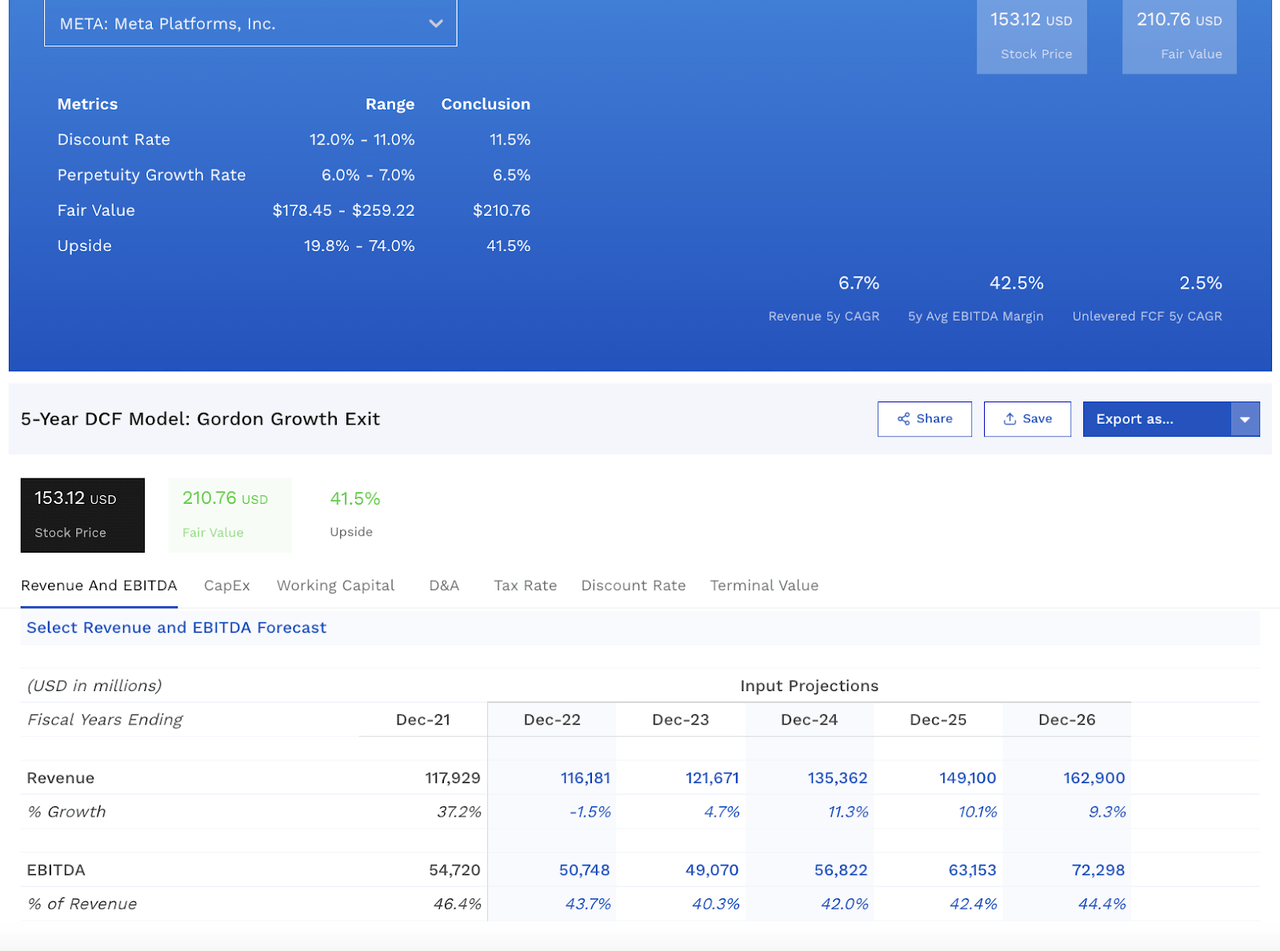 With the current Meta Platforms, Inc. share price hovering around $180, this represents about a 15% difference to its implied fair value of $210. However, this could become a much better investment if Meta could bring up its EBITDA margin closer to 50%. The company is focusing on efficiency, so I believe this is where the surprises are going to come from more than from growth.
Other Considerations
META has presented decent results, but I don't see the 20%+ rally as being totally justified. Though, I guess it's also true that the previous earnings selloff was also an overreaction. The company beat on revenue, but EPS came in weaker than expected.
Even if Meta Platforms, Inc.'s outlook isn't as bad as expected, analyst estimates still have EPS falling in 2023 and revenue growth stagnating significantly.
My biggest concern is that Meta Platforms, Inc. could strongly disappoint investors when the U.S. economy enters a recession, something of which we are seeing strong evidence. The advertising business is sensitive to the business cycle, as is the company's heavy investment in AR/VR. Surely, Meta Platforms' Oculus sales will be one of the first things to suffer during an economic downturn.
Takeaway
In conclusion, I see this response to the results as an overreaction. With that said, the recent price pop brings us closer to fair value for Meta Platforms, Inc., a company I do like for the long term. Still, given what I consider to be the more imminent risk of a recession, this could be a good spot to cash in some profits.
---
Disclosure: I/we have no stock, option or similar derivative position in any of the companies mentioned, and no plans to initiate any such positions within the next 72 hours. I wrote this article myself, and it expresses my own opinions. I am not receiving compensation for it (other than from Seeking Alpha). I have no business relationship with any company whose stock is mentioned in this article.
---
This is just one of many exciting cryptocurrencies you can buy right now!
Join Technically Crypto to stay ahead of the latest news and trends in the crypto space. Learn the ins and outs of blockchain technology and how you can profit from it.
Here's what you will get with your subscription:
– Access to our Crypto Portfolio.
– On-chain analysis of Bitcoin and Ethereum.
– Deep dive reports on Altcoins.
– Technical Analysis of major cryptocurrencies.
– News updates.
Crypto is changing the future, don't just watch it, be a part of it!