Microsoft: ChatGPT's Potential Largest Shareholder – AI Frenzy Continues
Summary:
On top of the $26.62B spent on R&D over the LTM, MSFT has committed another $10B to OpenAI, increasing its eventual stake to 49%.
With META and GOOG similarly chasing ChatGPT's growing user base, it is no wonder that market analysts expect global AI spending to hit approximately $517B in 2023 (+19.6% YoY).
It remains to be seen when these AI platforms may achieve profitability, since OpenAI expects only $1B in revenue by 2024.
At these levels, MSFT investors should be cautious about riding the ChatGPT hype train.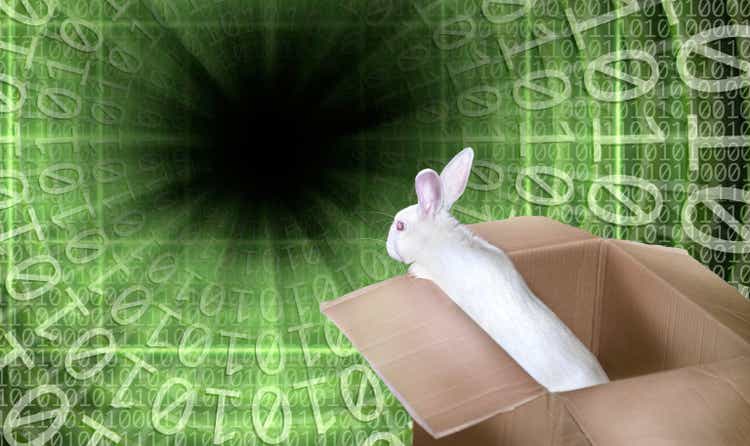 The AI Story May Be Another Metaverse, Cryptocurrency & Blockchain Hype
Microsoft (NASDAQ:MSFT) had already spent $26.62B on R&D efforts over the last twelve months [LTM], growing by 28.5% from FY2021 levels of $20.71B and 57.7% from FY2019 of $16.87B. This strategy might have helped trigger the sustained growth of its revenues to $204.09B in the LTM, expanding by 21.4% from $168.08B and 62.1% from $125.84B, respectively.
However, MSFT committed an aggressive $10B investment in OpenAI through a multi-year contract in January 2023. This was on top of the original investment worth $1B, with the latter exclusively utilizing the Azure cloud platform to train the large language model since July 2019.
Based on market rumors, up to 75% of OpenAI's profits may go to MSFT until the $11B investments have been recouped. Consequently, the latter may hold a major stake in OpenAI at 49%, with 2% under its nonprofit parent, and the balance under other institutional investors. Assuming so, MSFT may be the largest shareholder in OpenAI then, a situation that is almost as desirable as an outright acquisition.
However, the story does not end there, since MSFT may have to spend more to integrate OpenAI's models with its existing offerings, including the Bing search engine and Azure OpenAI Service, amongst others. Assuming a similar cadence, the company may increase its annual R&D expenses to $30.52B by FY2024, suggesting an expansion of 14.6% from current levels.
It remains to be seen how and when the investments may produce returns, since OpenAI only expects $1B in revenue from FY2024 onwards, with no profitability on the horizon yet. Dan Ives, an analyst from investment firm Wedbush Securities, said:
While ChatGPT is naturally a high cash burn situation today, we view this as a strategic step for Nadella & Co. to double down on its artificial intelligence strategy as more use cases boost unprecedented demand for AI solutions with more use cases emerging. With ChatGPT being one of the most innovative AI technologies seen in the industry, MSFT is clearly being aggressive on this front and not going to be left behind on what could be a potential game-changing AI investment. (Fortune)
Maybe this was why MSFT had laid off 10K employees, resulting in a one-time charge of $1.2B. Interestingly, that amounted to an estimated $120K per employee, implying the termination of entry-level executives at an average annual salary of between $115K to $147K, instead of mid-tier between $157K and $213K, or upper-level between $227K and $286K.
In this scenario, we posit that MSFT may replace these employees with OpenAI's generative platform while improving its operating efficiency in the long run. On the other hand, while the lease and workforce streamlining strategy may be productive, we reckon the existing workforce of 210K may be equally under review indeed, since it similarly exemplifies the company's motto of "doing more with less."
Andrej Karpathy's Twitter
The same thing has apparently been observed by Andrej Karpathy, an ex-AI lead developer from Tesla Autopilot (TSLA), who had already been using GitHub Co-Pilot to generate the majority of his codes by December 2022. That was a tremendous difference from the reported capability of 40% in October 2022 indeed.
GitHub was acquired by MSFT in 2018, with the GitHub Copilot launched by 2021 in collaboration with OpenAI. Notably, the platform utilized Codex, a coding model that evolved from GPT-3, which ChatGPT was similarly based on.
Even OpenAI's executives were similarly surprised by the speed of ChatGPT's global proliferation and unprecedented popularity since its public launch in November 2022. The platform had amassed over 1M unique users within the first five days of release and 100M within two months, a feat that took TikTok (BDNCE) nine months and Instagram (META) two years.
Satya Nadella, CEO of MSFT, remarked that the birth of the last major tech revolution, mobile and cloud platforms, occurred in 2007, with the generative AI platform (referring to ChatGPT) being "the most profound change in technology platforms in 15 years."
In a notable example, the CEO highlighted that an Indian software developer created a centralized government service platform in various Indian dialects using the ChatGPT platform, with the value-added service of speech recognition software. Satya Nadella, CEO of MSFT, said:
That basically meant that a large model, or foundation model that was developed on the west coast of the United States a few months before it, had made its way to a developer in India, who then added value to it to make a difference in remote village life, and I've never seen that type of diffusion. (A Financial Review)
As a result of its ease of use, rapid scaling, and integration possibilities, we reckon the utilization of Artificial Intelligence will continue to accelerate moving forward.
Interestingly, Alphabet's (GOOG) (GOOGL) engineers invented and open-sourced the Transformer, a neural network architecture in 2017. Therefore, due to the stiff market competition, it is no wonder that the company may soon similarly offer a preview of its AI language model.
Anyone interested in more information may refer to our previous coverage on ChatGPT here for GOOG and here for Advanced Micro Devices (AMD) in January 2023.
CNBC reported that GOOG had been testing similar LaMDA technology (AI language model) in response to the success of ChatGPT, with chatbot capabilities named 'Apprentice Bard.' Notably, the company might attempt to integrate the chat format/ page design into the Google Search engine as well. On top of that, the advertising giant invested $300M in an AI startup, Anthropic, in exchange for a 10% stake in the latter's chatbot platform, Claude.
The AI hype had been on overdrive indeed, with META similarly jumping on the bandwagon in November 2022 with an AI chatbot, Galactica. The platform was unfortunately removed three days later due to intense criticism. Nonetheless, it was apparent the battleground for AI dominance would be a long and arduous one, with Tim Cook from Apple (AAPL) similarly articulating the enormous potential of AI in the recent FQ1'23 earnings call.
A similar industry-wide hype had been observed in late 2021, when Meta (META) first unveiled its Metaverse concept with $10B invested then and another $13.68B in 2022, despite deepening losses. At that time, the Metaverse hype had been so promulgated in the tech industry that the internet usage of the term grew 16.5x at its peak. Interestingly, ChatGPT's hype may break Metaverse's record, with its internet search interest still growing strong thus far.
In addition, the hype had artificially inflated the stocks of many affiliated companies, such as Matterport (MTTR) by 250.9%, Roblox (RBLX) by 200%, and Unity (U) by 235.4%, amongst others. Unsurprisingly, none of these three companies had achieved GAAP profitability yet.
The Metaverse hype had also built on the blockchain and cryptocurrency boom in 2020, which triggered Bitcoin's tremendous rally by 877.3%, from $7.34K at the start of the pandemic to a peak price of $64.4K in November 2021. Unfortunately, the cryptocurrency had crashed drastically to $23.37K at the time of writing, especially worsened by the Terra collapse and the FTX scandal.
For now, market analysts expect global spending on AI software, hardware, and services to reach over $517B in 2023, growing by 19.6% YoY. That is an eye-popping sum indeed, compared to the projected global data center spending of $213.85B in 2023.
While we remain bullish about the prospects of Metaverse and AI-enabled platforms through the next decade, only time will tell if MSFT's AI ambitions may prove to be an outlier and achieve sustainable profitability/ returns, reversing the tech hype trend thus far.
So, Is MSFT Stock A Buy, Sell, or Hold?
MSFT 1Y EV/Revenue and P/E Valuations
MSFT is currently trading at an EV/NTM Revenue of 8.68x and NTM P/E of 26.11x, higher than its 3Y pre-pandemic mean of 6.07x and 24.49x, respectively. Otherwise, it is relatively in line with its 1Y mean of 8.89x and 26.22x, respectively.
Based on MSFT's projected FY2024 EPS of $10.77 and current P/E valuations, we are looking at a moderate price target of $281.20. This mirrors the consensus estimates of $280 as well, suggesting a minimal 8.8% upside potential from current levels.
MSFT 1Y Stock Price
This trend is visible in MSFT's chart, with the stock nearing its previous September, December, and January resistance levels, especially boosted by the excellent FQ2'23 earnings call by late January 2023. For now, we think it may be prudent to reign in the optimism since the stock is also trading above its 50-day moving average.
Therefore, traders looking to take some gains off the table might consider doing so here, while getting back in at the $220s. It is likely that the optimism surrounding the Fed's 25 basis point hike may soon be digested, triggering a minimal to moderate chance of retracements.
MSFT & S&P 500 Index Price Return Chart Since 1993
On the other hand, long-term investors like ourselves should simply enjoy the ride and drip accordingly, since we think MSFT may continue to outperform the S&P 500 Index through the next decade, especially if it's aided by its aggressive splash into AI capabilities.
---
Disclosure: I/we have a beneficial long position in the shares of AAPL, TSLA, MSFT, GOOG, AMD either through stock ownership, options, or other derivatives. I wrote this article myself, and it expresses my own opinions. I am not receiving compensation for it (other than from Seeking Alpha). I have no business relationship with any company whose stock is mentioned in this article.
Additional disclosure: The analysis is provided exclusively for informational purposes and should not be considered professional investment advice. Before investing, please conduct personal in-depth research and utmost due diligence, as there are many risks associated with the trade, including capital loss.
---