Microsoft: Poised To Win With ChatGPT
Summary:
Microsoft's integration of ChatGPT into Bing is a potential game changer.
We believe Microsoft is well-positioned to win against Alphabet in the search advertising business.
Valuation is reasonable given the company's competitive advantage and expected growth.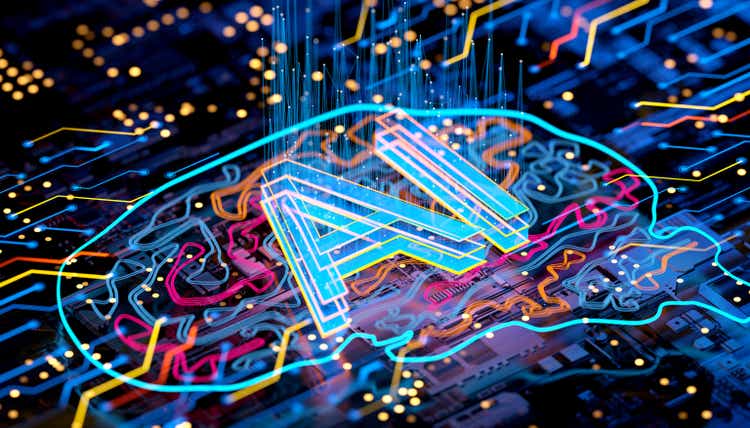 On 7th February 2023, Microsoft (NASDAQ:MSFT) made a surprising revelation that it has integrated cutting-edge ChatGPT technology into its Bing search engine and Edge web browser. The addition of this conversational AI feature is aimed at capturing the growing interest and excitement in chatbot technology and represents a significant stride in Microsoft's attempts to harness the recent popularity of ChatGPT.
In our opinion, this recent move by Microsoft has significantly reinforced its position as a competitive force against Alphabet's Google search. We believe that as a result, the company is now well-positioned to capture a significant portion of the highly profitable search advertisement market.
Leading Up To The Announcement
The introduction of ChatGPT has catalyzed an AI arms race among the largest technology companies, with Microsoft and its partner, OpenAI, clearly in the lead.
Over one million users registered for ChatGPT in the first five days after its launch on November 30, 0222, as reported by Greg Brockman, President of OpenAI. The program's capabilities have sparked a lot of discussion on social media, with users expressing amazement, amusement, and concern. In our view, the chatbot has achieved tremendous success only two months after its launch in November as it reached 100 million monthly active users in January. This rapid growth was even noted by a study from Swiss bank UBS, which stated that they have never seen a consumer internet app grow this fast in their 20 years of following the internet space.
As reported by NYTimes, ChatGPT's release prompted Alphabet's (GOOG) (GOOGL) management to declare a "code red," indicating a major threat to the company. Some fear that this could be a sign of an impending disruptive technological change that could significantly impact the company's business. Google's search engine has been the primary way for people to access the internet for over two decades, but new chatbot technology that could potentially replace traditional search engines could pose a significant threat to Google's main search business. One executive at Google has described the situation to the NYTimes as a "make or break" for the company's future.
In 2020, Microsoft secured an exclusive license for the technology behind GPT-3 and established a strong partnership with OpenAI. It is expected that an update to GPT-3, referred to as GPT-4, will be released early in 2023, featuring significant advancements in power compared to the current version. This rapid pace of innovation has seemingly taken Alphabet by surprise, forcing them into action.
Live From Paris
Google responded the next day at a recent event in Paris, where it demonstrated a range of AI enhancements for its search engine, including plans to generate lengthy textual responses to complex queries that do not have a single correct answer, such as "what are the best constellations to look for when stargazing". This announcement followed Google's recent preview of its own chatbot, Bard, which is a rival to the popular ChatGPT chatbot. However, the preview of Bard inadvertently showed the challenges of using AI tools when an answer provided by Bard included a factual error.
In our opinion, Alphabet's recent event "Google Live from Paris" was underwhelming. The company failed to offer a direct response to Microsoft's integration of ChatGPT into Bing search the day before. This showcased Google's current dilemma of balancing the potential risks of moving too quickly in the AI space against the growing competitive fears if they move too slowly.
Microsoft Is Poised To Win Share
Although Google has a strong technology base in generative AI, they appear to be taking a measured approach to rolling out new features. This contrasts with Microsoft's aggressive stance, as demonstrated in their event launching AI-powered search in Bing and Edge, with statements such as "The race starts today, and we're going to move and move fast". We believe that Google has the potential to produce strong products in generative AI, but the process could take considerable time before it could rival Microsoft and OpenAI. The assumption that Google would ever catch up is predicated on the assumption that it speeds up its product rollout from here.
We view Microsoft's competitive advantage as being not just its speed, but also its willingness to accept lower profit margins in its pursuit of market share. Satya Nadella, CEO of Microsoft, stated that the company is not reliant on the high gross margins seen in Alphabet's search advertisement business, which opens the door for Microsoft to build a robust business at a much lower gross margin. This combination of speed, lower profit margins, and Microsoft's size and resources, make the company a strong competitor to Alphabet.
Financials & Valuation
Despite a slowdown in revenue growth, we believe Microsoft's future prospects are bright. After reporting an 18% year-over-year increase in revenue for fiscal year 2022, the company is expected to see a deceleration in growth to 5.4% in fiscal year 2023. This is largely attributed to a decrease in PC sales, which we view as a temporary setback that sets the company up for stronger future growth.
Over the next three fiscal years, we anticipate that Microsoft's revenue will grow in the low to mid-teens, with earnings per share projected to increase by approximately 20% each year. This growth potential, coupled with a forward price-to-earnings ratio of 26, makes the company an attractive investment opportunity.
Risks
Despite the impressive demonstration of the integration of ChatGPT into Bing, the company may face difficulties as the "new Bing" becomes more widely accessible. These difficulties may include failure to meet elevated expectations, reputational risks associated with AI making controversial statements such as expressing racist sentiment, and significantly increased costs associated with running the chatbot.
The potential for a decline in macroeconomic conditions could lead to a decline in advertising revenue, intensifying competition for a shrinking market share. This could result in increased costs for both Microsoft and Alphabet. In the event of lower-than-expected demand, the companies may choose to reduce investments, similar to Meta's slowdown in spending on its metaverse initiative. Instead of gaining market share from Alphabet, Microsoft may be forced to retreat in the face of decreased advertising spend.
Conclusion
Microsoft's recent integration of ChatGPT technology into Bing search is a significant move that could shake up the search advertising industry. The company's bold approach to incorporating cutting-edge AI technology sets it apart from its competitor, Alphabet. This move showcases Microsoft's commitment to providing a superior user experience and staying ahead of the curve in the rapidly evolving tech landscape. With a competitive advantage and a reasonable valuation, we believe Microsoft is well-positioned for success and poised for growth in the search advertising business.
---
Disclosure: I/we have no stock, option or similar derivative position in any of the companies mentioned, and no plans to initiate any such positions within the next 72 hours. I wrote this article myself, and it expresses my own opinions. I am not receiving compensation for it (other than from Seeking Alpha). I have no business relationship with any company whose stock is mentioned in this article.
---