Microsoft: Sam Altman's Departure, And The Store Of Many Tailwinds
Summary:
Microsoft started FY24 on a strong note, with significant growth and margin expansion in every segment.
With immense opportunities across every part of its business, Microsoft continues to gain share over its rivals, and the path for $400 has never been clearer.
Worrisome news regarding Sam Altman's departure from OpenAI could put pressure on the stock in the near term, but should not overshadow the unparalleled long-term opportunity.
I expect Microsoft will continue to provide market-beating returns for the foreseeable future and reiterate a Buy rating.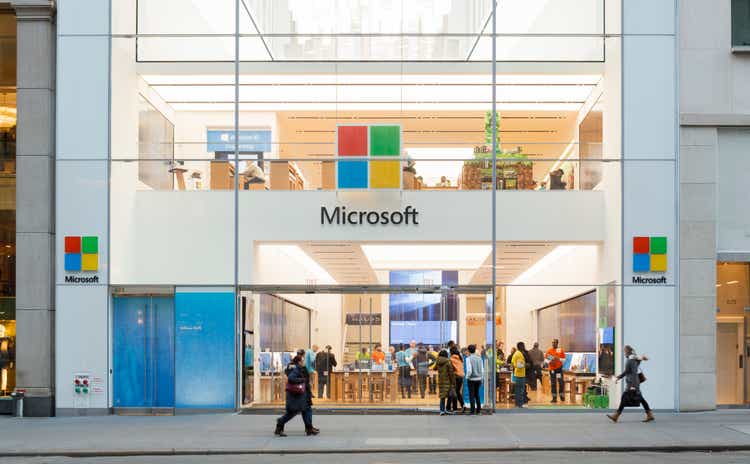 Microsoft (NASDAQ:MSFT) is the market leader on so many fronts and has so many tailwinds it's difficult to keep count. The path to surpass Apple (AAPL) as the most valuable company in the world has never been clearer, and that's not a knock on Apple.
That being said, a couple of days before the writing of this article, an earthquake occurred. Well, not an actual earthquake, but something of that magnitude. On a Friday afternoon, OpenAI, one of the most important companies in the world and a crucial partner of Microsoft, announced it is letting go of its founder and CEO Sam Altman. No real reason was provided.
We'll make an attempt to understand the meaning of his departure for Microsoft and tell the story of Microsoft's unparalleled amount of tailwinds.
The Implications Of Sam Altman's Departure
I think it would best to begin with one of the hottest topics on Wall Street, as it will presumably overshadow anything else with regards to Microsoft in the near term.
Starting with the actual news. On Friday noon, November 17th, OpenAI announced a leadership transition, which included the following statement:
The board of directors of OpenAI, Inc., the 501(c)(3) that acts as the overall governing body for all OpenAI activities, today announced that Sam Altman will depart as CEO and leave the board of directors. Mira Murati, the company's chief technology officer, will serve as interim CEO, effective immediately.

…

Mr. Altman's departure follows a deliberative review process by the board, which concluded that he was not consistently candid in his communications with the board, hindering its ability to exercise its responsibilities. The board no longer has confidence in his ability to continue leading OpenAI.

…

As a part of this transition, Greg Brockman will be stepping down as chairman of the board and will remain in his role at the company, reporting to the CEO.
I've seen many attempts across social media and news outlets to shed additional light on the matter, but none of them are providing a sufficient explanation. Tweets made by Sam Altman and Greg Brockman themselves only contributed to the confusion.
So, we'll have to use what we do know and try to understand the meaning of this shocking announcement. For that, we need to first understand OpenAI's corporate structure.
Condensing the entire company history into a paragraph, OpenAI started as a pure non-profit organization. It soon learned that a non-profit organization struggles with getting sufficient capital for the company's needs, so they have announced a capped profit company, under which investors will be able to benefit financially from its business.
OpenAI ended up being controlled by an independent board of directors whose members have essentially no financial interest in the company. Microsoft, which owns a 49% stake in the capped profit entity has no seat on the board and no control.
This brings us back to yesterday's news. Investors need to understand that (1) Microsoft had no say in the firing of Sam Altman; (2) It had no say in the decision to demote Greg Brockman; (3) Its partnership with OpenAI is based on contracts and partnerships, rather than an ownership or controlling stake.
On the basis of these three points, which are based on facts and not assumptions, we can analyze the leadership transition under three alternatives.
Alternative 1: The Board Of Directors Didn't Approve The Company's Direction
This is the most likely alternative, and as the days go by and additional reporting is provided, it's becoming increasingly likely.
It seems that the independent board of OpenAI found the company's latest developments contradicting with their stated mission of:
Building safe and beneficial artificial general intelligence for the benefit of humanity.. culminating in AGI – meaning a highly autonomous system that outperforms humans at most economically valuable work.
From the wording of the announcement, it's hard to infer what exactly was Sam Altman not consistently candid about. However, it could be understood, that the former CEO, who recently said OpenAI will take additional funding from Microsoft, might have, from the board's point of view, failed to do his job.
The problem with this alternative is that the company has just held a huge developer conference, which Sam Altman keynoted, in which he provided a detailed long-term plan. It's hard to imagine why all of a sudden, a few days after the conference, the board decided to supposedly block Sam's and Greg's ambitions, which were pretty clear and planned for a long time.
However, with reports coming just two days later about the board talking with Sam Altman about a return, it seems the board just might have been that impulsive.
Following news that employees are extremely frustrated with the board's decision, which has put a halt on a long-awaited sale process valuing the company at $86 billion, and a large number of staffers threatening to leave the company in light of this decision, it's becoming more and more probable that the independent board made an ill-advised decision that could significantly harm the company's future.
Alternative 2: It Was Based On Personal Matters
Under personal, I include anything that's not business-related, and I'll leave to you the task of tracing after the different rumors that are out there. According to the board's announcement, Sam was not "consistently candid", which could suggest something of these characteristics.
The problem with this alternative is that it is less likely that both Sam Altman and Greg Brockman have done "personal" things that justify this change affecting both of them. In addition, the company's chief operating officer came out with a letter to employees stating the following:
We can say definitively that the board's decision was not made in response to malfeasance or anything related to our financial, business, safety, or security/privacy practices. This was a breakdown in communication between Sam and the board.
His statement, in combination with investors' and employees' push to reinstate the company's founders in their roles, suggests that to their best knowledge, there was no "personal" reason for the transition.
Alternative 3: It Was Done In Understanding With Microsoft
To me, this is the least likely alternative.
I just don't see a scenario where Satya Nadella appears in a conference keynoted by Sam Altman and then decides to let go of him a few days later. Still, some market participants think that Microsoft took part in this transition.
Evidently, Satya Nadella was quick to tweet about Microsoft's long-term agreement with OpenAI, and its commitment to Mira (the interim CEO) and the team. However, according to a Bloomberg report, Microsoft is pushing for Sam Altman's reinstatement, so if the reporting is true, that really shuts down the curtain on this alternative.
Possible Implications Of Sam Altman's Departure
I don't think anyone, including myself, really knows the reason for the announcement. However, it is becoming increasingly clear that investors have already learned the risk of Microsoft relying on a technology owned by a third party, which Microsoft doesn't control. Especially when the third-party is controlled by a non-profit entity, whose board is comprised by people with no financial incentive in the company's success.
And in this case, Microsoft is critically dependent on its relationship with OpenAI, a relationship that contributed hundreds of billions of dollars to Microsoft's market cap, based on investors' expectations regarding Microsoft OpenAI-based products.
So where are we going from here? I think that until further clarity is provided, it would be reasonable to expect to see pressure on Microsoft's stock. Even if Sam Altman is reinstated, investors will place a higher risk premium over this partnership, and I'm sure will want to know what Microsoft is doing to mitigate such risk. On Microsoft's side, I'm positive that it's going to accelerate its investments in internally-developed alternatives.
To conclude, this is bad news for Microsoft, and it doesn't really matter what happens next. Since the launch of ChatGPT it was pretty much smooth-sailing optimism, and this is the first hiccup for the business in 2023 really.
However, will it affect its long-term prospects and potential? I'd say no. While this is a significant headwind in the near-term, I don't think it will harm affect the launch of related products and services.
Microsoft has so many tailwinds on so many diversified fronts, I'm certain it will be able to overcome this issue, and expect no material effect on its results.
Now, let's focus on the fun stuff.
Is There Another Company With This Many Opportunities?
Microsoft started FY24 on a strong note, announcing results that handily beat expectations, and provided guidance well above consensus estimates.
Before we dive deeper into the company's results and each of its separate opportunities more thoroughly, I think it's valuable to go over the overall opportunity sets that are ahead
Microsoft aggregates its results under three operating segments, Productivity and Business Processes; More Personal Computing; and Intelligent Cloud.
In Productivity and Business Processes, Microsoft is already growing at a double-digit pace and should continue to grow at that pace even without the launch of the copilot products. The amount of knowledge workers around the world continues to grow at a steady pace, and many legacy enterprises are yet to fully transition to cloud-based services. Well, that isn't enough for Microsoft.
They are launching the Copilot suite at $30 per user. Considering the office suite has more than 345 million seats, you can only imagine the size of the opportunity.
In More Personal Computing, aside from the recovery play in hardware, Microsoft is continuing to gain share with Bing and is riding ChatGPT to grow its search revenues. And the segment's biggest opportunity lies in gaming, following the completion of the Activision Blizzard acquisition.
Lastly, in Intelligent Cloud, Azure continues to gain share over Amazon's AWS (AMZN) and Alphabet's Google Cloud (GOOG). And now, a business that's already growing at a high-twenties pace, is going to get another push from continuing AI developments. Unlike what Google wants you to think, it seems Microsoft's investment in OpenAI created an unbreakable monster, which increases the gap over its competitors every day.
In addition, Microsoft recently revealed two internally developed chips focused on artificial intelligence and cloud computing, which should decrease its reliance on the likes of Nvidia (NVDA), help reduce a shortage of supply risk, and enhance the company's value proposition.
To sum up, Microsoft has so many good things going for it right now, even the bearest of bears would have a difficult time arguing against its immense growth opportunities.
Fiscal Q1-24 Highlights
Revenues in the first quarter grew 12.8% to $56.5 billion, a $1.95B beat, and EPS came in at 2.99$, a $0.34 beat. The company also provided guidance well ahead of consensus estimates, expecting revenues of $60.9B for the second quarter, and more than $20.4B in net income.
Looking at a segment breakdown, we can see growth was broad-based, with every segment, including the struggling More Personal Computing, seeing positive higher revenues from the prior year period. Productivity & Business grew by 11.7%, Intelligent Cloud grew by 19.4%, and More Personal Computing sales increased by 2.5%.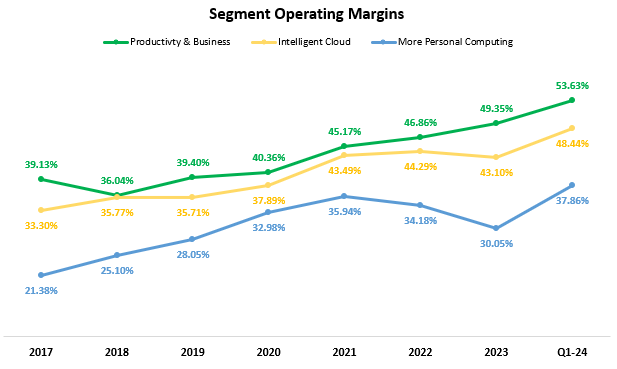 Even more impressive than the top-line growth, we saw significant margin expansion all across the board.
Productivity & Business operating margin improved by 360 bps Y/Y, resulting in operating income growth of 19.8% to $9.97B. Intelligent Cloud margins improved by 430 bps Y/Y, as operating income grew 30.9% to $11.75B. Lastly, More Personal Computing margins increased by 620 bps, driving operating income of $5.17B, a 22.7% increase Y/Y.
Management provided a better-than-expected outlook, which includes the impact of the Activision acquisition. For the second quarter, management expects double-digit growth across every segment, with revenue targets that reflect growth to remain at least at Q1 levels. Specifically in More Personal Computing growth will accelerate to 17%, due to the inclusion of Activision.
Looking at margins, the guidance reflects a 120 bps decline in gross margin and a 190 bps decrease in operating margin, partially due to the lower margin Activision business.
The Cloud Opportunity & The New Chips
When it comes to Microsoft, talking about the cloud generally means talking about Azure. Within Azure, there are several intertwining pillars that are driving growth. Until not long ago, Azure was all about compute, and migration of workloads. Around these workloads, Microsoft provides cyber security, coding KPIs, and a whole suite of ancillary offerings.
Today, Azure is not only a compute story, but it is also, and some would say primarily, an AI story. Through its partnership (and 49% ownership) with OpenAI, Microsoft is clearly the leader in AI. I am not enough of an expert to start discussing technology leadership, but I am able to put the obvious pieces together.
One, Microsoft and OpenAI were the ones that started the AI mania. It was only after the ChatGPT launch that companies like Google were even talking about launching Bard and making AI their main theme.
Two, while Microsoft is all in on OpenAI, we're still seeing Alphabet and Amazon looking for their horse in this race. So much so that they are investing in the same company, Anthropic, and therefore don't get the same benefits that Microsoft gets with OpenAI. On the flip side, the Sam Altman's news might signal that being too dependent on OpenAI is actually a risk.
Three, with Microsoft's extensive presence in the enterprise infrastructure, it is able to offer unique and integrated solutions for security, as well as leverage cross-selling, while Google is lagging on that front.
Four, OpenAI already has more than two million developers, building solutions through its APIs, and using its LLMs. Meanwhile, it's just been announced that Google is delaying its competitive Gemini launch, and Amazon is still developing its own AI model under the name Olympus.
The first-movers advantage on all those fronts is key. When developers build on your platform and users are getting accustomed to your applications, it's hard for competitors to make them transition to a different platform, even if is superior. The combination of switching costs and day-to-day habits already put Google and Amazon at a disadvantage.
Taking all the above into account, it shouldn't come as a surprise that Microsoft separated itself from the pack in the third quarter. Despite its much larger size, Azure outgrew Google Cloud by six percentage points. Furthermore, Microsoft's intelligent cloud segment (which includes other businesses, not just Azure), operates at operating margins higher than 48.4%, whereas Google Cloud is barely profitable, and AWS is in the 30% range.
One thing people held against Microsoft was the fact that it doesn't have an in-house chip offering. Well, that claim is no longer relevant. A few days ago, at its Ignite conference, Microsoft unveiled new chips, one that is optimized for AI work and one optimized for computing. This will reduce Microsoft's dependency on the likes of Nvidia, and possibly reduce its costs. Furthermore, if successful, it could help the company negate any supply constraints that are already beginning.
The Gaming Opportunity
This one is pretty obvious. Microsoft had just completed the acquisition of one of the most successful game-makers in the world, and for a valuation that seems very reasonable on paper, at around 31x P/E.
From using its own cloud infrastructure, saving on interest expense, and cutting off duplicate corporate roles, Microsoft can very easily improve the margins of an integrated Activision Blizzard.
Furthermore, by leveraging its distribution through Game Pass and Xbox, it's reasonable to expect a decent top-line contribution as well.
The gaming industry is one of the largest digital markets in the world, and Microsoft has just become one of the largest gaming companies in the world.
The Copilot Opportunity
Microsoft has at least 345 million unique seats using its office, something probably closer to 400 million today. The Copilot suite is priced at $30 a seat. Even if only 10% of seats take the Copilot add-on, there's a $1 billion opportunity in the very near term.
Just like any office product, over the long term, it becomes a standard tool in the enterprise, as knowledge workers switch jobs and bring their tools with them.
In addition, the Copilot suite should fuel the adoption of the regular office suite, and the Windows system, and could support hardware sales.
Valuation
Microsoft is trading at a trailing twelve-months P/E of 35.8x, and a forward P/E of 33.0x, both are higher than its historical average.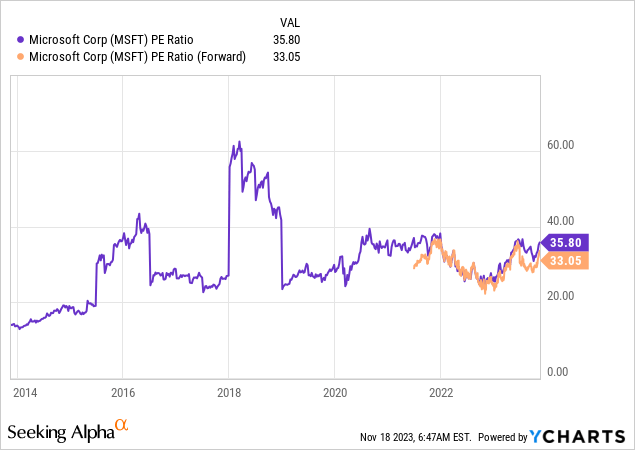 As we can see, the shares trade in the range of 25-40. With so many opportunities ahead, and overall market optimism about technology, AI, and big-tech FOMO, it's easy to understand why Microsoft is trading near the high end of its historical range.
That being said, based on current consensus estimates, which Microsoft usually beats handily, it is trading at a 28.5x multiple over its fiscal 2025 earnings. That isn't too high of a multiple.
Looking at my financial model for the company, I estimate Microsoft's fair value at $400 a share.
In my model, I assume Microsoft will grow revenues at a CAGR of 9.7% between FY24-FY31, based on its immense growth opportunities which we discussed above. I expect free cash flow margins to increase gradually to 35.7% in 2031, as hardware becomes a lower portion of the business, the company continues to showcase unparalleled operating leverage, and CAPEX spending as a percentage of sales decreases over the long term.
Taking a WACC of 7.9%, and adding Microsoft's net cash position, I arrive at the mentioned price target.
Conclusion
The Sam Altman news, albeit worrisome, is in my view not enough to harm Microsoft's vast opportunities, which span across every part of its diversified business.
I expect the stock to be pressurized in the near term until further clarity is provided, but with a successful rollout of OpenAI-based products, I believe the market will gradually grow its optimism back.
Microsoft's road to becoming a $3 billion company has never been clearer, and it should be able to provide investors with at least double-digit returns for the foreseeable future.
Despite the recent news and its outperformance year-to-date, I reiterate Microsoft as a Buy.
---
Analyst's Disclosure: I/we have a beneficial long position in the shares of MSFT either through stock ownership, options, or other derivatives. I wrote this article myself, and it expresses my own opinions. I am not receiving compensation for it (other than from Seeking Alpha). I have no business relationship with any company whose stock is mentioned in this article.
Seeking Alpha's Disclosure: Past performance is no guarantee of future results. No recommendation or advice is being given as to whether any investment is suitable for a particular investor. Any views or opinions expressed above may not reflect those of Seeking Alpha as a whole. Seeking Alpha is not a licensed securities dealer, broker or US investment adviser or investment bank. Our analysts are third party authors that include both professional investors and individual investors who may not be licensed or certified by any institute or regulatory body.
---