Mullen Joins The Great EV Race
Summary:
Mullen joined the great EV race when it went public last year on the back of strong investor enthusiasm for the industry.
The company is targeting a space set to experience significant growth as governments enact policies to push transport towards net-zero.
Recent partnerships have placed Mullen on the right start.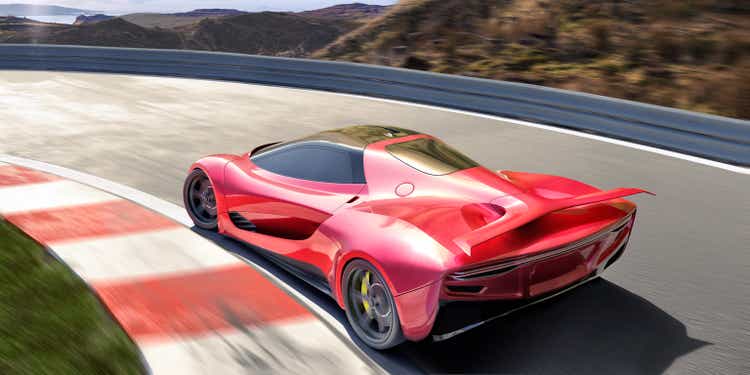 The pandemic years were pivotal points in the shift towards EVs. Never has there been such a surge in the number of EV manufacturers, charging companies, and battery suppliers going public in the history of the stock market. I called this the golden age of EVs as many of these would go on to trade on significant revenue multiples on the back of fervent investor enthusiasm over their prospects. Indeed, the scale of opportunity posed by the shift towards EVs is large, and we are very much still in the early stages of this transition.
The passenger EV market is forecasted for material growth across all major developed economies over the next decade. In the United States, passenger EV unit sales are expected to grow at a 34% compound annual growth rate to at least 4 million by 2030. This will be driven by state and federal policies intended to promote EVs over the internal combustion engine. We are also increasingly seeing legislation proposed to phase out sales of new ICE vehicles past certain dates. Hence, whether via traditional IPO, blank check company, or reverse mergers, many companies have now joined the great EV race to realize the opportunities posed by the structural shift towards zero-emission vehicles.
California-based Mullen Automotive (NASDAQ:MULN) went public last year in November through a reverse merger with tech company Net Element. Mullen plans to manufacture and retail a number of EV models including a class 1 commercial EV cargo van and the FIVE, a premium compact sport utility electric vehicle that retails at $55,000.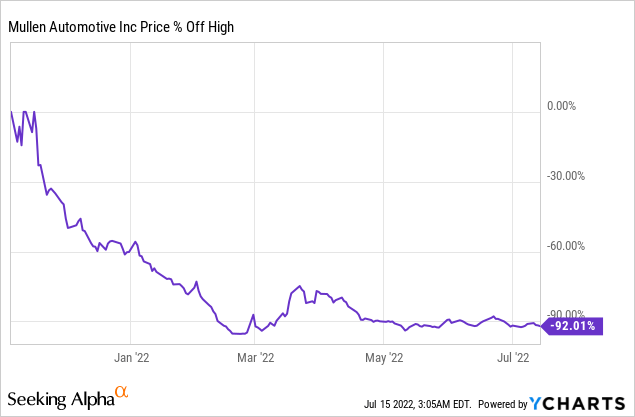 But with a stock price down by 92% since going public, the market is seemingly casting doubt on Mullen's ability to perform well in the coming EV race. The company has had a difficult start, with renowned short-selling outfit Hindenburg Research releasing a damning report on the EV upstart. The report accuses Mullen's management of making several egregious claims and overexaggerating the technological prospects of their solid-state battery development project.
The EV sector has not been immune to controversy, and the report by Hindenburg contributed to the significant weakness seen in the trading of Mullen's common stock in recent months.
A Stumbling Start
Developing a new vehicle and bringing it to market is a very capital-intensive process. It requires a deep pool of capital to support and maintain long periods of heavy capital expenditure. This is the main reason why so many new automobile manufacturers fail and why the list of defunct US automobile manufacturers is so long. Hence, even with the ongoing ramp in EV adoption, EV companies will still face the same barriers to remaining a going concern. A risk flagged when Mullen's commercial EV peer Electric Last Mile filed for bankruptcy last month.
So whilst Mullen is pre-revenue, an investment has to be assessed on the basis of the company's ability to sustain operations over what looks like to be an extended period of torrid capital market conditions.
Mullen's management recently provided some insight on this with management stating the company is set to report the strongest balance sheet in its history in its next earnings report. The company should see its cash and equivalents come in at $61 million. Mullen also recently presumably converted $17.5 million of convertible debt to shares, reducing its overall indebtedness to $11 million.
Free cash flow during the last reported earnings period for fiscal 2022 was negative at $10.2 million. Hence, the company's runway against the current cash burn should extend to just 6 quarters. Mullen will likely have to lean on dilutive equity raises to lengthen this runway as $61 million is not nearly enough capital to bring a new EV to market. Pending shareholder approval, the company has plans to conduct a $275 million equity offering to bring its EV cargo van and FIVE EV to market. An incredible amount against a market capitalization of just $500 million with revenue for fiscal 2022 likely to still be near zero.
Will shareholders approve what looks set to be a more than 50% increase in shares outstanding? They likely have no choice as Mullen will be unable to bring its products to market without external financing.
The Great EV Race
The transition to zero-emission vehicles continues at pace and is still very much in its early lap with just 4% of new cars sold in the United States being all-electric in 2021. The coming EV race will see traditional automobile incumbents and EV upstarts battle to seize the opportunities posed by the drive to net-zero for transportation. And whilst Mullen might have stumbled, the company has also made some positive steps with their announced partnership with DelPack Logistics, an Amazon Delivery Service Partner. This will see Mullen sell up to 600 of its Class 2 EV cargo vans over the next 18 months. Mullen is one to watch but likely not a buy against current market conditions.
---
Disclosure: I/we have no stock, option or similar derivative position in any of the companies mentioned, and no plans to initiate any such positions within the next 72 hours. I wrote this article myself, and it expresses my own opinions. I am not receiving compensation for it (other than from Seeking Alpha). I have no business relationship with any company whose stock is mentioned in this article.
---