Netflix: Do Not Fall For This Rally
Summary:
We remain bullish on NFLX, attributed to the company's laser focus on engagement and profitability thus far.
Assuming that NFLX fully monetizes the account-sharing households, it could report 330M subscribers by 2025, particularly aided by its low-cost ad-supported tier.
As a result, the streaming leader may also achieve its dual goal of being a successful advertising company, with up to $180B in video advertising TAM globally.
Nonetheless, with the tremendous recovery thus far, investors must tread with caution in the short term, with the stock trading near its previous support levels.
Do not chase this rally yet.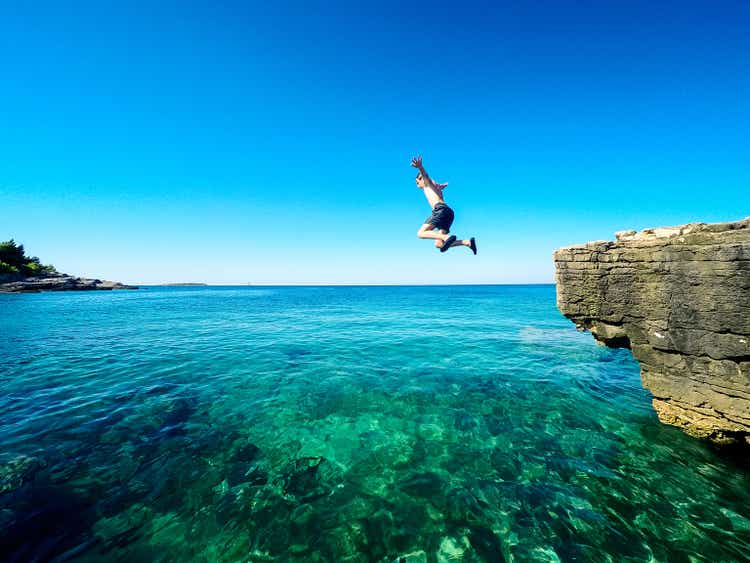 We previously covered Netflix, Inc. (NASDAQ:NFLX) here. Its early performance in the ad-supported tier was pessimistic then. However, we also discussed why we chose to be bullish about the stock, despite our overly bearish stance in the past. NFLX had successfully achieved GAAP net income profitability in its streaming-only segment, while many of its peers struggled with breakeven EBIT.
For this article, we will be focusing on NFLX's long-term tailwinds for growth and profitability, attributed to the company's strong focus on top/bottom line expansion and subscription growth. Its market-leading numbers remain unmatched in the D2C market, implying its massive potential for success in ad-supported tiers. Combined with the early penetration of streaming against linear TV, the company may achieve its ambitious dual goal of being a successful streaming and advertising company by 2025.
Here Is Our Upgraded Price Target
For NFLX
NFLX stock is currently trading at an EV/NTM Revenue of 4.83x and NTM P/E of 30.48x, lower than its 3Y pre-pandemic mean of 7.10x and 99.12x, respectively. Otherwise, it is higher than its 1Y mean of 3.97x and 26.46x, respectively.
For now, we are looking at an aggressive price target of $551.07, suggesting an excellent 58.4% upside potential from current levels. This number implies a notable upgrade from our previous estimate of $530.80, due to its raised FY2025 EPS guidance from $16.82 to $18.08.
While the price target may appear overly optimistic to some, we beg to differ. The NFLX management appears to be highly focused on the most important aspect of the streaming business, namely subscription growth and profitability. This was similarly discussed by Ted Sarandos, Co-CEO of NFLX, in the recent FQ4'22 earnings call:
I would say that this business is really completely about engagement, profit and revenue. So – and we have got to grow all of those things and all those things are really are tied to executing on that – on the content. When the content is working, the business is working. We grow engagement, we grow revenue, we grow profit. (Seeking Alpha)
The strength of its subscriptions was notably reflected in the growing membership growth to 230.75M by FQ4'22, compared to 223.09M in FQ3'22 and 221.84M in FQ4'21.
In addition, NFLX reported a sustainable deferred revenue at a sum of $1.26B by FQ4'22, with the majority comprising unrecognized membership fees over the next month and the balance of gift cards/other prepaid memberships over the next twelve months. This number was impressive indeed despite the supposed tightened discretionary spending, compared to FQ3'22 levels of $1.17B and FQ4'21 levels of $1.2B.
Most importantly, its streaming business proved profitable, a feat that had been rare in the D2C industry as discussed in our previous article. In FY2022, the company reported revenues of $31.61B (+6.5% YoY), operating margins of 17.8% (-3.1 points YoY), and EPS of $9.95 (-11.4% YoY). Its forward guidance was more than decent as well, with FQ1'23 operating margins of 19.9% and EPS of $2.82, against consensus estimates of 18.7% and $2.87.
Market Share Of TV & Streaming Views
NFLX also has a long runway for subscription growth, attributed to the relatively low penetration of streaming compared to linear TV. By December 2022, its market share was only at 8% of the US market, against the whole streaming market at approximately 30%. Therefore, there are still bright prospects for streaming post-COVID-hyper growth, with the company's market share likely to moderately expand moving forward.
Furthermore, NFLX may succeed in its long-term goal of being a major advertising platform, with the launch of its ad-supported tier since November 2022. For now, Alphabet (GOOG) (GOOGL) reported market-leading advertising revenues of $224.47B (+7.1% YoY) in FY2022, and Meta Platforms (META) was in second place with $116.61B (-1% YoY) at the same time.
Naturally, it is unclear what level of success the streaming leader may achieve, despite the large Total Addressable Market of $180B in annualized branded video advertising market globally (excluding China and Russia). While the company had yet to break down its FQ4'22 advertising revenues, as an interesting note, GOOG's YouTube reported $29.24B (+1.3% YoY) of advertising revenues in FY2022.
NFLX had also highlighted its ad-tier ambition, in potentially matching or exceeding Disney's (DIS) success in the D2C advertising market. In FY2022, the latter reported Hulu & Hotstar advertising revenues of $3.73B (+10.9% YoY) in FY2022, comprising 19.1% of its D2C revenues.
Notably, NFLX estimated that half of Hulu's subscribers were on the ad-supporter tier, which implied the massive prospects ahead from its market-leading user base globally. Spencer Neumann, CFO of NFLX, said:
It's a multibillion-dollar business for them (Hulu) already, and that's a domestic business, U.S. only. So lower reach, lower engagement than us… But hopefully, over the next several years, we can be at least as large… So we're over $30 billion of revenue, almost $32 billion of revenue. in 2022. And we wouldn't get into a business like this if we didn't believe it could be bigger than at least 10% of our revenue and hopefully much more over time in that mix as we grow. (Seeking Alpha)
While its top and bottom line growth have decelerated post hyper-pandemic cadence, we reckon NFLX may still record excellent expansion in margins moving forward. The company could also record up to ~$4B in advertising revenues in our view, comprising a tenth of its projected revenues by FY2025, once the macroeconomic environment recovers and ad-spending returns, significantly aided by its younger demographics.
Age Demographics of NFLX Users In The US
By December 2022, market analysts reported that up to 67% of NFLX's users had comprised the age group between 18 and 54 years old. Data released by World Economic Forum in October 2022 showed that these age groups spent up to 12.5% of their annual expenses on entertainment, apparel, and personal products (including tobacco/ alcohol), excluding big ticket items such as mortgages at 31.6%, healthcare/ insurance at 20.6%, transportations at 16.7%, and food at 12.4%.
Due to their robust spending power, it is unsurprising that global brands, such as L'Oréal S.A. (OTCPK:LRLCF) (OTCPK:LRLCY) and Anheuser-Busch InBev SA/NV (BUD) (BUDFF), chose to partner with the streaming leader during the early launch of the ad-supported tier in November 2022.
Our aggressive projection of 330M NFLX subscribers by 2025 may also represent a particularly rewarding audience for global advertisers alike, assuming a successful monetization of the current account sharing of +100M households.
As far as we can tell, NFLX's path towards a $550 stock price is clear.
So, Is NFLX Stock A Buy, Sell, Or Hold?
NFLX 1Y Stock Price
Unfortunately, we must also highlight that NFLX has rallied tremendously by 113.8% to $347.96 at the time of writing, since the May 2022 bottom of $162.71. Notably, the stock neared its previous March support levels, with sideways trades already observed over the past month.
While we remain optimistic about the management's execution and consumer demand thus far, investors must proceed with caution in our view, since it is uncertain if NFLX is able to break out of these levels. As a result, those who add here must only do so if it subsequently lowers their dollar cost averages, since the macroeconomic outlook is still uncertain through 2023.
Combined with the fact that it is trading way above its 50-day moving average, we prefer to rate the NFLX stock as a Hold here. Anyone looking to add may try waiting for a $280s to $300s entry point for an improved margin of safety. Do not chase this rally yet.
---
Disclosure: I/we have a beneficial long position in the shares of NFLX, GOOG, META either through stock ownership, options, or other derivatives. I wrote this article myself, and it expresses my own opinions. I am not receiving compensation for it (other than from Seeking Alpha). I have no business relationship with any company whose stock is mentioned in this article.
Additional disclosure: The analysis is provided exclusively for informational purposes and should not be considered professional investment advice. Before investing, please conduct personal in-depth research and utmost due diligence, as there are many risks associated with the trade, including capital loss.
---