Netflix: Outlook Bright In 2023 But I Remain On The Sidelines
Summary:
Investor focus remains on Netflix, Inc. adding subscribers and improving ARPU.
The new executive compensation is better aligned with Netflix shareholders.
Ads and paid sharing remain the key catalysts for Netflix, Inc. in 2023, however, I remain on the sidelines given the elevated multiple the stock is trading at.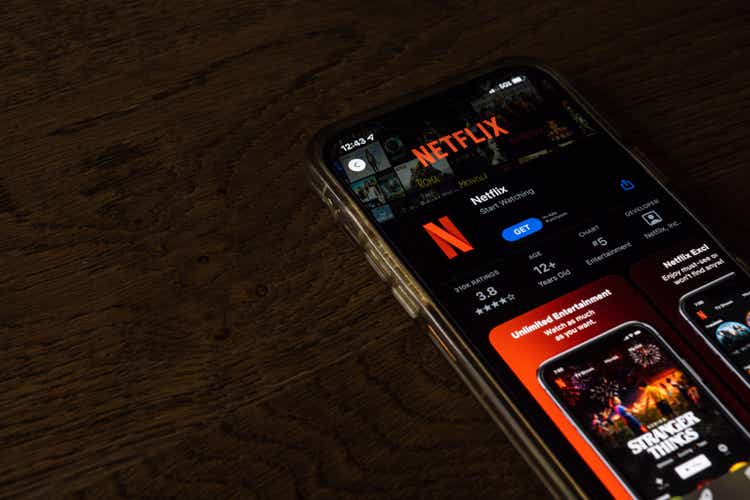 Thesis
Netflix, Inc. (NASDAQ:NFLX) surpassed guidance by over 70%, with 7.7 million new user gains, while also delivering solid financials. Though the company did not provide specific data around its ad-supported tier, numerous catalysts on the horizon — including paid sharing as well as a ramp-up in ads — should fuel positive sentiment. In my view, Netflix has a good growth runway, with a track record of creating originals and building engagement that improves pricing power and unit economics, even though a subscriber slowdown has dominated the near-term thesis. Although the breadth of content is a compelling value proposition, and a new ad tier in combination with paid sharing can help it better monetize its target market, I remain on the sidelines given the elevated multiple Netflix stock is trading at.
Industry News
Nielsen estimates the share of streaming in the overall U.S. Total Usage of Television (TUT) increased +90 bps MoM in November to 38.2% (37.3% in October), above both Cable (31.8%) & Broadcast (25.7%). NFLX's share increased +40bps MoM to 7.6% of TUT in October, trailing YouTube (8.8%) but above Hulu (3.9%), Prime Video (2.6%), & Disney+ (2.0%). NFLX has gained ~120bps share of U.S. TUT YTD.
I remain bullish on the secular shift toward OTT video streaming, with streaming now approaching 40% of U.S. TV Time & outpacing Cable since July. Netflix has gained ~120bps share of U.S. TV Time YTD (as of November data), & I believe it is well-positioned for future growth on continued strong content, along with the ad tier and Paid Sharing.
New Co-CEO Team Takes Over; Focus Remains on Adding Subscribers And Improving ARPU
Netflix announced that its co-founder Reed Hastings will step down as CEO of the firm, leaving the position to content chief Ted Sarandos, who was already co-CEO, and Greg Peters, previously Chief Operating Officer. Hastings, Sarandos, and Peters have been working together for more than a decade and have played an important role in the success of the streaming service provider. After a turbulent year, when the company reported its slowest year of subscriber growth since 2011, the new leadership team has the ambition to accelerate revenue growth with the launch of paid sharing and building on its ad offering. This fits with the current growth strategy focusing on growing engagement with more original content, boosting revenue and profit.
For many years, Netflix's Board has been developing a succession plan for Reed Hastings as CEO of Netflix as he intends to spend more time on philanthropy. Hastings has been the key force behind the firm's successful transformation from a DVD-by-mail service to a major TV streaming network. The appointment of Ted Sarandos as co-CEO of the firm in 2020 did not come as a surprise, as the development of original content has become an important differentiator for the streaming service. While Hastings was in the early days of the firm focused on the technical innovation of the streaming platform, this position has been slowly shifted to Greg Peters, who is now overseeing the company's push into advertising and is making efforts to eliminate password sharing. Despite his retreat as CEO, Hastings remains an important person within Netflix. He still controls more than $2.8 billion worth of the company's stock and will still be chairman of the firm. With the addition of Greg Peters to the Board of directors, more expertise from the management team will be added to the Board, but the independence of the Board can be doubted as four out of eleven directors have a history in Netflix's management team.
Netflix reported 2% sales growth in the fourth quarter supported by a 4% increase in average paid memberships partly offset by a 2% decline in the average revenue per membership ("ARM"). The company recorded 7.7 mln new paid memberships in the quarter, supported by new content released such as the new hit series Wednesday. Returning titles such as The Crown and Stranger Things 4 across a broad range of genres also attracted new subscribers and kept existing members to the streaming network. In November, the company successfully launched its new, lower-priced ad-supported plan in the U.S., Canada, Japan, Korea, the UK, France, Italy, Germany, Spain, Australia, and Brazil. Engagement for these ad-plans has been quite consistent with members on comparable ad-free offers and the firm did not see significant shifts to the ad-plan from other plans. Demand for Netflix's ad-plan mainly comes from new subscribers, which could provide the firm with the opportunity to reach more members around the world with a lower-priced plan.
The contribution of the ad-plan to sales remains limited, according to Netflix, but the effect should increase going forward, when the company will introduce the ad-plan in more countries. Netflix is also working on technical improvements to its ad-plan to provide more relevant advertising for its members and to deliver a better set of offerings for advertisers to buy.
Ads, Paid Sharing Are 2023 Catalysts
Netflix's revenue gains could accelerate to low-to-mid teens in 2023 (vs. around 6% in 2022) in my view, on the back of both its new $7 ad-supported tier, "Basic with Ads," along with new password crackdown efforts. The company estimates it has about 100 million password sharers and is expected to soon prompt them to upgrade to add a new member or sign up for a separate account, such as "Basic with Ads." Though the extra members won't count as new subscribers, it will help boost ARPU and revenue.
The ad tier, which debuted in November, may have had an underwhelming start, but it's too soon to draw conclusions as it gradually ramps up through 2023. The company will also likely expand the ad offering to more tiers. Given that the U.S. streaming market is fairly saturated, the lower-priced ad plan might not move the needle significantly until it's backed by password crackdown efforts, which are expected to start in earnest this year.
Executive Compensation Better Aligned With Shareholders
On December 22, Netflix announced its 2023 executive compensation with three important changes for co-CEOs Ted Sarandos & Reed Hastings, & COO Greg Peters:
1) a minimum 50% allocation of compensation to stock options;
2) a salary cap of $3M for Hastings & Sarandos, & $1.5M for Peters;
3) a performance-based cash bonus program.
The net effect is that the changes significantly reduce the annual salary for Sarandos & Peters while meaningfully increasing performance-based comp, mostly in the form of a cash bonus based on specified performance goals. Overall, I believe the shift toward a more performance-based structure is better aligned with shareholder interests.
Final Thoughts
I believe that Netflix, Inc. is a major beneficiary of the current disruption of the traditional media, with the company's content doing well and generating a positive feedback loop of high subscriber growth, greater revenue, and increasing profit. In addition, the recent introduction of NFLX's ad-supported tier, Basic with Ads, and the impending launch of Paid Sharing in early 2023 should assist to re-accelerate subscriber and revenue growth while delivering high-margin additional revenue.
However, I maintain a hold rating on Netflix, Inc. stock given the elevated valuation metrics, and would be sitting on the sidelines to buy at lower levels since I like the growth trajectory of the company going forward in 2023.
---
Disclosure: I/we have no stock, option or similar derivative position in any of the companies mentioned, and no plans to initiate any such positions within the next 72 hours. I wrote this article myself, and it expresses my own opinions. I am not receiving compensation for it (other than from Seeking Alpha). I have no business relationship with any company whose stock is mentioned in this article.
---