Nvidia: AI Hype Explosion Reaches Significant Overvaluation (Rating Downgrade)
Summary:
The frenzy surrounding AI shows no signs of slowing down, as Nvidia Corporation management and analysts inundated their earnings call with talk of generative AI.
Nvidia is gearing up to unleash a game-changing cloud-based supercomputer that will enable businesses to train their bespoke AI models without having to construct their own supercomputer.
Revving up its efforts, Nvidia is determined to facilitate the widespread adoption of generative AI among enterprises, fueling buying sentiments further.
As the frenzy surrounding generative AI reaches a fever pitch, there are growing indications that NVDA may be significantly overvalued.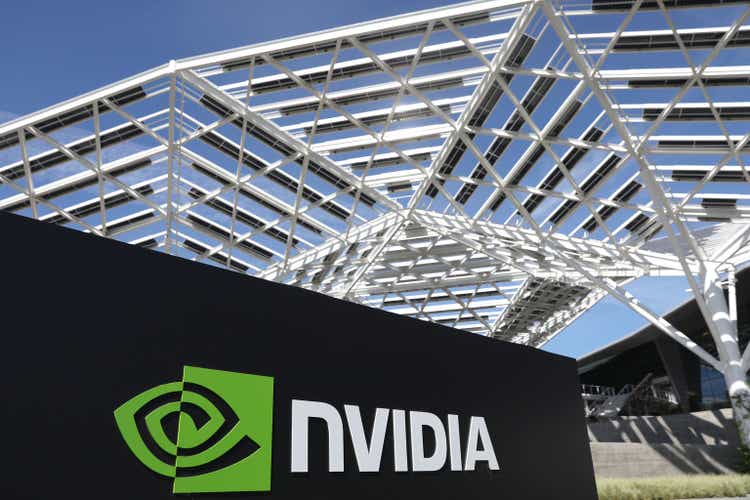 The NVIDIA Corporation (NASDAQ:NVDA) hype train is now at full speed ahead. Nvidia's FQ4'23 and FY23 earnings release highlighted the potential of OpenAI's (MSFT) ChatGPT model and the broad spectrum of generative AI applications that are in store. CEO Jensen Huang also dropped several clues, urging Nvidia investors to pay close attention to its upcoming spring GTC in March.
As the AI infrastructure supporting the training and inferencing of OpenAI's models, Nvidia management has astutely leveraged the recent AI hype driving further adoption of its products and software ecosystem.
Nvidia's FQ4 release was better than expected, recording a double beat on its top and bottom lines. Management also issued an outlook suggesting a bottoming process is in place.
Accordingly, Gaming likely bottomed out in FQ3, as seen above, even though it took another 46.5% YoY tumble in FQ4. However, it represented a 16.3% QoQ increase, suggesting that the company's recent Ada Lovelace launches have garnered momentum.
Despite that, Data Center growth weakened further in FQ4, as it increased by just 10.8% YoY, down from FQ3's 30.6% gain. However, investors shouldn't be surprised, as enterprise customers have been optimizing their spending in line with the recent lower growth cadence reported by the U.S. hyperscalers.
Notwithstanding, NVDA investors should be assured that the company's adjusted gross margin trajectory appears to be inflecting.
Management's outlook for FQ1'24 suggests an adjusted gross margin of 66.5%, above the consensus estimates of 66.1%. It's also well above Nvidia's FQ4 adjusted gross margin of 66.1%.
Moreover, CFO Colette Kress stressed that the company expects "sequential growth to be driven by each of its 4 major market platforms." Therefore, we believe Nvidia's confidence suggests that the worst in the company's downstream inventory downturn should be over.
Notably, Nvidia reminded investors and companies that its full tech ecosystem supporting the AI ecosystem is like no other; as Huang accentuated, "the AI supercomputer infrastructure, model algorithms, data processing and training techniques remain an insurmountable obstacle for most."
As such, Nvidia is on a mission to "put AI within reach of every enterprise customer" and launch its AI-as-a-service business model. Nvidia believes that AI is at an "inflection point," and the company is best positioned to help companies ramp up their ability to build proprietary AI models in developing AI-driven applications.
Huang was so impressed with ChatGPT's progress that he stressed:
ChatGPT is a wonderful piece of work, and the team did a great job, OpenAI did a great job with it. They stuck with it. And the accumulation of all of the breakthroughs led to a service with a model inside that surprised everybody with its versatility and its capability. [And] the surprising capability of a single AI model that can perform tasks and skills that it was never trained to do. (Nvidia FQ4'23 earnings call).
Keen investors should recall that NVDA stock was driven by the metaverse/omniverse hype from late 2021 to early last year. So, is the current ChatGPT-driven hype sustainable for Nvidia?
DIGITIMES highlighted in recent supply chain checks that the rising adoption and integration of generative AI tools and applications would help "Nvidia shipments of AI-based GPU chips [to] soar drastically." It also noted that OpenAI has deployed "about 25,000 Nvidia GPUs to meet its current server demand."
In a recent commentary, KeyBanc highlighted that ChatGPT "is running around 10,000 A100 GPUs from Nvidia." Accordingly, it's expected to garner nearly $100M of revenue based on an average selling price or ASP of $10K each.
Therefore, investors could glean that the underlying supply chain estimates are wide-ranging. Analysts on Nvidia's earnings call were also keen to assess the near-term revenue impact, but management was wise not to proffer an exact figure but referred to the expanded TAM given at its Spring GTC in 2022.
Will it lead to an inflection point in its near- to medium-term revenue growth? Possibly. By how much? That's the critical question investors will likely assess at its upcoming GTC, when Nvidia unleashes its new products and services to capitalize on the generative AI hype.
Notwithstanding, Nvidia is likely onto something that could expand dramatically as cloud service providers and hyperscalers leverage generative AI to drive growth.
Accordingly, Nvidia announced its NVIDIA DGX Cloud, allowing enterprises to leverage the supercomputers in the cloud to train their AI models and develop their applications. In addition, Huang announced Nvidia's integration with Oracle (ORCL) Cloud and added that integration with "Microsoft Azure, Google (GOOGL, GOOG) GCP, and others on the way."
However, investors should note that Nvidia will likely not dominate the generative AI infrastructure space in China. China's state media warned its companies not to use ChatGPT's services, as it "could provide a helping hand to the US government in its spread of disinformation and its manipulation of global narratives for its own geopolitical interests."
Therefore, China will likely develop its generative AI products and services for its own companies, meaning Nvidia will probably miss out on significant market potential.
Baidu, Inc. (BIDU) was reportedly ready to launch its Ernie Bot "across the company's operations." In addition, Baidu has also planned to offer its generative AI capabilities to companies for building "their own models and applications on Baidu's AI Cloud."
Notably, Baidu's bot is expected to be "more suitable" for Chinese companies than other ex-China models like OpenAI's ChatGPT. As such, we are concerned whether it could affect the growth cadence of Nvidia's hardware and software ecosystem in China as companies look toward self-sufficiency due to the U.S. chip export restrictions.
Baidu's expected launch of its Ernie bot demonstrates the power of China's AI progress, undergirded by its tech stack, which doesn't need to rely on Nvidia's ecosystem.
In other words, Nvidia's growth in China could be seriously hampered by the increasingly tense geopolitical rivalry between the U.S. and China.
NVDA has exploded from its October lows and doesn't seem to be stopping. Although NVDA was up nearly 9% post-market, it merely brought it closer to its recent highs, as its momentum has stalled since early February.
With NVDA's NTM EBITDA multiple surging to 59.2x, at the two standard deviation zone well above its 10Y average, NVDA seems significantly overvalued again.
While AI hype-driven investors could lift the current momentum further, we believe investors will need to assess Nvidia's ability to capture its revenue growth opportunities relative to what has been reflected in its valuation.
Coupled with the growing uncertainties of losing opportunities to China-based cloud service providers, their penetration in ex-Chinese markets could also impact the ability of U.S. hyperscalers to defend their market share.
As such, investors will need to closely watch the generative AI infrastructure arms race between China and the U.S., as it looks far from over, and Nvidia's dominance is far from certain.
Given its significant overvaluation, it's time to take some exposure off the table.
Rating: Sell (Revised from Hold).
---
Disclosure: I/we have a beneficial long position in the shares of NVDA, GOOGL, MSFT either through stock ownership, options, or other derivatives. I wrote this article myself, and it expresses my own opinions. I am not receiving compensation for it (other than from Seeking Alpha). I have no business relationship with any company whose stock is mentioned in this article.
---
Are you looking to strategically enter the market and optimize gains?
Unlock the key to successful growth stock investments with our expert guidance on identifying lower-risk entry points and capitalizing on them for long-term profits. As a member, you'll also gain access to exclusive resources including:
24/7 access to our model portfolios

Daily Tactical Market Analysis to sharpen your market awareness and avoid the emotional rollercoaster

Access to all our top stocks and earnings ideas

Access to all our charts with specific entry points

Real-time chatroom support

Real-time buy/sell/hedge alerts
Sign up now for a Risk-Free 14-Day free trial!