Summary:
I was very bullish on Nvidia around the $100-120 range (long-term buy-in target).
Nvidia skyrocketed by more than 100% from its mid-October bottom and continues to run higher in pre-market after posting earnings.
This spike could be an excellent time to sell the news, taking short-term profits on Nvidia, as the company's valuation is getting ridiculous again.
At this sky-high valuation and the uncertain economic environment, Nvidia is a sell at $230.
However, I like Nvidia long-term and will begin accumulating shares around the $180-$160 level and will back up the truck if the stock drops even lower.
Nvidia (NASDAQ:NVDA) has been one of my favorite companies and one of my best-performing investments in recent years. However, as tech stocks went wild toward the end of 2021, I used Nvidia as the brightest example of why stock markets were heading for an epic drop. After the tech market topped in November 2021, Nvidia experienced a spectacular decline of approximately 70%. Nevertheless, as Nvidia's selloff picked up steam, I recognized that the bottom would likely arrive around the $100-120 level.
The Nvidia Bottom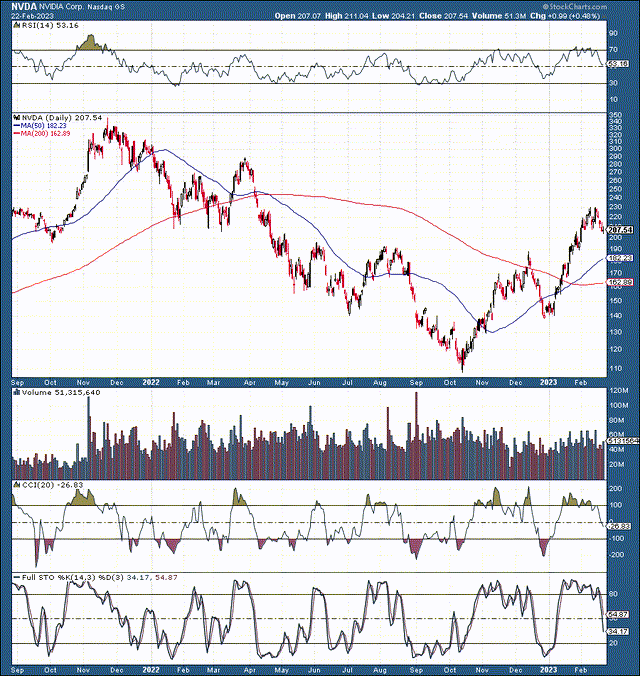 Nvidia finally bottomed in mid-October 2022 at around $110, right in the middle of my long-term buy-in range, and since then, its stock has skyrocketed by about 100%. Nvidia reported slightly better than expected earnings, and the stock is up by about 8% in pre-market Thursday. This earnings announcement is a sell-the-news event. Nvidia's stock price has appreciated too far and quickly, and Nvidia is no longer cheap. Moreover, there's still plenty of uncertainty ahead for the broader stock market and the economy, as well as for Nvidia as a company.
Therefore, this post-earnings pop should be an excellent opportunity to sell the stock after spectacular short-term gains. While Nvidia remains a quality long-term investment, I will buy back at a significantly lower level. The first buy-in range I'm looking at from here is in the $180-160 range. However, the stock could drop even lower in a worse-case outcome, and we may be able to buy more Nvidia stock in the $150-140 range. Nevertheless, the downside should be limited beyond that. Nvidia may not revisit the $100-120 range unless the economy falls into a deep recession, which seems unlikely.
Let's Go Over Nvidia's "Stellar Earnings" Results
In Q4, Nvidia delivered 88 cents in non-GAAP EPS, higher than the 80-cent consensus estimate.
The company reported $6.05 billion in revenues, beating estimates by $30 million.
However, while the company surpassed revenue estimates slightly, sales dropped by about 21% YoY.
Fiscal year revenue came in at $27 billion, flat YoY.
Q4 GAAP EPS came in at 57 cents, down 52% YoY, while non-GAAP EPS declined by 33% from last year.
Full-year GAAP EPS came in at $1.74, down by 55% from a year ago.
The company's non-GAAP EPS was $3.34, down 25% YoY.
The company guided to $6.5 billion (plus/minus 2%) in revenues for fiscal Q1 2024, slightly higher than the $6.32 billion consensus figure.
The Earnings Takeaway
It's excellent that Nvidia beat the depressed consensus estimates. However, we should consider that estimates were butchered over the last year, and it's no wonder that the company surpassed the depressed estimates. Also, while the company beat consensus figures, the company reported massive drops in non-GAAP and GAAP EPS (mainly). This dynamic implies that it may take longer for Nvidia to return to a solid level of profitability on a GAAP basis. While Nvidia's guidance is encouraging, the company must clear more hurdles. Parts of its business, like gaming and other segments, will likely remain volatile if the economic downturn deepens in the coming months and quarters. Therefore, while the recent earnings report is promising, it could be better, and investors may be getting overly optimistic about Nvidia in the near term again.
Nvidia's Valuation – A Problem Again
Nvidia reported $3.34 in non-GAAP EPS and just $1.74 in GAAP for its fiscal year 2023. As I write this, the company's stock is trading around $230 in pre-market. Therefore, the company trades at about 69 times TTM non-GAAP earnings and at a sky-high 132 times TTM GAAP EPS. This valuation is extremely rich for a company in Nvidia's position, with several risks and uncertainty on the horizon.
Nvidia's EPS Estimates

I was very bullish on Nvidia when its forward P/E ratio was in the low 20s, yet we're again looking at a forward P/E ratio of around 50. Now, that's expensive, especially considering that we're discussing non-GAAP results and the risks and uncertainties that Nvidia and the broader economy face ahead.
Nvidia – Let's Look at Revenues

Yes, Nvidia is still a growth company with significant potential as we advance. However, we're now looking at a stock trading at approximately 18-20 times forward sales estimates. We're not talking about earnings, but sales, and 18-20 times forward sales, Nvidia is expensive here.
The Bottom Line: Sell The News – Buy Lower
Nvidia remains one of my favorite companies with exceptional long-term potential. However, even though Nvidia is an excellent company, I still need to like the stock. There still needs to be more clarity about the economy and pockets of Nvidia's business. In past reports, I've discussed Nvidia's problem areas, like its cryptocurrency segment, dropping GPU prices, the coronavirus-related gaming hangover effect, and the other regions. Only some things have been resolved at Nvidia. The company doesn't deserve to trade at 50 times forward earnings or 20 times forward sales, especially in the current economic environment. Therefore, Nvidia is a sell here in the near term, but I will consider buying back in around the $180-160 level, and if the opportunity presents itself, I will back up the truck around the $150-140 range.
---
Disclosure: I/we have no stock, option or similar derivative position in any of the companies mentioned, and no plans to initiate any such positions within the next 72 hours. I wrote this article myself, and it expresses my own opinions. I am not receiving compensation for it (other than from Seeking Alpha). I have no business relationship with any company whose stock is mentioned in this article.
Additional disclosure: I am long a diversified portfolio with hedges.
---
Are You Getting The Returns You Want?
Invest alongside the Financial Prophet's All-Weather Portfolio (2022 17% return), and achieve optimal results in any market.
Our Daily Prophet Report provides crucial information before the opening bell rings each morning.
Implement our Covered Call Dividend Plan and earn an extra 40-60% on some of your investments.
All-Weather Portfolio vs. The S&P 500

Don't Wait! Unlock Your Own Financial Prophet!
Take advantage of the 2-week free trial and receive this limited-time 20% discount with your subscription. Sign up now, and start beating the market for less than $1 a day!