Why Rivian Could Become A Single Digit Stock Soon
Summary:
Rivian said yesterday that it fell short of its 2022 production goal.
Shares of the EV start-up slumped to a new 1-year low as a result.
Valuation remains way ahead of Rivian's delivery possibilities.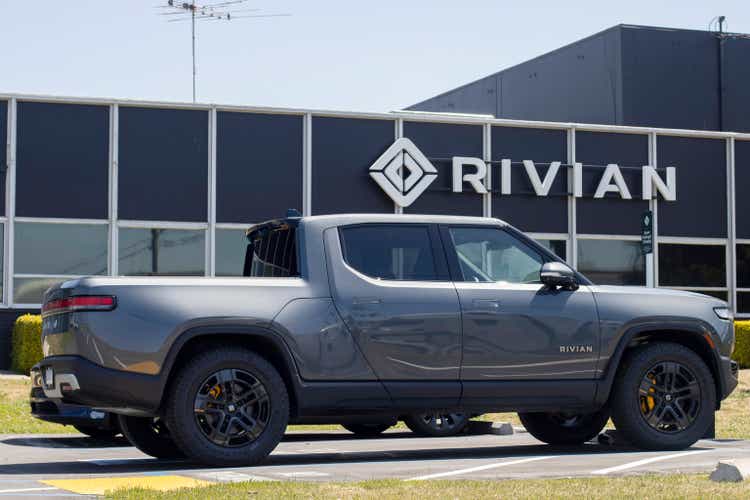 Shares of Rivian Automotive (NASDAQ:RIVN) have seen a major revaluation to the down-side in 2022 and they continued their slide in the new year as well. Shares of Rivian slumped 6% yesterday to a new 1-year low at $17.08 in the wake of disappointing delivery numbers from Tesla (TSLA) for the month of December. Additionally, Rivian reported that it produced less than the 25,000 electric vehicles it guided for in FY 2022. I believe the valuation and the risk profile are both highly unattractive for Rivian right now and I have therefore down-graded my recommendation from hold to sell!
Rivian just dropped to a new 1-year low
Tesla's accelerating sell-off and Rivian's missed production forecast for FY 2022 were likely the two key drivers that pushed shares of Rivian to a new 1-year low yesterday. Tesla reported 405,278 deliveries in the fourth-quarter and a total delivery volume of 1.31M electric vehicles in 2022, showing a year over year growth rate of 40%. Although Tesla managed to pull off a major production rebound in Q4'22, the company fell short of its goal to grow its deliveries by 50% annually. The delivery result drove shares of Tesla more than 12% lower on Tuesday and pulled the entire EV sector down with it.
Additionally, Rivian said yesterday that it produced 10,020 vehicles in Q4'22 and delivered 8,054 during the fourth-quarter. Factory output at Rivian's manufacturing facility in Normal, Illinois grew 36% quarter over quarter. The electric vehicle company's total production volume in FY 2022 was 24,337 vehicles and Rivian delivered a total of 20,332 electric vehicles.
Although Rivian saw a decent increase in quarter over quarter production levels, the company fell short of its production forecast of 25,000 electric vehicles which the company repeatedly confirmed in FY 2022. Investors should also remember that the electric vehicle company cut its production outlook from 50,000 to 25,000 electric vehicles in the middle of FY 2023 due to supply chain disruptions.
Both the disappointment in Tesla's delivery numbers as well as Rivian missing its production goal for FY 2022 resulted in another down-leg for shares of Rivian yesterday. The company's market cap has declined approximately 83% in the last twelve months.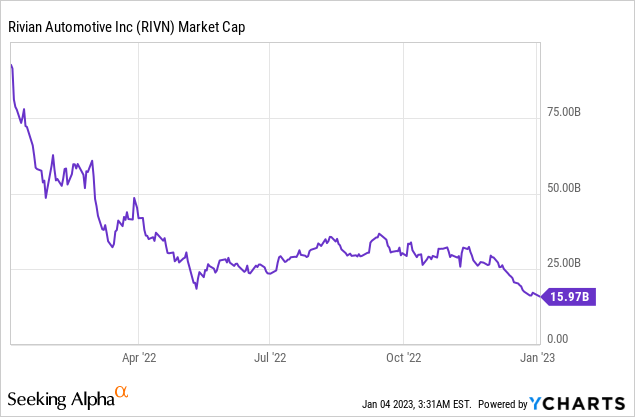 The new negative sentiment overhang creates a very real risk that Rivian's shares will continue to correct to the down-side in the foreseeable and I believe the company could even see a single digit stock price. Investors clearly overpaid for Rivian's production and delivery prospects in FY 2022 and with investors losing enthusiasm for electric vehicle companies, significant negative sentiment overhang has been created.
Rivian's valuation is just too high
Given the production and delivery reality of Rivian, shares of the EV manufacturer continue to be overvalued, despite slumping to a new all-time low yesterday. Shares of Rivian are now valued at a forward P/S ratio of 1.5 X which is only slightly lower than the P/S ratio of Tesla (2.4 X). Tesla, however, is already profitable and delivers hundreds of thousands of electric vehicles to its customers each quarter.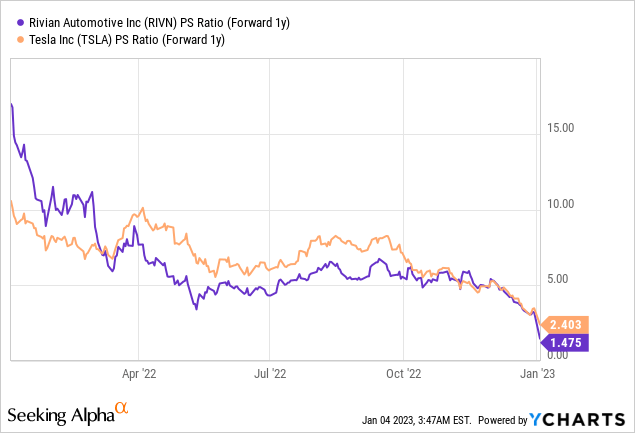 Rivian is clearly struggling with ramping up its factory output and estimates may still be too optimistic. The expectation is for Rivian to grow its revenues 200% to $5.3B in FY 2023 and 104% to $10.8B in FY 2024. However, considering that Rivian just failed to meet its (lowered) production target, the EV company may not be able to ramp the production of its R1T and R1S electric vehicles as quickly as expected next year.
The revenue estimate trend for Rivian is also highly negative with projections trending down sharply in the last 90 days: down-ward revisions for Rivian's FY 2022 top line outnumber down-ward revisions by a ratio of 13:3.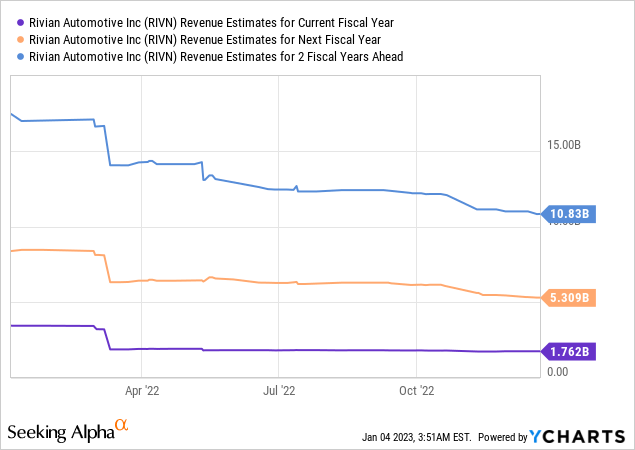 Risks with Rivian
The biggest commercial risk for Rivian right now is that the production outlook for FY 2023 will disappoint. Rivian is likely going to submit its production target for this year in March 2023 when it reports earnings and a light delivery forecast could weigh heavily on Rivian's already bruised valuation. I estimate that Rivian could deliver 50-60 thousand electric vehicles in FY 2023, if there are no further production setbacks related to the supply chain, and any number that falls short of a doubling of production (year over year) would likely be perceived as yet another setback.
Final thoughts
Considering that Rivian failed to meet its own production forecast, I believe there is a very real risk that Rivian will continue to trend down. Negative sentiment overhang has gripped the EV market as a whole as investors are increasingly skeptical of rosy delivery projections and weak execution in FY 2022. For those reasons, I believe that pressure on EV stocks, including Rivian, will remain high in FY 2023, especially as revenue estimates continue to fall. If Rivian submits a weak production target for the current year, the EV stock could effectively become a single digit stock!
---
Disclosure: I/we have no stock, option or similar derivative position in any of the companies mentioned, and no plans to initiate any such positions within the next 72 hours. I wrote this article myself, and it expresses my own opinions. I am not receiving compensation for it (other than from Seeking Alpha). I have no business relationship with any company whose stock is mentioned in this article.
---