Rivian: Watch For The Cybertruck
Summary:
Rivian underperformed in revenue last quarter.
The R1T is their most popular model.
On March 1, Tesla is expected to provide Cybertruck updates.
How Rivian manages its growing competition will be the point to watch.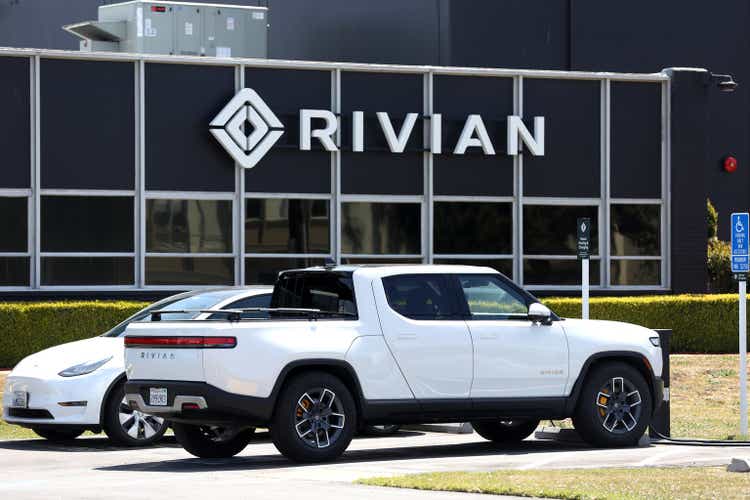 Thesis & Introduction
Rivian (NASDAQ:RIVN) is an American electric auto company with its headquarters in Irvine California. Prior to its IPO release, the company was owned 20% by Amazon (AMZN), The company has 2 models released to the public so far: R1T and R1S. The R1T is an electric truck with an MSRP of around $70,000 while R1S is an electric SUV with an MSRP of around $74,000. The company also has the EDV700 exclusive for Amazon, this is the van that makes prime shipments for Amazon since 2021. Amazon announced they ordered 100,000 EDVs from Rivian in 2019. While there's no official confirmation, we can assume the truck, R1T, remains Rivian's top-selling model. On MotorTrend, the R1T is listed as the number 1 electric truck.
However, with Tesla (TSLA) joining the electric truck market, Rivian may find competition too difficult to deal with. I must maintain a neutral position as the situation for Rivian constantly changes.
Financials & Growth
In quarter 3, Rivian missed analysts' revenue expectation of $554.06M, coming in at $536.00M. At the same time, its earnings per share beat analysts' expectations by 14%, coming in at -$1.57 compared to the expected of -$1.83.
Financially, when compared to quarter 2, Rivian's normalized income actually decreased from -$1,712M to -$1,724M. While their revenue has increased significantly by 47%, their cost of revenue also increased by 36%.
Gross profit for the three months ended September 30, 2022, was negatively impacted by $696 million as a result of us recording a lower cost or net realizable value ("LCNRV") charge and losses on firm purchase commitments as of September 30, 2022. We expect these items to continue to negatively impact operating results in near-term periods.
In the near term, Rivian is expected to maintain negative earnings until they ramp up production to decrease the labor and overhead costs. However, I think that investors should not worry too much about their financials or lack of supplies, as they have Amazon supporting them. The company is capable of running through a long run of negative earnings with the support of the partnership in my view.
On the other hand, the company's growth looks promising. Seeking Alpha's Quant Rating System gives it a B+ for growth.

In calendar year quarter 3 (ending on September 30, 2022), Rivian's production increased by 67% QoQ, an impressive number compared to its competitors who struggled due to supply chain issues. While in quarter 4 (ending on December 31, 2022), the company only increased production by 36%. Also, it appears that Rivian is focusing on ramping up productions rather than deliveries. According to Rivian, as of November 7, 2022, their R1 preorder backlog was over 114,000 units, just in the US and Canada.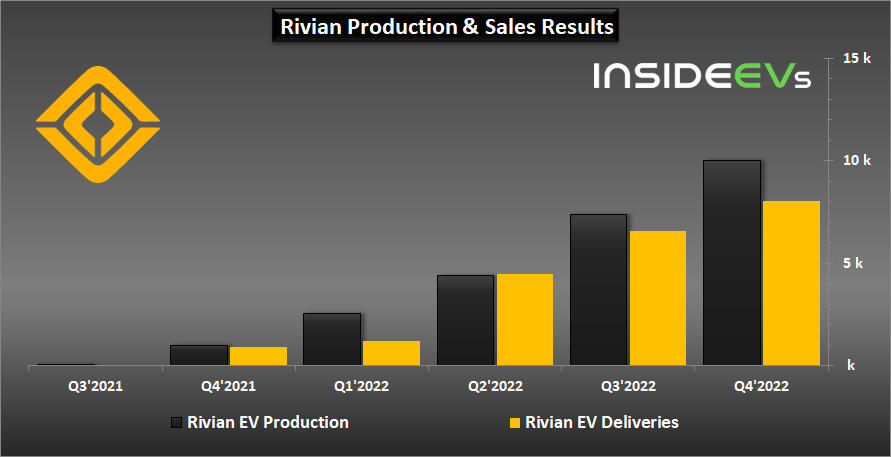 As for the upcoming FQ4, the consensus EPS forecast is -$1.96 (25% decrease from reported Q3) and consensus revenue is $734.47M (37% increase from reported Q3). I expect them to match revenue expectations and outperform earnings by about 7%. In the last calendar quarter, Rivian's deliveries were up 22%. While the calendar quarter covers both FQ3 and 4, it can still provide a good idea for revenue growth. Given that the delivery number is increasing in an exponential pattern, 37% growth is a reasonable estimate for revenue. As for earnings, while production and delivery did increase significantly, the cost per unit should decrease with the recent ramp-up. Production costs should not go up too significantly, and I'm not aware of any major change in spending in the recent quarter. I believe Rivian is slowly turning toward profitability, as evidenced by Q3's EPS increase compared to Q2.
Still, in my opinion, the company is still not expanding fast enough. Massive pre-established brands are constantly entering the EV market. Producing just over 10,000 vehicles a quarter while only growing at around a 50% QoQ means years before Rivian can even fulfill their backlog, much less capture the market. Evidently, the company minimized its costs and underperformed analysts' revenue expectations.
It's Always Tesla
I love how Rivian found itself a place in attractive sub-segments, such as electric trucks and vans. Their R1T remains their most popular model, and it has found a growing demand market with less comparative competition.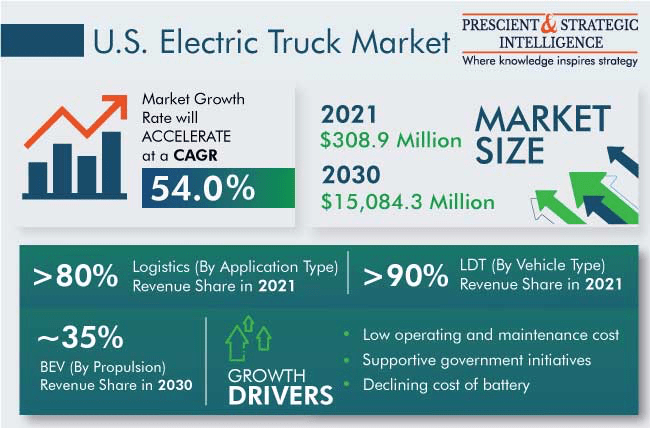 As of right now, the R1T's biggest competitor would be the Ford (F) F-150 Lightning. In 2022, Rivian delivered about 25,000 R1T, compared to 13,258 F-150 lightnings. However, it should be mentioned that Ford's model wasn't available for the entire second quarter. Spec-wise, the two trucks line up very similarly, with R1T costing about $7,000 more but providing better tow and off-road performance.
However, this is where an experienced player with massive cash on hand begins to show its dominance. For the fiscal year 2023, Ford plans to produce 150,000 units, while the estimates for Rivian range from 40,000 to an optimistic number of 50,000. While both companies have hundreds of thousands of awaiting customers, one can clearly keep up better than the other.
In my view, Ford is not even Rivian's biggest competitor: it's Tesla. Rivian will have no problem finding demands with its competitive pricing and specs. While we can expect Ford to grow at a faster rate as a result of better production, Rivian should still experience revenue growth investors will be happy with.
This is where Tesla comes in. They revealed their bold redesign of the truck on stage back in 2019, with an original statement to start production in 2021. This date, of course, was pushed back several times. The latest date is now that the vehicle will start production in mid-2023, with deliveries likely in 2024.
If there's one thing I know about Elon Musk and his companies, it's that he will likely miss deadlines, but will also probably deliver and maybe even shatter an entire industry. And when the cyber truck starts showing up on the road, Rivian buyers who put in a $1000 deposit may be asking for their money back, given specs meet expectations.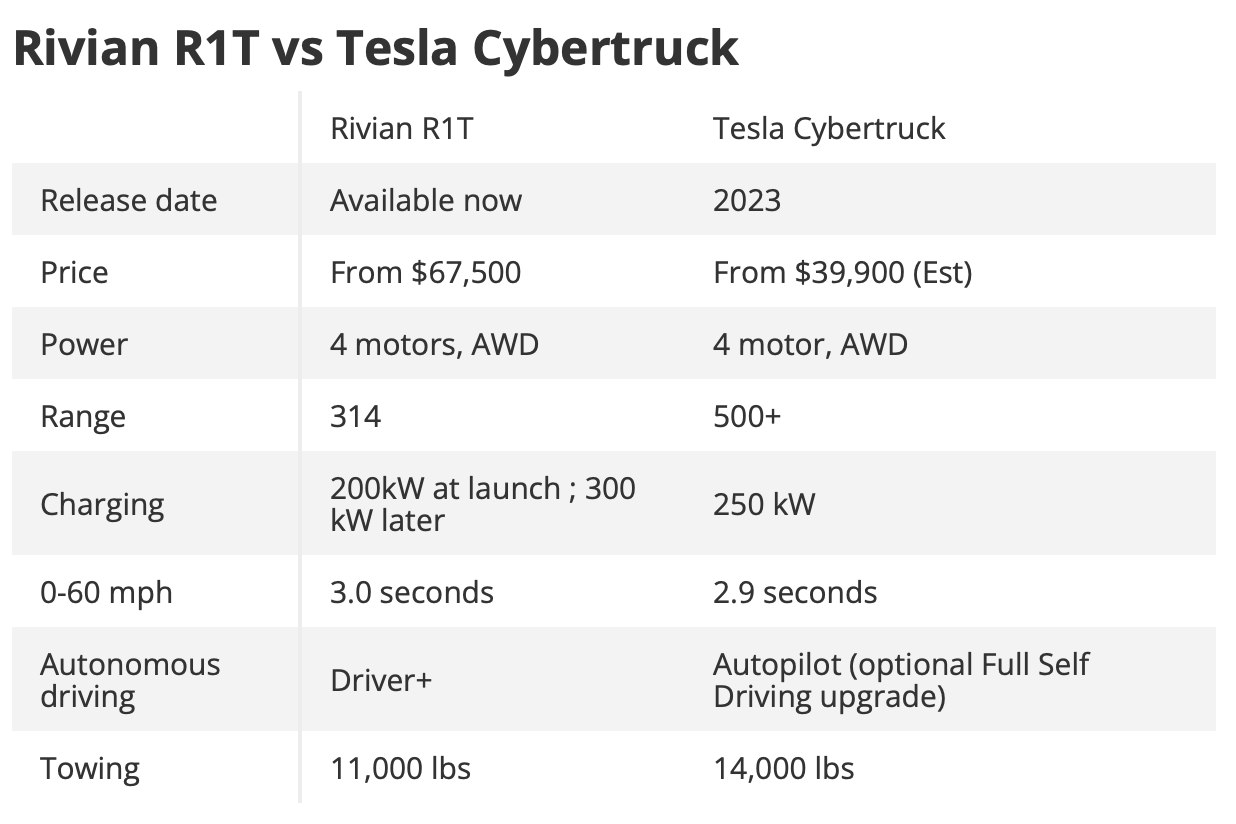 On Tesla's investor day on March 1, it is likely they will reveal and provide updates on the Cybertruck. Personally, I will buy the calls, but that's another story.
In my opinion, the reason Rivian has done so well with its truck model until now is the lack of real competition, which Tesla will bring in fast. And internationally, trucks do not usually have as much demand, so I doubt Rivian will expand there in the near term.
Electric Van
Last Christmas, the 20% shareholder, Amazon started deliveries with the Rivian truck, with overwhelmingly positive reviews from the drivers. The electric van, secretly, may become the future for Rivian. I believe the electric van will find a surprising amount of demand from package delivery companies, such as the United Parcel Service (UPS) and FedEx (FDX), who are starting to take ESG-friendly initiatives.
This is where a gray area comes in, while the S-1 document appears exclusive, the fact that Rivian is selling to other fleet customers shows there may be wiggle room. If the exclusive deal is not exclusive as investors previously thought, Rivian may find a comfortable spot taking in orders from corporations instead. Before that, Rivian needs to really ramp up its vans production to meet Amazon's 100,000 units order.
Conclusion
Before I conclude, I have to warn everyone to hold all Tesla news with a grain of salt. There is a big chance Tesla will not meet their pricing expectations just as what happened with the model 3, and it is also possible its truck production will be further delayed again. March 1 is a date to watch for all Rivian investors.
On the bright side, Rivian has found a giant in Amazon that supports their endeavors. In the past few quarters, Rivian has found great growth and was able to pick up production speed, while not even using its factories to their full potential. The company has all the components to become extremely profitable. However, what I'm awaiting is a demonstration that they can navigate through the competitive EV market as a relatively new company, and for many reasons, I have my doubts. This is why my recommendation for Rivian will be to hold.
---
Disclosure: I/we have no stock, option or similar derivative position in any of the companies mentioned, and no plans to initiate any such positions within the next 72 hours. I wrote this article myself, and it expresses my own opinions. I am not receiving compensation for it (other than from Seeking Alpha). I have no business relationship with any company whose stock is mentioned in this article.
---