Tesla Remains Consumers' Favorite Electric Vehicle Brand In The U.S.
Summary:
Tesla, Inc. has bottomed at $130.
Lucid Group, Inc. beats in terms of range and appearance, but not on volume nor the affordability factor.
XPeng Inc. competes in international markets on affordability on P7 and some performance specs on G series models.
NIO Inc. competes in international markets with ES/EC models, but falls short on range on ET models.
Toyota Motor Corporation can beat on volume in the future, but its consumer base places more weight on longevity than power as reflected in BZ4X.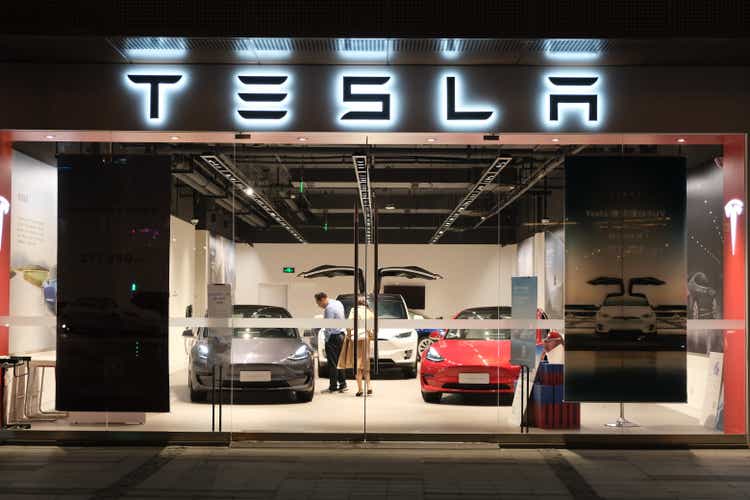 Elon Musk has been all over headlines after the Twitter acquisition and the immediate changes that have ensued there, including massive employee terminations and app modifications.
Tesla, Inc. (NASDAQ:TSLA) has been crushed after his personal liquidations began and has been bombarded by media, with a dark cloud looming over its share price. Bears have stepped in at full force, questioning Elon's decisions once again whether he has too much on his plate.
Tesla, Inc. stock has lost over 60% of its value, plummeting from $313 to $122, annihilating weak hands that have over-levered on margin with irrational exuberance.
Meanwhile Cathie Wood's ARK fund (ARKK) deployed another $6 million in the company, citing that Tesla will continue to take global market share as demand for energy falls by 30% in the next 5 years.
Nevertheless, I don't like vague rhetoric with rosy expectations and wanted to see for myself which models in particular are taking market share from the electric vehicle ("EV") giant.
Let us focus on unsystematic risk and see whether some of Tesla's competitors pose a real threat.
LUCID MOTORS
Lucid Group, Inc. (LCID) competes primarily due to its slick appearance and range, but not on volume of cars sold nor the affordability factor.
Its cheapest Pure model starts from $87,400, has a range of 410 miles with 480 horsepower and does 3.8 seconds in 0-60 mph. Compare that to Tesla's Model "S" Dual Motor starting from $94,990 with 399 miles range with 1,020 horsepower and 1.99 seconds in 0-60mph. Tesla just slashed its prices by as much as $13,000, upsetting many buyers who felt duped paying the original sticker price weeks before.
While Lucid is focusing on a wealthier client base, it couldn't even compete on Model 3 and X/Y units even before the price reduction.
Lucid Group, Inc. stock has been hovering under $8, losing as much as 83% of its value in the past year.
Producing 7,100 vehicles a year and catering to the luxurious car buyers may be a good strategy for its investors during recessionary periods, but it is not a significant threat to Tesla shareholders…yet.
XPENG
XPeng Inc. (XPEV), a Chinese EV producer, responded almost immediately with its own price cuts. It lowered its P7 model to 210,000 Yuan, which is equivalent to $31,000. It has a range of 438 mph per charge and 424 horsepower.
Despite its wing style doors and unparalleled intelligence system, the vehicle is not sold in the U.S. yet, but does have a high affordability factor.
XPEV's G3i and G9 series SUVs compete with Model X and Y in international markets in terms of affordability, but not as much on horsepower for the G3i and acceleration on the G9, as you can see below.
Model

Price

(Post-subsidies)

Range
Horsepower

Acceleration

(0-60mph)

XPEV – G3i
$26,683
323 mi.
197
6.7 sec.
TSLA – X
$110,300
333 mi.
670
3.9 sec.
XPEV – G9
$46,201
436 mi.
543
6.4 sec.
TSLA – Y
$52,630
279 mi.
425
3.5 sec.
However, all of XPeng's vehicles have shown unparalleled superb performance and handling. They boast the most powerful intelligent in-car operating system and the strongest autonomous driving system on record.
NIO
Next we have NIO Inc. (NIO), the real disruptor with a Blue Sky Coming logo that is pushing the envelope in the green movement. The company had stunning prototype cars parked in front of the New York Stock Exchange as a symbol of dominance across all vehicle types, including F1 formula racing.
Its EP-9 model is the fastest autonomous EV car in the world, topping 160mph in Austin, Texas race track in 2017.
But let's not drift away in the future and focus on some cars that are in production line and in competition with Tesla. The ET7 and ET5 models are fairly comparative to Tesla's Model S and Lucid's Pure model.
The ET7 has 650 horsepower and a range of about 250 miles, which lowers to 200-225 miles in cold weather depending if you are driving on a highway or the city. In Germany and the Netherlands, its starting price ranges from $76,900 (83,000 Euros) to $78,738 (85,000 Euros) respectively.
NIO's ES and EC series models are comparable to Tesla's Model X and Y.
The ES8 model, NIO's flagship full size SUV, starts at $86,500 (586,000 Yuan) for the 100kWh battery pack and has a range of 310 miles with a 536 horsepower.
EC7 model starts at $69,800 (488,000 Yuan) with 653 horsepower and does 0-60mph in 3.8 sec. It's available with three lithium-ion battery pack options: 75 kWh, 100 kWh, and 150 kWh, officially expected to deliver a CLTC range of up to 490 km (305 miles), up to 635 km (395 miles), and 940 km (584 miles), respectively.
In comparison, Tesla Model X starts at $110,300, has a range of 333 miles with 1,020 horsepower and does 0-60mph in 2.5 sec.
NIO delivered 122,000 vehicles in 2022, up by 34% a year earlier, which includes premium size sedans. CEO William Li expects to deliver 600,000 cars a year in the future, with approximately 50,000 units per model catered to the mass market.
TOYOTA
Toyota Motor Corporation (TM) has stepped up its game recently in the EV space, with the 2023 BZ4X Model starting at $42,000, 215 horsepower, and an estimated range of 252 mi. per charge. This year, TM already has sold at least a 1,000-2,000 units, per insideevs.com.
2022 was a dismal year for TM, as the company saw a 33% decline in the Plug-In sales division despite a strong Q4. In terms of volume, TM is the company to watch out for.
It sold 504,016 EV units in America, which represents 24% of Total Sales volume and includes FuelCell, Plug-Ins, Battery, and Hybrids. Despite 9.6% decrease on volume on annual basis, it sold 2,108,458 vehicles in 2022 and remains to be #1 seller of passenger vehicles for the 11th consecutive years in a row.
Does it really pose a threat to Tesla's bottom line? In my opinion, the TM consumer base places more weight on functionality and longevity versus appearance and power, but that factor can also change over time.
TESLA
Tesla does continue to be a consumer favorite in U.S., and the attitude is not far behind in China. Per Wedbush's survey of 500 Chinese consumers that were considering an EV, 76% said they were positively influenced to purchase a Tesla.
Tesla stock could rally 35% as recent price cuts have already been a huge success in China, Wedbush's Dan Ives says.
Being a meticulous statistician at heart, I don't consider a 500-individual survey to be a good representation of a billion people. There is potential of a huge margin of error there. Could Tesla rally another 35%? Maybe. Could is the key word that allows attorneys to win cases.
Bank of America's prediction that price cuts on Model 3 and Model Y will result in a 53% increase in sales is likely. But seeing how swift the response was from XPEV in terms of price cuts, I want to reiterate that G3i and G9 models pose a serious threat in terms of affordability and range per charge in comparison to TSLA's 3 and Y models. In addition, NIO's ES8 and EC7 are being favored by many Chinese SUV consumers as well.
Nevertheless, Tesla's price cuts have been applauded by Wall Street, and that was the necessary catalyst to pivot TSLA stock in the opposite direction.
Conclusion
Tesla, Inc. has bottomed at $120-$130 range and should recover at least 15-20% of its value in the short term.
Majority investor sentiment can change quickly from bullish to bearish and vice versa as cult-following volume returns. This means that no analyst can accurately predict how many times more (a.k.a. multiple) investors are willing to pay per TSLA's $1 of earnings in the future.
Here are my two cents:
1. Yes, Tesla, Inc. has now become just another EV company.
2. Its competition still hasn't scratched the surface in the U.S. (Mic drop.)
Editor's Note: This article discusses one or more securities that do not trade on a major U.S. exchange. Please be aware of the risks associated with these stocks.
---
Disclosure: I/we have a beneficial long position in the shares of TSLA either through stock ownership, options, or other derivatives. I wrote this article myself, and it expresses my own opinions. I am not receiving compensation for it (other than from Seeking Alpha). I have no business relationship with any company whose stock is mentioned in this article.
---