FDA AdComm Rejects Nuplazid This Time But Acadia's Race Isn't Run Yet
Summary:
Acadia won approval for its only commercialized drug Nuplazid in 2017 and has tried and failed to expand its label since.
This month an FDA AdComm voted against an approval in Alzheimer's disease psychosis, despite the FDA issuing positive briefing notes.
Acadia is heavily loss making to the tune of ~$200m per annum even while guiding for >$500m in sales of Nuplazid this year.
There's an opportunity to gain approval for the drug in Negative Symptoms of Schizophrenia and a further opportunity in RETT syndrome for another drug, Trofinetide.
Shares are down >50% in response to the AdComm verdict but I expect them to climb again with three major opportunities in play. This represents a high risk investment however given finances.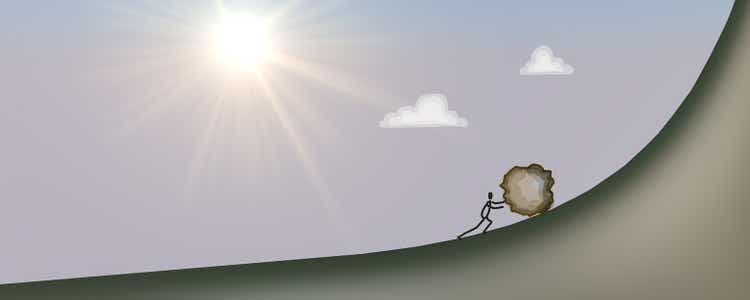 Investment Opportunity Overview
San Diego based Acadia Pharmaceuticals (NASDAQ:ACAD) – a specialist developer of drugs to treat Central Nervous System ("CNS") disorders – has been listed on the Nasdaq since 2004, and for those who invested back then and have held its stock continuously, the biotech has delivered a 116% return on their investment, trading at $14.3 at the time of writing. As recently as November 2020, however, Acadia stock traded >$55, providing investors with a >770% gain since listing.
Acadia has only commercialized a single product, Pimavanersin, brand name Nuplazid – a selective serotonin inverse agonist/antagonist preferentially targeting the 5-HT2A receptor (a key serotonin receptor that plays an important role in psychosis) – which was approved in 2016 by the FDA for the treatment of hallucinations and delusions associated with Parkinson's disease psychosis ("PDP").
In 2017, Nuplazid helped Acadia drive revenues of $125m, while making a net loss of $289m, and although sales of the drug have grown in each year, to $484m in 2021, representing a 287% uplift, net losses in 2018, 2019, 2020 and 2021 were respectively -$245m, -$235m, -$282m, and -$168m.
Remarkably, given the losses, Acadia management was able to report a cash position of $446m as of Q122. Although guidance in 2022 is for revenues of $510 – $560, R&D and SG&A expenses are expected to be a combined ~$735m, meaning Acadia looks set for another -$200m loss making year.
Nevertheless, Acadia's share price had been rising – from a low of $14 in August 2018, based on investors belief that Nuplazid could expand its label into other CNS indications. Those approvals have not yet arrived – in July 2019 it was reported that a Phase 3 Schizophrenia study had failed to demonstrate statistically significant outperformance against placebo.
There was another failure – this time in Major Depressive Disorder ("MDD") in July 2020, when the primary endpoint of a statistically significant change from baseline to week 5 in a scale called HAMD-17 was not met in a Phase 3 study, and another, after the FDA declined to approve a supplemental New Drug Application ("sNDA") for an approval in hallucinations and delusions associated with dementia-related psychosis ("DRP") in April 2021.
That was the trigger for Acadia stock to sink from an all-time stock price of ~$55, to an eight-year low of $14, but still undeterred, in December last year, Acadia resubmitted its sNDA, this time for hallucinations and delusions related to dementia focused on Alzheimer's disease psychosis ("ADP"), and the FDA set a Prescription Drug User Fee Act Date – when the agency rules on whether to approve a drug for commercial use – of Aug. 4.
Shares found some upside, trading at $27 in April this year, until once again, the FDA seemingly dashed the biotech's hopes for a label expansion of Nuplazid once again. This time, the FDA convened an Advisory Committee to vote on whether "pimavanserin is effective for the treatment of hallucinations and delusions in the ADP population," and at first, the signs were encouraging.
Briefing documents released by the FDA appeared to suggest the agency accepted that the data provided from two studies – Study 019, which looked at the effect of Nuplazid on patients with ADP only and Study 045 – which looked at a wider range dementia related pyschosis, including an AD patient subset were suitable for regulatory decision making.
Acadia shares crept up as high as $20, before the hammer blow came when the AdComm voted 9-3 against the proposal on June 17. Cue another sell-off to today's price of $14.
Where Does This Leave Acadia Today?
Acadia remains a >500 employee company with a product generating >$500m per annum in sales and a healthy cash position, so all is certainly not lost. Management has been quick to point out that the decision of the FDA AdComm is not binding, with CEO Steve Davis adding in a press release:
We continue to believe there is substantial evidence across multiple independent clinical studies and endpoints that support the efficacy of pimavanserin in ADP. There are no FDA approved treatments for this critical public health need and off-label use of multi-receptor acting antipsychotics have demonstrated poor patient outcomes, including worsening of cognition and motor function.
It's possible that the FDA won't follow its own AdComm's advice, however there's a dangerous precedent here in the form of Biogen's Alzheimer's therapy Aduhelm. An FDA AdComm voted 10-0 against approving Aduhelm, which had failed a futility analysis of its two pivotal trials, and yet the agency approved it anyway. That decision lives in infamy however, and after the CMS refused to provide reimbursement coverage for Aduhelm, the drug has been all but shelved.
Would the FDA therefore go against its own committee once again? It does seem highly doubtful, and investors would probably be unwise to bet on this outcome.
Acadia plans to try again with Nuplazid in yet another indication however – Negative Symptoms of Schizophrenia – a potential 700k patient market management believes where there are no approved therapies. Acadia's Phase 2 ADVANCE study met its primary endpoint – according to a press release (and data published in a peer reviewed journal The Lancet):
with significant improvement observed with pimavanserin for the change from baseline to week 26 on the Negative Symptoms Assessment-16 (NSA-16) total score, compared with placebo (-10.4 vs. -8.5; p=0.043).

In a post hoc analysis, greater improvement in the NSA-16 total score compared to placebo was observed in the 53.8% of patients (n=107) who received the highest pimavanserin dose of 34 mg (-11.6 vs. -8.5; unadjusted p=0.0065).
Results from a larger Phase 3 ADVANCE-2 study involving ~386 patients will be made available in 2023, and given the unpredictable nature of CNS drug trials, where patients mental states are often hard to decipher using the 5-minute questionnaires and scoring table which are the current "gold standard" and as such it is very tricky to say if Nuplazid could win an approval in this indication.
Looking Beyond Nuplazid
Fortunately, Acadia management has been wise enough to realise that if it's going to survive, it's at least a distinct possibility that it will have to look beyond Nuplazid.
In 2018 the company acquired the license to develop and commercialize a drug called Trofinetide – indicated for RETT syndrome, a rare genetic neurological and developmental disorder that affects the way the brain develops, primarily affecting females, and with a prevalence of ~6 – 9k patients in the US – from Neuren Pharmaceuticals.
Trofinetide is a novel synthetic analog of the amino‐terminal tripeptide of IGF-1, and it has been granted Fast Track Status, Orphan Drug Designation and a Rare Pediatric Disease ("RPD") designation by the FDA. In December last year, Acadia announced that its Phase 3 Lavender Trial of 187 patients with RETT syndrome had met its co-primary endpoints:
… demonstrating statistically significant improvement over placebo in the Rett Syndrome Behaviour Questionnaire (RSBQ) (p=0.0175) and the Clinical Global Impression of Improvement (CGI-I) (p=0.0030)
Trofinetide also met its secondary endpoint demonstrating statistically significant improvement over placebo in CSBS-DP-IT–Social (p=0.0064), caregiver scale of ability to communicate. Acadia expects to submit its New Drug Application ("NDA") to the FDA in Q123, and a fast track approval ought to mean it has a second drug on the market at last, with an internal peak sales expectation of $500m. There are no other approved RETT syndrome drugs.
Acadia has two other assets in clinical trials – ACP-044 is the result of Acadia's August 2020 acquisition of CerSci Therapeutics. The drug is a non-opioid, redox modulator in development for treatment of acute and chronic pain.
ACP-044 failed to meet its endpoint in a Phase 2 study in patients suffering acute pain following bunionectomy surgery, and this is a competitive market anyway, with the likes of Heron Therapeutics (HRTX) and Pacira Biosciences (PCRX) having commercialized products.
ACP-319 is directed against Schizophrenia and Cognition in Alzheimer's, and is a result of an exclusive worldwide license from Vanderbilt University to develop and commercialize novel drug candidates targeting positive allosteric modulators (PAMs) of the muscarinic M1 receptor. Phase 1 testing is underway.
Finally, in January this year, Acadia struck a deal with Stoke Therapeutics "to discover, develop and commercialize novel RNA-based medicines for the potential treatment of severe and rare genetic neurodevelopmental diseases of the CNS" (source: company 10K submission). There are three targets, SYNGAP1 syndrome, RETT syndrome, and an undisclosed target.
Conclusion – The Low Price Is Attractive, As Is Schizophrenia and RETT Opportunities, But Investors' Patience May Be Exhausted
It's not necessarily Acadia's fault that it has flattered to deceive over the past five years since its landmark approval for Nuplazin, a novel drug targeting some of the toughest diseases and CNS conditions, with great promise. Nevertheless, the biotech has missed all of its goals since, while racking up an accumulated deficit which now stands at $2.2bn.
There are positives to note however. Firstly, the growing sales of Nuplazid suggest that physicians are willing to prescribe the therapy to a larger and larger patient population. Granted, sales figures from pharmaceutical companies are often shrouded in mystery – it's possible for companies to lend customers the money to buy a drug even when it has not been prescribed – but if we assume Acadia has not done so and physicians are genuinely keen to prescribe Nuplazid then that might explain the FDA apparently softening its stance on an approval in ADP.
That approval opportunity is not necessarily dead in the water and the NSS opportunity also looks to be attractive – again, the fact that Nuplazid has been successful in commercial markets works in its favor. Then there's potentially another $500m in peak sales per annum from Trofinetide.
That means that there's an opportunity for Acadia to break $1bn in sales in the next 2-3 years, and who knows, target $2 – $2.5bn by the end of the decade if the ADP and NSS decisions, or perhaps only one of the decisions go its way.
With a market cap of $2.4bn at the time of writing, the current forward price to sales ratio of ~4x is attractive, although the losses are highly unattractive, and with funding of commercial launches to factor in, profitability for Acadia looks a long way off. As such, funding is going to inevitably become a problem and therefore investors can most likely expect to be diluted again by at the market fundraisings. Those offerings are not likely to be small either – a September 2019 fundraising raised $272m. But my final conclusion on Acadia is going to be a bullish one.
I acknowledge the risk, the financial problems, the difficulties finding a label expansion for Nuplazid – but I also look at the fact that there are three major opportunities still on the table. All three are high risk, in ADP, NSS, and RETT syndrome, but a few short months ago they supported a price of $28 per share – a 100% uplift on today's price.
I believe that if two out of three of these opportunities are successful then Acadia's share price will likely be buoyant, and I do think the growing commercial success of Nuplazid will soften the FDA's stance over an approval eventually.
Investors may to wait until mid 2023 and the late stage NSS data, or the RETT approval, or they may be rewarded handsomely as soon as August if the FDA defies its AdComm once again, but I do believe there are some gains coming, and even if they do not, I have some confidence in management's ability to trim operational costs if Nuplazid is simply not approvable in any other indication.
My price target would be ~$20, a market cap valuation of ~$3bn, and a price to sales of ~6x based on FY22 forecasts, but likely to drop to a more acceptable 3x with further approvals, with losses potentially narrowing once new products are commercialised and bedded in after 1-2 years.
I don't think Nuplazid's race is quite run yet, but I acknowledge the very high level of risk any investment in Acadia carries. Nevertheless, $14 may be as low as the stock trades unless Acadia racks up another three approval failures across the rest of 2022 and into 2023.
---
Disclosure: I/we have no stock, option or similar derivative position in any of the companies mentioned, but may initiate a beneficial Long position through a purchase of the stock, or the purchase of call options or similar derivatives in ACAD over the next 72 hours. I wrote this article myself, and it expresses my own opinions. I am not receiving compensation for it (other than from Seeking Alpha). I have no business relationship with any company whose stock is mentioned in this article.
---
If you like what you have just read and want to receive at least 4 exclusive stock tips every week focused on Pharma, Biotech and Healthcare, then join me at my marketplace channel, Haggerston BioHealth. Invest alongside the model portfolio or simply access the investment bank-grade financial models and research. I hope to see you there.