Acadia's Plateauing Nuplazid Sales And Patent Cliff Overshadow Positive Trofinetide Development
Summary:
Rett Syndrome is a rare genetic disorder affecting females that results in a slow deterioration in gross motor function, with respiratory illnesses and seizure-related conditions as the most common causes.
Trofinetide is a synthetic glycine-proline-glutamate analog increasing brain-derived neurotrophic factor expression, essential for neuronal and synaptic development.
A phase 3 study showed significant improvement in primary and secondary endpoints in 187 Rett Syndrome patients, but mild-to-moderate diarrhea and vomiting led to higher treatment discontinuation rates.
Trofinetide could generate $500 million annually for Acadia. The drug's PDUFA date is March 12, 2023. Barring unpredictable surprises, like CMC issues, approval is anticipated.
However, Acadia's leading drug Nuplazid failed to expand its indications and with trofinetide's launch, Acadia's valuation may not increase substantially. Acadia may owe Neuren millions of dollars and have to raise additional capital soon. My personal recommendation is to "Sell".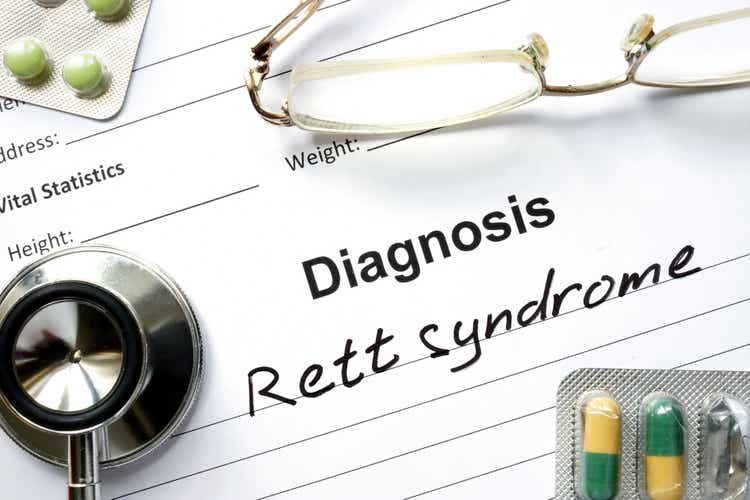 Introduction
Acadia Pharmaceuticals (NASDAQ:ACAD) specializes in developing and commercializing innovative medicines to meet the unmet medical needs of central nervous system disorders. One of its leading products is Nuplazid (pimavanserin), which received FDA approval in April 2016 for treating hallucinations and delusions associated with PDP. Besides Nuplazid, the company has been progressing with its pipeline and clinical studies, including trofinetide, a synthetic analog of glycine-proline-glutamate, for treating Rett Syndrome. Trofinetide has shown positive phase 3 data, and its Prescription Drug User Fee Act (PDUFA) target action date is on March 12, 2023. This article will focus on Acadia's trofinetide for treating Rett Syndrome.
Financials
Let's first look at Acadia's latest financial report:
Acadia reported net sales of $130.7 million for the third quarter of 2022, a 1% decrease from the same period in 2021. However, for the first nine months of 2022, net sales were $380.7 million, an 8% increase from the same period in 2021. Research and development expenses for the third quarter of 2022 were $81.3 million, compared to $58.6 million in the same period in 2021, primarily due to milestone payments and increased costs for early-stage programs. Selling, general and administrative expenses for the third quarter of 2022 were $78.1 million, compared to $81.7 million in the same period in 2021, due to decreased advertising and promotional costs. Acadia reported a net loss of $27.2 million for the third quarter of 2022, compared to a net loss of $14.5 million in the same period in 2021, and had $436.6 million in cash, cash equivalents, and investment securities at the end of the quarter.
Rett Syndrome
Rett Syndrome (RTT) is a rare genetic disorder that primarily affects females. According to UpToDate, the natural history of typical RTT is characterized by "a period of normal development for the first 6 to 18 months of life, followed by a regression phase" where there is "partial or complete loss of speech and purposeful hand use, and the onset of stereotypic hand movements, gait abnormalities, and other manifestations of RTT". After the regression phase, there may be "some recovery of nonverbal communication, but the long-term course is one of a slow deterioration in gross motor function." The most common causes of death in RTT are respiratory illnesses and seizure-related conditions, although most patients survive into adulthood.
The prevalence of RTT is estimated to be 1 in 10,000 to 15,000 females worldwide. There is currently no cure for RTT, and treatments are focused on managing symptoms. Physical therapy, occupational therapy, and speech therapy can help improve motor function and communication abilities. Medications such as antiepileptic drugs may be used to control seizures. Ongoing research is focused on identifying new therapies and potential genetic therapies. The prognosis for RTT can vary depending on the severity of the disorder, with some individuals having a milder course than others. Despite the challenges, individuals with RTT can lead fulfilling lives with appropriate management and support.
Trofinetide History
Acadia obtained exclusive rights to develop and commercialize trofinetide for RTT and other indications in North America through a license agreement with Neuren in August 2018. Neuren received a payment of $10.0 million and could earn milestone payments of up to $455.0 million based on development and annual net sales milestones, such as a $10.0 million payment after the FDA accepts an NDA filing and a $40.0 million payment after the first commercial sale of trofinetide in North America. Neuren is also eligible for escalating double-digit percentage royalties based on net sales. In addition to these payments, Neuren can also expect to receive a share of the market value of a Rare Pediatric Disease Priority Review Voucher if it is awarded by the FDA upon approval of the NDA. This share has been estimated by Neuren to be around $33 million.
Trofinetide MOA & Rationale for Rett Syndrome
Trofinetide is a lab-made version of glycine-proline-glutamate (GPE), which is a natural tripeptide that plays an essential role in neuronal growth and synaptic function in the brain. Before examining how trofinetide works in treating RTT, it's crucial to understand the function of brain-derived neurotrophic factor (BDNF) in normal brain operations and nervous system development. BDNF is a protein that promotes neuron survival and growth, as well as synapse formation and maintenance. However, individuals with RTT often experience lower BDNF levels, leading to unusual neuronal and synaptic development.
Trofinetide modulates the levels of BDNF and has been shown to increase BDNF expression in the brain. In preclinical studies, trofinetide increased BDNF expression in the brains of mice. Trofinetide's ability to raise BDNF is believed to be due to its modulation of the gamma-aminobutyric acid (GABA) system. GABA is a neurotransmitter that inhibits the activity of neurons and plays a key role in regulating the excitability of the nervous system. Trofinetide is thought to enhance GABA signaling, which can lead to an increase in BDNF expression. Additionally, trofinetide has been shown to reduce inflammation and oxidative stress, which can also contribute to the increased expression of BDNF.
Phase 3 Rett Data
Acadia Pharmaceuticals has announced positive results from its Phase 3 Lavender study, evaluating the safety and effectiveness of trofinetide in 187 girls and young women with RTT. The 12-week placebo-controlled study showed a statistically significant improvement in both co-primary endpoints, as measured by the Rett Syndrome Behavior Questionnaire and Clinical Global Impression-Improvement score. Trofinetide also demonstrated a statistically significant separation over placebo on the key secondary endpoint, the Communication and Symbolic Behavior Scales Developmental Profile Infant-Toddler Checklist-Social composite score. However, the treatment discontinuation rates related to treatment-emergent adverse events (mainly, mild-to-moderate diarrhea and vomiting) were higher in the trofinetide group than the placebo group. 95%+ of participants who completed the Lavender study opted for the opportunity to continue to receive trofinetide in the open-label Lilac and Lilac-2 extension studies.
Rett Syndrome Market
Trofinetide could potentially be a revolutionary therapy for RTT, which affects approximately 10,000 people in the US. The disease has a significant impact on both those affected and their families, and there is an urgent need for effective treatments. According to estimates, the mean annual cost per person with RTT ranges from $238 to $85,776, with an average of $21,158. Trofinetide has a large market opportunity, as no treatments have been approved for RTT in the US. Theoretically, Acadia's revenue from selling trofinetide at $75,000 per year to 66% of the population could potentially reach $500 million per annum, with Neuren earning approximately 12% of that.
Conclusion
To summarize, Acadia's trofinetide has demonstrated encouraging outcomes in treating Rett Syndrome, an incurable genetic condition. Trofinetide's mode of action, which involves boosting BDNF expression and regulating the GABA system, has resulted in notable enhancements in behavior and communication during Phase 3 clinical trials, albeit with some observed side effects. A majority of participants opted to continue receiving trofinetide in extension studies, which suggests interest in adopting the therapy upon regulatory approval. Given the absence of approved treatments for Rett Syndrome in the US, trofinetide presents a vast market opportunity, with Acadia potentially earning up to $440 million per year in revenue. Overall, Acadia's trofinetide offers hope for individuals grappling with this complex disorder.
Impression of Acadia Ahead of Trofinetide PDUFA
To the dismay of shareholders, the company's leading drug, Nuplazid, has failed to expand its indications to cover Alzheimer's disease. In addition, with its annual sales plateauing around $500 million and its composition of matter patent due to expire in 2027, trofinetide's launch in the US market may not substantially influence Acadia's valuation, which already stands at $3.1 billion despite mounting losses.
Upon FDA-approval and first US sales of trofinetide, Acadia will owe Neuren tens of millions of dollars in milestone payments. Furthermore, Acadia will have to ramp-up sales & marketing costs to get trofinetide off to a strong start in the US. Acadia may not profit off trofinetide before Nuplazid loses its battle to generic market entry. Subsequently, Acadia may be wise to raise additional capital soon. This might be at the surprise and expense of its shareholders.
Even though trofinetide's assumed approval for Rett Syndrome represents a triumph for Acadia, my personal recommendation for Acadia remains "Sell".
---
Disclosure: I/we have no stock, option or similar derivative position in any of the companies mentioned, and no plans to initiate any such positions within the next 72 hours. I wrote this article myself, and it expresses my own opinions. I am not receiving compensation for it (other than from Seeking Alpha). I have no business relationship with any company whose stock is mentioned in this article.
Additional disclosure: This article aims to provide informational insight and not personal investment advice. The information presented is intended to be factual, but readers are encouraged to independently verify the information and consider their own financial situation, risk tolerance, portfolio diversification, etc. before making an investment decision. Some of the articles cover biotechnology companies with limited or no revenue, which makes the stocks speculative and prone to volatility. While the prospects may appear attractive, it's important to keep in mind that the future is unpredictable and there is a potential for significant losses.
---