Activision Blizzard: Diablo IV Is Coming
Summary:
Blizzard's Diablo franchise often doesn't get as much attention as the rest, even though the last game cumulatively outsold every Call of Duty game except two.
Additionally, the company is approaching Diablo IV with a unique strategy that will see the release of seasons roughly every quarter. This could extend lifetime earnings significantly.
These factors, along with several others highlighted below, make me confident that this will be the biggest novel driver for ATVI's fundamentals this year.
All of this will serve to make a good stock even better – acquisition or not.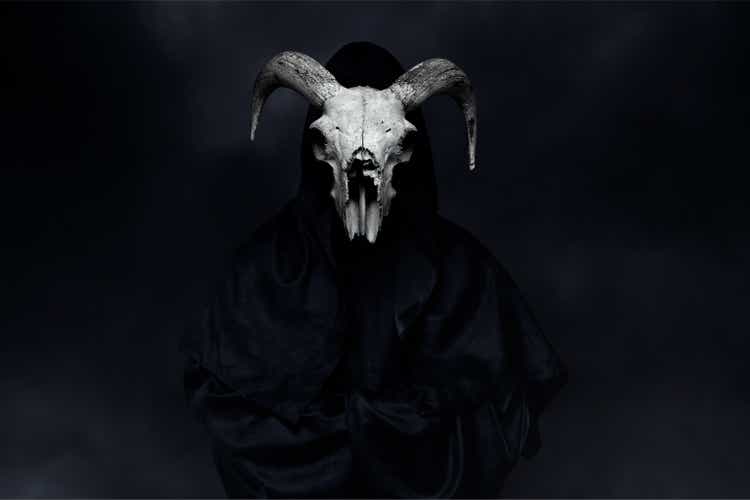 Overview
Activision Blizzard (NASDAQ:ATVI) has been in the news cycle a good bit as of late, primarily due to the ongoing and somewhat fraught acquisition by Microsoft. While there is a good amount of debate around whether this will close or not, this article will focus on a specific and near-term element of Activision's gaming business irrespective of the acquisition.
As most of us know, Activision Blizzard is the result of a merger between what were then two separate gaming goliaths: Activision and Blizzard. Each of these companies was significant in their own right and own some of the largest and most successful intellectual property in all of gaming, bar none. Activision made its name, and its money, from the best-selling Call of Duty franchise. These games release seemingly every other year and tend to smash records. It is the 4th best-selling game franchise of all time. On the Blizzard side of the house, Warcraft takes the throne. Together with King's Candy Crush, these 3 games account for roughly 80% of ATVI's overall sales:
This year is particularly interesting as the Activision side of the house doesn't have any releases beyond Crash Team Rumble slated for 2023 – not exactly at Tier 1 release. It's on Blizzard to pick up the slack and create one of the heavy-hitting quarters that we have come to expect from ATVI.
I believe that this is going to happen, and that the subsequent 4 quarters should see an appreciable bump in revenues/profits from the Blizzard side of the house. Why, you ask? Because of Diablo.
Diablo
Diablo is a premium gaming franchise from Blizzard that often gets less attention than some of the rest. Nonetheless, it has had excellent franchise sales throughout its history as well as a unique staying power – not to mention a particularly rabid core fanbase.
For starters, Diablo III achieved a cumulative sales figure of 30M in just over 3 years. To contextualize this performance, this is better than every Call of Duty game apart from 2 of them – Modern Warfare 3 and Black Ops.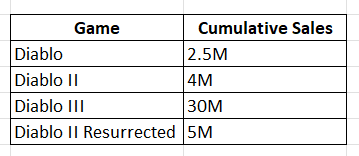 Looking towards the bottom of the chart, what I believe is worth mentioning is the performance of Diablo II: Resurrected. This was a remaster of the original Diablo II without any added content – simply improved graphics – and it hit 5M in total sales within its first 6 months. I think this evidenced a particularly strong signal as to the gaming community's ongoing desire for Diablo. Again, keep in mind that this was a graphical remaster of a game from 2000.
The exceptionally strong cumulative sales performance for Diablo III (inclusive of the Reaper of Souls expansion) as well as the performance of Diablo II: Resurrected make me particularly bullish for Diablo IV. Additionally, there are several non-financial factors that are lining up, factors that I believe will make the next Diablo a smash hit that brings the franchise to the next level – and pads Activision Blizzard's sales in the process.
Diablo IV
As mentioned, my research has unearthed several strategic decisions by Activision Blizzard that I think will make Diablo IV the best one yet. The first of these is a return to what is the core Diablo aesthetic – in one word, dark. For Diablo fans such as myself, Diablo III was a noticeable departure from this aesthetic. It had a significantly brighter color palette that made for a less immersive experience. In fact, some players at the time noticed that the game was actually made darker in a few post-release updates, although this was never officially confirmed. This remains an active point of discussion in the Diablo community.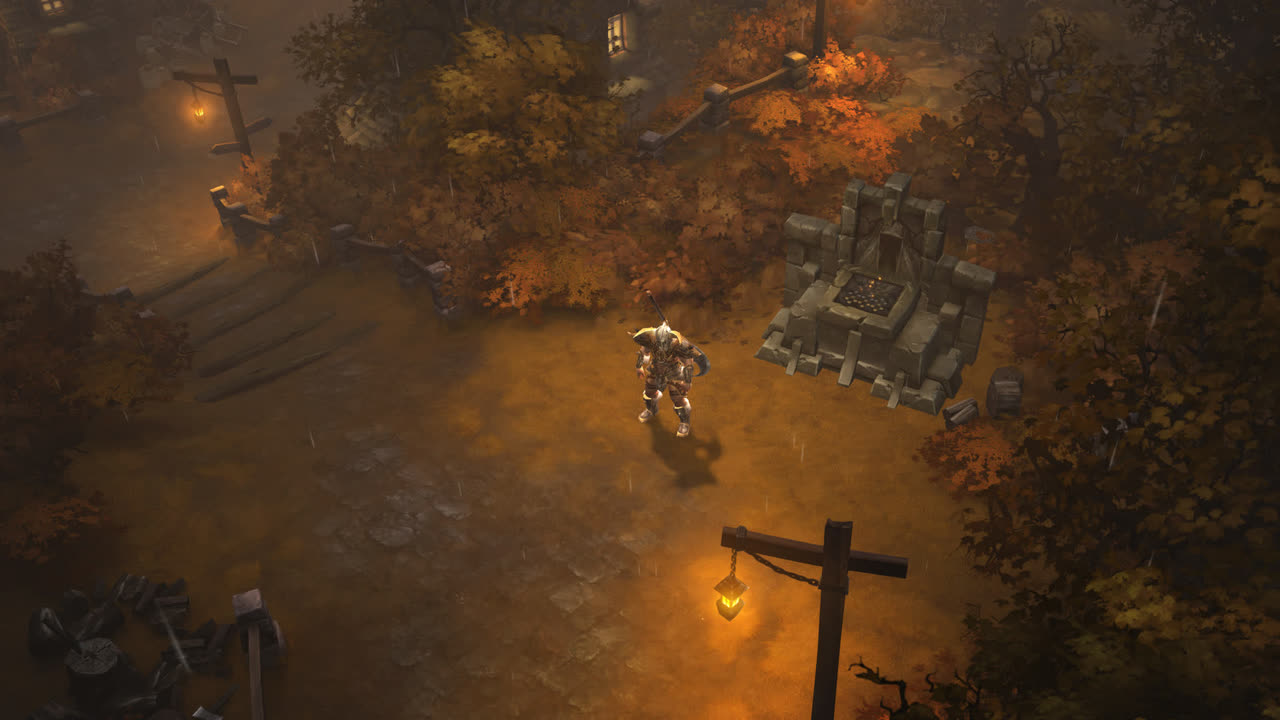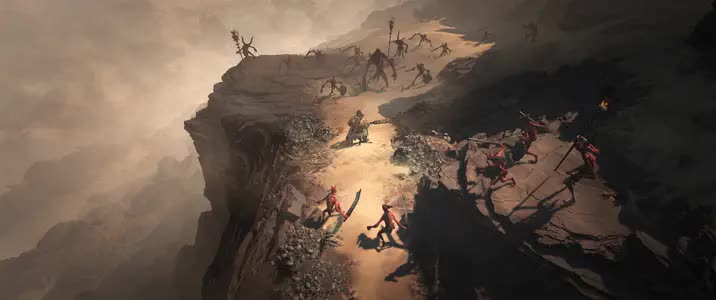 Diablo IV isn't going to repeat this mistake. This game is going to be dark from the get-go. Developers commenting in a recent video explain that it isn't for the 'faint of heart' and that it's 'unnerving'. Good – this is exactly what Diablo is supposed to be. Fans – customers – will appreciate this.
The other, more significant, factor that I think will drive the success of Diablo IV is Blizzard's stated new approach for endgame content. The previous Diablo games never had too much in terms of the endgame; players would usually run through the game repeatedly on higher difficulties. Amazingly, this was still enjoyable.
Diablo IV looks to change the paradigm on this. The developers have recently made clear that there will be a dedicated focus on consistent endgame content releases, slated to occur 3-4 times a year. Each release will constitute a 'season' and come with a fresh bundle of content. I think this model will create a materially longer lifespan for the game as well as new avenues for monetization. The natural replayability of Diablo will fit in perfectly with fresh content being released on a schedule. This is exactly how World of Warcraft operated in between expansions and what kept players logging on day after day.
Conclusion
With all of these factors in mind, I am going to estimate that Diablo IV achieves 38M ($2,280,000,000 at $60 per game) lifetime sales on a relatively accelerated timeframe of 3 years. This seems like a reasonable estimate as it is a 26.6% increase against Diablo III sales and would still only constitute 76% of Overwatch's cumulative (50M) sales. Along historical norms, I am inclined to believe the first 10-15M of these sales will occur during the release quarter of Q2 2023, yielding a $600-$900M sales bump for Activision that quarter. Even for a company as large as Activision Blizzard, this will be material.
To better quantify this, we can look at Q3 2022 as the most recent quarter in which ATVI didn't have a major release. This is sensible as Call of Duty: Warzone II and its associated Modern Warfare II released in Q4 2022. The top line number Q3 2022 was $1.78B. At that baseline rate, Diablo IV should make a difference of somewhere between 33.7% – 50.6% at the estimated sales numbers outlined above. If the acquisition is to go through, this will certainly make it a better bargain; as mentioned, however, that is beyond the scope of this article.
Additionally, we must consider that Diablo IV will likely have other forms of monetization. The seasonal gameplay updates that were outlined above will likely require some kind of subscription, further increasing revenue per customer. It is too early to price these as of yet, but I am confident that they will very likely also be significant.
In sum, I believe that Diablo IV will be a major sales catalyst for ATVI and the biggest novel driver of its fundamentals this year. While I am bullish on Activision Blizzard as a whole, this near-term bump to its performance should see its fundamental picture improve all the more so.
---
Disclosure: I/we have no stock, option or similar derivative position in any of the companies mentioned, and no plans to initiate any such positions within the next 72 hours. I wrote this article myself, and it expresses my own opinions. I am not receiving compensation for it (other than from Seeking Alpha). I have no business relationship with any company whose stock is mentioned in this article.
---