AI Wars: Will Microsoft Eat Google's Lunch?
Summary:
Microsoft Corporation and Alphabet Inc./Google are the two heavyweights in the rapidly growing AI arms race.
Both companies have significant investments in AI.
Recently, Satya Nadella said that Google would lose its moat because AI would cause Bing to increase in popularity.
That plus a botched advertisement for Bard (Google's ChatGPT competitor) led to concerns that Nadella was right.
In this article, I will attempt to gauge whether Microsoft or Google is better positioned in the rapidly escalating AI arms race.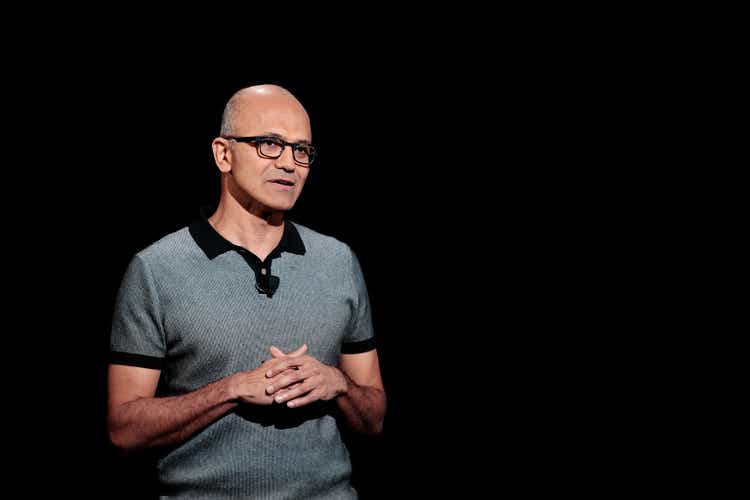 Alphabet Inc. (NASDAQ:GOOG) and Microsoft Corporation (MSFT) are two of the biggest players in AI right now. Alphabet (hereafter referred to as "Google") has been developing AI for many years, using it in products like YouTube, Google Docs, and even search. Microsoft, too, has been doing a lot of AI research, recently upping its investments by buying a $10 billion stake in OpenAI.
Yesterday, the AI war between Google and Microsoft took a dramatic turn, with Google falling 8% in a single day as its AI Chatbot delivered an inaccurate answer. Microsoft stock also fell that day, though less than Google did.
On Fintwit (financial Twitter), there is a general perception that Microsoft enjoys the lead over Google in the AI arms race. People believe that MSFT got to the finish line faster, and now has better AI assets than Google does. As an example, the post below came up in a search for the query "Microsoft Google AI."
Is the perception that Microsoft is ahead of Google accurate?
Yes and no. Microsoft has employed AI Chatbots more swiftly than Google has. There is a demo of a GPT powered search live on Bing right now, you can only test a few sample queries, but it has been partially deployed. Google has not done anything like this yet. On the other hand, Google has been doing AI research since at least 2015, and has worked AI into products like YouTube and Google docs. Google is definitely an AI leader. However, the public perception of a technology is not always the same as the real thing. A lot of AI news coverage in recent months has focused on ChatBots and illustration apps, equating generative AI with all of AI in the public imagination.
There can be no doubt that Microsoft seems to be winning these early rounds of the AI wars. However, Google has some advantages as well. It has a vast AI research arm in the form of Google Brain, and it has some of the world's best AI researchers on its team. The potential is certainly there. The question is, will Google be able to develop a public facing AI product that enables it to retain its lead in search – by far the biggest part of its business? In this article, I will attempt to gauge the odds of that happening, ultimately concluding that Google will probably remain #1 in search for the foreseeable future (though maybe with a smaller lead than in prior years).
How Google's Market Share Stacks Up Now
Right now, Google is the undisputed leader in search, both domestically and internationally. Currently, Google is at 84% worldwide, while Bing is at 8.95%. Certainly, Google has the incumbent advantage. However, there is that nagging question of AI. Microsoft is already demoing AI chatbot features in Bing, Google's Bard has only been shown in a video. MSFT appears to be in the lead here.
Furthermore, Microsoft CEO Satya Nadella thinks his company's AI tools are going to destroy Google's moat. He publicly stated that search margins are going to drop forever, and bragged that he made Google "dance." It's not hard to see why this got Wall Street selling GOOG. If you've spent a lot of time on investing communities, you'll probably have noticed a certain melodramatic tone in the posts, which frame investments as a boxing match between bulls and bears, or between companies and their competitors. Viewed in this light, Satya Nadella looks like a winner, strutting confidently like Mohammed Ali while Google executives fumble around reacting to Microsoft's moves.
The optics definitely don't favor Google. It's important to note, though, that we've mostly only got words here so far. Bing's AI demo is just that: a demo. You can only test out a handful of pre-set search queries and get results. If you enter a custom query you just get standard Bing search results.
There's also the matter of UI. Google is famed for its simple UI, which is basically just a white screen, a search bar, and a few links. This simple UI was thought to be one of Google's early advantages over other search engines, which generally featured cluttered interfaces with dozens of links.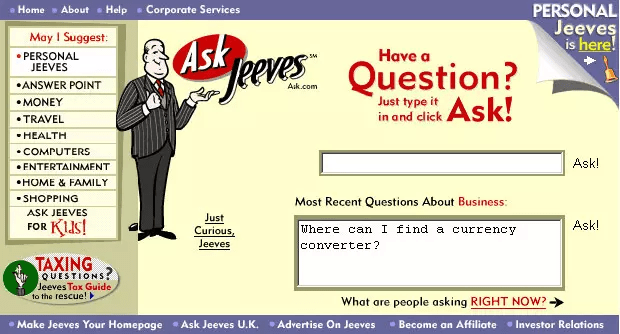 How does Bing compare in terms of UI?
Well, design is partially subjective, but it's hard to argue that the interface below is as "simple" as Google's plain white page. There are nine boxes above the fold competing for attention, there are many links, and you can scroll down to view multiple news stories. Some users may want these extra features, but the point is, they are visually distracting; they compete with the core search function for screen real estate.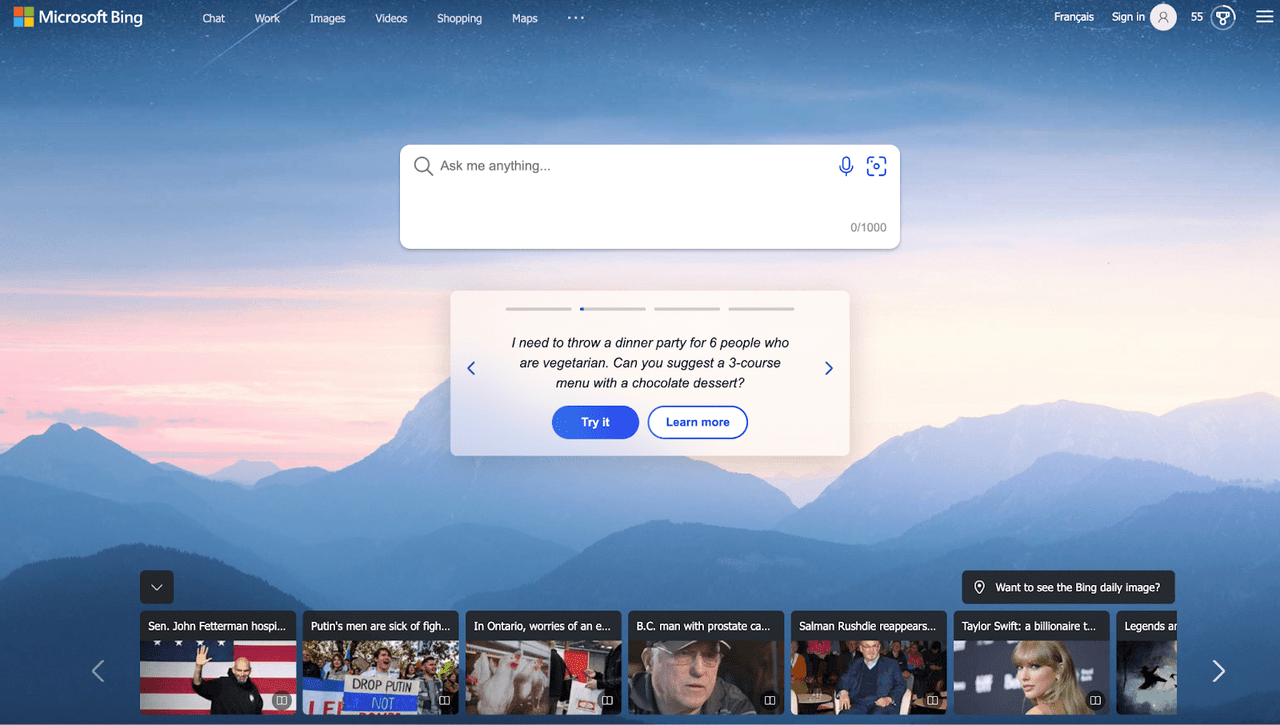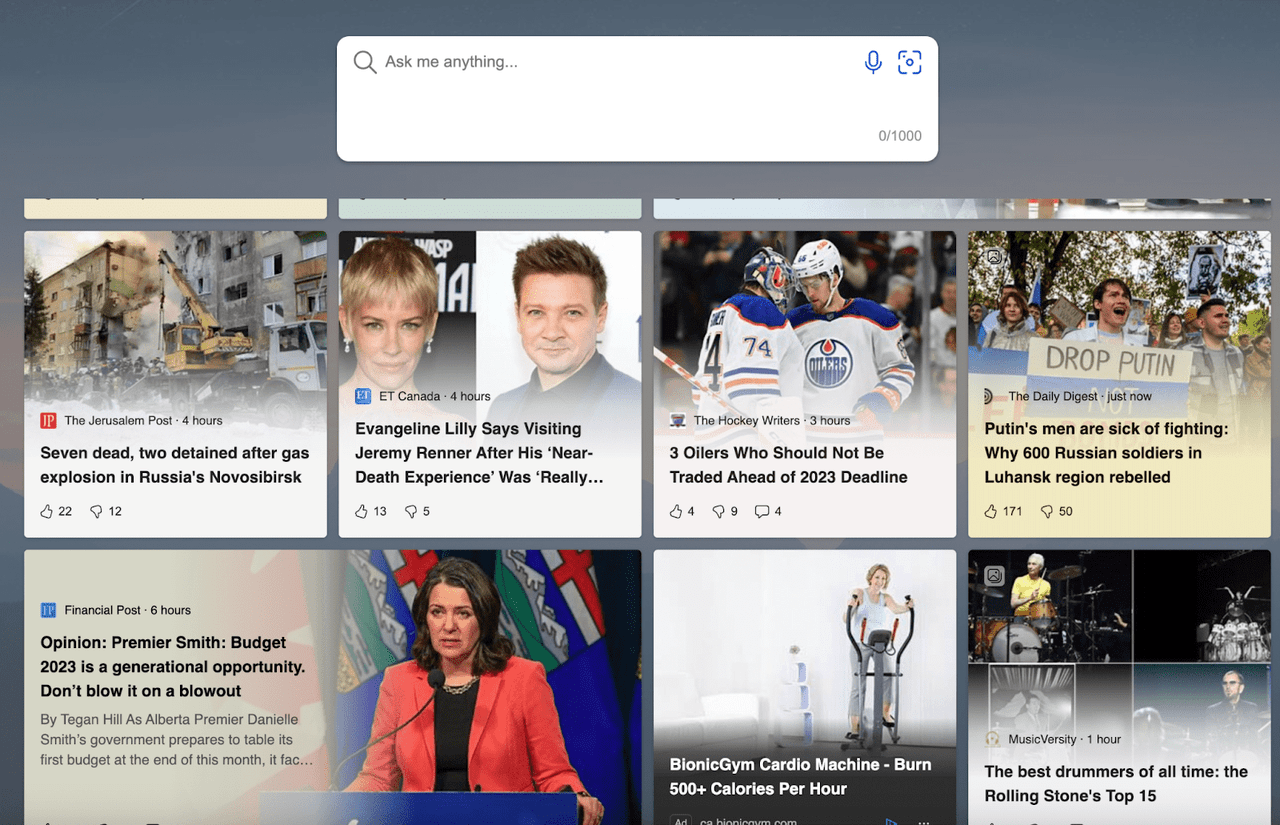 Now, if Microsoft really does develop a built-in search chatbot that consistently gives correct answers, it probably will gain some loyal users, with or without a clean interface. But the point is that there is more to the Google/Bing competition than just AI. There's a reason why Google Search has 10 times Bing's market share.
Gaming Out Google's Worst Case Scenario
Having looked at the product threat Google faces, we now need to gauge its possible financial impact. If you lose 10% of your market share in an industry growing at 100%, your revenue increases. So, in order to determine the actual financial impact of Microsoft's search efforts on Google, we need to know how much share could be lost, and how well the industry as a whole will perform.
First, let's look at share gains.
Data compiled by Statista shows Bing's search market share having grown from 4.53% to 8.95% since 2015. Google's share fell from 88% to 84% in that time. If Bing keeps gaining on Google at its historical rate, it will rise to 13.5% and Google will fall to 80% in another eight years. That still puts Google in the lead–albeit a smaller lead.
As for whether Bing's AI investments will take away Google's share more rapidly than in the past: we just don't know about that yet. We know that Satya Nadella thinks Microsoft will eat up Google's market share, but what we've actually seen is pretty limited. Right now, the Bing chatbot demo doesn't let you use custom queries. Until users get a chance to test out the full product, and see whether it produces better results than Google, this topic will remain a "let's see."
Now, as for the search market as a whole, most market research firms estimate that it will grow. Business Research Insights for example sees it growing at 11% CAGR to 2028. In this scenario, with Google losing share to Bing at about 4% every eight years, and the industry growing at 11% CAGR, Google's revenue still increases. Now, it's possible that Microsoft's chatbot will be very disruptive like Nadella thinks it will be, but there's no specific reason to think that yet. The core technology (i.e., ChatGPT) is already out there, and SimilarWeb still ranks Google as the world's #1 website.
With that being said, there's more to this story than just traffic and revenue. Bing competes with Google not only for users, but also for advertisers, and it's possible that the pressure on gross margin will be intense. Search right now is pretty much just Google, Bing and some Chinese companies, but online advertisers have choices ranging from Meta (META) to Amazon (AMZN) to LinkedIn. That latter company is owned by Microsoft, so MSFT's overall ability to compete with Google across all of its companies is pretty significant.
Valuation
What do all of the factors above imply for Google's valuation?
Well, if my data is accurate, then Google still should be able to grow its revenues going forward. Search margins may take a hit, but then again the Cloud and other Google products may make up for it.
At today's prices, Google trades at 22 times earnings, 4.6 times sales, and 13.9 times operating cash flows. These multiples are relatively modest for big tech. You could perhaps argue that this threat of looming competition warrants some kind of discount.
The competitive threat also has implications for discounted cash flow valuations of Google. In past articles, I've done discounted cash flow ("DCF") models of GOOG, arriving at targets as high as $136. Were there no risks to Google at all, I do think $136 would be a fair price target. However, when risks increase, you have to raise the discount rate to compensate for them. If you raise Google's DR to 10% in the model I just mentioned, then the price target falls well below the current level. So, this new competitive threat has to be monitored.
Still, I'm pretty comfortable holding Google stock on the whole. It's not a risk-free no-brainer buy at this level, but it's a good company with a lot of good subsidiaries. Search, the part of Google's business that's threatened by Microsoft, is 57% of total revenue now, but the cloud is growing rapidly, YouTube is still doing its thing, and the company as a whole has 4.3 billion users. It has done great work in the past and will continue doing great work in the future. I'd expect that fact to be reflected in Google's price sooner or later.
---
Disclosure: I/we have a beneficial long position in the shares of GOOG, META either through stock ownership, options, or other derivatives. I wrote this article myself, and it expresses my own opinions. I am not receiving compensation for it (other than from Seeking Alpha). I have no business relationship with any company whose stock is mentioned in this article.
---