Google: 2022 Is The Past, AI Is The Future
Summary:
Google reported disappointing results for 2022.
The company is making the right moves to increase efficiency.
Looking forward, the AI narrative should help Google's share price.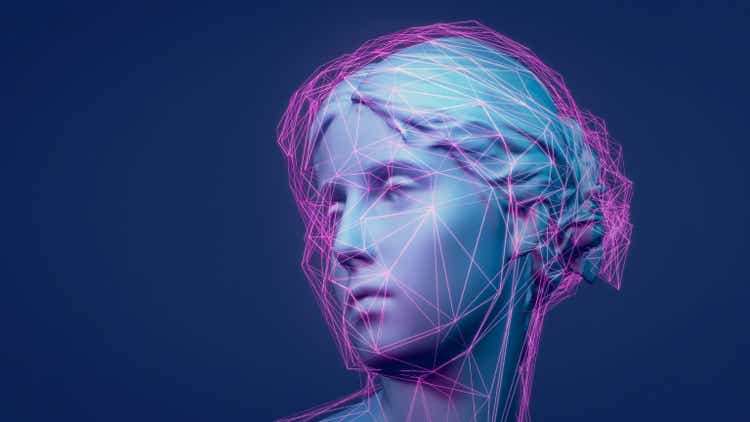 Thesis Summary
Alphabet Inc. (NASDAQ:GOOG, NASDAQ:GOOGL) reported its full-year results last week, receiving an underwhelming response. The company missed on both earnings and revenues, but investors should look to the future.
The AI wars are in full swing, and Google is leaps and bounds ahead of the competition. Despite increased competition, Alphabet will surely benefit the most from the coming AI revolution, and the current price is a steal for long-term investors.
Recent Earnings
Reporting just a few days after its peer Meta Platforms (META), a lot of investors were hoping for a similar post-earnings pop for GOOGL. However, the company failed to deliver the same optimistic message of increased "efficiency" that Zuckerberg laid down.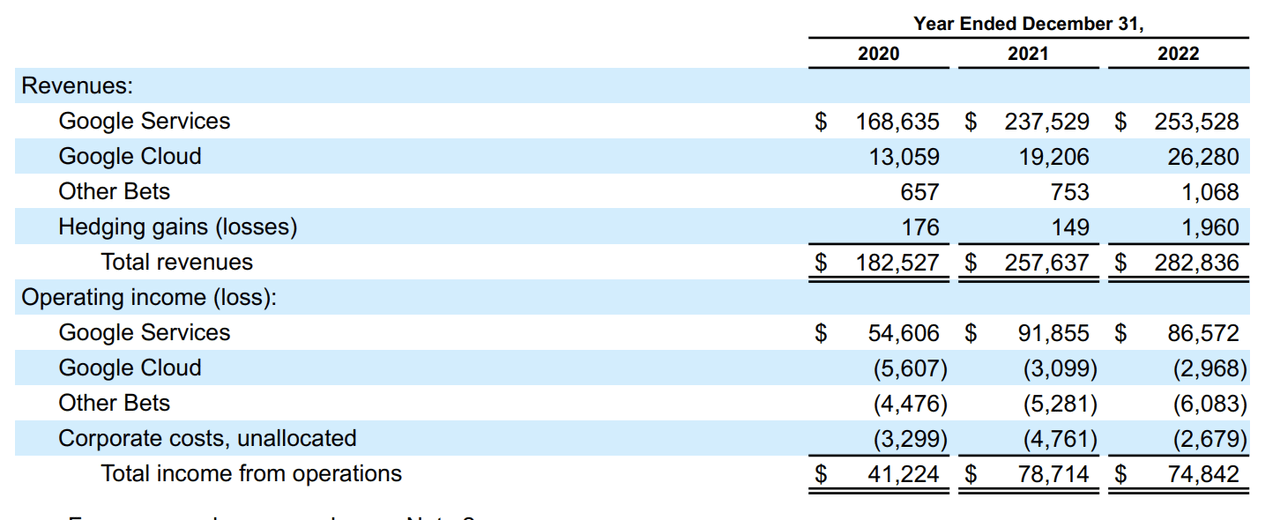 In the chart above, we can see that despite overall revenue growth, operating income came in lower than last year.
On the revenue front, it's worth noting that YouTube ads increased to $7.96B from $7.07B in Q3. Meanwhile, Google Ads and Google Services actually came in weaker than last quarter.
However, the big concern here is the increase in costs: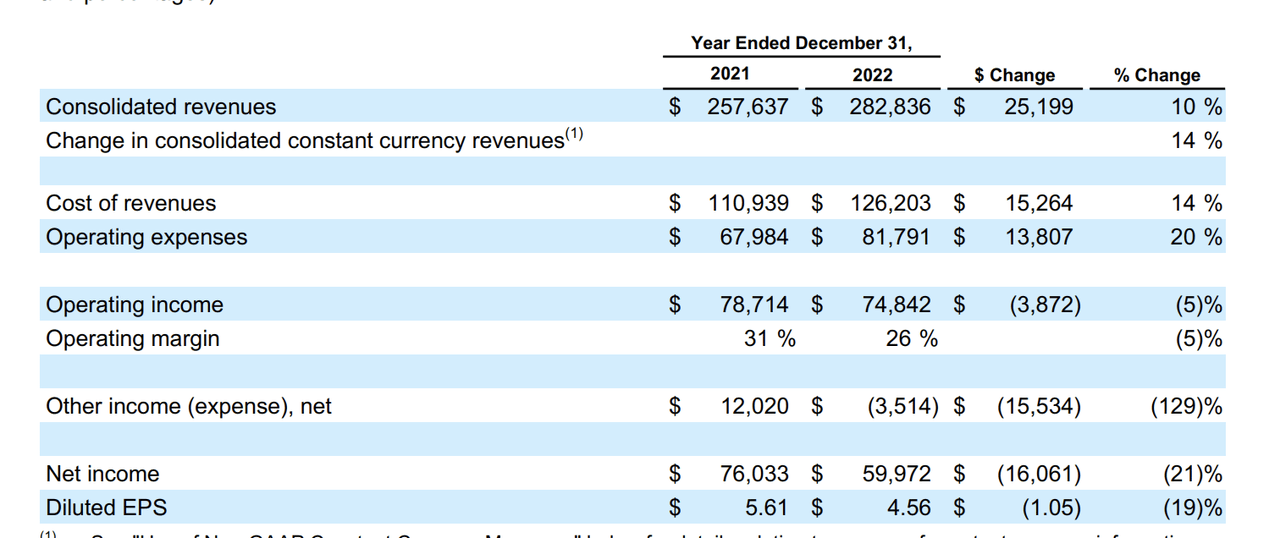 We can see in the table above that cost of revenues and operating expenses were up 14% and 20% for the year.
Higher operating expenses can be attributed, according to the report, to an increase in headcount, third party fees and advertising. Meanwhile, cost of revenues increased due to a higher Traffic Acquisition Cost and a notable increase in "other costs of revenue."
According to Google, the increase in other cost of revenues from 2021 to 2022 can be attributed to increases in data center costs and increased hardware costs.
So, growth slowed, and costs didn't, which is perhaps partly why Google is trading down over 4% in the last 5 days.
Earnings Call Insights
Now, let's see what Google had to say about this on the earnings call:
In terms of costs, Google has already announced it would be laying off 12,000 employees, but this will be negative in Q1.
With respect to our recent announcement that we are reducing our workforce by approximately 12,000 roles, most of the impact will be seen in Q1. We will take a severance charge of $1.9 billion to $2.3 billion, which will be reported in corporate costs.
Source: Earnings Call.
This will also apply to costs associated with existing lease agreements as the company seeks to downsize.
Regarding future growth, Pichai had a lot to say about AI and even delved into concrete applications being used today.
Take smart bidding, which uses AI to predict future ad conversions and their value, helping businesses stay agile and responsive to rapid shifts in demand. In 2022, AI advances boosted bidding performance, allowing us to move advertiser outcomes down the funnel to drive better ROI and use budgets more efficiently…In Google Cloud today with Vertex AI, we'd already been bringing AI APIs to enterprises, and they're on a pretty healthy growth path."
Source: Earnings Call.
The CEO made a point of reminding everyone that Google is, and has been for some time, an "AI first company."
Lastly, on YouTube, the focus, like with META, has shifted towards short-form video:
And Sundar shared just yesterday, we brought revenue sharing to Shorts via our YouTube Partner Program. Ultimately, our goal is to make YouTube the best place for Shorts and creators. And that's really what our focus is at the moment.
Source: Earnings Call.
YouTube continues to hold a lot of potential for Google, and it is precisely, in my opinion, thanks to AI. One of the keys to YouTube's success is the fact that it so highly rewards content producers, and it can only do this thanks to Google Ads superior monetization. If YouTube can continue to pay better, then in the long-run, it will have superior content, and attract the most users.
What's Next for Google?
Microsoft Corporation (MSFT) recently struck a deal with ChatGPT, through which it will be able to leverage its AI capabilities and integrate them into its own search engine, Bing, and other Microsoft services.
While some believe this could leave Google behind, I doubt this very much. As pointed out in the earnings call, Google is and has been an AI company for years.
In 2021, Google already introduced MUM to its search engine. Last week, the company also announced that Bard will soon be available. This is a conversational AI, much like ChatGPT.
Just as I write this, Google is unveiling new AI applications in an event in Paris. One of these will be the "multisearch." It can be used in conjunction with Google lens, allowing users to use words and/or images to search.
If AI is the future, then Google is the place to be. Not only does the company already have one of the most powerful AIs, but, most importantly, it has access to the vast amounts of data which are necessary to train an AI.
Risks
Competition is clearly heating up in the space, and this is a challenge for Google. Furthermore, the recent uptick in interest in AI comes at a time where Google is trying to keep costs down and make its operations more efficient. Google must keep investors happy quarter-to-quarter but also make sure it makes the right moves to stay ahead in this sector, and this is a fine line to walk.
Takeaway
In conclusion, though Google's results were disappointing, the future has never looked brighter. Google has everything in its favor to become the AI-dominant company, and it is instead priced like it is losing ground. Sure, ChatGPT has some neat features, and it has created a lot of buzz, but I don't believe it is far ahead of what Google can do, if at all. This will become clearer once Bard is released, but in the meantime, I will use the uncertainty to scoop up some more Google shares at a discount.
---
Disclosure: I/we have a beneficial long position in the shares of GOOGL either through stock ownership, options, or other derivatives. I wrote this article myself, and it expresses my own opinions. I am not receiving compensation for it (other than from Seeking Alpha). I have no business relationship with any company whose stock is mentioned in this article.
---
This is just one of many exciting tech stocks you can buy right now!
Join Technically Crypto to stay ahead of the latest news and trends in the tech space. Learn the ins and outs of innovative technology and how you can profit from them.
– Deep dive reports on select tech stocks.
– Regular news updates
Technology is changing the future, don't just watch it, be a part of it!