Airbnb Q4 Earnings: Outstanding Yet Again
Summary:
Airbnb is the category-defining leader in the travel industry.
It suffered throughout the pandemic, but came roaring back in 2021 and beyond.
The company just reported Q4 results, beating analysts estimates on revenue and EPS and offering higher-than-expected guidance.
Airbnb has shown once again that its powerful business model can deliver for shareholders, bringing in free cash flow of $3.4 billion in 2022.
This has to be one of the easiest companies for long-term shareholders to own: just sit back, relax, and let Airbnb continue to deliver.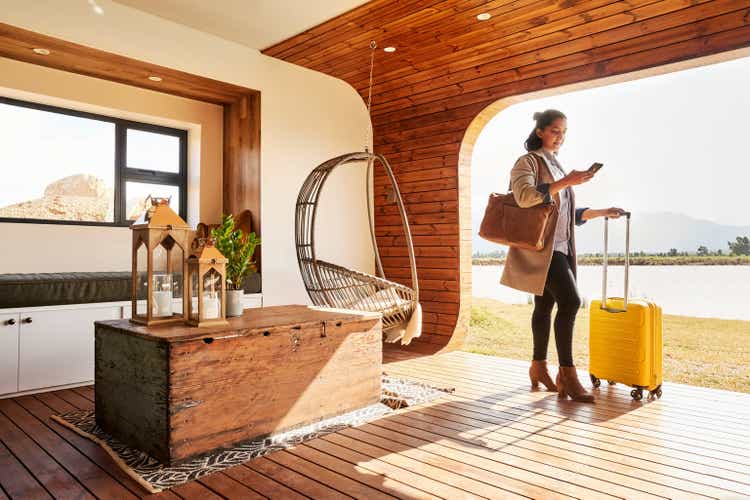 Investment Thesis
Airbnb (NASDAQ:ABNB) is the category-defining leader in the travel industry, with an incredibly strong brand known all around the world. The travel industry has been a difficult place to be for the past few years as the world ground to a halt, but the easing of lockdown restrictions saw demand for Airbnb come roaring back.
My personal investment thesis for Airbnb is quite simple, and I laid it out in more detail in a previous article. The company has a host of powerful economic moats, including one of the strongest network effects of any business, an absolutely stellar brand, and a high level of pricing power. I think Airbnb has the potential to truly transform the way we live, and its summer release demonstrated some of the different approaches it's taking to holiday rentals. It has a stellar balance sheet, Co-Founders in leadership with an incredible amount of skin-in-the-game, a huge opportunity to continue growing, and a business model that oozes free cash flow. All in all, there's plenty to like about Airbnb.
Last week, I wrote an article with the headline 'Airbnb: Expect More Brilliance From Q4 Earnings' – and it's always nice when a plan comes together, because brilliance is exactly what we saw when Airbnb reported on Tuesday.
Let's take a look through the highlights from Airbnb's results to see exactly why the market is rewarding shareholders with a 10% bump in Airbnb's stock.
Airbnb's Q4 Earnings Overview
Starting from the top, Airbnb's Q4 revenue grew 24.1% YoY to $1,902m, coming in comfortably ahead of analysts' estimates of $1,860m. This is particularly impressive in a tough macroeconomic environment, when investors may be expecting consumers to cut back their spending on holidays – this certainly doesn't appear to be the case with Airbnb.
Looking ahead to Q1'23, management guided for revenue of $1,750-$1,820m implying YoY growth of 18.3% at the midpoint. With analysts expecting revenue of $1,690m, Airbnb once again exceeded expectations and showed strength in a difficult environment. As Co-founder and CEO Brian Chesky said on the Q4 earnings call:
Looking forward, we're already seeing some really strong demand in Q1. Consumer confidence to travel remains really high.
Moving down the income statement, and Airbnb once again proved itself to be an extremely profitable business. The company posted EPS of $0.48 in Q4, coming in comfortably ahead of analysts' estimates of $0.27, and finished 2022 with a net income margin of 22.5%.
Whilst management doesn't give specific EPS or margin guidance, the following information was offered up in Airbnb's Q4 Shareholder Letter:
For the full year 2023, we expect to maintain the strong Adjusted EBITDA margin we delivered in 2022, as we offset the headwinds from lower ADR with incremental variable cost efficiencies and fixed cost discipline.
Some investors may have wondered if Airbnb's outstanding level of profitability shown in 2022 was sustainable; it would appear as if it is, which means it should continue to be the cash printing machine that we've seen in recent years.
All in all, the headline numbers were fantastic, and shareholders are being rewarded by the market. But there were plenty more items for investors to feel happy about beside these strong headline figures.
Yet Another Outstanding Report
Due to the nature of Airbnb's business, we can see a lot of forward-looking trends thanks to bookings made in Q4'22 that won't turn into revenue until 2023. Airbnb's gross booking value (or GBV) in Q4 grew 19% YoY to reach $13.5B.
Whilst this doesn't paint the entire picture, it can give investors a level of confidence in Airbnb's future revenue growth rate being in the high-teens for 2023; again, this is just one data point, but if Airbnb does achieve growth of 18-20% in 2023, then it will be incredibly impressive – for reference, analysts are expecting 11% YoY revenue growth in 2023.
One item that provided a big boost to Airbnb over the past year or two was the rise in average daily rates (or ADRs), however these ADRs are starting to stabilise. ADRs fell 1% YoY in Q4, although they were up 5% on an FX-neutral basis, showing that Airbnb's hosts are still able to push through price increases even in this tough macroeconomic environment.
The company is expecting ADRs to fall in 2023, but CFO David Stephenson says that they are prepared for it:
And what we forecasted for going forward is modest decline year-over-year in ADRs largely driven by changes in mix, right? People going back to cities, cities are accelerating more cross-border travel mix towards lower ADR regions.

… So then the other thing we're doing is, even as ADRs might come down modestly through the year through — largely through mix, and maybe some through pricing. It's just making sure that we're being really rigorous in our cost structure to kind of support declining ADRs, which is why we anticipate our EBITDA margins for the full year to be roughly the same as 2022 in that the headwinds from lower ADR rates will be offset by our efficiencies that we kind of drive internally.
For me, the beauty of Airbnb is in its fairly decentralised structure. I'd alluded to the book 'Antifragile' by Nassim Nicholas Taleb in a previous article about Airbnb, but that book comes in useful once again here. It argues for decentralisation being a better approach to deal with shocks, and I think decentralisation works for Airbnb for a similar reason.
It's up to hosts to see how much they can charge, and with so many hosts, the marketplace on Airbnb works fairly efficiently to balance the appropriate pricing for the supply and demand in each location – meaning Airbnb's prices are (in my view) more likely to reflect the changes of demand in the economy before its more centralised competitors.
But Airbnb's management is trying to keep the balance of supply and demand in check; demand has always outstripped supply, hence the higher ADRs and Airbnb's push to get more hosts onto the platform – speaking of which, they ended 2022 with 6.6 million active listings, their highest ever!
CFO David Stephenson also gave some more colour on this on the earnings call, highlighting that they are acutely aware of getting the balance between supply and demand just right:
If we get too much supply too quickly, then hosts aren't happy because they're not getting enough bookings. We don't get enough supply early enough, then guests are not happy because they don't get the kind of selection they want. And actually, what we highlighted in the letter is that we have grown our supply by 26% since 2019, and yet our nights and experiences booked have grown by 24%. So we've actually had a nice balance in that.
I think Airbnb is continuing to deliver on all fronts, and this is a company with a huge opportunity ahead – so, as a shareholder, all I really have to do is sit back and watch this business continue its high-quality performance.
ABNB Stock Valuation
As with all high growth, disruptive companies, valuation is tough. I believe that my approach will give me an idea about whether Airbnb is insanely overvalued or undervalued, but valuation is the final thing I look at – the quality of the business itself is far more important in the long run.
I've rolled forward the valuation model in my previous article, which can be used for reference to understand more details as to why I've chosen my respective inputs.
In short, I've been guided predominantly by analysts' estimates in my base case, and have used the bull and bear case to apply my own view on where I believe Airbnb will be by 2027 – perhaps unsurprisingly, I believe that reality will be closer to the bull case scenario than anywhere else.
Putting all that together, I can see shares of Airbnb achieving a CAGR through to 2027 of 4%, 13%, and 34% in my respective bear, base, and bull case scenarios.
Bottom Line
Sometimes investing is complicated, but some companies can make it oh so simple. Like a few other high echelon businesses in my portfolio such as The Trade Desk (TTD), Axon (AXON), and MercadoLibre (MELI), Airbnb is a quality company that continues to deliver outstanding results time and time again.
I believe this cash printing machine will continue to reward investors for years to come. Solely based on the share price movement since my previous article, I will be downgrading my rating from 'Strong Buy' to 'Buy', but this is a business that I believe any long-term investor should have in their portfolio.
---
Disclosure: I/we have a beneficial long position in the shares of ABNB, TTD, AXON, MELI either through stock ownership, options, or other derivatives. I wrote this article myself, and it expresses my own opinions. I am not receiving compensation for it (other than from Seeking Alpha). I have no business relationship with any company whose stock is mentioned in this article.
---