Alphabet Is Crushing Competition In A Key Recurring Revenue Business
Summary:
The competition within streaming music industry is heating up as Big Tech players try to corner greater market share.
Alphabet's YouTube Music and YouTube Premium subscription have a significant advantage due to lower priced combo offer of ad-free viewing on YouTube.
YouTube has already announced reaching 80 million subscription level in the quarter ending September 2022 and we could soon hear an announcement once it reaches 100 million level.
YouTube Music can become an anchor service for Google's subscription services which provides a significant flywheel effect for other services.
Wall Street could give a better standalone valuation to the music streaming service of Alphabet due to better revenue predictability, long growth runway and halo effect of this service.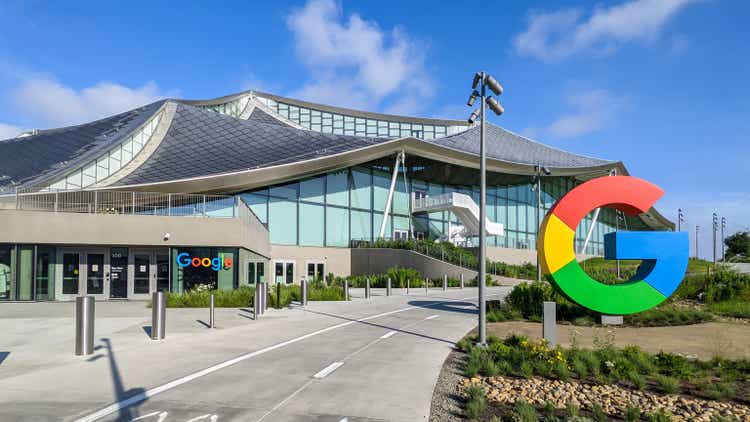 Alphabet (NASDAQ:GOOG) has invested significant resources in building its music streaming business. The music streaming industry itself is reaching a maturity phase where a large section of customer base has already subscribed to this service. According to MIDiA Research, the total paid subscription numbers have reached over 600 million including all the players. Alphabet's YouTube Music service is placed at fourth place behind Spotify (SPOT), Apple Music (AAPL) and Amazon Music (AMZN) in this report. However, YouTube could soon reach second position as the value proposition for a combined YouTube Premium subscription is very attractive to many customers who regularly use YouTube streaming.
The company has announced crossing 80 million subscription level including free trials for the quarter ending September 2022. Within the next few months, this number should cross 100 million level which would be very positive for the company as it was a latecomer in this race. Over the long run, we could see music streaming industry getting cornered by Big Tech players and Alphabet has a good chance of being the market leader in this business.
A large subscriber base provides Alphabet with regular recurring revenue, a platform to launch future services, and a longer growth runway. Alphabet stock is trading at a lower valuation multiple compared to other Big Tech peers. A strong subscription business should help the company gain better bullish sentiment and a jump in valuation multiple.
Competition heats up
The music streaming industry has gained over 600 million subscribers and is still growing at a healthy pace. At the current trajectory, we could see the paid subscriber level reach over a billion customers by end of 2025. This makes music streaming industry very attractive for Big Tech companies as it helps them move the needle in terms of revenue and valuation.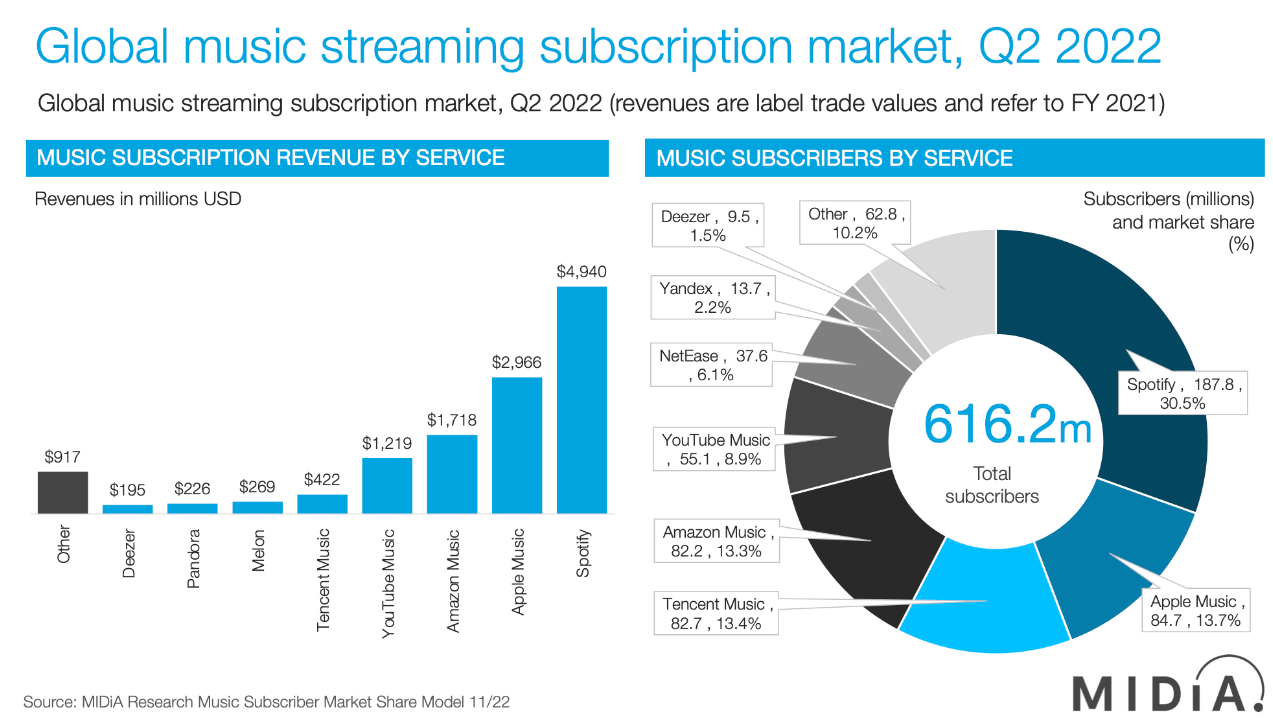 Figure 1: YouTube Music is in the fourth position for music streaming industry, excluding China. Source: MIDiA Research
Apple and Amazon do not provide regular updates on subscriber numbers in the music streaming service. This forces us to rely on third-party research. YouTube has already announced reaching 80 million mark by end of September 2022 which was a substantial growth from the 50 million subscribers reported at the end of September 2021.
The growth of YouTube Music has been the fastest among all the players. Apple is unusually reticent regarding its numbers. Whenever Apple reaches a milestone, we have heard from the management. This could indicate that Apple is facing headwinds in this service. Apple does not have a strong anchor service to retain customers in the subscription ecosystem and there isn't any unique advantage that gives the company pricing leverage.
Making YouTube Music an anchor service
Alphabet is putting more resources into its music streaming business and intends to make it an anchor service around which other subscriptions can be added. There is a significant advantage available with Alphabet due to the massive user base of YouTube. By providing a combo offer of YouTube Premium, it can deliver music streaming service as well as a better experience on YouTube. The company is already providing ad-free viewing, download at higher resolution, background play and other options for YouTube Premium. It is likely that we will see further benefits for YouTube subscribers in the future which should make this service more attractive.
The value of an anchor service cannot be overstated. Amazon has an anchor service due to Prime subscription and its ecommerce business. This allows the company to offer new services at a highly discounted rate. It has also shown good growth in music streaming business due to further discounts for Prime customers using Amazon Music on Echo devices.
Apple does not have a strong anchor service. It is plowing billions of dollars into TV+ in the hope of making it more attractive. However, this will take a lot of resources and time. On the other hand, YouTube already provides Alphabet with an ideal service on which it can lean to promote YouTube Premium.
YouTube Music as a market leader
The data provided by MIDiA Research was for Q2 2022. Due to the faster growth in YouTube Music compared with Amazon and Apple Music, it could already be in the second position. YouTube's latest announcement shows an annual growth of 60% which is a lot higher than Spotify. Even at 40%-50% annual growth, YouTube Music should have reached close to Spotify's subscriber base by 2025. This would be a massive achievement for the company due to the competitive nature of this industry and the late entry of Google.
If the current trend continues, YouTube Music and Premium subscription could reach 200-250 million subscribers by end of 2025. As mentioned above, the combo offer of YouTube Premium offers a better value proposition for customers with higher usage of YouTube compared to a subscription to Spotify or Apple Music. Gaining market leadership status in music streaming can provide Alphabet stock with a strong bullish sentiment and also give the company an option to leverage the subscriber base to deliver new services.
Impact on Alphabet stock
Alphabet is already reporting close to $300 billion in annual revenue. Hence, in order to keep the growth engine running, it needs services that can move the needle. Music streaming and subscription is a service that can deliver a major revenue source for the company. If Google reaches 200 million subscribers on Music and Premium platform by 2025, it would contribute close to $25 billion in subscription revenue.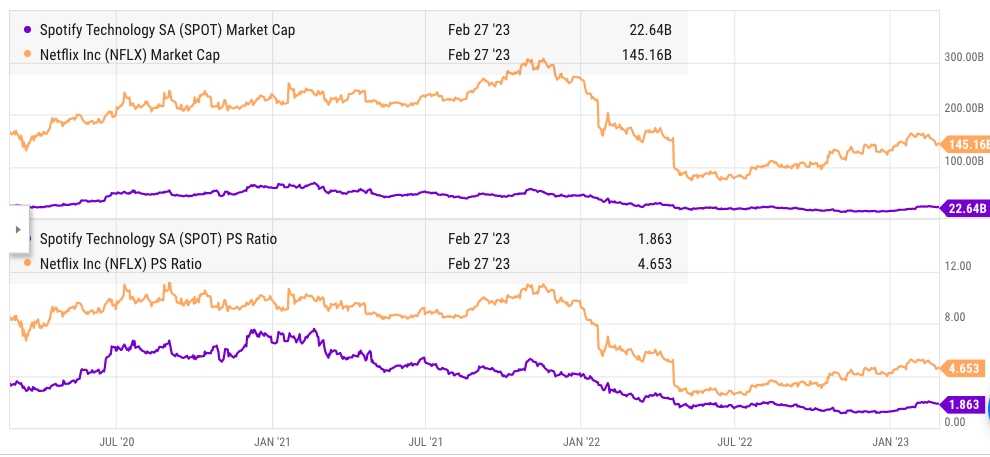 Figure 2: Comparison of market cap and PS ratio of Netflix and Spotify. Source: Ycharts
Prior to the stock correction, Netflix (NFLX) was trading at PS ratio of 10 while Spotify was trading at PS ratio of 5. It is highly likely that Wall Street would be valuing Alphabet's subscription at a much higher ratio due to flywheel effect, faster growth rate, and expansion of market share. Even at a modest PS ratio of 10, the music and premium subscription alone could be valued at $250 billion by 2025 which is close to a quarter of the current value of Alphabet stock. With new subscription services, Alphabet could deliver 30%-50% growth in this segment for the next few years making it one of the key growth drivers for the company.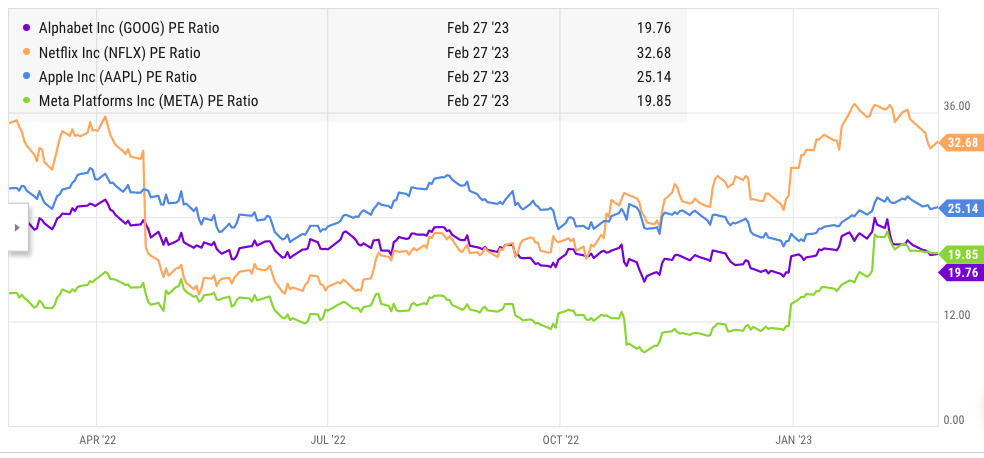 Figure 3: Comparison of PE ratio of Alphabet, Meta, Apple, and Netflix. Source: Ycharts
Alphabet stock is trading at the lowest PE multiple among Big Tech companies. There has been a slowdown in growth in advertising and some other segments but the overall fundamental of the company remains strong. The subscription business will provide Alphabet with a recurring revenue base and a strong customer base that can be provided with future services. The growth runway of this business is strong and it could provide long-term investors with better returns.
Investor Takeaway
YouTube Music could already be in the second position within the music streaming industry due to rapid growth shown by the company. The management has announced an increase in subscribers from 50 million at end of September 2021 to 80 million at end of September 2022. The value proposition of YouTube Premium is very strong and it would be difficult for Spotify or Apple to match similar benefits with their standalone music streaming business. At current growth trends, YouTube Music could also overtake Spotify by 2025 to gain market leadership.
The subscription revenue of YouTube music and premium could reach $25 billion by 2025 and at a PS ratio of 10, this would have a standalone valuation of $250 billion. It is likely that Wall Street will give a higher valuation to Alphabet's subscription revenue because of the massive halo effect which will help the company launch future services. This is a key growth driver for the company in the next few years and makes the stock a strong buy.
---
Disclosure: I/we have no stock, option or similar derivative position in any of the companies mentioned, and no plans to initiate any such positions within the next 72 hours. I wrote this article myself, and it expresses my own opinions. I am not receiving compensation for it (other than from Seeking Alpha). I have no business relationship with any company whose stock is mentioned in this article.
---