Amazon And iRobot Dominating The World Seems Farfetched
Summary:
Amazon is acquiring iRobot Corporation at $61 per share.
The deal is subject to a second request by the FTC.
Senator Warren has voiced her objections as well.
Amazon buying robots sounds scary.
At the end of the day, this is a $1 trillion juggernaut buying a tiny company that produces vacuum cleaners for the consumer market.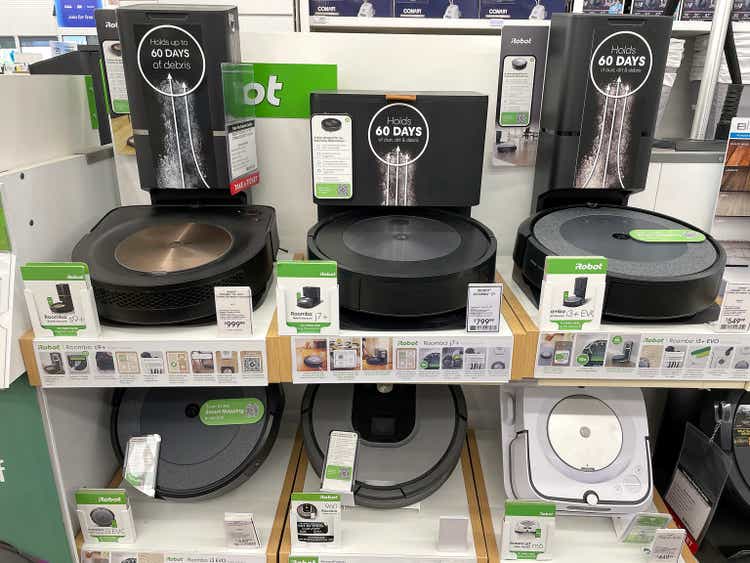 Amazon is trying to acquire iRobot Corporation (NASDAQ:IRBT) at $61 per share. Meanwhile, iRobot is trading at $46.02, as the market doesn't seem to believe regulators will allow the deal. The FTC has made a 2nd request, and Senator Warren is urging the FTC to stop the deal. Senator Warren's position appears very weak to me. You can read her letter to the FTC here.
The best arguments she has (in my opinion) are that Amazon had a competing product but shut it down. Subsequently, Amazon is:
"[B]asically taking out their largest competition in a market they want to dominate."
If we assume it's true that iRobot dominates the market as she says, which is debatable as well, it is iRobot that dominates that market. The dominance isn't really increasing/decreasing through this merger.
Buying out your competition can be great/terrible, depending on the price you pay. Given iRobot shareholders seem enthusiastic to sell out, the price may not be that great, and its dominance may not be the final chapter in that market.
She also makes the point it gives Amazon increased surveillance power within the homes of consumers. Big tech having eyes and ears within our homes is a creepy image for sure. However, these eyes and ears were already there. The government is apparently allowing companies to access this kind of data. I can see how it is debatable but not really how it should play a role in deciding whether the merger is anticompetitive.
These anticompetition concerns and objections by politicians always get very top of mind in the moment. However, not that many mergers are ultimately blocked by agencies. Just some examples where I made some good returns are in Alphabet (GOOG, GOOGL) acquiring Mandiant and with Alphabet acquiring Fitbit (FIT). Especially the latter transaction happened in a time that could be considered a bit different in terms of the regulatory regime, but they are just two examples of big tech acquiring other small tech companies.
Not to mention Amazon was also allowed to acquire Whole Foods. Ok, that was 2017 and a different M&A world, but still… An acquisition that seems much more anti-competitive to me did ultimately go through.
The current M&A regime seems to have gotten a lot stricter, and it could be extensively challenged and even blocked.
However, there is 32% upside to the deal price of $61 per share.
The outside date for this deal is August 4, 2023. The merger can be extended a few more times which seems to indicate the companies are determined to get it across the finish line even if it takes a long time. This suggests to me it won't be easy to convince to just let it go because of delaying tactics by regulators.
If we look at iRobot's performance since the merger announcement, it is awful: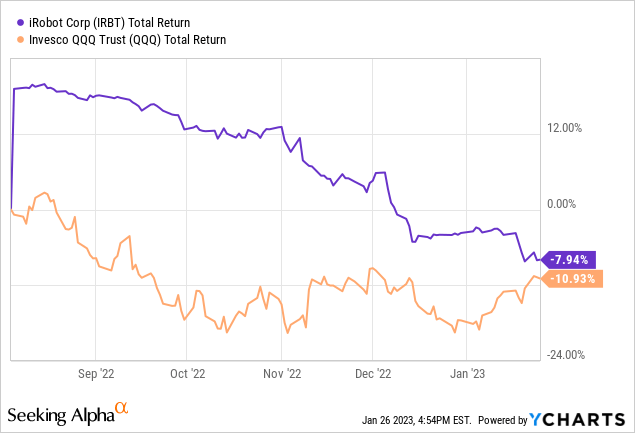 Since before the deal announcement, shares have been falling almost as much as the Nasdaq (QQQ) while there's a bid with 35% upside hanging above the company. The options market seems to imply that the deal is unlikely to fail in February but it could fail beyond March. It also seems to indicate it isn't likely to be closed by June but it could be closed by September. The opinions market isn't very liquid so take things with a grain of salt.
iRobot earnings estimates have come down fairly sharply in the past few months.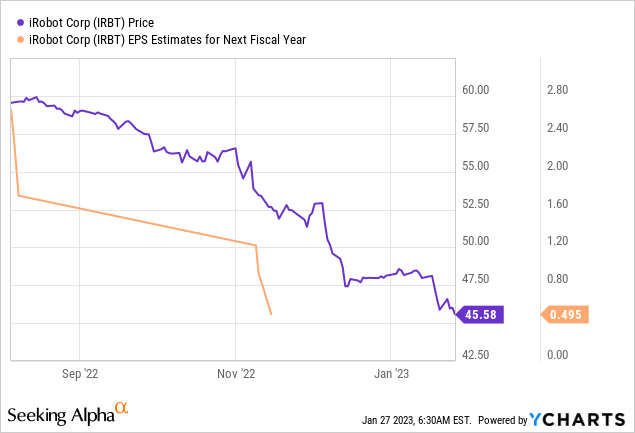 But you could argue these are following the share price. That's also a pattern visible in the past where earnings estimates appear to lag behind share price action: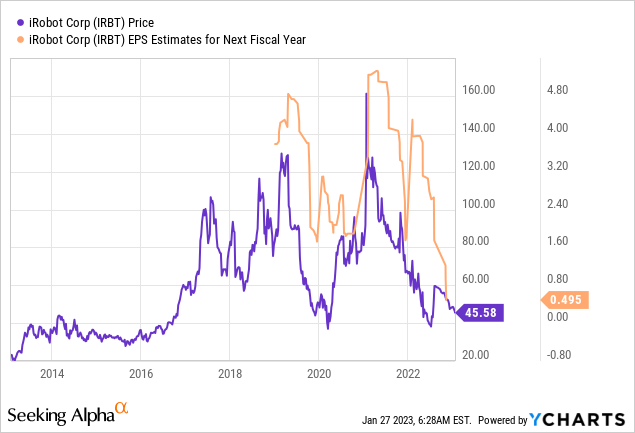 However, EPS estimates being substantially lower is generally not a positive sign. The company will likely drop further if the merger doesn't go through. Based on the share price before the merger, you'd expect shares to fall barely. But I think it is fair to expect at least a 20%-30% downside. It has been a very volatile stock historically.
On balance, the 32% upside seems rather compelling. The merger could be blocked, but historically ~90%+ of mergers aren't. This one is, no doubt, much more likely to be blocked compared to the average. Is it 2x as likely to be blocked, 3x as likely or 10x as likely? I'm not sure.
At the end of the day, iRobot Corporation is a $1.25 billion market cap company that's marginally profitable and produces fancy vacuum cleaners. iRobot Corporation is being acquired by an online retailing and cloud computing giant with a trillion-dollar market cap. If it takes over a year from now to get this over the finish line, the return is still good. It could be all over in a few months if the companies satisfy the FTC this isn't about world-domination. In that case, the annualized return would be amazing.
---
Disclosure: I/we have a beneficial long position in the shares of IRBT either through stock ownership, options, or other derivatives. I wrote this article myself, and it expresses my own opinions. I am not receiving compensation for it (other than from Seeking Alpha). I have no business relationship with any company whose stock is mentioned in this article.
---