Amazon: My No. 1 Holding Now
Summary:
Despite its stock price being decimated, Amazon remains one of the most significant companies globally.
Amazon's stock likely bottomed in the $80-90 range, and the future downside is limited.
On the other hand, the upside is substantial, as the company has excellent growth prospects and immense profitability potential.
I added to my Amazon position around the recent lows, making it my single largest stock holding.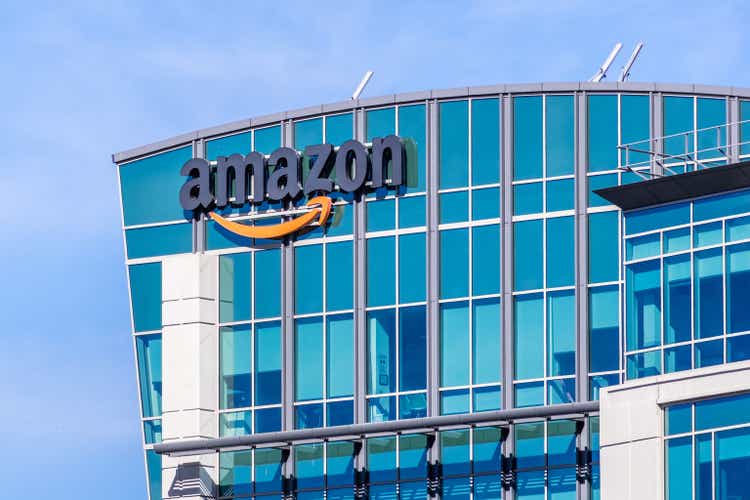 Amazon (NASDAQ:AMZN) stock has surged since I pounded the table on buying the company's shares around the $80-90 level during the height of the panic-like selling in late 2022 and early 2023. I increased my Amazon position several times around the recent lows. Amazon is now my single largest stock holding at nearly 4% of total portfolio assets.
While Amazon's stock has appreciated by roughly 25% since bottoming, it's still 45% below its all-time high. Moreover, its technical image is improving, and there are highly constructive fundamental factors to consider as we advance. Amazon is a dominant market-leading company with significant growth prospects and substantial profitability potential. Furthermore, the company's shares got sold down to unreasonably low levels, and Amazon's stock probably reached a long-term low around the critical $80 support point.
Additionally, the company will report earnings soon, and I expect Amazon to beat the badly-battered consensus estimate figures. Therefore, despite the transitory slowdown effect, the future downside in Amazon's stock is likely limited. On the other hand, the upside potential is significant in the coming years, and Amazon's stock should move much higher as we advance.
Amazon – Stock Can Still Go Higher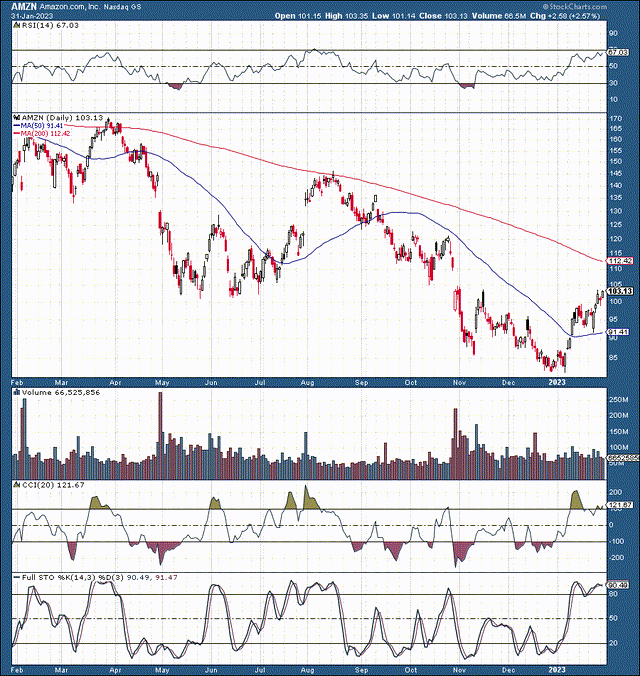 We see a very constructive reverse head and shoulders panning out here. The bottom materialized around $80, and the neckline support is in the $85-90 zone. Moreover, we recently saw a healthy rebound off the 50-day MA around $90. Now Amazon is breaking out above $100, and given the robust momentum, the stock may continue to move higher here. The open gap should get filled at around $110-125, which is the next area we may see a near-term high or a consolidation platform. Generally, the technical image is much more bullish than in the fall of 2022, and we also should consider that Amazon's stock has been in a downturn since mid 2021, amounting to a bear market that took 18 months and mauled the stock by 57% from peak to trough. Amazon hit a long-term bottom during the recent drop. And I'm putting my money where my mouth is regarding Amazon's stock as it accounts for nearly 4% of the All-Weather Portfolio's holdings (most significant single stock position).
Amazon – A Sales Growth Generating Machine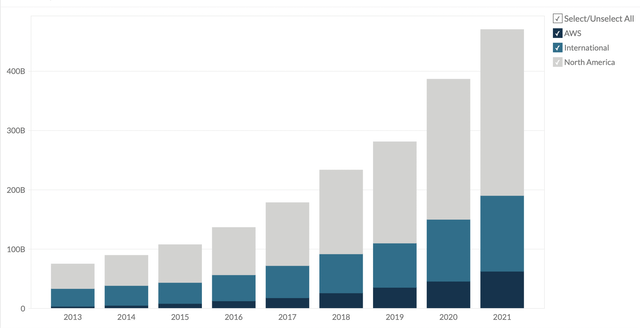 Look at the sales growth – It's been tremendous, and Amazon's long-term business prospects should be maintained even if the economy is going through a transitory slowdown. Moreover, Amazon's sales growth could increase more than anticipated in future years, despite the short-term economic challenges in the coming months.
From 2017 to 2021, Amazon's revenues skyrocketed by 165%, illustrating remarkable sales growth capabilities at Amazon. Amazon's AWS segment increased revenues by about 38% YoY in 2021. The company's AWS business remains Amazon's brightest growth and profit-generating segment. Nevertheless, Amazon can become substantially leaner and more profitable as we advance.
Tremendous Long-Term Profitability Potential
Amazon can implement many measures to cut costs and make the company more profitable in the coming years. First, the difficult decision to lay off approximately 18,000 workers was probably the right call. The move should make the company more profitable and substantially more efficient intermediate and the long term.
Amazon AWS – The King Of Cloud Services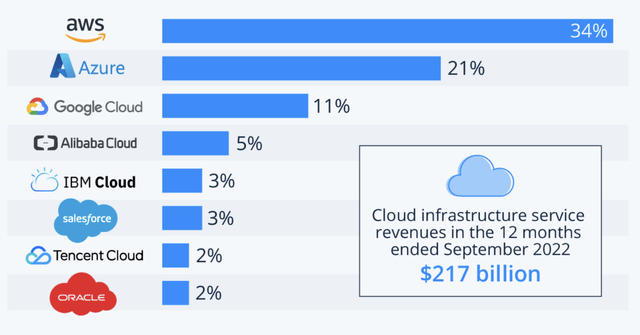 We need to consider that Amazon owns the most significant cloud business in the world that should deliver a staggering $100 billion in revenues this year. AWS sales grew by 27% YoY last quarter, and operating income was 26%. Despite the transitory slowdown, we see strong growth in Amazon's cloud business. Given AWS's growth rate, profitability potential, and other metrics, this business alone may be worth $500-700 billion (5-7x sales).
Income Can Be Higher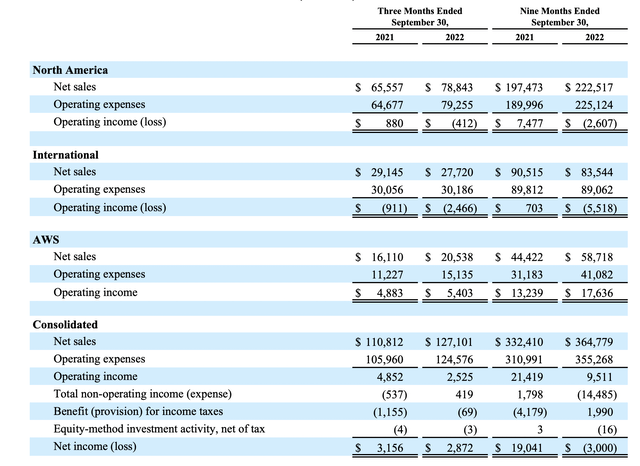 We're seeing operating income coming primarily from the AWS segment now. However, in a more stable macroeconomic environment, we should see efficiency and profitability improvements in Amazon's North American and international segments. Another factor to consider is that Amazon took an $11.5 billion writedown in H1 2022 due to its paper loss on its Rivian (RIVN) investment. Therefore, increased efficiency, cost cutting, returns on investments, and other factors should enable Amazon's profitability to swell up in the coming years.
Amazon's Stock Price Should Go Much Higher
Remarkable Revenue Potential

Revenue estimates increase from around $560 billion this year to more than $1 trillion by 2030. Amazon's dominance in the online retail space allows the company to continuously grow sales, enabling it to develop profitable secondary businesses like AWS and others. Furthermore, Amazon's scale and influence provide the giant with numerous advantages that should continue benefiting Amazon long term.
Earnings Potential – Highly Underrated

We know about the ongoing earnings decline, likely marking a low point in Amazon's EPS and stock price. Moreover, due to the highly negative sentiment surrounding Amazon, its earnings estimates may have been brought down too low by panicking analysts. While consensus EPS estimates are $1.60, Amazon can deliver around $2.40 this year. Moreover, we can continue seeing substantial income growth of 30-50% for several years after a probable significant EPS surge next year.
Here's what Amazon's finances could look like in future years:
| | | | | | | | | |
| --- | --- | --- | --- | --- | --- | --- | --- | --- |
| Year | 2023 | 2024 | 2025 | 2026 | 2027 | 2028 | 2029 | 2030 |
| Revenue Bs | $580 | $690 | $770 | $862 | $965 | $1.07T | $1.18T | $1.3T |
| Revenue growth | 14% | 19% | 12% | 13% | 12% | 11% | 10% | 10% |
| EPS | $2.40 | $3.75 | $5.50 | $7.50 | $10 | $13 | $16.25 | $20 |
| EPS growth | N/A | 56% | 47% | 37% | 33% | 30% | 25% | 20% |
| Forward P/E | 27 | 28 | 29 | 28 | 27 | 25 | 23 | 20 |
| Stock price | $100 | $154 | $218 | $280 | $351 | $407 | $450 | $500 |
Source: The Financial Prophet
I'm using relatively modest growth and valuation metrics here. Nevertheless, Amazon has the potential to increase approximately five-fold over the next several years. Moreover, given the subtle nature of my estimates, we may see a more aggressive price appreciation in the projected time range.
Risks to Amazon
Investing in Amazon is not without risk. However, the most significant risk could be the worsening macroeconomic outlook (not Amazon-specific risk). On a more specific basis, there's the risk of increased competition, where other companies could take more market share from the e-commerce giant. There's the risk of growth being slower than expected. Furthermore, Amazon may not become as profitable as estimated, and it may take the company longer to achieve significant ($10 or higher) EPS. Please consider these and other risks carefully before investing in Amazon stock.
---
Disclosure: I/we have a beneficial long position in the shares of AMZN either through stock ownership, options, or other derivatives. I wrote this article myself, and it expresses my own opinions. I am not receiving compensation for it (other than from Seeking Alpha). I have no business relationship with any company whose stock is mentioned in this article.
Additional disclosure: I am long a diversified portfolio with hedges.
---
Are You Getting The Returns You Want?
Invest alongside the Financial Prophet's All-Weather Portfolio (2022 17% return), and achieve optimal results in any market.
Our Daily Prophet Report provides crucial information before the opening bell rings each morning.
Implement our Covered Call Dividend Plan and earn an extra 40-60% on some of your investments.
All-Weather Portfolio vs. The S&P 500

Don't Wait! Unlock Your Own Financial Prophet!
Take advantage of the 2-week free trial and receive this limited-time 20% discount with your subscription. Sign up now, and start beating the market for less than $1 a day!