Amazon: No Longer A Growth Stock
Summary:
Amazon.com, Inc. beat on the topline for its Q4 2022 but missed on earnings.
Growth is moderating overall and now also in Amazon Web Services.
Estimate and valuation risks have increased for Amazon.com, Inc.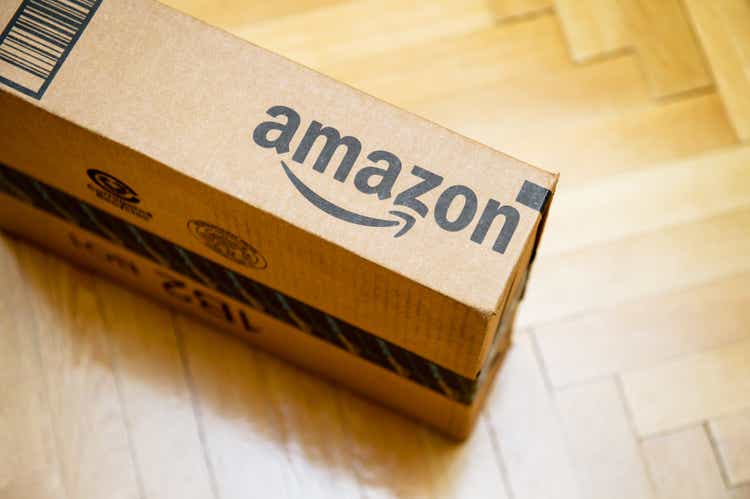 Amazon.com, Inc. (NASDAQ:AMZN) submitted its earnings sheet for the fourth quarter yesterday, and the e-Commerce company disappointed in a number of ways. Although Amazon managed to generate stronger revenue growth than expected in the fourth quarter, moderating Cloud growth and a weak forecast for the first quarter strongly suggest that Amazon's shares will run into difficulty revaluing higher. Amazon's stock price dropped 5% after-hours, and I see estimate and valuation risks for Amazon in FY 2023. With Cloud now also weakening, the risk profile for Amazon remains skewed to the downside!
Amazon's Q4'22 results
Amazon reported revenues of $149.2B, which compared against an average topline estimate of $145.8B. The e-Commerce company fell short of EPS expectations, chiefly because of underwhelming results in e-Commerce as well as in Amazon Web Services ("AWS").
Amazon is no longer a growth

stock
Just before Amazon submitted its earnings sheet for Q4'22, I warned that Amazon was likely to surprise to the downside (Amazon Q4: Nearing A Pivotal Moment) due to moderating topline growth in a weakening macro environment. Although Amazon did beat estimates regarding its Q4'22 revenues, growth concerns clearly overshadowed the company's earnings release.
Amazon reported net revenues of $149.2B for the fourth quarter, showing a year-over-year growth rate of 9%. The result beat Amazon's projection of 2-8% topline growth for the fourth quarter, but the company warned explicitly of slowing growth in its fastest-growing segment, Amazon Web Services.
Amazon Web Services grew its segment revenues to $21.4B, showing a year-over-year growth rate of 20%. I estimated that Amazon was going to see a slowdown in Amazon Web Services, as companies have started to spend money more carefully in a high-inflation world, but I didn't foresee such a sharp slowdown. Slowing AWS revenue growth is a problem for Amazon chiefly because Amazon Web Services is the fastest-growing segment within Amazon, and its operating profits are responsible for all of the company's consolidated operating income. The growth rate of 20% was also only half of what it was just in the year-ago quarter: in Q4'21, Amazon Web Services grew its revenues at a 40% year-over-year rate.
E-Commerce did reasonably well in the fourth quarter, with Amazon's North America segment seeing its revenues rise 13% year-over-year to $93.4B. The international e-Commerce business had revenues of $34.5B, showing a year-over-year decrease of 8%. Unfortunately, Amazon once again reported steep losses in both of its e-Commerce segments, totaling $2.5B, which confirms my past criticism about Amazon's lack of profitability.
Profitability challenges and declining operating income
Amazon is facing profitability challenges in its e-Commerce business, and the company's investment in electric vehicle start-up Rivian Automotive (RIVN) added to the company's problems in the fourth quarter. In Q4'22, Amazon reported just $2.7B in operating income, showing a decline of 21% year over year. Amazon also recorded a $2.3B valuation loss related to Rivian. The valuation loss, which is included in Amazon's non-operating income (expense), compares against a massive valuation gain of $11.8B in the year-earlier period.
Amazon's outlook for Q1'23
Amazon expects topline growth of 4-8% in the first quarter and total revenues of between $121.0B and $126.0B, which is not an improvement over Q4'22 results. The outlook suggests stable growth, at best, and a sequential slowdown, at worst. The fourth quarter usually is a robust quarter for e-Commerce companies because of the holiday shopping period, which is why Amazon did better than expected in its forecast.
Estimate risk and Amazon's valuation
The slowdown in Amazon's growth is a problem, especially because the company is viewed as a growth play for investors, many of which bought AMZN for its exposure to the fast-growing Cloud business. With growth slowing down more broadly and now including Amazon Web Services, there is a considerable chance that shares of Amazon will resume their downwards revaluation.
Amazon is expected to generate EPS of $1.60 in FY 2023 and $2.86 in FY 2024, implying year-over-year growth of 79%. However, analysts are going to take Amazon's slowing AWS growth into consideration when they update their EPS forecasts, which means estimates should be expected to reset to the downside. Based off of FY 2024 EPS estimates, Amazon is valued at a P/E ratio of 39 X… which is high considering that Amazon's growth has slowed to the single digits.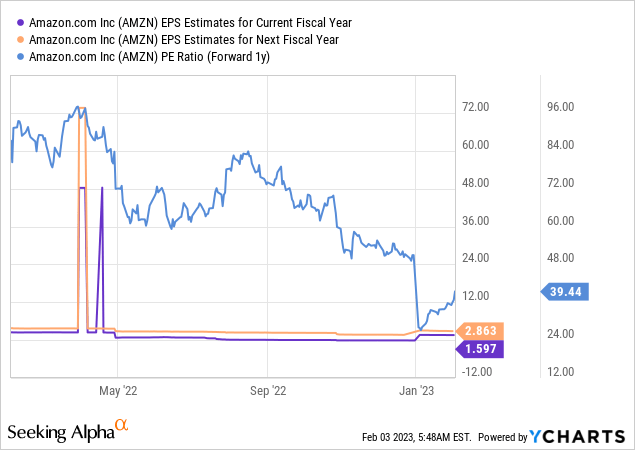 Risks with Amazon
The near-term growth outlook for Amazon is not good, and it indicates that weakening topline growth and the trajectory in Cloud remain two key risks for Amazon and its stock. Additionally, Amazon has not yet addressed its profitability challenges in the e-Commerce segment, which is weighing on overall company performance. Amazon recently cut 18,000 jobs in an effort to control costs and limit losses, but it remains to be seen if those measures are sufficient to address Amazon's core profitability problem.
Final thoughts
The e-Commerce company delivered a mixed Q4'22 earnings sheet that showed better than expected fourth quarter topline growth, but Amazon at the same time warned of slowing growth in AWS… which is still Amazon's fastest-growing business.
For those reasons, I believe Amazon.com, Inc. may no longer be a growth stock. Amazon's valuation multiplier is that of a growth stock, but the company is now growing only in the single digits. Growth concerns and downside revisions of EPS estimates are, in my opinion, set to continue to weigh on Amazon's valuation in FY 2023!
---
Disclosure: I/we have no stock, option or similar derivative position in any of the companies mentioned, and no plans to initiate any such positions within the next 72 hours. I wrote this article myself, and it expresses my own opinions. I am not receiving compensation for it (other than from Seeking Alpha). I have no business relationship with any company whose stock is mentioned in this article.
---