Intel: No Thank You At $30 – Hell Yes At $15
Summary:
Intel's recent earnings illustrate further deterioration in its businesses.
Intel has lost its edge and may never get back, with more modern chipmakers like Nvidia and AMD innovating and taking market share.
Intel is expensive at $30, but the stock looks interesting around the $15-$20 range.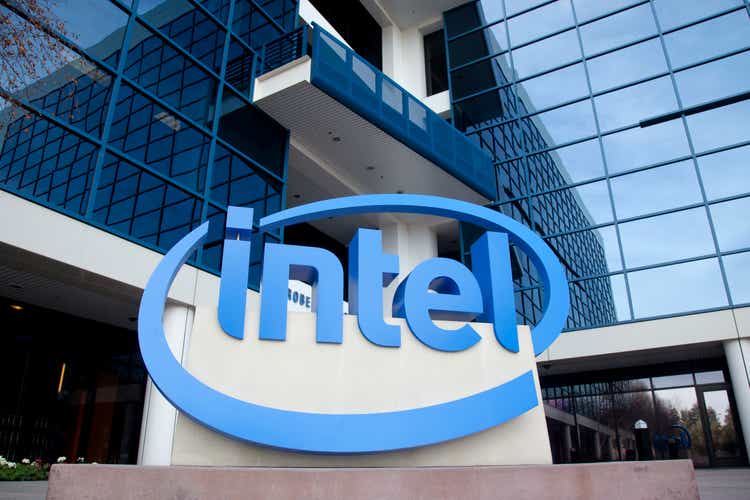 Intel (NASDAQ:INTC) recently announced earnings that illustrated continued deterioration in the company's growth and profitability metrics. However, despite the much weaker-than-expected results, Intel's stock hitched a rally with most of the semiconductor space in recent sessions. After dropping below $27 post earnings, Intel's stock made a stunning reversal, rallying back to $30 in recent days. Is everything finally fine at Intel, or will we have opportunities to buy Intel below $25, or lower, perhaps? The bear market bottom for Intel's stock is approximately $24 thus far. However, this may not be the ultimate low yet.
Unlike Nvidia (NVDA), AMD (AMD), and several other counterparts, Intel's troubles are far more profound than the transitory economic slowdown that everyone else faces. Intel's structural, managerial, and cultural issues should keep a lid on the company's stock price in the near term. Moreover, a broad market selloff could push Intel's stock price much lower if the bear market progresses. As the company's fundamentals continue deteriorating, we may see Intel's stock drop to the $15-$20 range in the coming months. This lower-end range is an appropriate price point to enter Intel, as the company should recover and improve its operations longer-term.
Intel's Epic Decline
INTC: 1-Year Chart
Intel's decline has been epic, as the company's stock price cascaded by more than 50% from peak to trough in 2022. Intel was about $65 at its peak in 2021, and despite the recent 25% rebound, Intel remains a long way from its highs. However, Intel continues to look bullish technically here. The stock's making a higher low since the $24 bottom and could go for the $30-$32 breakout next. Nevertheless, even with mild near-term strength, we're likely looking at a 10-15% potential near-term upside for the stock.
On the downside, we could see Intel fall below critical support in the $25-$27 range and to new lows if the turnaround doesn't materialize quickly. Also, it's crucial to note that Intel's poor performance is nothing new, as the company and its stock have been going nowhere for years.
Intel – Going Nowhere for Years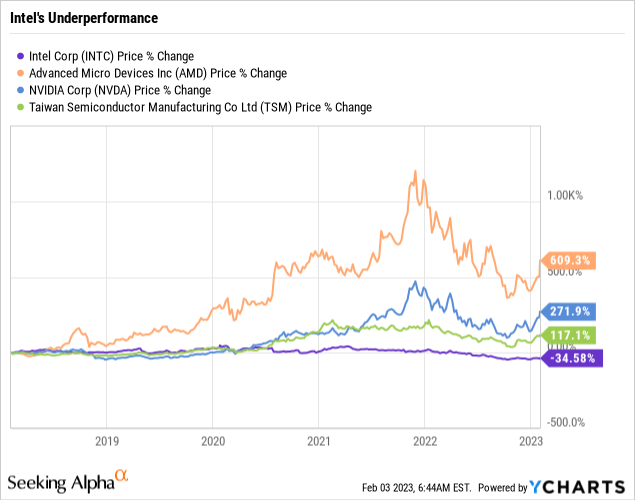 While Intel is down by 35%, many top chipmakers competing directly with Intel have appreciated by severalfold in the five years. AMD's stock, Intel's number one competitor, is up a staggering sevenfold in this time frame. The takeaway is that Intel needed to be more dominant, more efficient and innovate effectively for a long time. Intel should have capitalized on its leading position in the semiconductor space. Unfortunately for many investors, Intel's less-than-stellar management has enabled Intel's stock price to suffer considerably over the last five to ten years.
Earnings: It Was That Bad
Yes, the numbers were terrible, and it wasn't the kitchen-sink quarter because every time you think Intel came out with its worst quarter, another may follow.
Horrible Earnings Are Now A Trend
This time, Intel missed both top and bottom lines, with revenues dropping a staggering 28% YoY. Gross profit was cut to $5.5 billion as the company's efficiency continued worsening, and the company reported a GAAP EPS loss of 16 cents. However, the real shocking news was Intel's guidance. Intel now expects another 15-cent loss in Q1. In addition, Intel now forecasts revenues of just $11 billion and a gross margin of approximately 39%. Analysts were looking for much higher numbers, with consensus Q1 revenue estimates around $14 billion, 25 cents in EPS, and a gross margin of 45.5%.
Analysts were dreaming, and the actual numbers would be far worse than most could tell. $11 billion in revenues will illustrate a staggering YoY sales drop of 40%. Moreover, we are still determining what to expect beyond that, but this is different from the dominant Intel we once knew and regarded as a top chipmaker. While many computers use Intel chips, its stock price has reversed, which may be a long-term problem.
Management Change – Beneficial
I remember reading an excellent article on Seeking Alpha a while back, and it helped cement my position against owning Intel. The management team back then (2020) hadn't been productive in years, and the new batch of managers needed to do better. There you go. We have a decade of almost no gains in Intel's stock. Moreover, there is uncertainty regarding where its share price is going next and whether the company will recapture a portion of its former glory. Actual change will only occur from new management. We need to start at the top and remove Intel's top managers, including the company's CEO, to succeed.
Intel – Losing Market Share to AMD
Intel has been losing market share since 2016. Intel's 80% plus advantage dwindled to just around 60% recently. Moreover, Intel may be confronted with more intense competition from AMD, Nvidia, and other more modern chipmakers in the coming months.
That Dividend Isn't Safe
Intel must produce around $6 billion in FCF annually to support its dividend. Given the recent developments and ongoing challenges, it is doubtful that Intel will be able to maintain its dividend. For now, Intel will probably need to cut its dividend by 50% or more, or dismiss dividend payments altogether. This phenomenon should create several problems for Intel. Many mutual and pension funds and ETFs may not invest in Intel if it drops its dividend. This dynamic could contribute to the next round of selling in Intel's stock.
The Bottom Line: Buying Intel But Not At $30
Another factor that will likely weigh down the company's stock price is its continued underperformance due to management issues and technical mishaps. These factors and other contributing elements could bring Intel's stock price down into its long-term buy-in range of $15-$20. I will consider buying Intel stock long-term, as the company could turn itself around under the right circumstances. However, Intel appears remarkably overvalued at $30 here. If we can get its stock price around $20 or lower, Intel will become a strong buy again.
---
Disclosure: I/we have no stock, option or similar derivative position in any of the companies mentioned, and no plans to initiate any such positions within the next 72 hours. I wrote this article myself, and it expresses my own opinions. I am not receiving compensation for it (other than from Seeking Alpha). I have no business relationship with any company whose stock is mentioned in this article.
Additional disclosure: I am long a diversified portfolio with hedges.
---
Are You Getting The Returns You Want?
Invest alongside the Financial Prophet's All-Weather Portfolio (2022 17% return), and achieve optimal results in any market.
Our Daily Prophet Report provides crucial information before the opening bell rings each morning.
Implement our Covered Call Dividend Plan and earn an extra 40-60% on some of your investments.
All-Weather Portfolio vs. The S&P 500

Don't Wait! Unlock Your Own Financial Prophet!
Take advantage of the 2-week free trial and receive this limited-time 20% discount with your subscription. Sign up now, and start beating the market for less than $1 a day!