Arrival: ETA Still Unclear
Summary:
Today, we take our first look at a company named Arrival that recently debuted on the U.S. market.
Like most EV-related concerns in recent months, the stock has cratered as the market has gone into 'risk off' mode.
Can the shares rebound? A full investment analysis follows in the paragraphs below.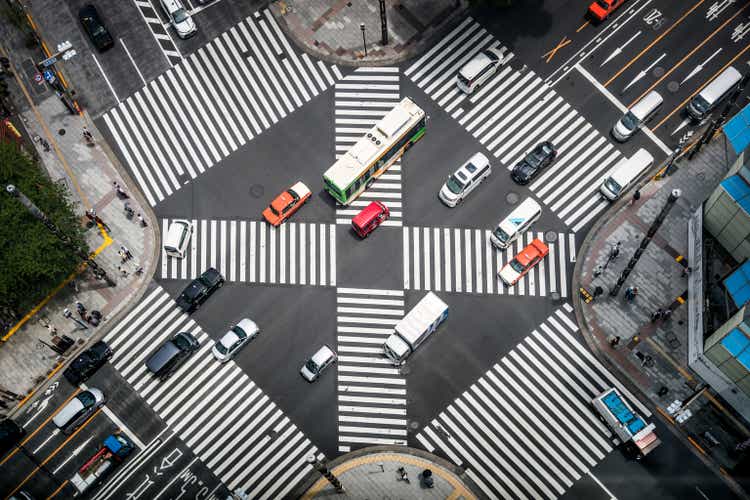 He who is not satisfied with a little is satisfied with nothing."― Epicurus
Today, we put a European based concern called Arrival (NASDAQ:ARVL) in the spotlight for the first time. Like almost all the EV space, the stock has collapsed in recent months as enthusiasm has faded on this and most all high beta sectors in the market. The shares find themselves deep in 'Busted IPO' territory down over 80% from their highs in late 2020. Is the equity now oversold? We attempt to answer that question via the analysis below.
Company Overview:
Arrival is headquartered in Luxemburg and the firm is focused on the design, assembly, and distribution of commercial electric vehicles or EVs. The stock sells right under $4.00 a share and currently sports an approximation market capitalization of $2.3 billion. The company arrived with a listing on the NASDAQ after it entered into a definitive business combination agreement with CIIG Merger Corp in late 2020, one of many companies that came public on U.S. markets via a SPAC in 2020 and 2021.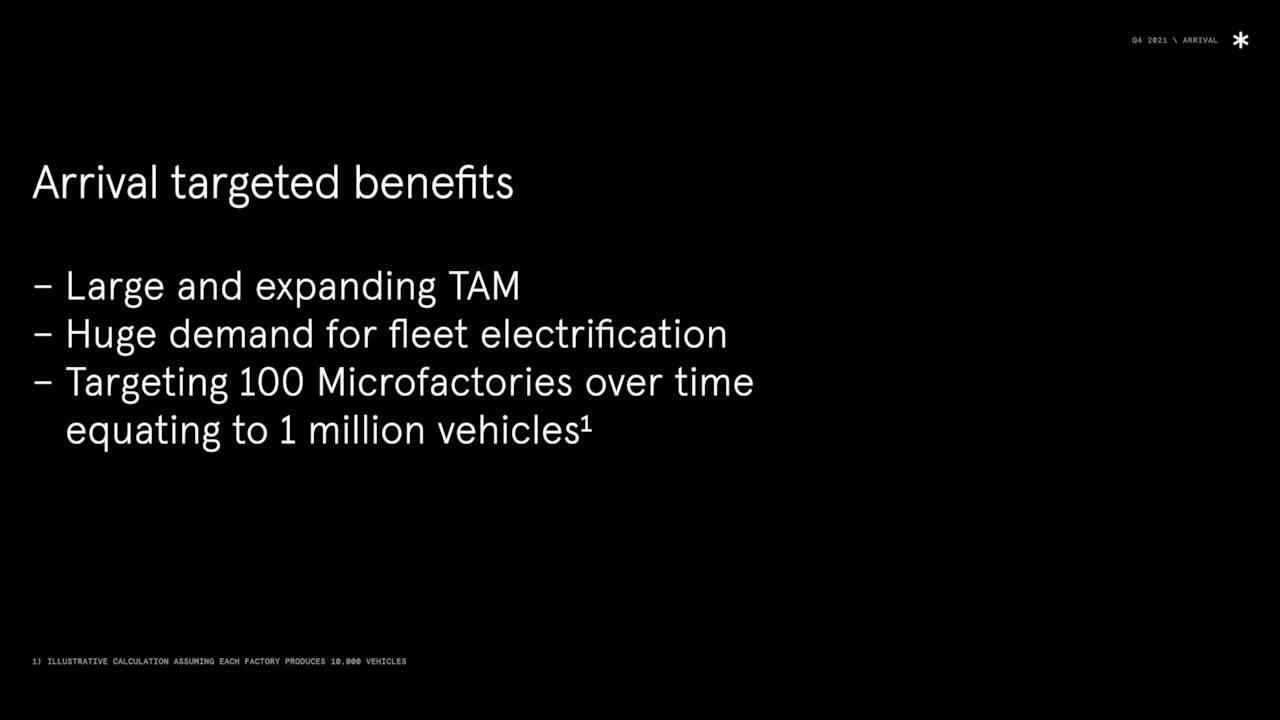 The company believes it has a unique production process in the EV space and has an eventual goal of producing one million EVs a year from 100 low-cost 'Microfactories' around the globe. Arrival will lean heavily on robotics in these facilities including the extensive use of autonomous mobile robots or AMRs to build its offerings. This output will cover most commercial vehicle categories. The company is starting with Van production and is moving now to certify its Bus offerings.
The upgradable software and hardware features built into Arrival's offerings should extend the life of their vehicles. Arrival believes it is unique in the space as it is vertically integrated. The company designs and builds its own vehicles and core systems including the software and sensors within them. These systems are designed in a way that they can share structured data about the health, performance and efficiency to the owners of these vehicle fleets. They can also quickly determine root causes of accidents as well as be utilized for predictive maintenance and advanced driving monitoring. Management believes this will give the company a large competitive advantage in this space.
The first Van skateboard structure has recently been assembled robotically at one of these factories and the company aims to deliver 400 to 600 vans to customers in FY2022. Van production should start in the U.K. in the third quarter while U.S. production is pegged to start in the facilities in Charlotte in the fourth quarter of this year. Production of buses is schedule to begin in the second half of 2022 from production facilities in the U.K., provided certification and other milestones are hit on schedule.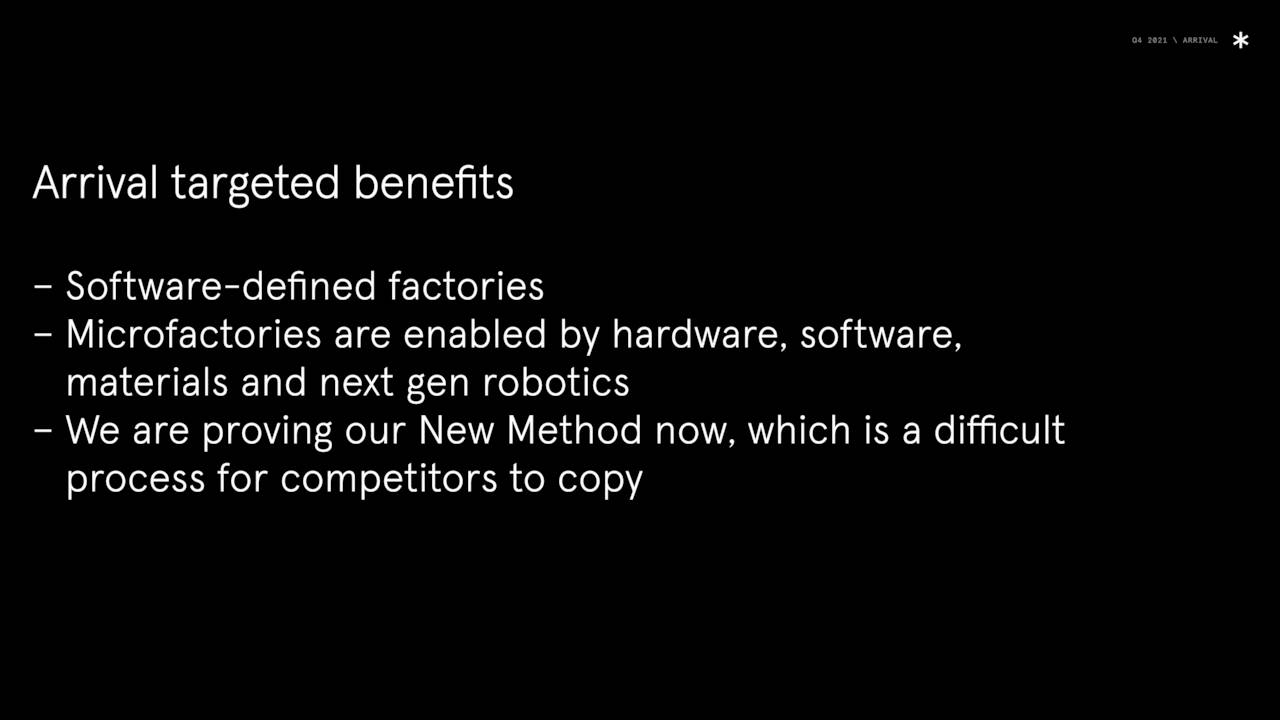 Fourth Quarter Results:
On March 2nd, the company released preliminary fourth quarter results (full results are due out on April 8th). The company expects to post an expected net loss between $42 million to $52 million for the fourth quarter. The net loss for FY2022 year is expected to be just under $1.3 billion. It should be noted that approximately $1.2 billion is due to a one-time non-cash charge associated with the merger of Arrival and CIIG. Non-binding LOIs and orders increasing from its myriad partners double year-over-year and now stand at approximately 134,000 vehicles. In 2021, Arrival announced a partnership with Uber to develop an affordable, purpose-built electric vehicle for ride-hailing drivers.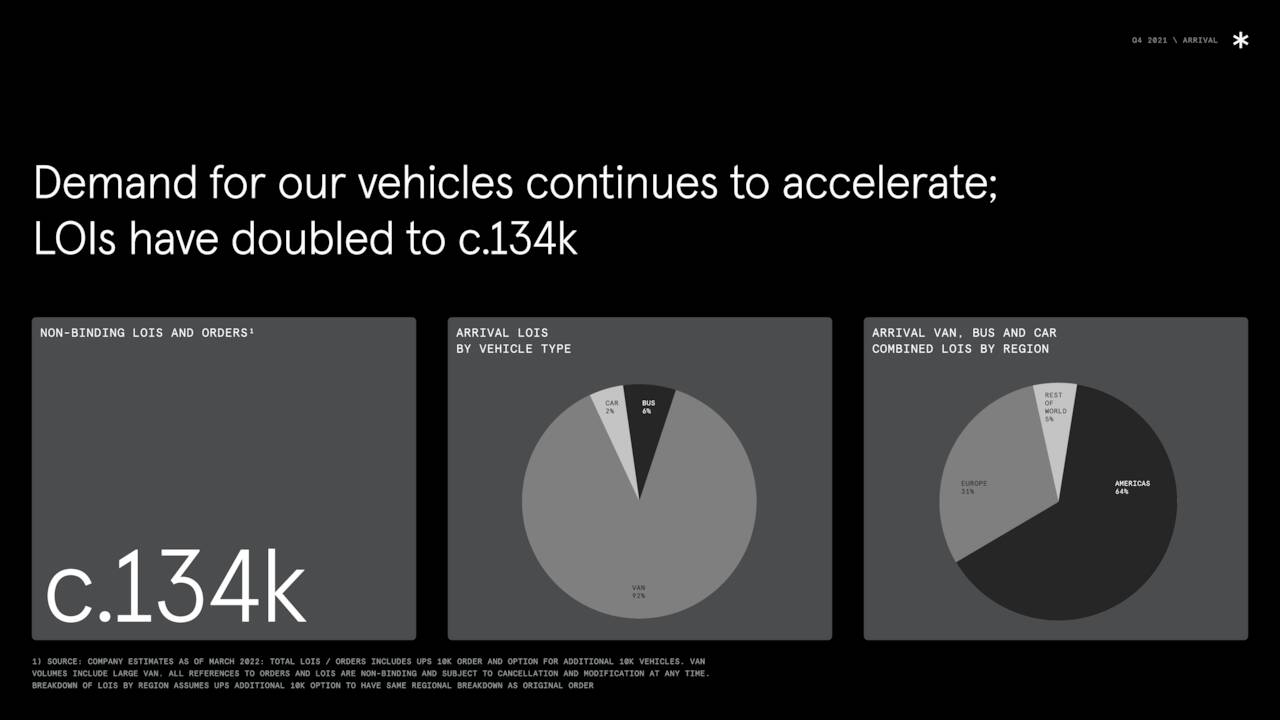 For FY2022, management at Arrival projects an adjusted EBITDA loss of $185-$225 million and Capex of $380-$420 million for the year.
Analyst Commentary & Balance Sheet:
Since quarterly numbers and guidance came out, Cowen & Co. has reiterated its Outperform rating but revised its price target down $12 from $17 previously. Barclays also slashed its price target down from $20 to $6 while UBS maintained a Neutral rating but cut its price target on Arrival from $10 down to $3.50 a share with the following commentary
While Arrival appears to have a compelling offering, both in terms of product and production, we are cautious that the ramp up in production and sales will not be rapid enough to justify a higher valuation. The analyst believes Arrival's 400 unit to 600 unit range guide for deliveries would be impressive if achieved given supply chain challenges and start up hurdles."
The company ended the fourth quarter with just over $900 million in cash and marketable securities on its balance sheet. The company did its first capital raise since becoming a public company as it raised nearly $650 million in Green Convertible Senior Notes during the fourth quarter.
Verdict: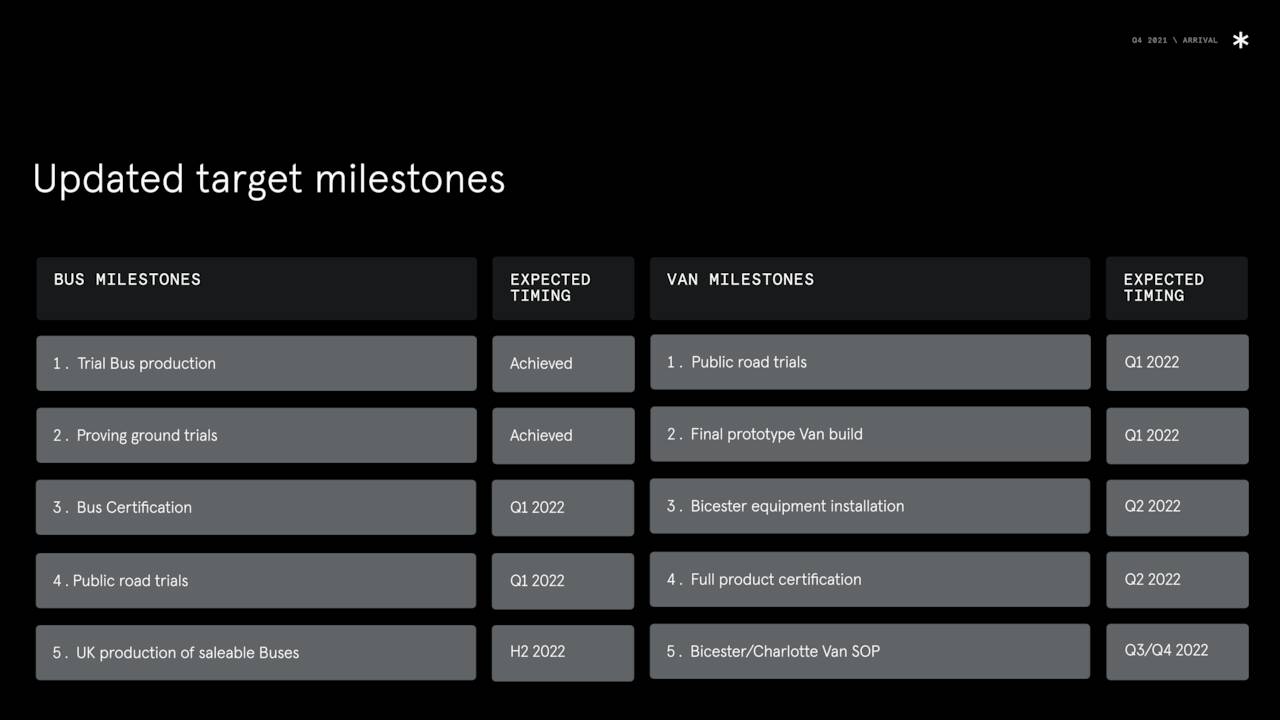 The analyst consensus has Arrival losing approximately 40 cents a share on around $30 million in revenues in FY2022. Arrival is definitely in the 'show me' phase right now. Like so many companies that came public via SPACs in 2020 and 2021, the stock has mainly destroyed shareholder value since debuting on the markets.
There will be many kinks to work out as the company ramps up production. This process is made more challenging by the logistical logjam that is the global supply chain right now. The war in Ukraine has significantly increased the cost of key manufacturing inputs such as nickel as well. The company does have the balance sheet to ramp up production as planned in FY2022.
Obviously, neither the conference call nor the investor presentation that followed preliminary fourth quarter results inspired confidence in the analyst community given downward price target revisions. In addition, more than one in four shares is currently sold short. Given this, I am taking a pass on any investment recommendation on Arrival at this time. We may revisit this name again once production is hitting the market in significant amounts which should give more clarity toward the company's prospects.
To invent, you need a good imagination and a pile of junk."― Thomas A. Edison
Bret Jensen is the Founder of and authors articles for the Biotech Forum, Busted IPO Forum, and Insiders Forum
---
Disclosure: I/we have no stock, option or similar derivative position in any of the companies mentioned, and no plans to initiate any such positions within the next 72 hours. I wrote this article myself, and it expresses my own opinions. I am not receiving compensation for it (other than from Seeking Alpha). I have no business relationship with any company whose stock is mentioned in this article.
---
Author's note: I present and update my best small-cap Busted IPO stock ideas only to subscribers of my exclusive marketplace, The Busted IPO Forum. Try a free 2-week trial today by clicking on our logo below!