Bright Green Files For U.S. Direct Listing
Summary:
Bright Green Corporation has filed initial information for a direct listing on the Nasdaq Capital Market.
The firm seeks to produce cannabis products for federally licensed marijuana markets in the U.S. and internationally.
BGXX hasn't produced any revenue yet as it is waiting for federal licenses to begin selling its products, so the stock is high risk.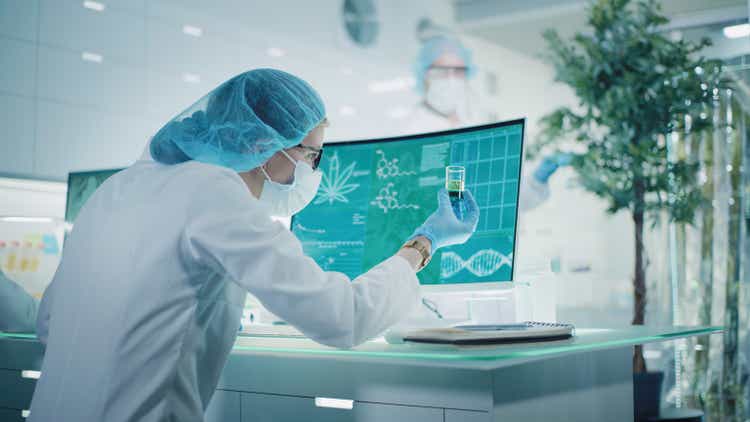 A Quick Take On Bright Green Corporation
Bright Green Corporation (NASDAQ:BGXX) has filed to raise an undisclosed amount via a direct listing of its common stock, according to an S-1 registration statement.
The firm provides federally-licensed cannabis products for research and manufacturing purposes.
BGXX is dependent on pending federal licenses and future federal legalization for its business plan to work.
I'll provide an update when we learn more direct listing information.
Company
Ft. Lauderdale, Florida-based Bright Green was founded to operate as a manufacturer of U.S. federally-legal cannabis for medical cannabis and research purposes and plans to ultimately sell cannabis to consumers 'if and when permitted under federal law.'
Management is headed by Chief Executive Officer Edward A. Robinson, who has been with the firm since October 2019 and was previously CEO of BMW Financial Services for the Americas Region.
The company's primary offerings include:
Domestic cannabis for researchers and registered manufacturers

International export cannabis

Cannabis for U.S. pharmaceutical production

FDA Supply
Bright Green has booked fair market value investment of 14.6 million as of December 31, 2021 from investors including E. Mailloux Enterprises.
The firm plans to sell cannabis directly to research institutions, pharmaceutical firms and to international customers.
Bright green currently does not have DEA authorization to sell to researchers in the U.S.
Bright Green's Market & Competition
According to a 2020 market research report by Global Market Insights, the U.S. medical marijuana market was an estimated $7.2 billion in 2020 and is forecast to reach $14.5 billion by 2027.
This represents a forecast CAGR of 10.5% from 2021 to 2027.
The main drivers for this expected growth are a growth in awareness of the treatment of chronic disease or pain from the use of cannabis products and increasing legalization efforts at both the state and federal levels.
Also, below is a chart showing the growth characteristics of the U.S. medical marijuana market through 2027: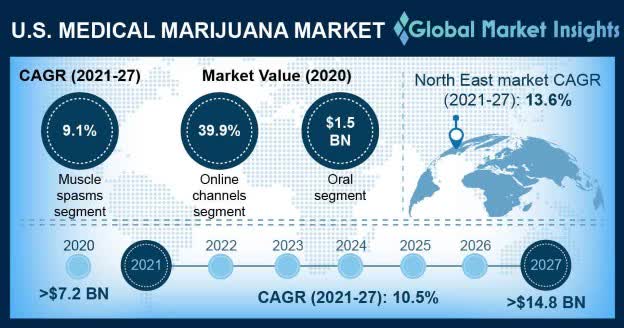 Major competitive or other industry participants include:
Canopy Growth

Aurora Cannabis

Medical Marijuana

GW Pharmaceuticals

Aphria

Tilray

Emerald Health Therapeutics

United Cannabis
Bright Green Corporation Financial Performance
The company's recent financial results can be summarized as follows:
No topline revenue

Significant operating losses

Increasing cash used in operations
Below are relevant financial results derived from the firm's registration statement:
| | |
| --- | --- |
| Total Revenue | |
| Period | Total Revenue |
| 2021 | $0 |
| 2020 | $0 |
| | |
| Profit (Loss) Before Income Taxes | |
| Period | Profit (Loss) Before Income Taxes |
| 2021 | $ (2,490,499) |
| 2020 | $ (3,052,779) |
| | |
| Net Income (Loss) | |
| Period | Net Income (Loss) |
| 2021 | $ (2,490,499) |
| 2020 | $ (3,052,779) |
| | |
| Cash Flow From Operations | |
| Period | Cash Flow From Operations |
| 2021 | $ (1,656,575) |
| 2020 | $ (513,337) |
| | |
| | |
(Source)
As of December 31, 2021, Bright Green had $1.3 million in cash and $560,156 in total liabilities.
Free cash flow during the twelve months ended December 31, 2021, was negative ($2.0 million).
Bright Green's Direct Listing Details
Bright Green intends to raise an undisclosed amount via a direct listing in gross proceeds from a direct listing of its common stock.
No existing shareholders have indicated an interest to purchase shares at the reference price, which some are estimating at around $4.00.
The firm will not receive any proceeds from the sale of shares in the direct listing.
Management's presentation of the company roadshow is not available.
Regarding outstanding legal proceedings, management said the firm is not a party to any litigation that would have a material adverse effect on its financial condition or operations.
The listed advisor to the company is EF Hutton.
Commentary About Bright Green's Direct Listing
BGXX is seeking to directly list its stock on the Nasdaq Capital Market, enabling existing shareholders to sell their registered shares.
The firm's financials have shown zero topline revenue, high operating losses and growing cash used in operations.
Free cash flow for the twelve months ended December 31, 2021, was negative ($2.0 million).
The firm currently plans to pay no dividends on its shares and anticipates that it will use future earnings to reinvest back into the company's growth plans.
The market opportunity for providing medical marijuana in the U.S. is large and the market may grow substantially at the federal level as the recent vote to legalize it in the House of Representatives is an indicator of increasing acceptance of the product across the mainstream.
EF Hutton is the advisor to the company and IPOs led by the firm over the last 12-month period have generated an average return of negative (36.2%) since their IPO. This is a lower-tier performance for all major underwriters during the period.
The primary risk to the company's outlook is the timeline for receiving federal permits for operation as well as federal legalization efforts, both of which may delay the firm's production and revenue generating efforts.
When we learn more about the direct listing's potential reference price, I'll provide a final opinion.
Expected Direct Listing Date: To be announced.
---
Disclosure: I/we have no stock, option or similar derivative position in any of the companies mentioned, and no plans to initiate any such positions within the next 72 hours. I wrote this article myself, and it expresses my own opinions. I am not receiving compensation for it (other than from Seeking Alpha). I have no business relationship with any company whose stock is mentioned in this article.
Additional disclosure: This report is intended for educational purposes only and is not financial, legal or investment advice. The information referenced or contained herein may change, be in error, become outdated and irrelevant, or removed at any time without notice. You should perform your own research for your particular financial situation before making any decisions. IPO or direct listing investing is subject to significant volatility and risk of loss.
---
Gain Insight and actionable information on U.S. IPOs with IPO Edge research.
Members of IPO Edge get the latest IPO research, news, and industry analysis.
Get started with a free trial!