AT&T: Dreaded Dividend Cut Looms, Again
Summary:
AT&T recently cut the dividend by half after selling off Time Warner Assets.
Now, rumor has it that AT&T may have to cut the dividend, again.
In the following piece we do our best to distinguish reality from repartee regarding the odds of AT&T cutting the dividend.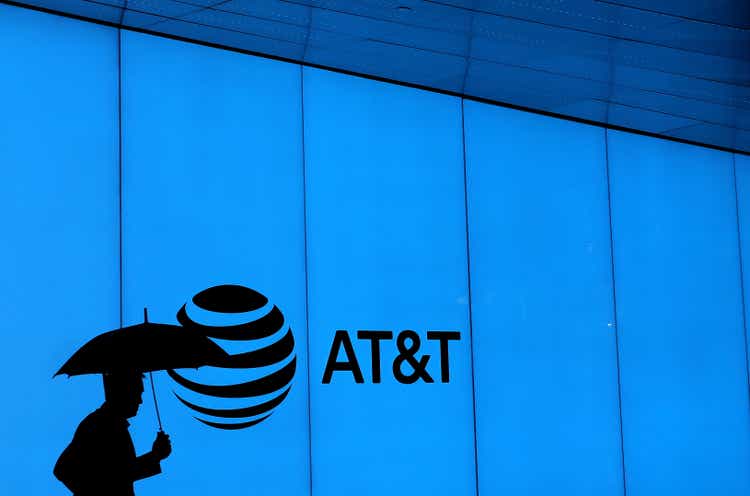 Is AT&T about to cut the dividend?
Rumors are swirling that AT&T (NYSE:T) may have to cut the dividend due to the loss of NFL Sunday ticket from DirecTV to YouTube TV (GOOG) (GOOGL). In the following piece we will break down the current status of the dividend, earnings, cash flow, and valuation to determine if the odds in fact favor AT&T cutting the dividend once again.
Dividend Details
The first thing I look at when assessing the odds of a looming dividend cut is the payout ratio. Anything less than 60% and I can sleep very well at night.

With AT&T's payout ratio currently sitting at 46.96% I feel fine with the current state of affairs. This is not to say things could change due to the loss of Sunday Ticket. We will cover that shortly after we dig into earnings. The second factor I consider is the consistency of the dividend payments throughout history.
Dividend Consistency Grade A
According to Seeking Alpha, AT&T scores an A for dividend consistency due to the fact the company has paid out a dividend every quarter for the past 38 years.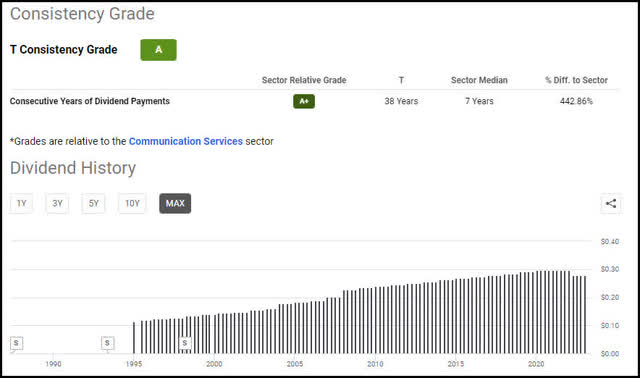 2022 dividend cut
Now, before the boo bears come out of the wood works, yes, they did just cut the dividend in half early in 2022. Nonetheless, this was after selling off about half the business when it disposed of the Time Warner Assets, and a large portion of the debt load as well. Time Warner took a significant chunk of the EPS with them when they left causing the dividend yield to spike to nearly 10%. it was more of a "right-sizing" of the dividend rather than a cut based on the fact AT&T sold off about half the EPS.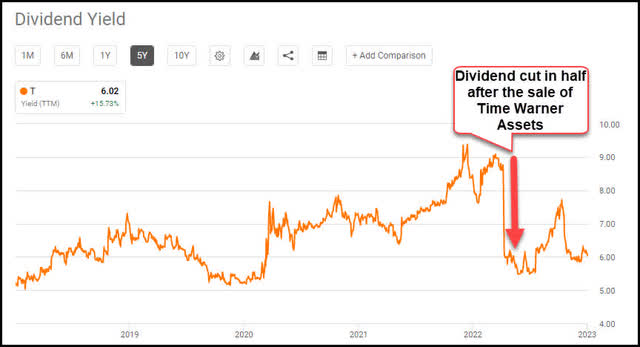 After the right-sizing of the dividend payout, the yield returned to approximately the same healthy yield it obtained previously. In fact, it got a little juicier when rumors of AT&T's demise began to swirl when they lowered cash flow estimated by about $2 billion mid year due to running several special discounts as consumers were getting hit hard by inflation.
Dividend Yield Grade A-
Seeking Alpha gives AT&T's dividend yield an A- grade. Current at approximately 6% the yield is nearly doubling the sector average of 3%.

You could say, but hey DAC, I can get a risk free return of 4% in a money market account right now. Why would I take the risk of owning AT&T. Well, it's because AT&T shares have significant upside built into them presently due to the fact EPS and cash flows are now expected to grow substantially. let me explain.
EPS Estimates by Quarter
If you listened solely to nattering nabobs of negativism you would think AT&T is about to go bankrupt. Nevertheless, the proof is in the pudding, as they say. And the company has beat expectations for the past four quarters and earnings are expected to rise over the next year as well.

Earnings revisions grade A
In fact, Seeking Alpha gives AT&T an A score regarding earnings revisions with 23 upward EPS estimates for the coming quart alone. This is due to the fact AT&T is executing with military precision regarding meeting its goals.

AT&T Business Priorities
Just take a look at this slide from the latest earnings report. The company is laser focused on growing customer relationships with 22 million new 5G wireless net adds and 1 million fiber net adds through the third quarter alone.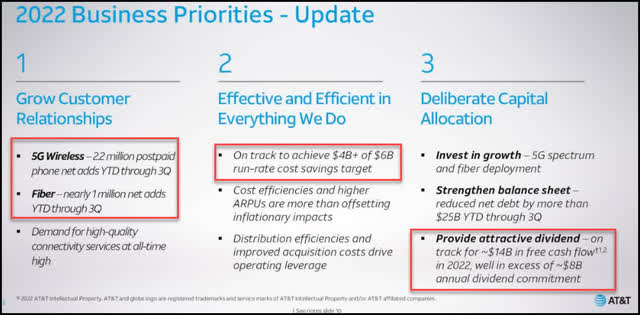 On top of this the company is on track to achieve 4$4 billion of the $6 billion run rate cost saving they laid out at the beginning of the year. And just today, news broke that AT&T will be expanding its fiber footprint well beyond its current 21-state reach due to a deal with BlackRock. According to Seeking Alpha News AT&T shares rose recently as CFO Pascal says fiber join venture allows telecom to 'experiment':
"Speaking at Citi's investment conference, AT&T CFO Pascal Desroches said the venture with BlackRock (NYSE:BLK) would allow the Dallas-based telecom to go beyond its region.

Announced in late December, the joint venture, known as Gigapower LLC, is with BlackRock Alternatives, through a fund managed by its Diversified Infrastructure business.

Gigapower LLC will provide a fiber network to internet service providers and other businesses across the U.S. and will service customers outside of AT&T's traditional 21-state footprint.

AT&T previously said it will be incremental to the company's more than 30M fiber locations by the end of 2025."
AT&T financials look solid
This was a great slide from the latest earnings packet that really bring home the fact that the loss of Sunday ticket by DirecTV to YouTube TV.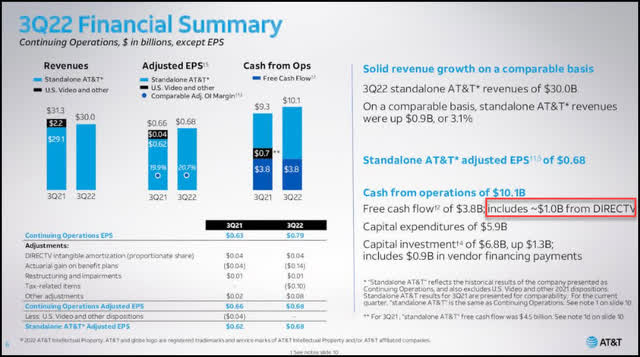 The free cash flow contribution from DirecTV totals $1 billion. It's hard for me to fathom AT&T would cut the dividend due to the loss of Sunday Ticket. The fact of the matter is they most likely let Sunday ticket go. It's obvious DirecTV is not a priority for the company presently. I would not be surprised to hear if it was sold off completely in the coming months, and good riddance I must say. Now let's take a look at AT&T's present valuation.
AT&T undervalued by half
Seeking Alpha gives AT&T an A grade when it come to valuation. The company is trading for a forward P/e ratio of 7.19 which is more than half that of the sector alone and 20% below its five year average. Now let's rap this piece up.

Investor takeaway
AT&T is not about the cut the dividend due to the fact DirecTV lost Sunday Ticket to YouTube TV. This is a minute portion of the overall earnings and I submit AT&T actually wants to rid themselves of DirecTV altogether. On top of this, the growth in 5G and fiber earnings per share as well as improved cash flows from cost cutting will more than make up for any losses in DirecTV.
Furthermore, AT&T currently has substantial implied upside due to the fact it's currently trading at 20% below its five year average forward P/E ratio. it seems as though some savvy investors have seen the light.
AT&T beating the markets presently
The stock has performed quite well over the past six months substantially outperforming the market in general.

Even so, it still offers an outstanding opportunity for prospective buyers to lock in a solid 6% yield with substantial upside attached.
Those are my thoughts on the matter. I look forward to reading yours. Do you think AT&T is about to cut the dividend again? Inquiring minds want to know.
---
Disclosure: I/we have a beneficial long position in the shares of T either through stock ownership, options, or other derivatives. I wrote this article myself, and it expresses my own opinions. I am not receiving compensation for it (other than from Seeking Alpha). I have no business relationship with any company whose stock is mentioned in this article.
---
Join the #1 fastest growing new dividend income service! Our 6% SWAN and 12% High Yield Income Portfolios are substantially outperforming the market  
We have opened up an addition 50 heavily discounted Charter memberships and they are going fast! We have 10 FIVE STAR reviews in the first two months!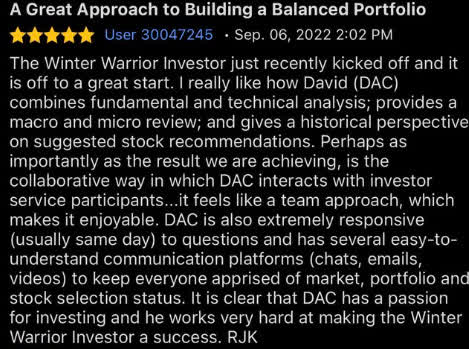 ~ Quality High Yield Income – Current Yield – 12% 
~ SWAN Quality Income – Current Yield – 6%
~ High Quality Growth
~ Ultra-High Growth
Join now for top income buys, timely macro insights, and a lively chat room! A portion of the proceeds are donated to the DAV (Disabled American Veterans).