Why Avoiding Layoffs Does Not Make Apple The Best Big Tech Bet
Summary:
Apple is the only big tech company to have avoided mass layoffs in this economic downturn so far.
The company, in fact, has avoided mass layoffs since 1997, which speaks volumes about its disciplined approach to expanding the business.
While I wholeheartedly appreciate the company for avoiding layoffs this time, I am not as excited as some investors because of the reasons discussed in this analysis.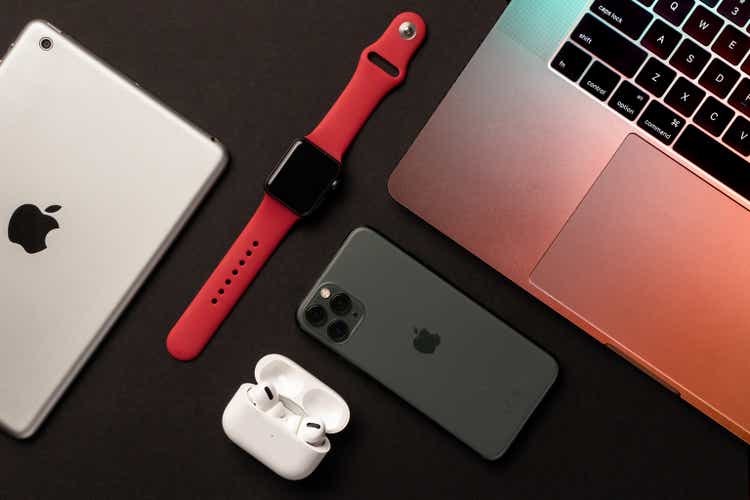 This article was originally published for members of Leads From Gurus on January 23.
Apple Inc. (NASDAQ:AAPL) has avoided layoffs amid the current economic downturn that has forced many of its rivals to slash their workforce big time. The tech giant has attracted praise from many top-tier news outlets, analysts, and economists for its prudent management leading up to the economic crisis. We will dig deep into the numbers briefly, but to summarize, Apple seems to be the most efficiently managed big tech company today. One could go on a limb to say that some of the tech giants got ahead of themselves in the last 5 years when the going was easy. Apple's prudent decisions are now beginning to bear fruit, prompting investors to conclude the company is superior to other big tech companies.
Big Tech Layoffs
Before we discuss the possible factors behind Apple's stellar track record in avoiding mass layoffs, let's look at how the tech sector has suffered since the beginning of 2022. According to data from www.layoffs.fyi, a website that tracks tech layoffs, 158,951 employees were laid off in 2022. A shocking 55,970 tech employees were laid off in 2023 so far. As the below chart illustrates, layoffs have intensified in the last few months.
Exhibit 1: Tech layoffs since 2022 January
Although Apple has so far avoided mass layoffs, the same is not true for some of the biggest tech companies in the world. The below table highlights the biggest tech layoffs since Covid-19, which shows how Alphabet, Inc. (GOOG) (GOOGL), Meta Platforms, Inc. (META), Microsoft Corporation (MSFT), and Amazon.com, Inc. (AMZN) have slashed their workforce aggressively in the last 12 months.
Exhibit 2: Biggest tech layoffs since the beginning of the pandemic
These numbers may look daunting, and they are. To find the root cause of these layoffs at a time when Apple has been avoiding the same fate, one has to look deep into the financial performance metrics of these companies. One obvious reason behind Apple's standout performance is that the company – similar to what it has done over the last 25 years – used a measured approach to expanding its business, although the outlook for the tech sector seemed rosy in the last few years.
Exhibit 3: Workforce expansion from September 2019 to September 2022
| | |
| --- | --- |
| Company | Workforce Expansion |
| Apple | 20% |
| Alphabet | 57% |
| Meta Platforms | 94% |
| Microsoft | 53% |
Source: Barron's
Apple, as evident from the above data, has expanded its workforce at a much slower pace compared to other big tech companies, which is now proving to be a genius move amid challenging macroeconomic conditions.
Layoffs Might Be A Poor Long-Term Decision
The idea behind laying off thousands of employees is to attain cost efficiencies and improve margins. History suggests these expectations are difficult to be turned into reality. According to Stanford Graduate School of Business Professor Jeffrey Pfeffer, who has researched layoffs extensively, there are a few major reasons why companies fail to show any improvements in their financial performance after mass layoffs.
The high costs associated with severance packages.
An increase in unemployment insurance premiums.
A notable decline in workplace morale among remaining employees.
The Professor goes on to claim that many companies battle for the same talent that was laid off when macroeconomic conditions turn for the better, and usually pay a higher package to lure laid-off employees. More often than not, companies lay off employees only to hire them back as contractors through a contracting agency, thereby paying hefty fees to these agencies as well. According to Professor Pfeffer, mass layoffs are nothing more than a social contagion.
The tech industry layoffs are basically an instance of social contagion, in which companies imitate what others are doing. If you look for reasons for why companies do layoffs, the reason is that everybody else is doing it. Layoffs are the result of imitative behavior and are not particularly evidence-based. Could there be a tech recession? Yes. Was there a bubble in valuations? Absolutely. Did Meta overhire? Probably. But is that why they are laying people off? Of course not. Meta has plenty of money. These companies are all making money. They are doing it because other companies are doing it.
Apple, so far, seems to have avoided many of these negative outcomes resulting from mass layoffs.
Why Investors Need To Look Beyond Just Layoffs
Corporate America has seen tremendous success over the last century, but there have been major downturns. When things are dark and gloomy – like they are today – it is easy to lose focus on empirical evidence as fear takes over. Today, with many investors focusing on tech layoffs, it is easy to conclude that AAPL is the best bet in the tech sector. I can't entirely agree with this stance for a few reasons.
First, Apple is a well-managed company that is likely to grow at a steady rate in the coming years, but as a growth-oriented investor, I am on the lookout for companies that could outpace the growth of the global economy. One of the major reasons why the likes of Meta hired aggressively in the last couple of years is the massive growth ahead of the company. Even in the last 5 years, Apple grew at a much slower pace compared to other big tech companies.
Exhibit 4: Revenue growth comparison between Apple and other big tech companies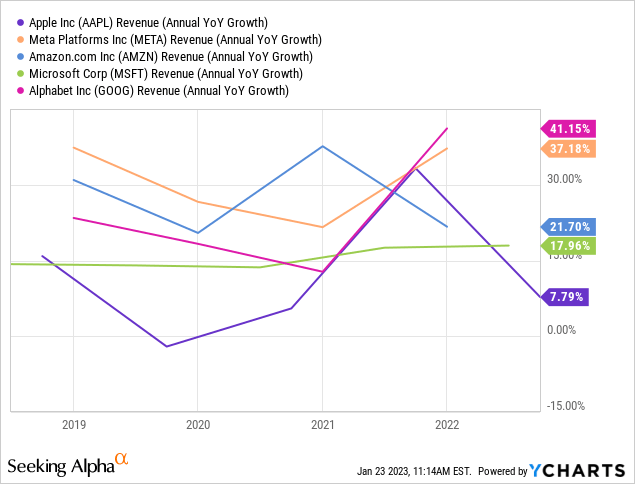 Although I am not justifying over-hiring by any stretch of the imagination, I believe it would be reasonable to expect Apple to hire at the slowest pace among big techs given that the company operates in several mature business segments whereas its other big tech counterparts are aggressively expanding into new business segments that require aggressive hiring.
Second, layoffs are not a reliable indicator of future prospects. Mass layoffs have been a part of Corporate America's history, although evidence suggests these mass layoffs have had little impact on saving companies from further struggles during recessions. As illustrated below, mass layoffs reached record highs during the dotcom bubble and the financial crisis in 2001 and 2008, respectively.
Exhibit 5: Mass layoffs by reason categories
From big banks to tech giants to startups, companies of every scale and size slashed jobs in 2001 and 2008. If an investor tried to avoid shares of tech companies that laid off people in these two recessions, it would have been impossible to find one other than Apple. The likes of Google, Microsoft, and Amazon have come out strongly from such dire circumstances to deliver triple-digit gains in the years that followed. Layoffs, therefore, cannot be used as a reliable indicator of what the future holds for a company.
Third, Apple is not out of the woods just yet. Just because the company has avoided mass layoffs so far does not mean that the company will perform better than its big tech counterparts in the coming quarters. Apple stock, as illustrated below, has been the best-performing stock among big tech companies in the last 12 months, and this performance can be directly attributed to its superior financial performance.
Exhibit 6: Performance comparison of Apple stock and other big tech stocks (as of Jan. 23)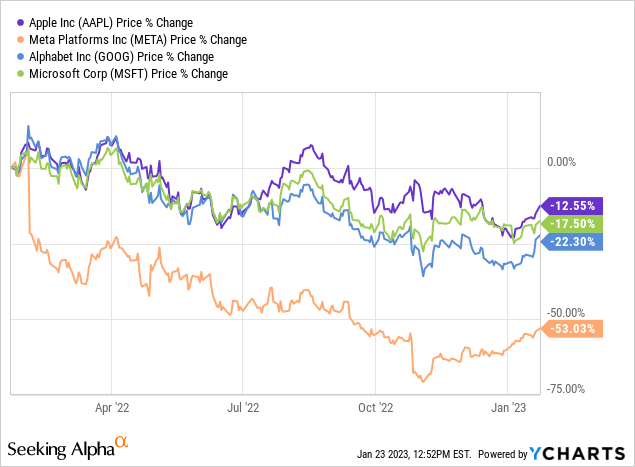 Past performance is often not a good indicator of future performance, and in this case, I believe this argument holds. With the global economy still facing several challenges, the demand for smartphones might deteriorate in 2023 amid the expected slowdown in global economic growth. Apple might start showing some cracks this year, and if this happens, AAPL will likely take a hit even if its tech counterparts come back strongly later this year.
Takeaway
Apple has done tremendously well to avoid mass layoffs. This, however, is not a good enough reason for me to invest in the company, although it highlights the quality of the management. Apple, in my opinion, can still be a good pick for value investors, but growth investors are better off investing in the likes of Meta and Microsoft as these companies have a long runway for growth in the post-recession era.
---
Disclosure: I/we have a beneficial long position in the shares of META either through stock ownership, options, or other derivatives. I wrote this article myself, and it expresses my own opinions. I am not receiving compensation for it (other than from Seeking Alpha). I have no business relationship with any company whose stock is mentioned in this article.
Additional disclosure: I am long MSFT.
---

The unexpected moment is always sweeter
At Leads From Gurus, we strive to achieve sweet returns by predicting which companies would report unexpected earnings. Join us to discover the power of earnings surprises.
Your subscription includes access to:
Weekly actionable ideas that would help you beat the market.
In-depth research reports on stocks that are well-positioned to beat earnings estimates.
Three model portfolios designed to help you beat the market.

Educational articles discussing the strategies followed by gurus.
An active community of like-minded investors to share your findings.
Act now to secure the launch discount!