Tesla: Squeezing The Competition (Rating Downgrade)
Summary:
Tesla, Inc. bears received a shock as the stock skyrocketed 80% from its January lows to last week's highs, leaving them scrambling to cover their shorts.
Elon Musk has gone on the offensive, using Tesla's unparalleled profitability to dominate the EV "Hunger Games" and leave rivals gasping for air.
Tesla targets even lower costs in 2023, fueling speculation of further price cuts to decimate its competition and solidify its dominance."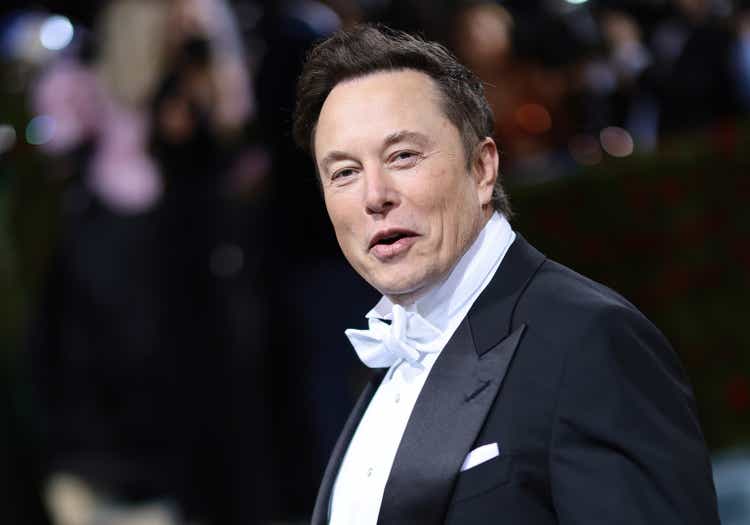 Tesla, Inc. (NASDAQ:TSLA) stock's rapid recovery from its early January malaise has likely stunned the TSLA bears. Accordingly, TSLA recovered nearly 80% from its January lows through its highs last week, likely sending late short-sellers scrambling for the exit to cover their losses.
TSLA's price action shows a clear vertical upward surge, which is consistent with the extent of its recovery. As such, we think it's a timely reminder for investors not to short-sell against the leading U.S. electric vehicle ("EV") maker, even as it contends with intensive competition, amid global macro headwinds.
Why? Note that Tesla mentioned the word "cost" almost 50 times in its FQ4'22 earnings commentary, reminding investors of its focus in driving down costs in 2023.
Despite the challenges faced last year, CEO Elon Musk & team still led the automaker to a full-year operating margin of 16.8 (FQ4: 16%). As such, it's pretty clear that Tesla's profitability has suffered, but is still highly profitable, corroborating what NIO Inc. CEO (NIO) William Li articulated. Its free cash flow (FCF) margin of 9.3% for FY22 was in line with FY21's metric, suggesting that Tesla has not faced significant pressure in its cash conversion.
Hence, despite reporting a lower automotive gross margin ex-credits in FQ4'22 of 24.3% (vs. FQ4'21's 29.2%), it's too early to doubt the company's ability to rise above its peers to generate industry-leading profitability in highly challenging times. Musk accentuated:
We generated $12.5B in net income and $7.5b in free cash flow. Importantly, the Tesla team achieved these records while — despite the fact that 2022 was an incredibly challenging year due to forced shutdowns, very high interest rates and many delivery challenges. So it's worth noting that all these records were in the face of massive difficulties. (Tesla FQ4 earnings call.)
As such, the mainstream media's worries about Tesla's price cuts in early January turned out to be overly pessimistic. It's important for investors to note that Tesla is in a pole position to capitalize on price cuts given its industry-leading profitability, squeezing the life out of its smaller EV rivals, and also forcing legacy OEMs to potentially extend their profitability ramp.
Ford (F) recently announced its own price cuts on its Mustang Mach-E, likely seeing the pressure on its sale cadence since Tesla's aggressive approach to start the year. Hence, we expect more automakers to possibly follow suit, in what Morgan Stanley's (MS) analyst Adam Jonas aptly termed as "Hunger Games."
In a year when consumer spending could falter further, as seen in the used-car market, Tesla's ability to drive sustainable profitability against its arch-rivals' EV transition could prove to be telling.
This is why Elon Musk aptly stated that Tesla's biggest rival in its bid to retain its global BEV (battery electric vehicle) crown is likely a Chinese company, as he accentuated: "And so if I would have guessed, there is probably some company out of China as the most likely to be second to Tesla."
We don't think there are any surprises here. China's leading NEV maker, which has overtaken Tesla in deliveries (including hybrids) is the Warren Buffett-backed BYD Company Limited (OTCPK:BYDDY).
The leading battery maker is expected to post a Q4 net profit of $1.1B, despite the slowdown in its consumer electronics assembly business. Moreover, BYD Company, bolstered by an integrated vertical supply chain rose above LG Energy Solution as the world's second-largest EV battery maker.
Hence, it's vital for Tesla to start ramping up its 4680 cells with its additional $3.6B investment in Giga Nevada, leveraging the tax credits to support its production scale and cost leadership. We urge investors to watch BYD's rivalry with Tesla closely, as both EV leaders look to outshine each other in their supply chain and manufacturing prowess.
With TSLA's remarkable recovery from its January lows, we believe it's prudent for investors not to jump in now, and wait patiently for a steep pullback first.
With the recent surge, TSLA could regain control of its 200-week moving average or MA (purple line), helping to recover its medium-term bullish bias.
However, Tesla, Inc.'s momentum and breadth indicators are overbought, and TSLA price action is not constructive, given the recent stock price surge. Moreover, TSLA is no longer in the $110 level which got us very excited as we added.
Investors who missed scooping those lows should remain patient, as the Fed's hawkishness at its upcoming FOMC meeting could unhinge the recent recovery, proffering a better entry point.
Rating: Hold (Revise from Buy).
Editor's Note: This article discusses one or more securities that do not trade on a major U.S. exchange. Please be aware of the risks associated with these stocks.
---
Disclosure: I/we have a beneficial long position in the shares of F, TSLA either through stock ownership, options, or other derivatives. I wrote this article myself, and it expresses my own opinions. I am not receiving compensation for it (other than from Seeking Alpha). I have no business relationship with any company whose stock is mentioned in this article.
---
Are you looking to strategically enter the market and optimize gains?
Unlock the key to successful growth stock investments with our expert guidance on identifying lower-risk entry points and capitalizing on them for long-term profits. As a member, you'll also gain access to exclusive resources including:
24/7 access to our model portfolios

Daily Tactical Market Analysis to sharpen your market awareness and avoid the emotional rollercoaster

Access to all our top stocks and earnings ideas

Access to all our charts with specific entry points

Real-time chatroom support

Real-time buy/sell/hedge alerts
Sign up now for a Risk-Free 14-Day free trial!