Google Is The Most-Hated Tech Stock On Wall Street – Time To Buy
Summary:
Google initially got swept up in the late-year AI minibubble, but now investors have dropped the stock like it's hot after a bungled product demonstration.
Even Meta is again more expensive than Google on a forward P/E basis.
Are investors overreacting to fears that Google will somehow lose out on the next big thing? Yes.
Do sell-side analysts get paid hundreds of thousands of dollars per year to publish their hot takes on AI and the metaverse? I'm afraid so.
Should you buy Google for a below-market PE? Yes.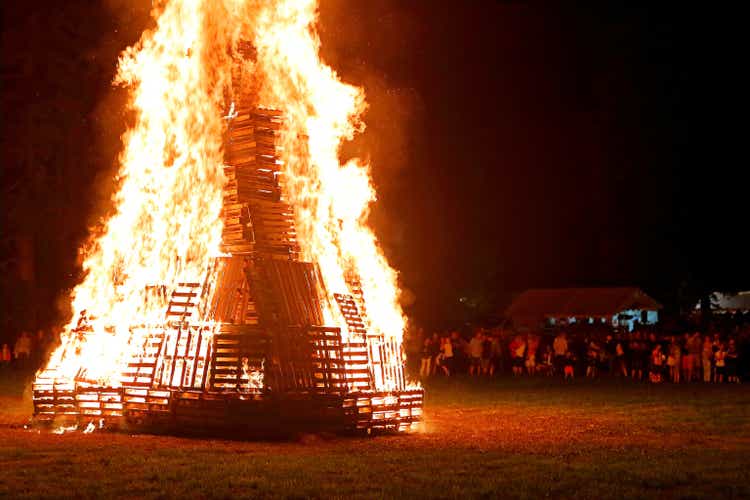 Don't look now, but Google (NASDAQ:GOOG) (NASDAQ:GOOGL) has taken the crown from Meta (META) as Wall Street's least-favorite big-tech stock. After much ado about ChatGPT in November and December of last year, Google unveiled its own AI competitor at a press conference in Paris. And, well, they did a live demo and the first answer was wrong. Afterward, everyone dumped Google stock – erasing nearly $100 billion in market value in one day. Lord of the Flies meets Silicon Valley.
Google is now about flat YTD. So was this an overreaction, or was the selloff justified?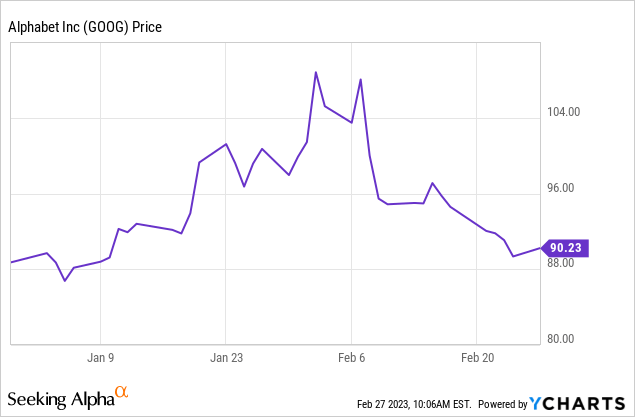 Google: Down 20% For No Good Reason
I think we have a clear argument here that the 20% February selloff in Google stock was an overreaction. Microsoft's (MSFT) investment in ChatGPT gives the company a ton of optionality, but when you zoom out, neither of these chatbots is infallible. When ChatGPT first came out, reporters delighted in getting it to say things that were somewhat racist, to give instructions on crime, and to just get the bot to give plain incorrect information.
What Microsoft did that was clever was to invest some time after OpenAI had made the product publicly available, therefore dodging being associated with the initial media controversy.
At least for me, it's tough to say whether Google's Bard product is objectively worse than

ChatGPT,

and even if so, if they can't improve it. We're talking about hundreds of billions of dollars in market cap erased because somebody at Google rushed a product demo.
Whoever botched the presentation in Paris is likely to have their career ruined publicly and/or privately. But does that justify a $100 billion selloff in one day for errors no worse than I've personally experienced with ChatGPT? Heck no.
Google owns all of Bard, whereas Microsoft only owns 49% of the home run payoff of ChatGPT (Microsoft gets a higher percentage on the first ~$10 billion). We don't know how much Google paid to build Bard, but we do know that AI costs much more to run than Google search does, so it's nice to get the full profit from it rather than a fraction.
Investors' current thinking strikes me as incredibly zero-sum about AI. AI isn't some sort of poker game that Google and Microsoft are playing heads-up for billions of dollars. The real economy rarely works like that! There's plenty of room for both companies to monetize AI, and I'd be investing in both of them for the right price. The likely losers from AI are not the companies investing billions in R&D around it– they're more likely old-school businesses that don't care about AI and aren't capable of recognizing the potential. People have asked me how I feel about being replaced by AI in a couple of years as a writer, and after playing with ChatGPT and seeing what it writes, I just laugh. The hype train over AI is causing people to display a lot of black-and-white thinking, FOMO, and all-around irrational behavior. Recent search data compiled by BofA backs up the idea that there is plenty of room for both Google and Microsoft in the AI space.
How can Google be flat/down while Nvidia (NVDA) is up 65% this year on identical AI hype? Even Microsoft is up less than 5%. The market is telling us some very contradictory stuff here and somebody is wrong. My vote would be that Nvidia longs are overly optimistic, while Google longs are too pessimistic.
Remember The Metaverse?
Lest we forget, the company formerly known as Facebook changed its name to Meta in 2021. They apparently learned from the best, because Google is officially named Alphabet.
Meta held press conferences and invested billions of dollars into the new project. Reading the mainstream media at the time subjected you to saturation coverage of this new metaverse and how you needed to be ready for it. Never behind any heavily hyped trend, sell-side research analysts soon published lists of the top metaverse stocks to buy. But ultimately, billions of dollars were spent in vain, and Meta stock tumbled from nearly $400 per share to under $100.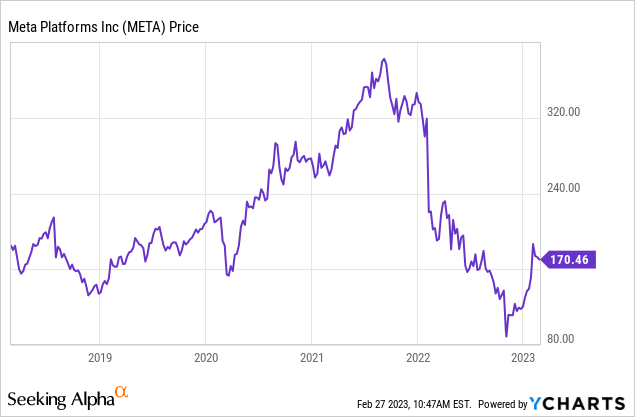 Most investors likely didn't notice how expensive Meta was at the peak or how cheap it was at the bottom. However, Meta transformed from a growth stock to a value stock, going from about a 25x PE to under 10x at the bottom.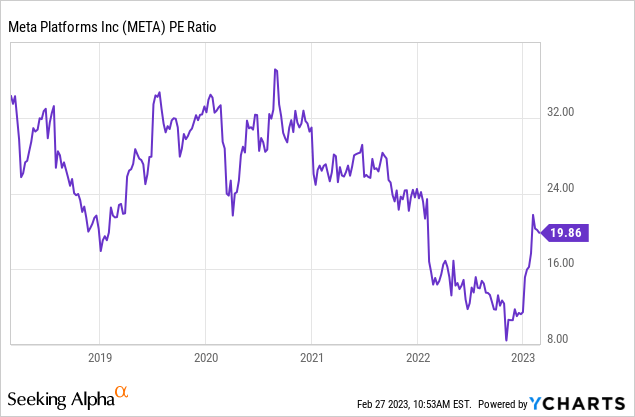 What strikes me here is the similarities to Google's present situation. There are some differences too – Meta invested billions in an idea a lot of its shareholders thought was dumb, and those shareholders only came around when Meta agreed to start cutting costs and focus on its core businesses. Founder/CEO Mark Zuckerberg has firm control of Meta, if he wanted to tune out shareholders and invest all of the profit in his pet projects it would have been extremely difficult for shareholders to stop without years of lawsuits. If you had some faith here, Meta was worth a shot when the forward PE went under 12-13x, and under 10x it was an easy play that things wouldn't get much worse. I actually did throw out a recommendation for Meta on the Millennial Investor Podcast at the time– and I recently went back on and doubled down on my buy recommendation for Google. Ironically, Meta is now more expensive than Google on a forward PE basis.
For Google here, the similarities to last year's Meta also are clear. We have a heavily hyped new trend, we have a lot of R&D money being invested, and we have the stock trading for a below-market PE due to investor mistrust in management. The metaverse was a silly idea, but buying Meta for a 10x forward PE clearly wasn't. This year, AI may not immediately live up to the media hype, but Google for a ~17x forward PE qualifies as growth at a more-than-reasonable price.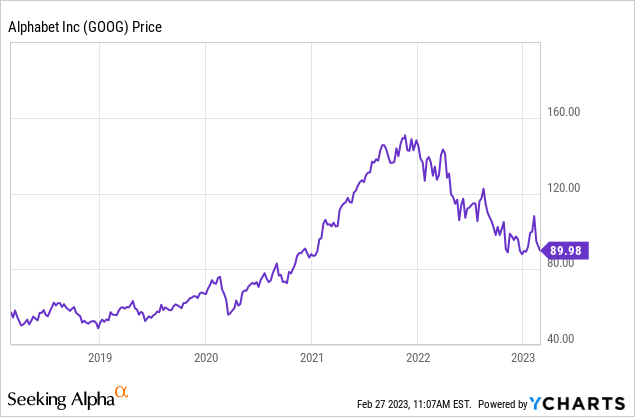 We're almost back to pre-COVID highs in Google, despite solid earnings growth. Google's earnings are off of the COVID peak, but its core businesses are performing well.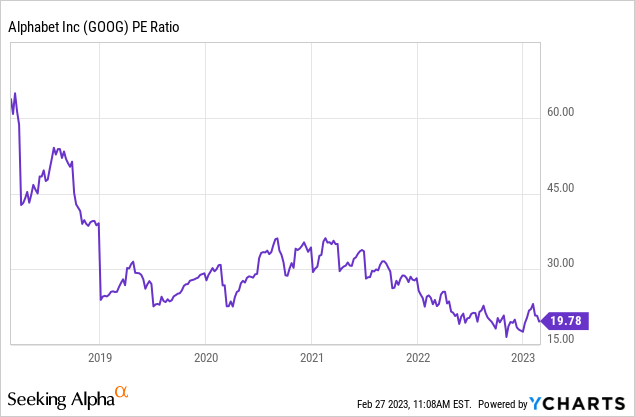 It's probably too soon to call Google a slam dunk value buy here, but what this does show is that the stock decline has been driven largely by investor sentiment and not by Google's business performance. Sentiment could easily get worse, but you're getting plenty of long-term compensation for buying Google at today's prices. Far from being an AI victim, Google looks well positioned for whatever the future of AI may bring, and the lack of positive investor sentiment around this makes it even better to buy. You can buy Google here comfortably, and if the forward PE gets anywhere near where Meta's did, you can ramp up your purchases.
Finally, my obligatory share class discussion for Google. Class A stock (GOOGL) is slightly superior and 40 cents cheaper than Class C (GOOG). Therefore, buy class A. Maybe markets aren't so efficient after all?
Bottom Line
Google is not a recession-proof stock, they're not guaranteed to crush the competition in the AI space, and the company isn't yet as cheap as Meta was during their 2022 debacle. But Google is a great business for a good price, and GOOGL stock offers great long-term compensation for those who buy the stock. Even after some early stumbles, AI is much more of an opportunity than a threat to Google. You can comfortably buy Google stock here, and you can buy more if it goes lower. In a few years, you'll almost certainly be happy you did. Microsoft and Meta also are buys if their shares fall back 15%-20%, but Google is currently the best bargain in large-cap tech.
---
Disclosure: I/we have a beneficial long position in the shares of GOOGL either through stock ownership, options, or other derivatives. I wrote this article myself, and it expresses my own opinions. I am not receiving compensation for it (other than from Seeking Alpha). I have no business relationship with any company whose stock is mentioned in this article.
---