Alphabet Stock: Is Google's Search Engine Dominance Impacted By Microsoft's New AI-Powered Bing?
Summary:
Ever since Microsoft announced the new AI-powered Bing in early February, Alphabet's stock has come under intense selling pressure, with Google's Search engine dominance believed to be under serious threat.
In response to Microsoft's attack, Google rushed to launch "Bard" – an AI chatbot similar to ChatGPT. However, the demo in Paris did not go very well.
Based on limited evidence we have seen so far, Google's AI is seemingly behind the Microsoft-OpenAI combo in the AI arms race. We will discuss this subject and more today.
In this note, I also shared a brief review of Alphabet's latest quarterly results, and my updated valuation for the tech giant.
Despite rising competitive threats, I continue to rate Alphabet a "Buy" in the $90s.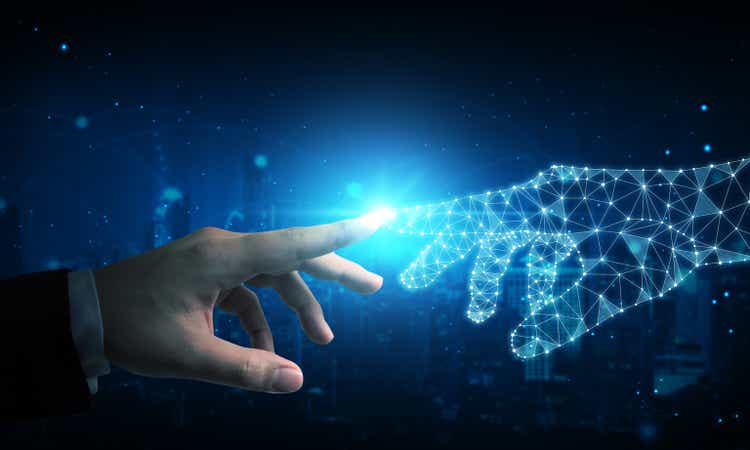 Introduction
Over the last decade, Alphabet Inc. [Google + YouTube] (NASDAQ:GOOG) (NASDAQ:GOOGL), Meta Platforms [Facebook + Instagram] (META), and Amazon (AMZN) have formed a dominant triopoly in the digital advertising industry. While YouTube (social media) has been a key driver of growth at Alphabet over the last few years, Google's continued search engine dominance has made Alphabet one of the most profitable businesses on the planet.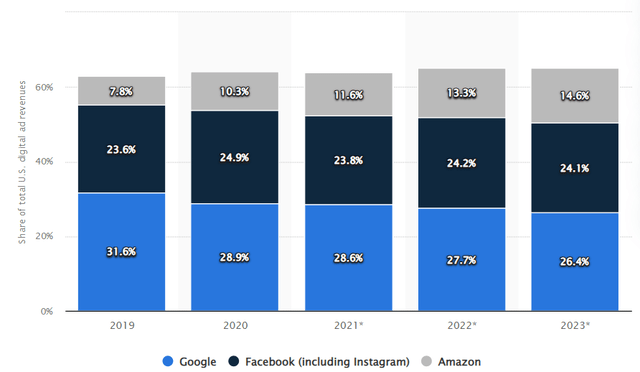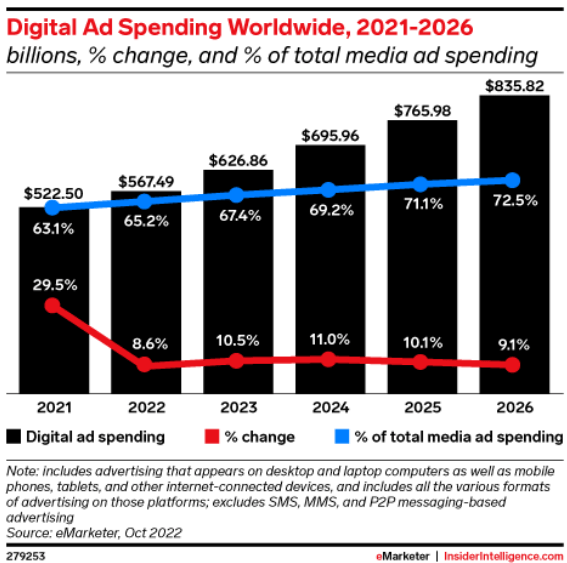 As you can see in the chart above, the digital advertising market is projected to experience secular growth for several more years to come. However, a weak macroeconomic environment is currently driving a drastic slowdown in digital ad spending. Concurrently, the digital ads industry is going through a sea change of disruption that ranges from Apple's IDFA policy changes to the Internet becoming cookie-less. And now generative AI technology is threatening to change the entire digital advertising landscape!
Microsoft's (MSFT) partnership with OpenAI to integrate ChatGPT into Bing (MSFT's search engine) is making waves in the news media. And while it is too early to say that Microsoft will make big inroads and break up the digital advertising triopoly, I think it is fair to assume that Microsoft could take up a larger market share of the digital advertising pie in the coming years since it is starting from a paltry base.

Also, as you may know, Apple (AAPL) has its own ambitions in the digital advertising market, and so do all other digital platforms like say, Uber (UBER), Netflix (NFLX), or Disney (DIS)! Given these seismic changes, investors must re-evaluate their investments in the digital advertising space.
In today's note, we will briefly review Alphabet's Q4 earnings, and then analyze the potential implications of ChatGPT (and generative AI) on the Search industry, which has been Google's playground for more than a decade.
Alphabet Stock Key Metrics
In Q4, Alphabet once again missed on both top and bottom lines (Revenue – $76.1B vs. est. $76.5B & EPS – $1.05 vs. est. $1.20). While Alphabet's Cloud business showed strong momentum with 32% y/y growth, Search (-1.6% y/y) and YouTube (-7.7% y/y) revenues shrank in Q4. Overall, Alphabet's revenue grew at just +1% y/y (+7% y/y in constant currency) in Q4, which is worse than Alphabet's nightmarish Q3 report.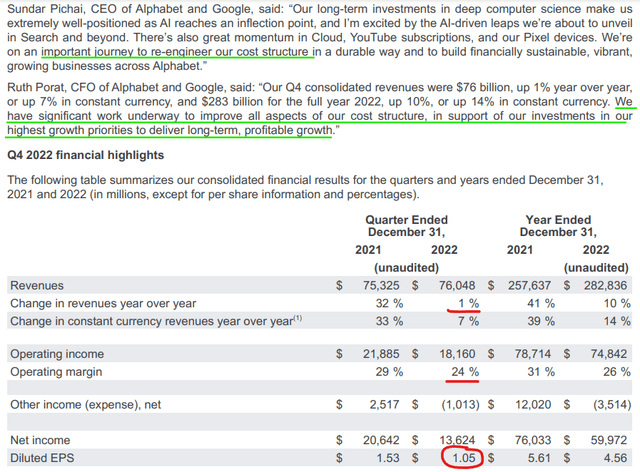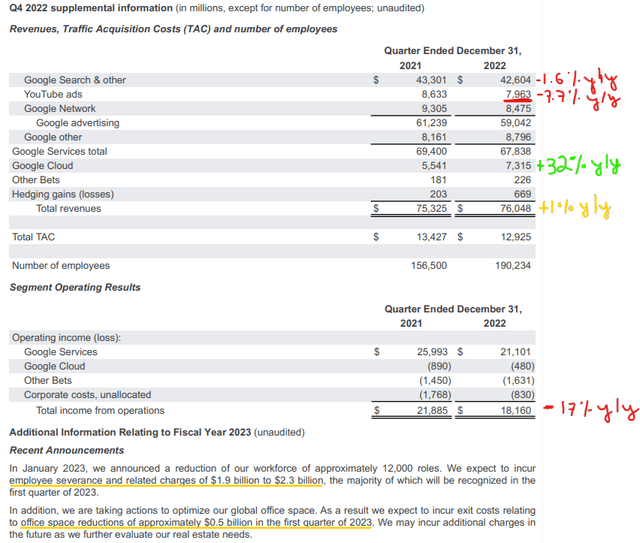 In an uncertain macroeconomic environment, advertisers are pulling back on ad spending, and Google is feeling the brunt of this dynamic. A failure to reign in operating expenses has led to a drastic drop in operating income over the last two quarters; however, Alphabet's management is now taking steps to drive revenue upside and cutting costs to bring the OpEx in line with revenues. Hence, I think Alphabet's financial performance can improve in 2023, especially if the macro environment stays the same or gets better.
For Q4, Alphabet generated free cash flows of $16B and spent ~$15.4B of these on stock buybacks. With a net cash balance of ~$100B, Alphabet has one of the strongest balance sheets on the planet. And in my view, Alphabet could easily deliver robust shareholder returns over the next decade via financial engineering through stock buybacks!
Is Google Impacted By Microsoft's Bing Chatbot?
By engagement, Google and YouTube remained the most visited sites in the world as of January 2023. And as the macroeconomic environment recovers in 2023-24, these assets should see a re-acceleration in growth.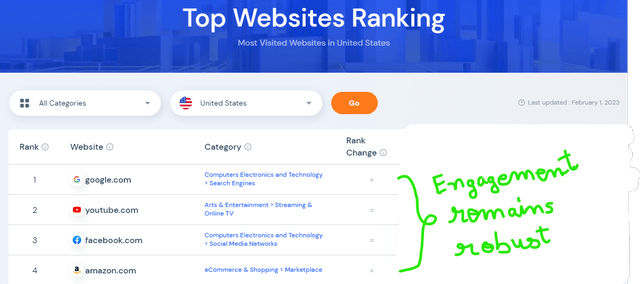 That said, the Microsoft-OpenAI "Bing + ChatGPT" integration is potentially the biggest disruption in 'Search' for over a decade. And Microsoft's attack on Google does appear to be a bit scary as an investor.
Microsoft's Satya Nadella is one of the shrewdest business people around, and his next big idea is to use OpenAI's ChatGPT as a better mouse trap for Bing to gain more market share in Search.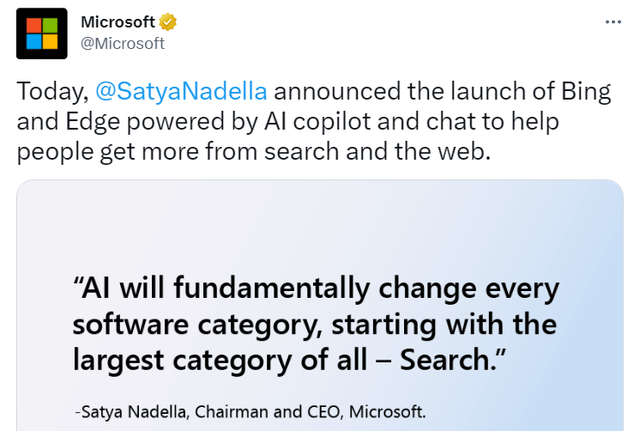 As per Statcounter, Google boasts a global search engine market share of 93%, with Bing having a share of just 3%. For years, the most-searched term on Bing has been "Google", and Microsoft is trying to change this with a new AI-powered Bing! This YouTube video showcases the capabilities of the new Bing and Satya's vision for Search.
While Google continues to dominate the Search industry, the hype around ChatGPT and generative AI has allowed Microsoft to create a multi-million users waitlist for the new AI-powered Bing in a very short space of time.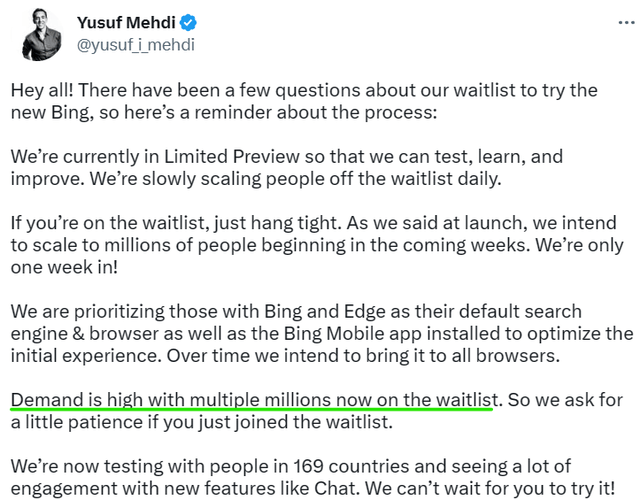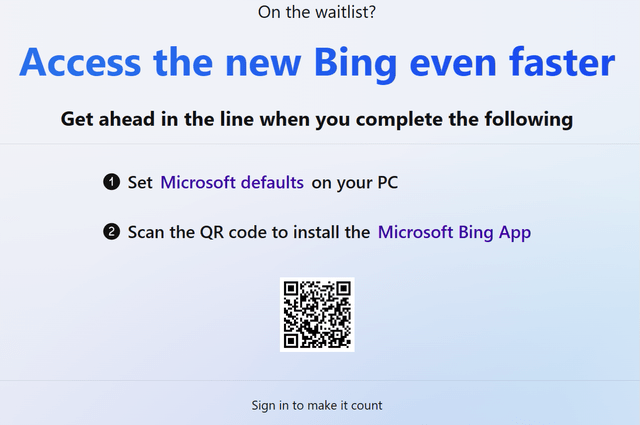 And Microsoft is using this long waitlist to increase the adoption of its search engine [Bing] and web browser [Edge] across devices. While the new AI-powered Bing is still in private testing mode, it is a threat to Google's Search dominance. The announcement of a new Bing from Microsoft set off the alarm bells ringing at Alphabet, and they quickly announced "Bard" – an AI chatbot based on Google's large language model – LaMDA (similar to ChatGPT).
Alphabet has invested billions of dollars into AI over the last decade, and it has had large language models similar to ChatGPT (like LaMDA and PaLM) in development for many years now. However, the rushed launch of Google Bard left more questions than answers for Alphabet investors, with Bard giving out factually incorrect replies during the Paris launch/demo event.
Based on the minimal evidence we have seen in recent demo events, the Microsoft-OpenAI combo seems to be leading Google in the AI arms race. However, getting their AI chatbots first to market doesn't necessarily guarantee a win for Microsoft or Alphabet.
Let's learn more about these chatbots and their potential impact on the Search industry!
What Are The Potential Impacts Of AI Chatbots In The Search Industry? What Are The Strengths And Weaknesses of Chatbots?
As you may know, chatbots have been around for many years now, and most websites tend to have one. Then why is ChatGPT so hyped up? Well, I will defer this question to one of the greatest technologists of our time – Bill Gates: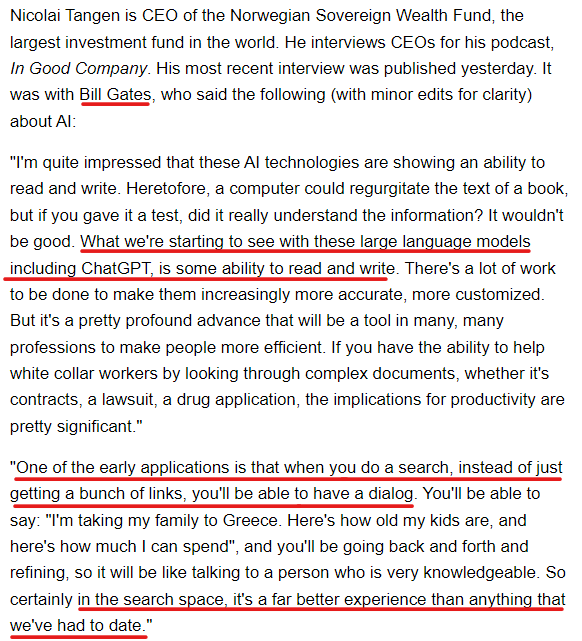 Clearly, Gates believes that AI chatbots like ChatGPT and Bard are going to significantly improve the customer experience in the Search industry. However, he also sees a few weaknesses: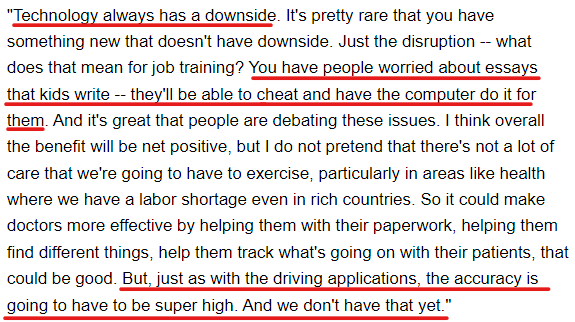 We are probably still only in the nascent development stages of artificial intelligence technology, but AI looks set to be the next big thing in tech for the next decade! Bill Gates believes so-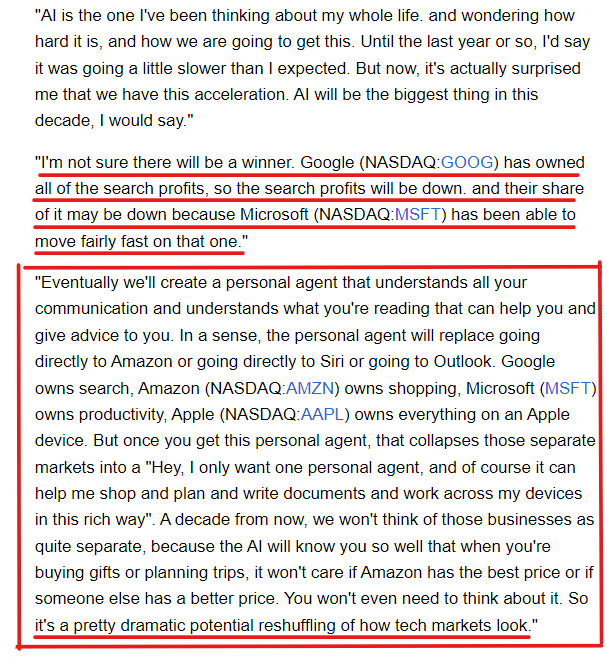 Broader adoption of AI chatbots could lead to a drop off in the number of search queries, which could then lead to a decline in advertising spend on Search. And that's a big problem for Alphabet because it currently enjoys the lion's share of this ad spend.
Alphabet Finds Itself In A Lose-Lose Situation
In response to Microsoft's Bing-ChatGPT integration, Google has already announced "Bard" – an AI chatbot similar to ChatGPT. Now, Google may be able to defend its huge market share in Search (given its strong ecosystem advantages and robust AI capabilities); however, the threat of its chatbot ("Bard AI") cannibalizing its own business is very real. Also, the upcoming war with Microsoft (and other competitors) is going to cost billions in the form of margin compression as large language AI models are more compute-intensive.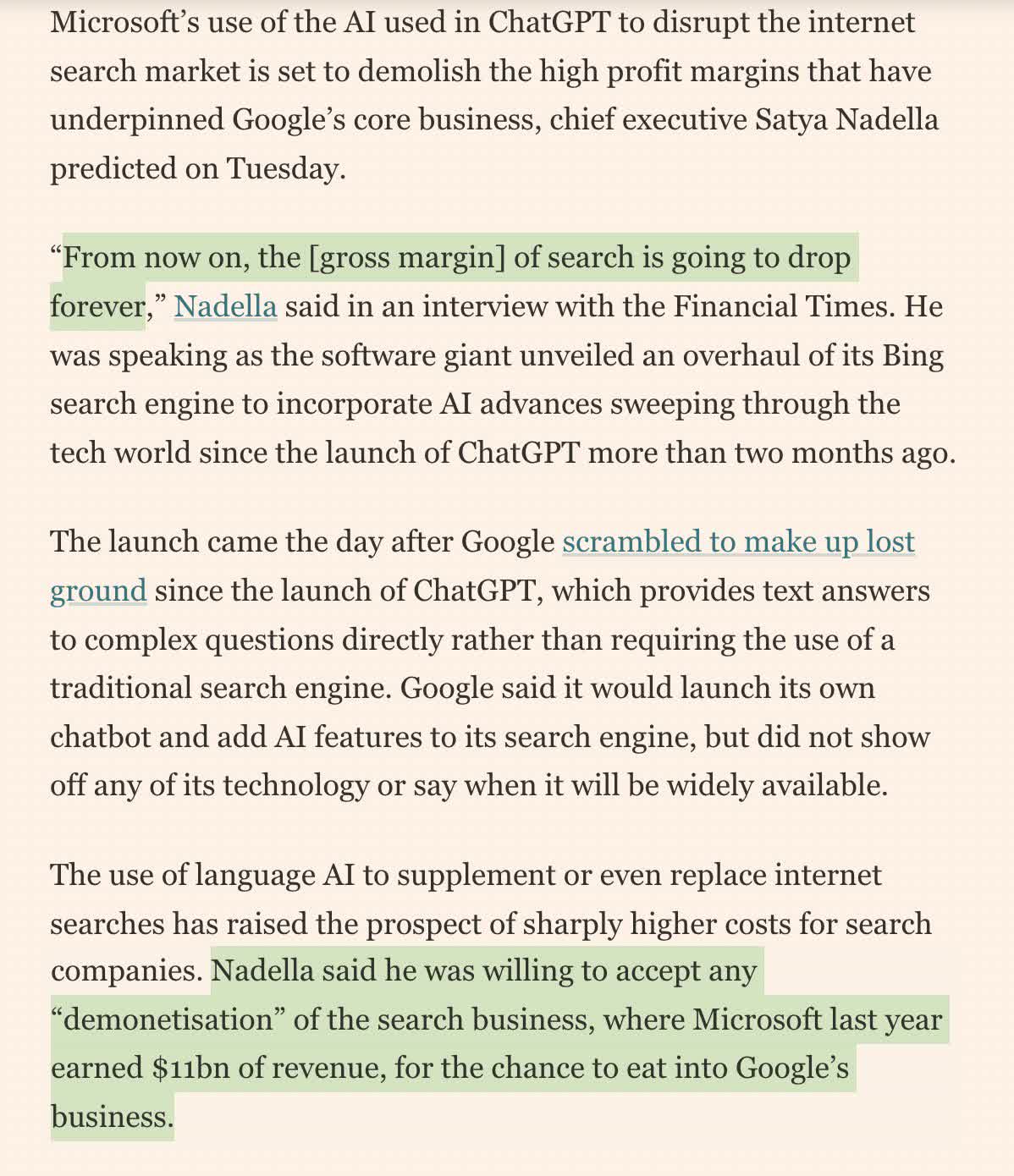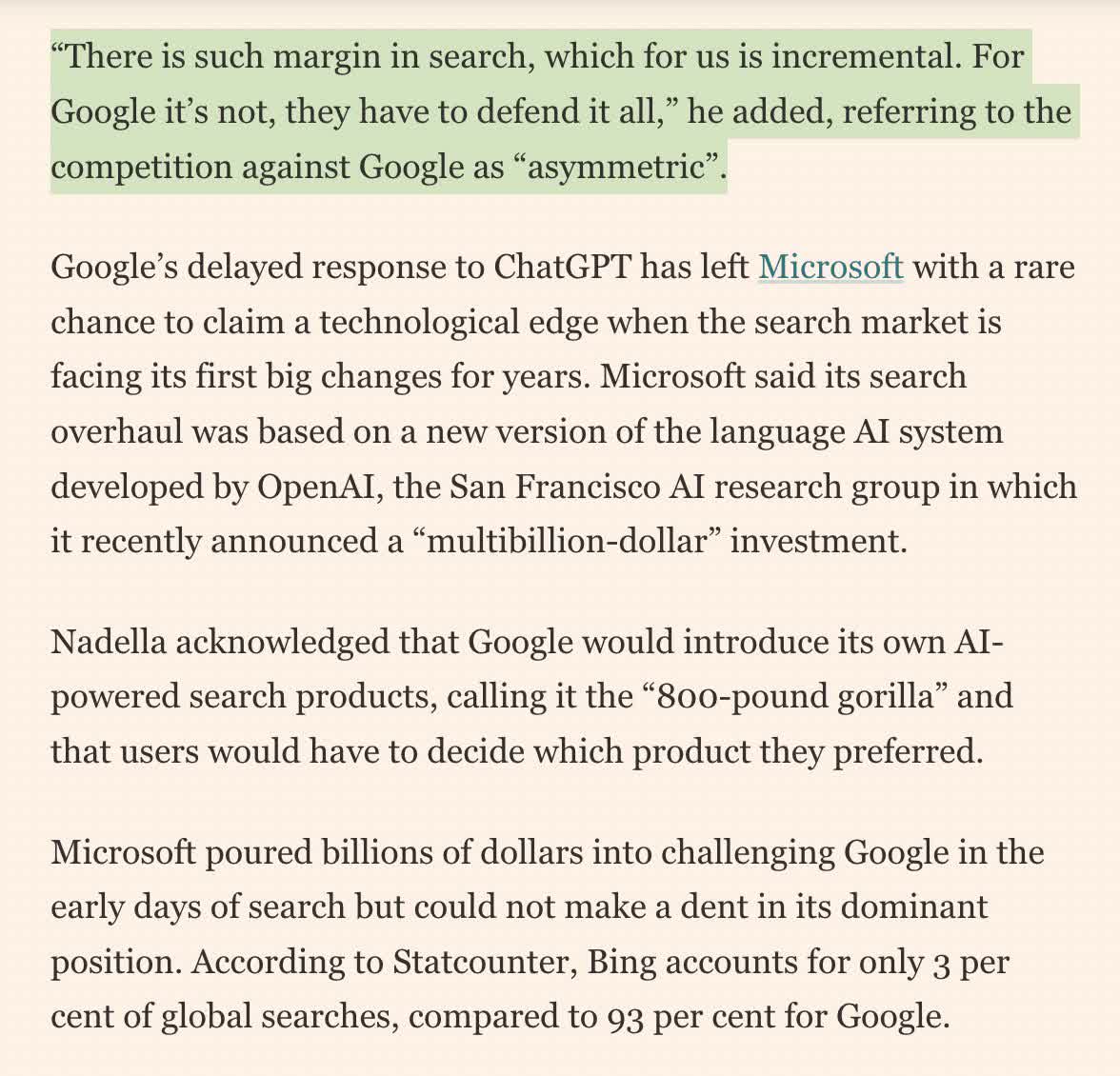 According to Morgan Stanley –
Every 10% of Google Search queries that add AI/Natural Language could add $1.2bn to '24 Opex. If 50% of queries have natural language integration by 2024, it would add $6 billion of incremental costs.

ChatGPT's model size, time to compute, average words generated per query, Azure Nvidia A100 GPU pricing tiers, and an estimated 50% Azure gross margin (for this analysis) lead them to estimate that GOOGL's incremental natural language average cost per query is likely to range from $0.0022-$0.0220.

Morgan Stanley believes that Google has the AI tech and scale to maintain/grow its leading user base. However, a deeper-than-expected AI integration speaks to higher incremental cost risk, as we see every 10% of searches moving to large language models adding roughly ~$1.2bn of operating expenses.
Clearly, Google is under attack, and there's a lot of uncertainty in Search right now. An analyst from Bank of America laid out the situation quite well: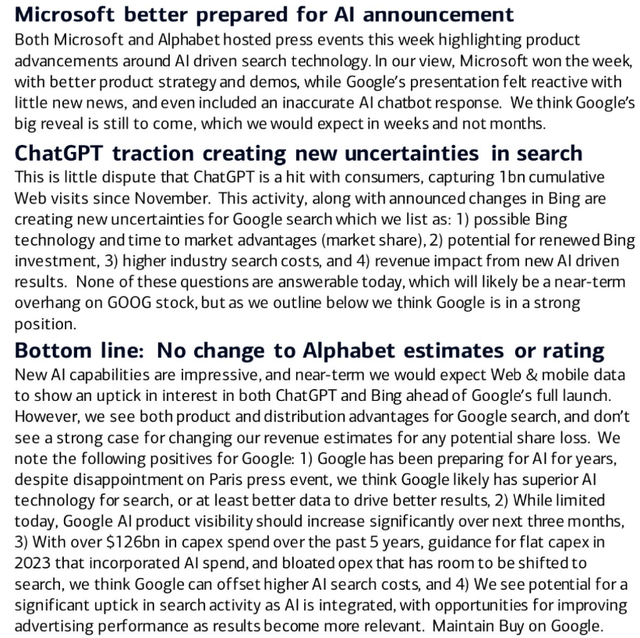 In my view, Alphabet will be able to fend off competition from Microsoft (and other rivals) to dominate "Search" for years to come, but it will come at a cost to margins. Alphabet's ecosystem advantages and AI capabilities will translate to a defensible moat; however, the idea that Microsoft takes some market share and causes margins to drop in the industry cannot be dismissed.
In light of Alphabet's unimpressive Q4 earnings and embarrassing demo for Bard, I have reduced the assumptions for Alphabet's optimized FCF margin [from 30% to 25%] and revenue growth [from 12.5% to 10%] to be conservative with our valuation model.
With these changes, our model for Alphabet looks like this:
Alphabet's Fair Value And Expected Returns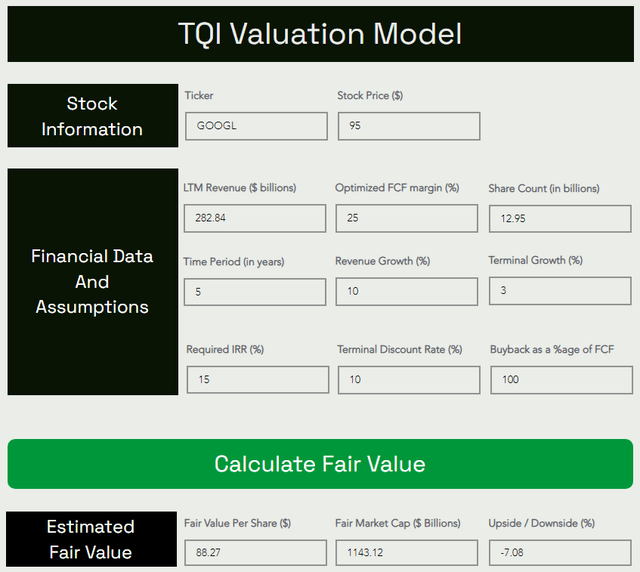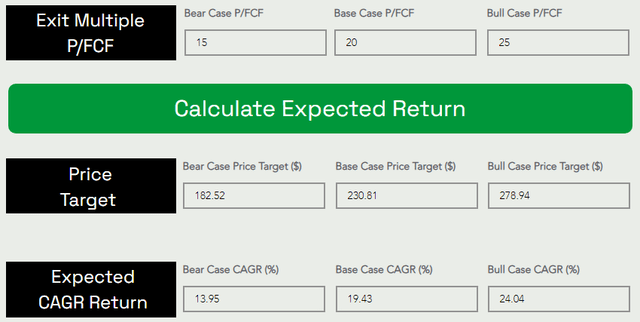 There's a big downgrade here:
Old FV estimate: $112.70, New FV estimate: $88.27
Old Base case PT (5-yr): $310.10, New Base case PT (5-yr): $230.81
The downgrade in Alphabet is a result of a rapid deceleration in growth, and shrinkage in key business verticals, plus the margin uncertainty caused by new competitive threats. While the risk/return still looks favorable for long-term investors, the stock is slightly overvalued at current levels.
A Look At GOOGL's Technical Chart
Along with a broader rally in tech, Alphabet's stock rallied higher by roughly 35% to start the year; however, it has given some of these gains back in the last couple of days. And the breakout from the downward falling channel now appears to be a head-fake.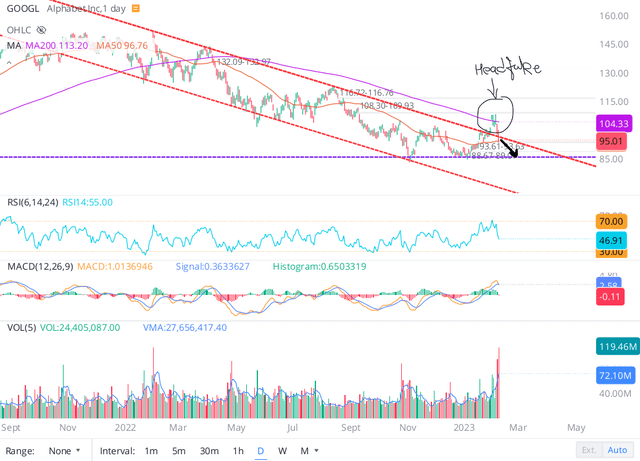 With Alphabet breaking back into this channel, I now expect it to re-test December lows in the mid to low $80s. The technical setup is looking ominous and if Alphabet fails to hold December highs, we could potentially go down to pre-COVID highs of ~$70-75.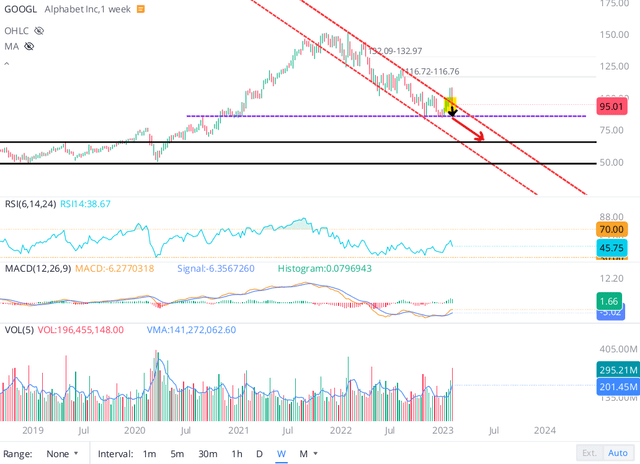 As per our updated valuation model, Alphabet is slightly overvalued. Technically, the stock seems destined to re-test the low to mid $80s range, and hence, waiting for that entry point is fine. From a long-term investor's perspective, I think the long-term risk/reward for Alphabet at current levels is tilted in favor of bulls, and so, I continue to like it (even at current levels).
Alphabet's Quant Factor Grades And Analyst Price Targets
According to Seeking Alpha's Quant Rating system, Alphabet has a "Hold" rating with a score of 3.34/5. While Alphabet continues to maintain an "A+" rating on Profitability amid an earnings contraction, the earnings revisions grade of "D+" is worrisome. With sales growth slowing down, Alphabet's quant factor grade of "C" for Growth makes complete sense. As per my valuation model, Alphabet is trading slightly above its fair value, and I think a "C-" on Valuation for Alphabet is a fair grade. In the previous section, we noted that Alphabet's stock has lost momentum, and that is reflected in its poor Momentum grade of "D+".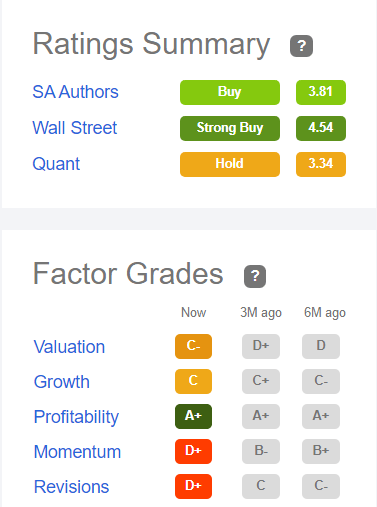 Based on its quant factor grades, Alphabet's stock is not a buy. However, SA Authors and Wall Street analysts continue to remain bullish on this counter.
Bottom Line
In the past year or so, we have discussed Meta's competitive headwinds (due to the rise of TikTok and Apple's IDFA changes), and now there's a similar debate to be had over Google's Search business. As we saw in this note, Microsoft and other rivals are coming for a piece of Google's lunch. Can Google defend its territory? I believe so, but the cost of doing this would be immense. Despite spending billions of dollars on AI, Google is seemingly behind OpenAI's ChatGPT based on the limited demos we have seen from Microsoft and Alphabet in recent weeks.
With Google's global search engine market share sitting at 93% against Bing's share of 3%, I think Google has a lot to lose in this war! The best-case outcome for Alphabet here would be maintaining or gaining some market share in Search at the cost of margins.
Over the last five years, Alphabet's share of the global digital advertising market has been in decline due to bottom-funnel advertising (platforms like Amazon, Uber, Disney, etc.) grabbing digital ad dollars from top-funnel advertising. While digital advertising is projected to grow for years to come, Alphabet's share of this pie may continue to get smaller. As I see it, Google is under attack on multiple fronts amid a challenging macro environment, and so, the business and the stock could remain under pressure in 2023.
That said, Alphabet offers a lucrative risk/reward for long-term investors coming in at current levels. Hence, I continue to rate Alphabet a "Buy" in the low $90s. Due to a precarious technical setup and unsupportive quant factor grades, I strongly prefer staggered buying via a 6-12 month DCA plan.
Key Takeaway: I rate Alphabet a "Buy" in the $90s, with a strong preference for staggered accumulation.
Thanks for reading, and happy investing. Please share your thoughts, concerns, and/or questions in the comments section below.
---
Disclosure: I/we have a beneficial long position in the shares of GOOGL, META, AMZN either through stock ownership, options, or other derivatives. I wrote this article myself, and it expresses my own opinions. I am not receiving compensation for it (other than from Seeking Alpha). I have no business relationship with any company whose stock is mentioned in this article.
---
Are you looking to upgrade your investing operations?
Your investing journey is unique, and so are your investment goals and risk tolerance levels. This is precisely why we designed our marketplace service – "The Quantamental Investor" – to help you build a robust investing operation that can fulfill (and exceed) your long-term financial goals.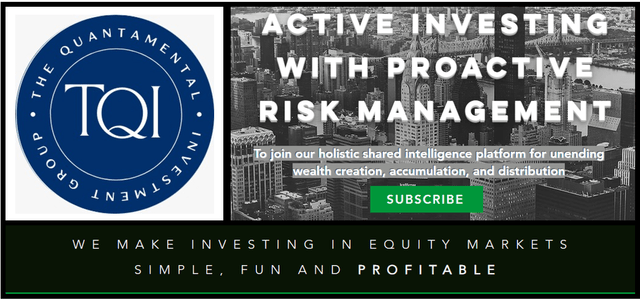 We have recently reduced our subscription prices to make our community more accessible. TQI's annual membership now costs only $480 per year (or $50 per month). New users can also avail of special introductory pricing!