Google's LaMDA Vs. ChatGPT: The Battle Of AI-Driven Language Models
Summary:
It is time for the giant to introduce LaMDA, considering that ChatGPT uses the conversational AI platform developed by Google's engineers in 2017.
Due to the hype surrounding ChatGPT, Google must rapidly innovate and adapt or risk being left behind, as with TikTok and Meta.
It remains to be seen which will win, but one thing is certain: Google is so much more than just a chatbot demo.
With a robust revenue of $282.11B, net income of $66.99B, and EPS of $5.03 over the LTM, OpenAI's revenue of $1B by 2024 is naturally insignificant in comparison.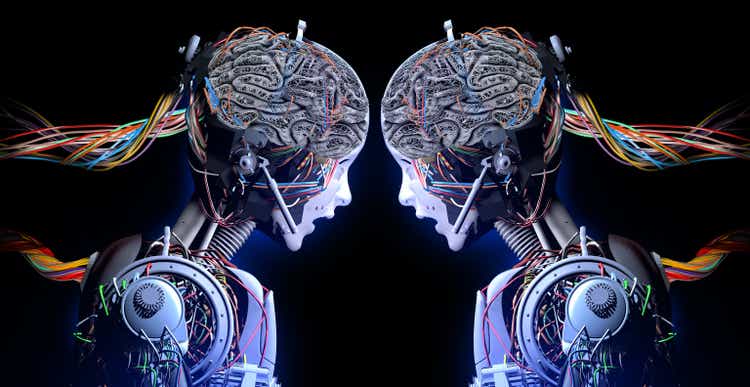 The AI Investment Thesis
Alphabet's (NASDAQ:GOOG) (NASDAQ:GOOGL) moat was recently questioned by many market analysts and SA contributors alike, due to the exciting arrival of ChatGPT. However, we beg to differ, since the AI chatbot game was not new, with Microsoft (MSFT) previously launching its own version, Tay AI in 2016 and Meta (META), similarly introducing BlenderBot 3 AI in August 2022. We must also highlight that GOOG has had a similar offering since 2020, LaMDA [Language Model for Dialogue Applications], in various beta forms and iterations. Most importantly, the ChatGPT platform was originally developed by researchers at GOOG in 2017. One of the platform's engineer, Blake Lemoine, had interestingly believed that the LaMDA AI platform was sentient then.
Here's what ChatGPT has told us about LaMDA: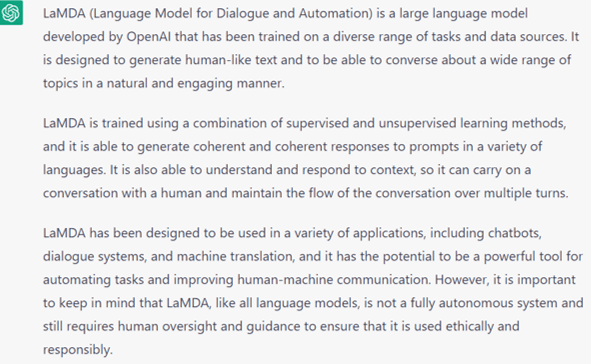 The following is ChatGPT's response when asked, "tell me more about you":

According to market speculation, LaMDA was previously not launched, as the AI chatbot's conversational platform did not fit with GOOG's existing advertising model, which accounted for 81% of its revenue in FY2021. There may also be reputational risks, since the AI chatbot has been known to mimic human speech from the internet, propagating certain forms of hate speech, fake news, racist/sexist remarks, with a large degree of informational inaccuracy as well. Amr Awadallah, who worked for Yahoo and GOOG and now runs Vectara, said:
Google has a business model issue. If Google gives you the perfect answer to each query, you won't click on any ads. (The New York Times)
The LaMDA AI platform is currently not publicly available yet and is reserved for a small group of AI developers through the AI Test Kitchen. However, our preliminary research has revealed a lot of similarities between the two, providing an application-specific conversational tool. As shown below left, GOOG's demonstration of LaMDA in May 2021 has been breathtaking, similar in some ways to ChatGPT on the right.
The Comparison Between LaMDA & ChatGPT
While GOOG may have been sitting on this laurel for some time, we are not convinced that ChatGPT poses a real threat to it. While the latter still represents an enormous technological and experiential revolution for the foreseeable future, we reckon this moment would be akin to the Instagram moment to Meta back in 2012, Snapchat Stories in 2016, and TikTok in 2020. The giant has countered most of these threats with a certain degree of success thus far, retaining its lion's share in the global social media market at 67.13% by November 2022.
Therefore, considering Sundar Pichai's competence thus far, it is not excessively ambitious to assume that GOOG may also overcome this threat. In response to ChatGPT's smashing success, the company has reportedly launched a "Code Red operation." The CEO had instructed various divisions, including research, trust, and safety, to aggressively develop and launch competing AI prototypes and products by supposedly mid-2023.
There is no doubt that GOOG has to innovate and adapt to the intense competition and the evolving user needs, by reinventing its Google Search Engine with AI technology, while still preserving its advertising revenue. With 30.26K new headcount YTD, the company may be able to devote more time and resources, with R&D expenses already totaling $29.22B over the past nine months, representing an increase of 27.93% YoY. As a consequence of its regulatory battles in several countries over the years, it is also clear that human oversight is necessary to ensure that the information provided on the platform is accurate, reliable, and safe for the general public. Depending on how things develop over the next few months, we may see the company record expanding R&D costs as well, during its defensive efforts toward ChatGPT.
While OpenAI has guided a $1B revenue from FY2024 onwards, a monetization issue may arise, depending on how the platform chooses to acquire and pay for its information. Elon Musk is already concerned about the platform's access to Twitter's database for AI training. While the platform may potentially be offered as paid subscription service to consumers and corporations, it remains to be seen how OpenAI shapes ChatGPT's future development away from the original intention of open-source and non-profit service.
GOOG's Revenue By Segment By FQ3'22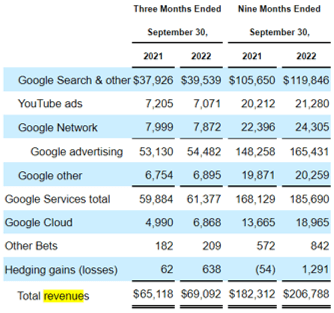 On the other hand, the Google Search Engine is offered for free, with the platform earning advertising revenue instead. By the first nine months of 2022, the company has already reported $119.84B from the Google Search & Others segment, growing by 13.43% YoY. We must also not forget its other segments such as YouTube Ads and Google Cloud, recording impressive revenues of $21.28B and $18.96B at the same time, respectively.
In addition, GOOG boasts a war chest of $116.25B in cash/ investments by the latest quarter, with minimal long-term debts of $12.85B at the same time. Furthermore, the company also generated impressive Free Cash Flows of $62.54B over the last twelve months [LTM], despite the hefty $30.27B capital expenditure reported simultaneously. Regardless of the rising inflationary pressures, its profit margins have also expanded tremendously, from EBIT/ net income/ FCF margins of 22.2%/21.2%/19.1% in FY2019 to 27.8%/23.7%/22.2% over the LTM.
Therefore, OpenAI's $1B in revenue by 2024 simply could not compete with GOOG's stellar performance thus far. In the worst-case scenario, the latter may simply choose to acquire OpenAI. Why not?
So, Is GOOG Stock A Buy, Sell, or Hold?
GOOG 1Y EV/Revenue and P/E Valuations
GOOG is currently trading at an EV/NTM Revenue of 3.61x and NTM P/E of 18.12x, lower than its 5Y mean of 4.95x and 25.84x, respectively. Otherwise, it is still notably moderated against its 1Y mean of 4.74x and 20.97x, respectively. Based on its projected FY2026 EPS of $8.34 and current P/E valuations, we are looking at an aggressive price target of $151.12. Even market analysts remain confident about its forward execution, with a price target of $123.33, suggesting a 40.26% upside potential from current levels.
GOOG 1Y Stock Price
On the other hand, the GOOG stock has continued to suffer with a tragic decline of -40.61% in the past year, further worsened by the ongoing regulatory fines in the US, the EU, and India worth over $5.05B. However, we choose to remain optimistic for now, since these issues are not unique to GOOG alone. Most FAANG stocks are similarly experiencing legal scrutiny, with Meta facing an $11.8B fine in the EU, Apple (AAPL) a €371.6M fine in France/ a $20M in Brazil, and Amazon (AMZN) recently escaping a $47B fine after addressing the EU's concerns about its business operations in the region.
Nonetheless, we understand the market pessimism, since the rising inflationary pressure has also tightened corporate ad spending, potentially impacting GOOG's top and bottom-line growth in 2023. In addition, the situation is destabilized by the management's decision to pursue the NFL Sunday Ticket, which reportedly cost the former up to $2.5B annually. It remains to be seen if the deal may be profitable in the intermediate term, due to the compressed margins reported by the D2C streaming market thus far. Consequently, interested readers may refer to here, here, or here, for an in-depth discussion on the NFL topic. However, long-term investors need not fret about the economics of the deal, due to the company's robust financial performance thus far.
Combined with the factors discussed above, we choose to remain bullish about GOOG's long-term prospects and continue rating the stock as a Buy, especially made sweeter by the attractive upside potential. Naturally, investors that nibble here should also size their portfolios accordingly, since ad-spending remains weak in this uncertain macroeconomic environment, significantly worsened by the projection of a 70% chance of a recession in 2023. However, once the market sentiments lift, it is not overly bullish to assume a sustainable stock recovery by 2024, if not earlier.
---
Disclosure: I/we have a beneficial long position in the shares of AAPL, META, GOOG, NFLX, AMZN either through stock ownership, options, or other derivatives. I wrote this article myself, and it expresses my own opinions. I am not receiving compensation for it (other than from Seeking Alpha). I have no business relationship with any company whose stock is mentioned in this article.
Additional disclosure: The analysis is provided exclusively for informational purposes and should not be considered professional investment advice. Before investing, please conduct personal in-depth research and utmost due diligence, as there are many risks associated with the trade, including capital loss.
---