How Apple And Disney Are Taking Similar Strategic Approaches To Maximize Key Growth Area
Summary:
Sports was a main area of content that Netflix overlooked from the start, opening the door for its rivals to use it as a foothold to gain on them.
For Apple and Disney specifically, they have dug their cleats into this space in a more strategic way which resonates with investors as it opens more sizable revenue streams.
Following its MLS deal, Apple recognized that while it could also pursue a larger NFL package, taking over the Super Bowl halftime show would be far more impactful and cheaper.
Disney using sports as part of its overall streaming play has been successful and the bundle aspect is a key cog in its wheelhouse – with upcoming deals only strengthening its position.
While there are other streamers doing sports, what sets Apple and Disney apart is they aren't just showcasing content, they are helping to shape how its consumed in a larger way.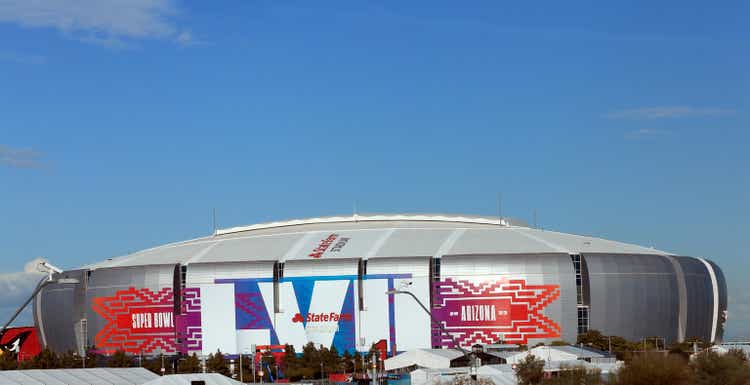 113 million.
That's how many people watched the Super Bowl this year – and that's on average, at times it was even higher.
For the ad community the big game is their big moment and for companies having a piece of it can significantly help their bottom line. While the Super Bowl is in a category by itself, sports in general can still produce the same type of reward (even if on a lower scale).
It's all about exposure and that's exactly why both Apple (NASDAQ:AAPL) and Disney (NYSE:DIS) have dug their cleats into this space – but what makes it of note to investors is the strategic way they've each gone about it to set up for success.
First as always, some background.
Sports was the ONE main area of content that Netflix made it a point to skip from the jump. The argument being it was too expensive and didn't carry enough value for them to make the spend. Its rivals seized on that opportunity and now Netflix is left to pick at the bones now that it (finally) sees its worth.
What Netflix initially missed and others saw was the value of exposure.
Apple is the best example of not making that mistake as it showed with its handling of its NFL negotiations.
For a while it looked like Apple would take over the NFL Sunday Ticket package from DirecTV but ultimately walked away when it couldn't make a deal to its liking. The cost wasn't the problem, instead it was the grandfathered in rules protecting linear networks that put limits on what Apple could do to innovate the package. As a result, they felt they couldn't evolve the space and if that was the case they didn't want to make the investment.
The team knew it had already secured a ten-year deal with the NFL to sponsor its Super Bowl half-time show – and that wasn't a bad fallback. It was also a significantly cheaper deal that gave them almost full control over all aspects.
Essentially what Apple did was hijack the conversation around the NFL's biggest event. Next to the commercials, the halftime show is one of the most talked about aspects of the game.
Remember that 113 million from before, it jumped to 118 million during the show itself.
That's the power of exposure.
It's the same thing with Apple's Major League Soccer (MLS) deal – the exposure it got from not only making the rights deal, but also creating a brand new platform that unites all the games is huge. Apple saw that simply wasn't an option with the NFL and pivoted largely because that type of innovation takes a company up a level.
It says to other leagues and companies "look what we can do" and we are open for business.
I also bring up the exposure element because in the weeks leading up to the big game, there was a LOT made about how half-time performer Rihanna was not getting paid for the gig. That bit of news – which has never been a secret and has been the case since the 90's – somehow set off a round of controversy.
Most of it came from industry outsiders who (for some reason) tried to insert themselves into the conversation by saying they would never book an opportunity just for exposure and no paycheck. The argument being their time is valuable and they should be compensated for it. I understand that you can't feed your family on exposure – but using that as an example here is missing the point entirely.
What Rihanna did at the Super Bowl is no different than when an actor takes a back-end deal for a movie, meaning they forgo a salary to get a piece of the profits from the box office (which usually nets them more money). The difference here is that check isn't coming from the sponsor or the NFL – it's coming in the form of royalties and profits from the performer's catalog and/or product line which can be so much more impactful.
The performer is betting on themselves and so is the company who hired them (here Apple). The idea is for it to be a win-win. Apple and the NFL get Rihanna to perform and Rihanna gets to use it as a giant promotion for her music, her fashion line and her overall brand.
It worked – the NFL saw its second-best performing halftime show on record (trailing just behind Katy Perry's set) and Rihanna saw a massive spike in streams following her performance overall, including a 300%+ jump from the Apple Music platform alone (again win-win). And that's not even counting the uptick she will see from her fashion line which was on full display during the performance.
Apple of course isn't the only one tackling sports in this way.
Disney, for one, is another fascinating example of those who understand the "value" proposition.
Just as there was a lot of talk about the value of exposure with the halftime show, there has been a lot of talk about if Disney should sell off ESPN.
No.
It really is that simple.
The value ESPN brings into Disney is substantial and offsets the high costs it takes to operate it. The conversation only turned to "spinning it off" after activist investor Daniel Loeb tried to stir the pot.
His main thinking (along with others) was that by spinning off ESPN it would create more value for the network and open it up to other revenue streams. The problem with that thought is currently ESPN is the most expensive cable channel on the market and Disney forces carriers to include it (and pay the fee attached to do so) if they want Disney's other popular channels.
That is a lot of monthly revenue coming into Disney that it doesn't make sense to give up.
Not long after his comments, some of that "value" was pointed out to Loeb and he withdrew his suggestion. Even still the conversation has continued to persist – right up until earnings last week when CEO Bob Iger closed the door on that rumor for good.
Instead of selling it, he's doubling down on it by making it the centerpiece of his vision for Disney as a company … right there alongside its entertainment division and its theme parks.
Iger's decision makes sense as ESPN is the only network on TV (linear and streaming) that has rights to all of the major sports. And those rights are only getting stronger as in the latest round of negotiations with the leagues the network picked up additional benefits – specifically with the NFL in the form of two Super Bowls, more late season crossover games (on ABC) and soon the right to "flex" its Monday night package (to switch out weaker games) in future seasons.
That alone shows the NFL's commitment to Disney as much as it shows Disney's commitment to the NFL. We've also seen similar re-negotiations with the other leagues to ensure a more well-rounded slate of games and content for viewers.
Disney's sports presence is vast and using ESPN+ as part of its streaming play has been a success. While it started as an albatross it now accounts for a significant portion of viewership for the Mouse and a key cog in that "Disney Streaming Bundle."
That's also part of why I think Iger's comment about being "unsure" about Disney's future with Hulu was just gamesmanship. Currently the Disney bundle works well because you have a compliment of services – family friends (Disney), adult (Hulu) and sports (ESPN+) that sets up something for everyone in the family.
Taking Hulu out of the mix leaves a hole in the package and makes ESPN+ more vulnerable. While its numbers are strong a lot of that is helped by being bolstered by the other two services (which was always part of Disney's plan). Changing course now makes little sense and many (myself included) see Iger's remarks as maneuvering to get a cheaper price when it looks to buy-out Comcast's stake in Hulu in 2024.
Overall sports is a key arrow in Disney and Apple's quiver – and that's not to say it's not for Paramount+, Peacock or Prime Video but it just hits a little different for these two companies. Paramount+ and Peacock use sports as part their service and while Prime's Thursday Night Football package is a huge successful milestone in sports streaming (that can't be discounted), it's still part of the overall Amazon offerings.
By making sports both overall AND separate key components of their overall models, Disney and Apple are setting themselves up for substantial additional revenue drivers that investors will welcome.
It's one thing to stream content, it's another to be at the center of the content itself.
---
Disclosure: I/we have no stock, option or similar derivative position in any of the companies mentioned, and no plans to initiate any such positions within the next 72 hours. I wrote this article myself, and it expresses my own opinions. I am not receiving compensation for it (other than from Seeking Alpha). I have no business relationship with any company whose stock is mentioned in this article.
---